Are you looking for a fun way to celebrate Valentine's day with your little one? You'll love these baby Valentines Photoshoot ideas that are easy to recreate at home.
All you need is your cute little baby and some easy props and you will have some Instagram-worthy photos in no time. I've put together this list so you can record baby's first Valentine's Day forever!
Cute photos like these ones are perfect for the baby book or for sending to family and friends as a Valentine's treat.
This post may contain affiliate links. Please read my Affiliate Disclosure for more information
MORE VALENTINES IDEAS
32 Valentine's Day Pregnancy Announcement Ideas
Heart-Shaped Hand Print Photo Frames
The Best Baby Valentines Photo Ideas
Looking for cute ideas for your baby's Valentine's photoshoot?
Cute photos are one of the most fun ways to celebrate baby's first Valentines and they don't have to cost the earth.
It's easy to do some DIY Valentine's photos with the right tools and these fun inspirational ideas.
I love taking photos of my kids at home and originally did this when I wanted to save money on my Christmas cards.
I made a list of 15 Creative Christmas Photo Ideas You Can Do At Home and now I've decided to do the same for Valentines Day too.
Make sure to also check out my list of 37 Baby Easter Picture Ideas after Valentine's day.
Whether you are looking for some cute photos to make baby's first Valentine's special, or you want to send cute Valentines cards to friends and family, you will love these ideas.
From classic poses to whimsical setups, your baby will look adorable in any of these photos.
Plus you won't need to spend hundreds on professional photos.
Big Heart
Keep it simple with a cute baby in just a diaper and a large heart. You can cut out a heart from red card stock and you have a wonderful photo prop for pennies.
Sweet Baby Kisses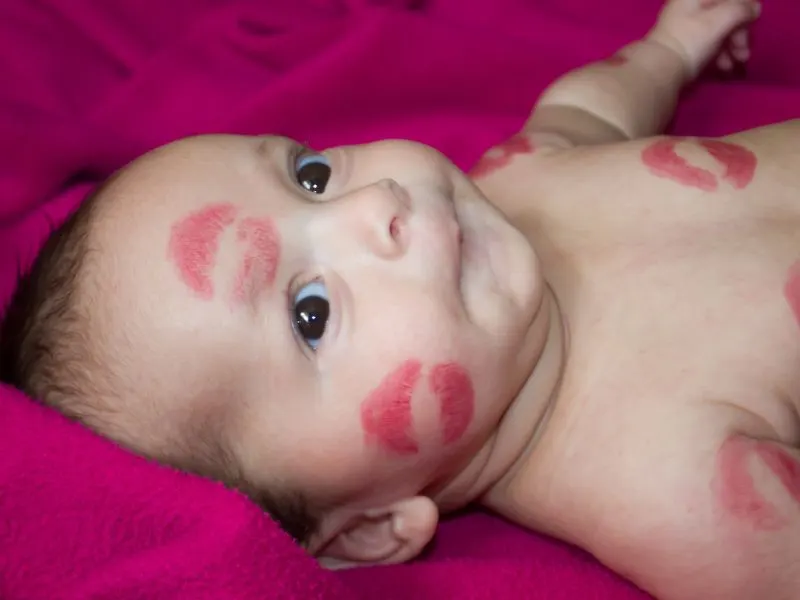 Here is another easy idea for a DIY Valentine's Day photo shoot. Put some red lipstick on and cover your baby in smooches. Then lay them on a pink or red blanket and start snapping away.
Little Angel
How adorable is this Valentine's day idea? Red balloons are on sale everywhere during February and they make an easy but cute photo prop.
You can buy angel wings and a halo from Amazon or a party store or even make your own with cardboard and a feather boa. This is a fun photo idea that is that is perfect for a Valentine's day shoot.
Sweet Heart Legs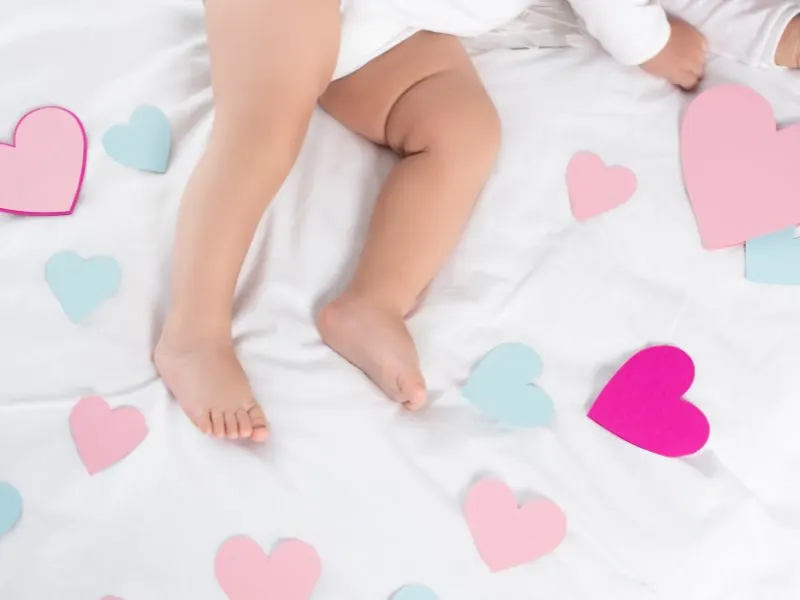 Sometimes you don't need to capture the everything to make for really sweet photo. Focus on one part of baby – cute hands, tiny feet or those chubby legs and you have a fantastic baby Valentine's day photo idea!
The other great thing about this photo is that is perfect for parents who don't want their child on social media but who would like to still share their cuteness!
The best part about this great idea is that all you need are some paper hearts! Laying your little sweetheart on rose petals would also work great too!
Baby On The Bed
Your bed is probably the easiest place to take great photos of your little one, especially if you have a great headboard like the one in this picture.
To recreate this baby Valentine photo, you will need some red blankets and a cute banner. You can buy wooden signs like the one on the bed from Amazon.
Next dress your baby in their Valentine's day finest.
To create this adorable outfit, I got the cute baby leg warmers from Babyleggings.com. Use promo code SEASIDE100 to get your leggings completely free (just pay for shipping).
Double The Love
How cute are these crochet tattoo hats? They are perfect for a twin baby Valentine's photo! Of course, they would work great for just one baby too!
You can buy these hats from All Baby Boutique on Etsy.
Valentine's Day Presents
Of course, your Valentine's Day gift is your cute baby so why not make a memorable photo by piling him or her into a large basket filled with red and white packages?
This is a super easy way to do a Valentine's Day photo shoot at home. The baby bow tie just adds to the cutest – make it red for even more of a holiday feel.
Little Cupid
When we think of Valentine's Day, we think of cupid so why not dress your baby up for the occasion? Amazon has quite a few options for cupid's bow and arrow outfits that make great photo props.
And your baby doesn't have to be a newborn to make this Valentine's day baby photo work, even toddlers can have fun with this!
Pom Pom Baby Hat
Sometimes the best Valentines Day photoshoot ideas are the simplest ones. All you need to do this adorable photo is a cute pom pom hat like this one from Etsy.
The take a close up shot of your baby laying on a white or neutral colored blanket – easy as pie!
My Heart Belongs To Baby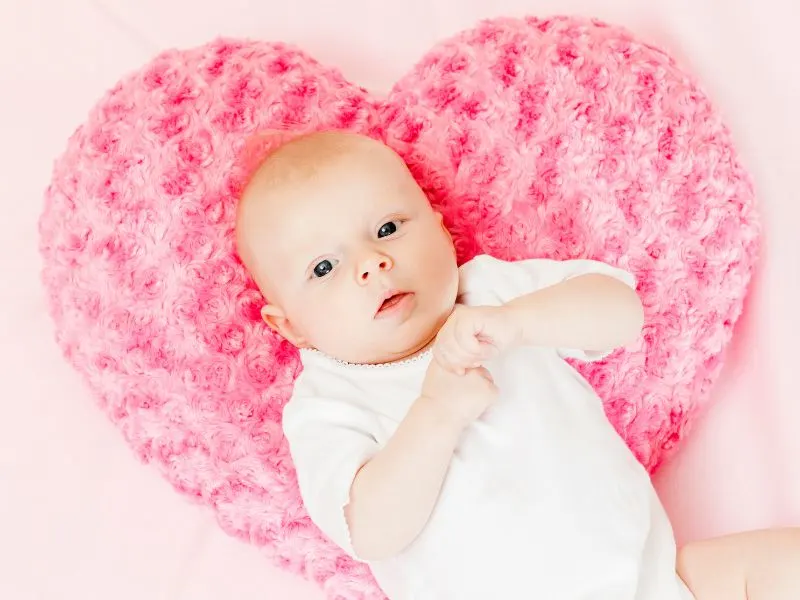 This is one of the most simple baby Valentines photoshoot ideas but also one of the cutest! It is perfect for your Valentine's Day cards!
All you need is to put your baby in a white onesie and lay them on a pink heart pillow.
Conversation Hearts
You need a fancy Valentine's Day backdrop to take an adorable photo. Neutral blankets paired with a simple prop like this heart. You can buy similar handmade conversation hearts from Etsy.
Simple And Sweet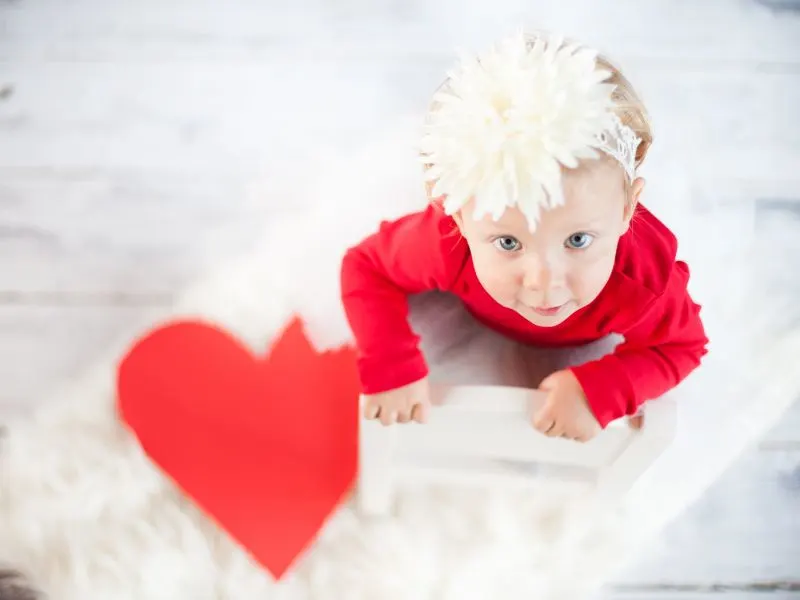 Your little Valentine will look os cute with a huge headband flower like this one! Just cut out red card in the shape of a heart and place in the background on a fluffy white rug.
Family Love
Get all family members involved in your Valentine's Day photoshoot with this adorable set-up. Set your camera timer and have mom in bright red nail polish for a Valentine's Day feel.
This pose is perfect for a Valentine's day theme but can also work for any newborn photos too!
Love Muffins
Here is one of my favorite Valentine photoshoot ideas to celebrate baby's first holidays.
Grab a chalkboard from a craft store and put a sweet message on it then dress your baby in a chef's outfit.
Have them "bake" some love muffins while you take photos. This set up is not too hard to do at home and makes for an absolutely adorable picture.
Floating Hearts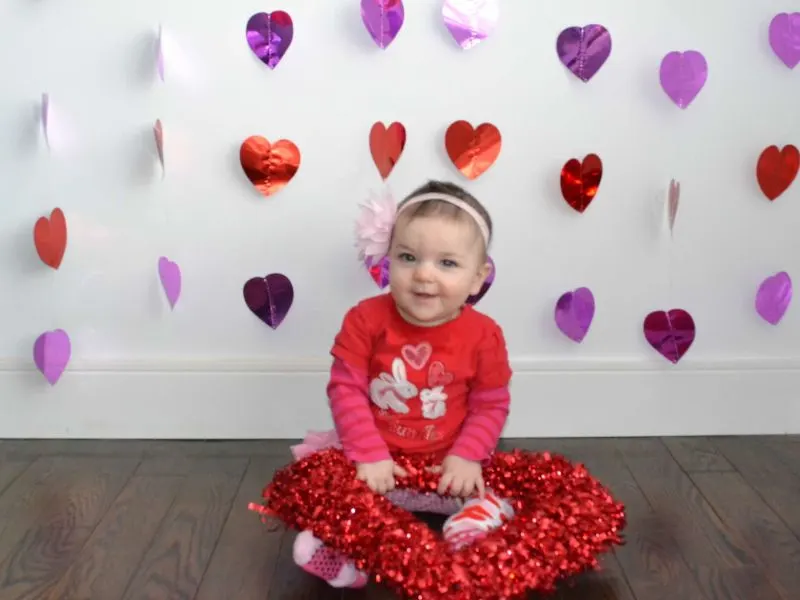 You don't need a professional studio to take memorable photos! Have a little fun at home with some simple dollar store decorations like this backdrop and tinsel heart. Put your baby in front of the camera and you'll have some great photos!
Baby Valentines Photoshoot Ideas – Tips for Success
Valentine's Day is one of the most special days of the year, and what better way to celebrate it than with a photoshoot with your little one? Whether you're looking for some unique props or just want to dress up your baby for the holiday, there are plenty of creative ideas to make your baby Valentines photoshoot extra special.
Here are some ideas for capturing great photos of your little one:
Theme Ideas: Love & Hearts, Cupids, Colors
Valentine's Day is a time for celebrating love, making it the perfect occasion to capture special moments with your baby. To help you plan a memorable photoshoot, we've there are some great theme ideas you can use.
Cupids are associated with Valentine's Day and provide a humorous twist to the photos. Dress up your baby as a cute little cherub wearing angel wings or give them an outfit featuring heart-shaped arrows.
Your baby could also pose with plush teddy bears dressed as cupid complete with bows and arrows.
Go all out on color! Red is obviously the main color associated with Valentine's Day but don't be afraid to bring in other bright hues too! Create a colorful heart garland for your backdrop or hang balloons for a fun effect.
Props & Outfits: Bowties, Tutus, Hats
With a few simple props and outfits, you can create an adorable photo session that will be cherished for years to come. Consider adding some fun accessories like bowties, tutus, and hats to create a unique look that suits your baby's personality perfectly.
Bowties are a timeless accessory for boys or girls that adds just the right touch of sophistication to any outfit.
They are easy to find in stores or online and can come in a variety of colors and fabrics – from velvet to silk – allowing you to customize the look for your child's style.
A tutu is always a favorite choice for little girls; it adds just enough femininity without being too over-the-top.
Locations: Home Studio, Local Park
Selecting the right location for your baby Valentine's Day photoshoot can help take your photo to the next level.
For a classic look, why not begin with a home studio setup? With some simple props and decorations, you can create an atmosphere of love and warmth that will be captured in your photos.
A white sheet or blanket makes for a great background.
Use candy Conversation Hearts, wood blocks and props such as cut-out hearts to really make your photo pop.
For those wanting to get outdoors and add some nature into the mix, consider setting up shop in a local park.
Even if it is snowy outside, you could get some amazing photos.