What products do you really need for baby's first year? It's easy to get caught up in the hype and buy the latest, greatest trendy diaper pail or stroller but if you want to stick to a baby budget, it's important to know the real newborn baby essentials.
If you are lucky enough to receive baby shower gifts, you can likely add some extras beyond the absolute necessary onto your baby register but if not, you might need to be careful with what you buy and what you skip.
This page contains affiliate links meaning I earn a commission if you use those links. Please read my Disclosure for more information.
RELATED: The Ultimate Guide to Baby gear for minimalists
READ NOW: How to Cut The Cost Of Having a Baby
If you want to do some research on the best baby items out there, I highly recommend Lucie's List which is a website that has checklist for every baby stage.
The other amazing resource that I used throughout my baby's first year was Baby Bargains
which is a book that is updated yearly and contains the best baby products in tons of categories like strollers, car seats etc sorted by budget.
The Real Newborn Baby Essentials
First of, let's look at the absolute essentials, the newborn stuff that you can't really skip. A baby needs a place to sleep, clothes to wear, something to eat and somewhere to go potty (diapers!).
Diapers (cloth or disposable)
Wipes (or you can make your own with cloth, baby oil and coconut oil)
Sleepers, onesies and a warm jacket/snowsuit if you live in a colder climate. (seriously, that is it! They don't need fancy outfits when they are tiny).
A bassinet/crib or other sleep solution (see below for my favorites for newborns).
Sheet for the crib
Stroller and/or carrier
Car seat if you drive
If you are using formula you will need bottles, nipples, formula, a bottle brush and a sterilizer. You don't need a fancy formula maker if you don't want although I have heard awesome things about the Baby Brezza Formula Pro if you want to make life easier.
If you are breastfeeding, you really don't need too much unless you need to start pumping to build up a stash. You might want a nursing cover but you can get a free one at Udder Covers using promo code SEASIDE100 (just pay shipping & handling).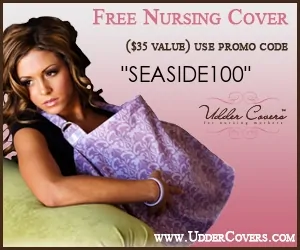 READ NOW: How to get over $500 of Baby Items for Free!
RELATED: 12 Best Breast Pumping Tips That Will Change Your Life
6 Newborn Baby Essentials That Will Make The Early Days A Breeze
Now we have the absolute must-have newborn needs out of the way, what about the things that will make those first few weeks infinitely easier for mom and baby?
The products below are my holy grail items, the newborn stuff that helped my babies sleep better (my second slept through the night at 6 weeks!). They would make great newborn gifts for a baby shower or meet the baby party.
This is one of the newborn baby essentials that people think is trendy or unnecessary but I really could not have lived without it in the first few months.
When my babies were little, I brought my Boppy Newborn Baby Lounger all over the house with me, wherever I went. Tiny babies love laying in the lounger and they are super snug as there is an indentation for their little bums.
I really don't know what I would have done without my Boppy in the early days. It enabled me to have a quick shower or breakfast without worrying about the baby being on the floor. I was so sad when my babies rolled over and the heydays of boppy usage were over for me.

I only discovered the Merlin's Magic Sleepsuit
my second baby and I credit it with her sleeping through the night at 6 weeks.
Apart from the fact that babies look adorable in this marshmallow man suit, it works! It bridges the gap for the transition from the swaddle to a sleep suit and makes baby feel snug and secure at night without being made into a baby burrito.
RELATED: Sleep Training The Gentle Way
RELATED: Why I Don't Swaddle My Babies
You can even skip the swaddle completely and go straight to the Merlin if you prefer. You can get different sizes of it so babies can use it until they start to roll around 3-6 months.
3. Stretchy Carseat Cover
These stretchy covers are pretty new but they are awesome because you can use them as a carseat cover, a nursing cover or blanket in a pinch.
You can get a free carseat cover at Carseat Canopy using promo code SEASIDE100. You just need to pay shipping and handling. They have a ton of cute designs to choose from and have minky covers as well as the stretchy style which I prefer.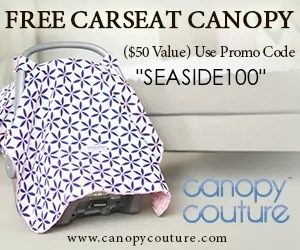 I highly recommend getting a Graco Pack 'N Play
for the first months. In fact, you really don't need a real crib until your baby is closer to 6-9 months of age.
The pack n play will let you move your baby into different rooms to sleep. It's awesome once your baby has outgrown the Fisher-Price Deluxe Auto Rock 'n Play Sleeper
but you still want to keep them close.
I set up my pack n play in the family room so baby could take easy naps downstairs. Even now, with my 18 month old, we keep the pack n play at grandma's house for naps on the go.
If you do get a pack n play, I highly recommend getting a Pack and Play Mattress
to go with it. The "mattress" provided with the crib is just a thin piece of cardboard that is rock hard and seems so uncomfortable. It is probably ok for short naps but if you plan to use the travel crib for longer, the mattress is a must.

When it comes to the must-have newborn baby essentials, a sound machine is high up on the list. It will help your baby fall asleep and stay sleeping for longer. The best sleep machines mimic the sounds that baby is used to in mom's womb and makes them feel safe and "at home".
I like the HoMedics Sleep Sound Machine
because it has a lot of features and is very durable:
6 Soothing Sounds: Choose from White Noise, Thunder, Ocean, Rain, Summer Night and Brook. (I use plain white noise)

Auto-off Timer: Can be set for 15, 30 or 60 minutes to conserve energy.

Adjustable Volume: The SoundSpa includes an adjustable volume control so you can get the sound just right.

Great for Travel: The Sleep Sound Machine is small and lightweight.

Plug your SoundSpa into a wall outlet or take it on the go. This is great for travelling but also means you are not burning through batteries at home.
More Newborn Baby Tips:
How to get over $500 of Baby Items for Free!
How to Cut The Cost Of Having a Baby