A guide to baby gear for minimalists almost seems like an oxymoron. After all, when it comes to baby paraphernalia, it is easy to go spectacularly overboard with stuff.
First, because you feel a kind of pressure to add a ton of things to your baby registry for showers and gifts and second, because, well, baby stuff is kind of cute and fun to buy!
If you aren't careful though, you can end up wasting a ton of money on useless baby things that you never use or don't really need.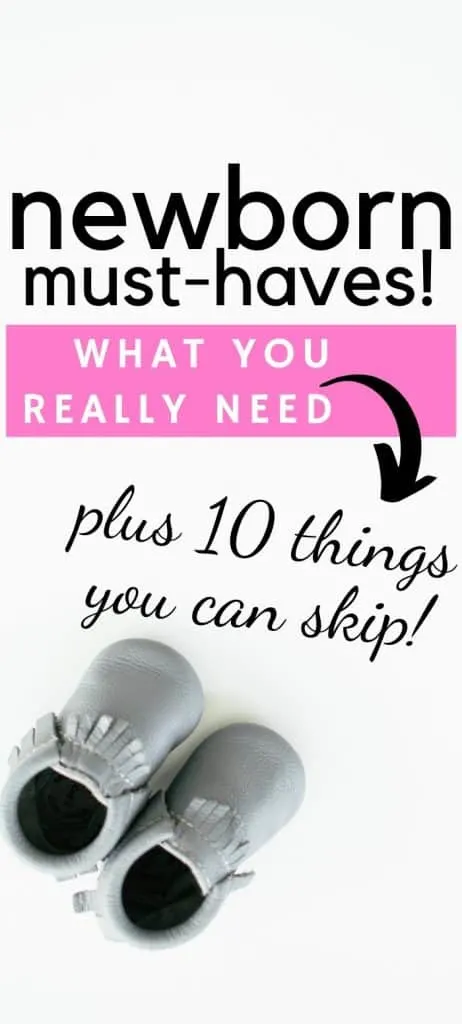 This page contains affiliate links meaning I earn a commission if you use those links. Please read my Disclosure for more information.
Whether you live in a small space or you are on a tight budget, this list of the absolute bare bones essentials will help you decide what to buy and what to skip when it comes to picking the right things for your baby.
While we are on the subject of saving money for baby, make sure to check out all these baby freebies you can get!
Don't forget to get your free carseat canopy with the code SEASIDE100.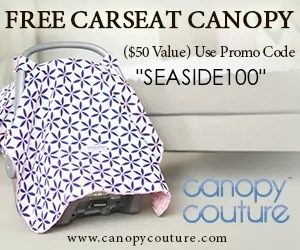 Read now: Over 500$ Worth of FREE Stuff for Baby & Mom
RELATED
Tips For Preparing Financially For Baby
The 5 Baby Items I couldn't live without
Guide To Baby Gear For Minimalists
A Car Seat
Unless you live in Manhattan or a European city and never take a car, then a car seat is pretty much the most important thing you need for your baby.
The most important thing to make sure is that the seat is new and not expired (I bought one online from a reputable source, checked the date and found it was already 3 years old). You also want to make sure the seat is compatible with your chosen stroller.
One source I found really useful when I was overwhelmed with baby gear was the Baby Bargains Book
. This book has reviews of all the top baby items categorized by price. Another very useful source is Lucie's List.
Baby clothes
You will probably get a bunch of baby clothes at your shower or as gifts so I wouldn't worry too much about stocking up on a lot of clothes. In the early days, you just need footed PJs and onesies anyway.
Bassinet/Pack n Play
My second daughter ended up sleeping in the pack n play until she was almost 1 year old because my older daughter didn't want to give up the crib and I didn't want to buy another one.
You can buy a Pack 'N Play with a Newborn Napper
so you can use them in the newborn stage. They are also great for traveling or as a safe place to put baby when you need to leave them for a minute.
Boppy Pillow
There are two types of Boppy Pillow
– the nursing pillow that doubles as a little chair to prop baby in and the newborn napper. I love both but if you are planning to breastfeed the Boppy Nursing Pillow and Positioner
probably makes the most sense.
Swaddle Blankets and Burp Cloths
Even if you don't want to swaddle your baby, a few large blankets are pretty much essential. You can use them as a nursing cover, shade for the stroller or car seat, leg warmer and change pad in a pinch.
My absolute favorite swaddle blankets are the Aden + Anais swaddles
. They are so soft and large enough to stay on a stroller for shade.
Changing Pad
Most diaper bags come with a changing pad so you may not need to run out and buy one. To be honest, I ended up using old towels at home and putting them in the wash at the end of the day. It was easier than constantly wiping down a plastic pad and more comfortable for baby.
Diapers & Wipes
True minimalists will probably be planning on cloth diapering and making their own wipes but if you are a little more conventional, make sure to sign up for the Amazon Family 30-Day Free Trial
so you can try out their diaper subscription program which allows you to get boxes of diapers for great discounts.
Amazon Family offers a ton of benefits such as:
Save 20% on diapers subscriptions
Exclusive Coupons and Deals from Amazon Family
Exclusive Baby Registry benefits
FREE Two-Day Shipping on millions of items
Unlimited instant streaming of thousands of movies and TV shows
Unlimited, ad-free streaming of over a million songs and more Prime benefits
Breast Pump, a couple of bottles, and coconut oil
If you plan on nursing exclusively and never pumping, you can cross two of these items off your list and be even more minimal!
If you know you would like to offer your baby a bottle or are returning to work and want to pump, make sure to check out this post for a ton of tips on getting the most from the pump.
Before you rush out to buy bottles, try the ones that come with your pump, those were the only ones my daughter would take, and I've heard the same from other moms.
Don't forget to get your pump reimbursed by your insurance carrier. Even Canadians can often get a free pump with a doctor's note.

Stroller compatible with the car seat
Make sure you consider what you need the stroller for before choosing which one to buy. It's also worth factoring in the size of your car and if you plan on going on trails or traveling by plane with the stroller.
If you plan on having your children close together, it might be worth getting a stroller that allows for a second seat to be added like the UPPAbaby VISTA Stroller
. Some strollers also come with bassinet attachment which you can use instead of a crib for the early days.
The Baby Bargains Book
was very helpful for me when choosing my stroller as it gave pros and cons of each one. Another amazing resource is the Stroller Envy website that gives in depth reviews of strollers.
Don't forget to get a car seat adaptor if necessary.


You may want to forgo the stroller for a baby carrier if you know you will be baby wearing the whole time. A carrier will certainly take up less space.
If you want to baby wear from the newborn stage, consider a soft wrap like a Moby Wrap
and then transition to something more structured like an Ergobaby Carrier
as your baby gets older.
And 10 things you don't need to buy
Baby Towels – just use your regular towels
A bottle drying rack – useful but not essential
Wipes Warmer – this sets you up for failure as soon as you try to change a diaper out and about
Bumbo – both my girls used it for a total of about 2 days
Crib Bedding Set – dangerous and expensive. Save your money
Diaper Genie – better to throw the dirty diapers in the real trash than create more work
Baby Blankets – People will give you a billion blankets even if you don't want them
Pacifier and toy wipes –

just use hot water and soap to wash dropped toys

Tummy time mats – you can put some toys in front of the baby of the same effect
Newborn Shoes – they never stay on and are a total waste of money
More Baby Advice:
Over $500 worth of free baby stuff!
Exclusive Pumping – Tips for Success
Like this post? Pin it for later!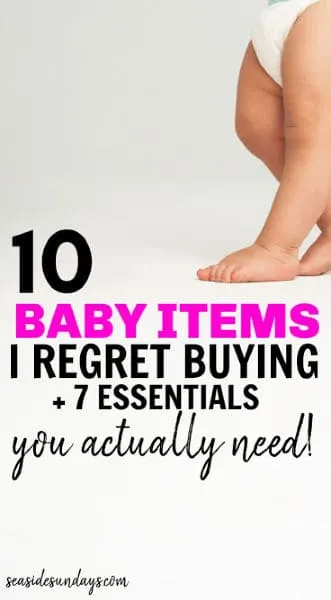 Start A Blog That Makes Money
Ready to start a blog and make money from home?
In this FREE 5 day email course, I will show you the exact steps I took to take my mom blog from $0 to a consistent $2000 a month within 4 months.