Can you believe it's almost time to bid farewell to another year and say hello to the adventures that await in the future?
Make the most of the last days of the year by using our Free Printable Time Capsule Template for kids.
Making a fun time capsule is easy with our printable worksheet and it makes a fun activity for the classroom too!
Read on for all the details and scroll to the bottom to grab your free printable!
This post may contain affiliate links. Please read my disclosure for more information
MORE FUN FOR KIDS DURING THE HOLIDAYS
15 Best New Years Books For Toddlers To Celebrate
40 Thanksgiving Photoshoot Ideas For Toddlers
Free Printable Time Capsule Template
Picture this: It's December 31st, and your house is buzzing with excitement.
The glittering decorations, the tantalizing aroma of cookies baking in the oven, and the sound of laughter filling the air.
But what if this year, you could add a dash of magic and a sprinkle of time travel to your New Year's celebration?
Enter the New Year's Time Capsule, your passport to an unforgettable journey through time, memories, and a whole lot of silliness!
It's one of my favorite New Year's activities for kids.
Now, you might be wondering, "What exactly is a New Year's Time Capsule, and how do I get my hands on one?"
A New Year's Time Capsule is like a treasure chest that allows you and your kids to capture this moment in time and revisit it in the future.
It's a fantastic way to create lasting memories and have a blast while doing it.
In this blog post, we'll guide you through the process of making your very own New Year's Time Capsule, step by step.
What Is A Time Capsule?
A time capsule is a specially prepared container that is filled with various items, documents, and mementos representing a specific period in time.
Typically buried or sealed with the intention of being opened at a later date, it serves as a way to preserve a snapshot of the past for future generations or for personal reflection.
Time capsules often include letters, photographs, newspapers, and significant objects, providing valuable insights into the culture, technology, and events of the era they encapsulate.
Opening a time capsule can be a fascinating journey through history, offering a glimpse into the past.
A time capsule for kids is often a fun snapshot into their life right now – their favorite foods, hobbies and other personal details.
Downloading and using a free printable time capsule template for kids is a fantastic way to engage children in a fun and memorable activity while preserving precious memories.
Creating A Time Capsule Template For New Year
You can decide whether you want to use the worksheet template alone or whether you want to create a physical time capsule too.
If you want to add items to your time capsule box, here are some fun and meaningful ideas:
Artwork
Encourage your child to create a piece of artwork or a drawing that represents their current skills and imagination.
Letter to Their Future Self
Have your child write a heartfelt letter to their future self, sharing their thoughts, dreams, and aspirations.
Photographs
Include family photos, pictures of friends, and snapshots of significant events from the year.
Newspaper or Magazine Clippings
Cut out headlines, news articles, or magazine covers that reflect the major events and trends of the year.
Favorite Toy or Stuffed Animal
If your child has a cherished toy or stuffed animal, consider including it as a representation of their current favorite.
Current Schoolwork
Select a few pieces of your child's schoolwork, such as a drawing, a report, or a test, to showcase their academic progress.
A List of Their Favorite Things
Ask your child to jot down their favorite book, movie, song, food, and hobbies at the moment using our free template.
A Small Keepsake or Trinket
Include a small item that holds sentimental value to your child, like a lucky charm or a friendship bracelet.
A Coin
Add a coin or a bill from the current year to provide a glimpse of currency in circulation.
Handprint or Footprint
Capture their handprint or footprint on paper to show how much they've grown.
A Popular Toy or Collectible of the Time
If there's a trending toy or collectible during that year, include it as a representation of the period's popular culture.
A News Story or Event
Write down a brief summary of a notable news event or something significant that happened during the year.
Favorite Snack Wrapper
Include the wrapper or packaging from your child's favorite snack or treat.
A Handwritten Recipe
If your child has a favorite dish, have them write down the recipe, so they can reminisce about their favorite meal years later.
Family Tradition
Describe a beloved family tradition or holiday celebration that's significant to your family.
Remember to label and date each item, so it's clear when the time capsule was created.
The goal is to provide a delightful and nostalgic trip down memory lane when the time capsule is eventually opened in the future.
How To Use The Free Printable Time Capsule Template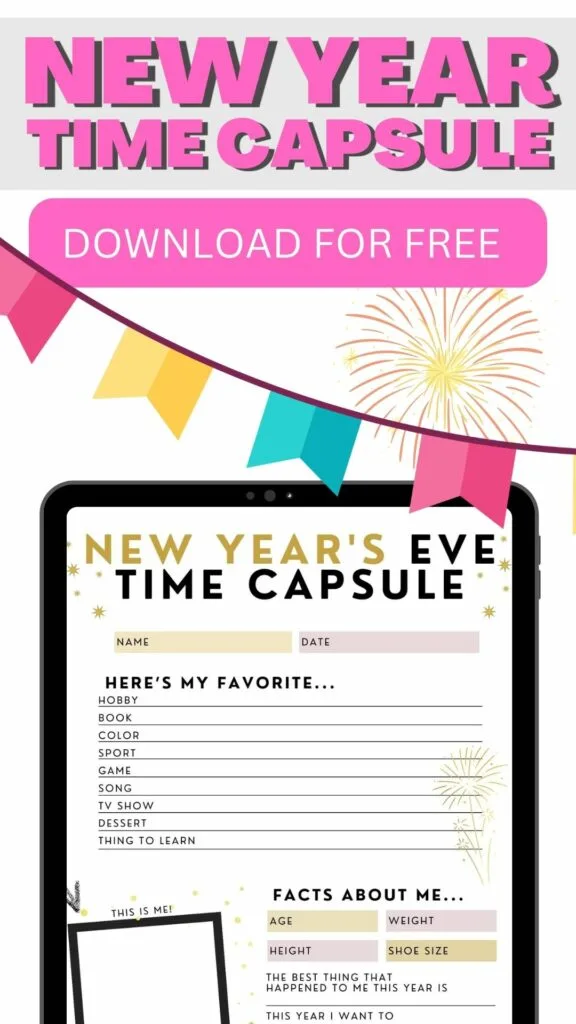 Using our free time capsule printable is so easy and it will make your time capsule so much easier to put together.
Here's how to use it:
Download the Template (scroll down for the link to download the PDF).
Print the Template
Gather Supplies: Collect various art supplies like colored pencils, markers, stickers, and glue. You'll also need a sturdy box or container to hold the completed time capsule.
Fill Out the Template: Sit down with your child and encourage them to fill out the template. This may include drawing pictures, writing down their favorite memories from the year, and listing their current interests and aspirations.
Decorate and Assemble: Let your child get creative by decorating the template and the time capsule container. This personal touch makes it even more special.
Store It Safely: Place the completed time capsule and any additional mementos inside the container, and seal it securely. Be sure to label it with the date it should be opened.
Bury or Preserve: Decide whether you want to bury the time capsule in your backyard (make sure to mark the location) or store it in a safe place, like a closet or attic.
Set a Date: Choose a future date when you'll open the time capsule. It could be a specific milestone, like your child's graduation or a significant family event.
Using a free printable time capsule template is an enjoyable and educational way to create lasting memories and provide a glimpse into your child's world at a specific point in time.
To d0wnload your free printable time capsule, click this link here or the picture below.
It's a fun activity that fosters creativity and reflection while building anticipation for the day of its grand opening!
Terms Of Use
This is a digital product that is for personal use only.
You may make as many copies of this time capsule as you like.
Commercial use is not permitted and it may not be reproduced and sold.