I'm so excited to write my first blog income report! May 2017 was my second month of real blogging and trying to promote my blog and I learned so much this month!
This month was the one that things finally started coming together and making sense for me!
This page contains affiliate links meaning I earn a commission if you use those links. Please read my Disclosure for more information.
May 2017 Blog Income Report
A few things really changed my blogging game this month.
First of all, in April, I decided to invest in my business and blog and took a number of courses. I spent most of April going through the courses and making notes then putting what I had learned into practice. This really paid off once May hit.
Two blogging courses really made a difference for me
Traffic Transformation Guide – see my full course review here. This course was huge in helping me move beyond Pinterest and onto different types of social media.
The author, Lena, increased her traffic from 17K-400K page views in 10 months and she talks you through everything she did to make that happen. I found it really useful and informative.
What I learned in Traffic Transformation:
How to use platforms such as Facebook to promote my blog
How to get people to visit more posts in one visit and stay on my site longer
How to get more traffic from each post without doing extra work
You can get a FREE trial of the course at this link.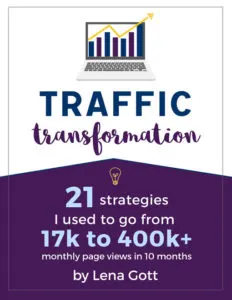 Making Sense of Affiliate Marketing by Michelle Schroeder-Gardner.
Michelle makes over $100,000 a month, $50,000 of which is through affiliate marketing. Need I say more?
This course is an in-depth how-to of affiliate marketing from the basics through to putting it all into practice. If you are interested in monetizing your blog, this course is a must-have. One of the great things about the course is that all alumni get access to an exclusive mastermind Facebook group that is really engaging and helpful.
What I learned in Making Sense of Affiliate Marketing:
How to get set up with different affiliate networks
Different ways to promote my affiliate links
What types of affiliate links convert the best
Read my full course review here.
These two courses really helped me start off May on a good note and my traffic was up from the get-go. I had already started making a few affiliate sales last month but this month I actually made some real cash!
Curious how things went after this month? Check out more blog income reports:
My Blog Income Report For My 3rd Month Of Blogging
70,000 Pageviews in 4 months – July Blog Report
From 0-90K PageViews in 9 Months
Blog Income Report for May
Affiliates: $489.60>MaxBounty, Shareasale etc.
Adsense ads: $35.93
Total: $525.53
Blog Traffic Report for May
My traffic almost doubled exactly in May from just over 7000 page views in April to over 15,000 in May. I even had a couple of days with over 1000 page views! That made me so happy.
My Blog Traffic Strategy in May
I started off May using Tailwind App. It's a pretty awesome scheduling tool for Pinterest. You can add all the pins you want to put on Pinterest at the time you want and it does all the work for you.
It frees up a ton of time for content creating and other social media marketing.
The best thing is the Tailwind analytics which shows you your top boards, top performing pins and the best time to pin to your boards.
Try Tailwind free – schedule 100 pins completely free using this link.
RELATED: Why Tailwind Communities Are Awesome For New Bloggers
I actually also used Boardbooster at the beginning of May but I stopped within the first week as it just wasn't working for me like I had hoped.
UPDATE – Boardbooster shut down in 2018 so Tailwind is your best option now.
How I Doubled my Pinterest Referral Traffic
Around the second week of May, I finally bit the bullet on an ebook I had been lusting over for a month or so. After all my purchases in April, I had sworn off any more courses but this book ended up being my absolute best investment in May.
The book is called Pinteresting Strategies and it was truly a game-changer for me. I credit it completely for my 1000 + page view days. My only regret is not having bought this book sooner.
Pinteresting Strategies is all about pinning to Pinterest without a scheduling tool like Tailwind. This method is often called manual or live pinning.
I had actually tried live pinning a few times myself in April but, my golly, I got in such a mess with spreadsheets and duplicates and different board rules that I quickly gave up.
The technique in the book makes so much more sense than my made up strategies.
If you are interested in growing your Pinterest traffic, I highly recommend checking out this book, I cannot say enough good things about what it did for my traffic in May as you can see for yourself.
I'll have to do a proper ebook review soon but for now, you can find all the details about the book here: Pinteresting Strategies Ebook
June 2017 Goals
I have lofty goals for June!
Break the 1000 followers for Pinterest (currently at 920)
Get started on Twitter, Instagram & Facebook
Increase both income and traffic
Join some more Pinterest Group Boards
Reread all the courses I took in April to get even more tips on growing my blog!
Create The Perfect Pin In Minutes!
Subscribe to get my FREE ebook on creating a pin that gets noticed and brings you traffic.