When welcoming a new baby into the family, lots of people search for a special special gifts for the new mom but what about gifts for new dads?
Whether it's a first Father's day gift or just to say "Congrats on becoming a dad!", below you will find some unique handmade first time dad gifts that will make them feel special too!
If he isn't a dad quite yet, make sure to tell him about these awesome pregnancy apps for dads.
This page contains affiliate links meaning I earn a commission if you use those links. Please read my Disclosure for more information.
The following gifts for new dads are all available at Etsy.com.
I love getting gifts from Etsy as you know the gift will be unique and original plus it's nice to support smaller artists.
If you want baby shower ideas for new mom make sure to check out my list of What To Buy A New Mom For Herself (Not Baby!).
RELATED POSTS
Unique Handmade Gifts For New Moms
10 Unique Gifts For New Dads
This isn't a gift per se but new dad survival kits make a great new dad gift. You can make your own survival kit up and present it all in this cute bag (comes in 3 different sizes).
Some ideas for your New Dad Survival Kit
Gift Card for coffee
Ear Plugs
Sleep Mask
Coffee Cup
Cozy Socks
Snacks – granola bars, beef jerky
Magazines
List of must-watch movies on Netflix or Amazon Prime
These customized mugs are perfect for that morning coffee that new dads absolutely need!
The perfect gift for a new dad's wardrobe. This Etsy Bestseller comes in a modern and simple design is perfect first time dad gift.
Super Dad makes dad feel like a celebrated superhero with a personalized storybook featuring his name and photo! This book is easy to customize and is perfect for bedtime stories with dad!
You can get this onesie in sizes newborn to youth so it is perfect for all dads, new or more experienced!
This T-shirt comes in 10 different colors and has lots of amazing reviews on Etsy.
This keyring is created with your baby's actual footprints and it doubles as a handy bottle opener. It would make a great stocking stuffer for a new dad.
This cute photo frame can be personalized with baby's name and also with different colors and designs.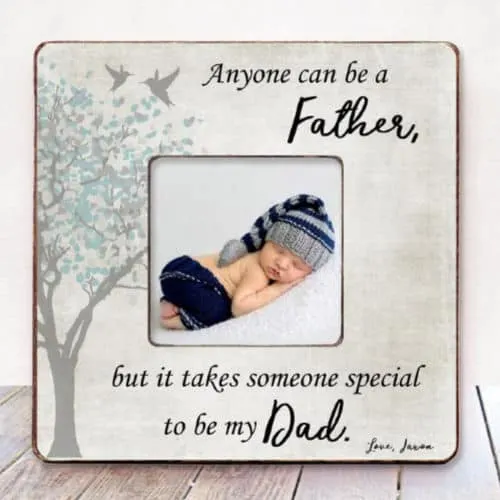 This is the most expensive gift on this list and it would make an extra special new dad gift from a little girl. They are handmade in the USA.
Dad Socks from You Rock My Socks Co.
These socks would make a great addition to a New Dad Survival Kit!
More Tips for New Parents:
30 Things to try if you baby has colic
Like This Post? Pin it!