A rainbow baby pregnancy announcement is an extra special kind of baby news.
Of course, pregnancy announcements are a joyful event for the parents-to-be and their family, friends, and loved ones.
But what if there was a twist to this announcement?
What if the pregnancy was a rainbow baby? The birth of a child after one or more previous miscarriages or stillbirths.
A child born from this type of pregnancy is also known as a "rainbow baby." It's not just an expression – it has deep meaning behind it.
A rainbow baby is a sign of hope, happiness, and beauty. A rainbow usually follows a storm or unexpected tragedy.
That's why I love this list of extra special rainbow baby announcements that you can use to share your big news.
Plus I have included some lovely rainbow baby pregnancy quotes that you can use as Instagram captions. Scroll down for all the ideas.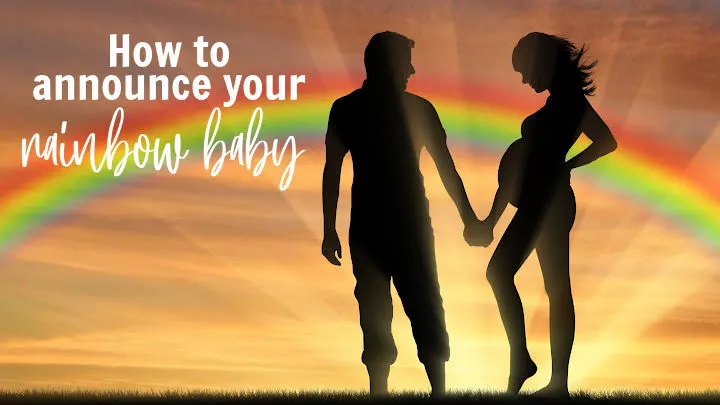 This post contains affiliate links. Please read my disclosure for more information
RELATED POSTS
Rainbow Baby Pregnancy Announcements – Why They Are Important
A rainbow baby is also a sign of hope because they are believed to carry over the spirit of their lost sibling(s).
For many people, a rainbow symbolizes new life after something tragic has occurred. This is what makes a rainbow baby can be so special, especially for those who have experienced multiple miscarriages or lost one or more children due to stillbirths.
25 Rainbow Baby Pregnancy Announcements
When you are planning your rainbow baby announcement, don't forget that some people may not know what a rainbow baby is, you might want to let them know the significance of the name.
In fact, your rainbow baby pregnancy announcement can be a good opportunity to share your story with friends and family.
If you are the loved one of someone who is having their special rainbow baby, make sure to check out my list of 15 Beautiful Rainbow Baby Gifts that are perfect for baby showers or new baby gifts.
Now, let's have a look at some fabulous and unique rainbow baby announcements:
Under The Rainbow
A really unique way to announce your rainbow baby is to do a maternity photo shoot and capture a beautiful rainbow like in this beautiful picture.
Your photographer can likely photo edit one in if you are not lucky enough to catch one!
After Every Storm
A gorgeous flat-lay like this one works really great for Instagram and Facebook pregnancy announcements. You can recreate your own at home or you can get a digital announcement mock-up from Etsy.
Rainbow Ultrasound
How is this for a really unique rainbow baby pregnancy announcement?
Josie Summer Hays Artwork will create a watercolor ultrasound painting for you that you can treasure forever.
What A Wonderful Miracle
I love this for a super cute pregnancy announcement for social media. Simple and classy.
The cute blanket is from Crazy Butterflies.
Our Miracle Baby
For those of us who have experienced pregnancy loss and infertility, this pregnancy announcement sends a really powerful message.
CD Pregnancy Announcement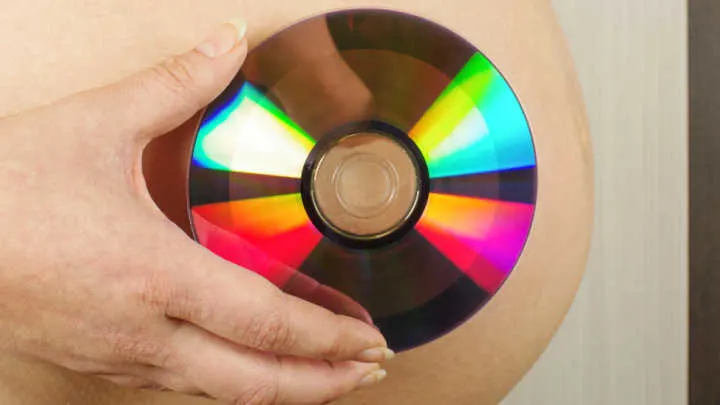 Here is a really simple idea for a rainbow baby pregnancy announcement. All you need is an old compact disc and a camera!
Rainbow Baby Sibling Pregnancy Announcement
If you have an older child and want to get them involved in your pregnancy announcement, a rainbow umbrella makes a fantastic photo prop!
Rainbow Paint Swatches
Head to your local paint store and grab some paint swatches in different colors then create a fun pregnancy announcement for your rainbow baby.
Rainbow Toy Announcement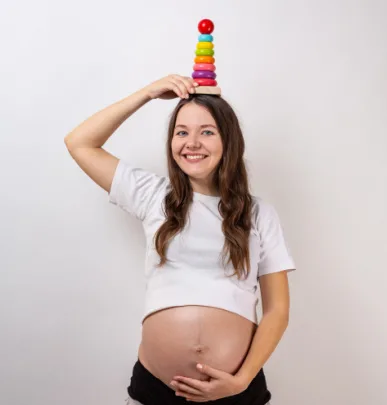 A simple rainbow stacking toy is a great way to announcement your special pregnancy – plus it is an awesome toy for baby once they are born!
14 Rainbow Baby Quotes
If you are looking for some nice Instagram caption ideas or are planning on sending a birth announcement text message, here are some cute quotes you can use:
After every storm, there is a rainbow
Handpicked for earth by my sibling in heaven
For this baby we have prayed, rainbow due..
Without the rain, there would be no rainbows
The storm is over
Here comes the sun
The darker the storm, the more beautiful the rainbow
Even miracles take a little time
When we lose one blessing, another one is often unexpectedly given in its place
If you want to enjoy the rainbow, be prepared to endure the storm. – Warren Wendel Wiersbe
The way I see it, if you want the rainbow, you gotta put up with the rain. – Dolly Parton
You are the rainbow that adds color to my gray skies.— Avijeet Das
Today's teardrops are tomorrow's rainbows. — Ricky Nelson
It was the rainbow gave thee birth, and left thee all her lovely hues.- W.H Davies
Get More Pregnancy Announcement Ideas:
23 Magical Disney Baby Announcements
32 Ideas for The Perfect Valentine's Day Pregnancy Announcement
47 Genius Twin Pregnancy Announcement Ideas