This list of 10 things a pregnant woman needs is full of those little things that you might not think of.
Every expectant mother is different, but there are some common things that all pregnant women need. They need a good support system, whether it's a partner, family, or friends. They need to be able to relax and take care of themselves, both mentally and physically. And they need to know what to expect during pregnancy and childbirth.
But what about the little things that can make the difference between an ok pregnancy and an awesome pregnancy! The things that will make life so much easier for her during the 9 months that she is growing a baby inside her.
Read on for our top picks for expecting moms must-haves!
This post may contain affiliate links. Please read my Affiliate Disclosure for more information
MORE PREGNANCY TIPS
11 Sweet Cake Pregnancy Announcement Ideas
19 Best Push Presents For Moms
10 Things a Pregnant Woman Needs To Enjoy Pregnancy
Below are some pregnancy must-haves that will make the next 9 months so much easier! From better sleep to drinking enough water, these products and tips will help you breezily sail through pregnancy!
And when you are planning your birth, don't forget to download my free printable hospital bag checklist.
Maternity Underwear
A woman's body goes through a lot of changes during pregnancy, and her wardrobe should reflect that.
Maternity underwear is a must-have for any pregnant woman and should be part of your maternity capsule wardrobe.
Not only do they provide support for your growing belly, but they also help to prevent stretch marks.
I know you might be tempted to wear your regular underwear throughout your pregnancy but learn from my experience- your regular underwear will get stretched out and the elastic will go if you try and use it through the third trimester.
Maternity underwear is especially made to fit nicely over (or under) your belly and it is comfortable on your sensitive belly skin too.
There are a few things to keep in mind when shopping for maternity underwear. First, make sure to get a comfortable fit. Second, look for a style that will grow with you as your belly expands.
My favorite brand of maternity underwear is Knickey. This new line of maternity underwear is made with soft, certified organic cotton and they come in both over the belly and under the belly versions.
Knickey Maternity is available on www.knickey.com, in sizes XS-XXXL and in three different colors so there is something for everyone!
A Body Pillow

There are a few key things that every pregnant woman needs in order to have a comfortable pregnancy. One of the most important things is a good body pillow.
Many pregnant women suffer from sciatica or back pain during pregnancy and a good pillow can make all the difference.
A body pillow can provide support for the tummy, back, and legs all at once. It can help pregnant women sleep better by alleviating some of the pressure on the body. It can also help reduce the risk of developing stretch marks.
Pregnant women should look for a body pillow that is made from high-quality materials. It should be firm enough to provide support but soft enough to be comfortable. It should also be able to retain its shape over time.
Pregnancy Massage
Pregnancy massage is an excellent way to relax and rejuvenate during pregnancy. It can help to relieve pain, ease muscle tension and improve circulation. Massage during pregnancy can also help to improve sleep quality and reduce stress levels.
There are a few things to keep in mind when choosing a pregnancy massage therapist. First, make sure that the therapist is properly trained and certified in pregnancy massage.
Second, avoid deep tissue massages and hot stone treatments during pregnancy. Third, be sure to communicate any concerns or medical conditions you have with your therapist before the massage begins.
Pregnancy Tracker App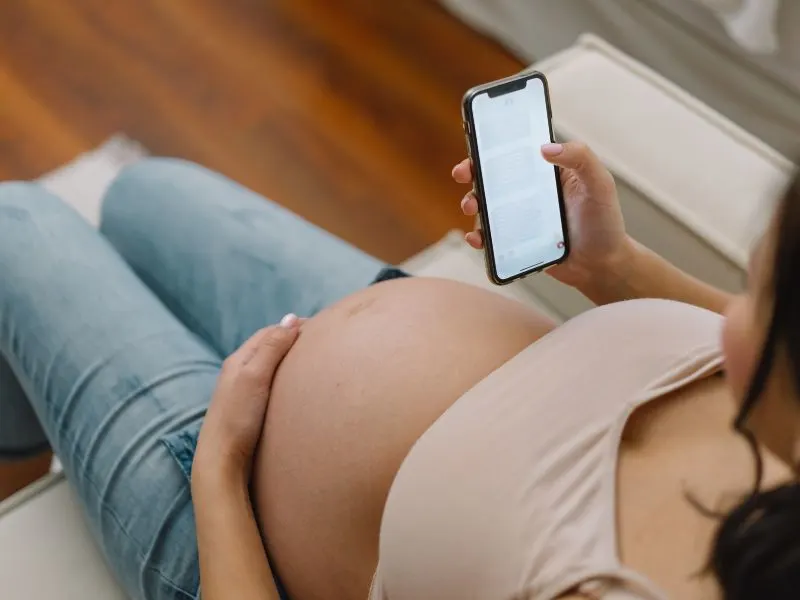 There are many things a pregnant woman needs to keep track of during her pregnancy. Her doctor appointments, her prenatal vitamins, her baby's kicks and movements, and more. A pregnancy tracker app can help a woman keep track of all of this information in one place.
There are many different pregnancy tracker apps available, so it is important to find one that is right for you. Some apps allow you to track your weight, blood pressure, and other health information.
Others let you log your baby's kicks and movements. Some even have a built-in community where you can connect with other pregnant women and ask questions.
Pregnancy tracker apps can be a great way to stay organized and motivated during your pregnancy plus, they even have pregnancy apps for dads too!
Comfy Socks

A pregnant woman's feet can swell up quite a bit, so comfortable socks are a must. Look for socks that are made of breathable materials like cotton or bamboo, and that have plenty of stretch. This will help to keep your feet from getting too sweaty and uncomfortable.
Also, if you get socks that come up over your calf, this will help support your legs and prevent swelling.
Pregnancy Pops

Even past the first trimester, nausea and sickness can prevail. Ginger sweets, pregnancy lollipops and other hard candies are an easy way to make you feel good and are a must-have in this list of 10 things a pregnant woman needs.
You can buy all natural pregnancy candies on Amazon or at health food shops.
Slip-On Shoes
Forget about shoes with fancy laces or ties.
In the final months of pregnancy it is hard to reach your feet so slip-on shoes are a must! You want to be able to put your shoes on without having to bend down too much.
In the winter Ugg-like boots are perfect while flip-flops with good support might be all you need in the summer.
A Good Water Bottle

Hydration is really important in pregnancy but it can often fall by the wayside, especially if you don't feel 100%.
It is important to keep yourself hydrated and avoid complications like dehydration or pre-eclampsia. You likely also need even more water than you did pre-pregnancy.
An easy-to-carry water bottle is a definite pregnancy must-have. Keep it in the car or by your desk so that you never forget to sip throughout the day!
A Really Good Body Balm

As your belly expands during pregnancy, you may start to see stretch marks. These are markings that can occur on the skin when it's stretched or pulled too much.
While they're usually nothing to worry about, some women find them unsightly. If you want to try to prevent or minimize stretch marks, you can use a rich body cream.
There are a few things to keep in mind when choosing a body cream for stretch marks.
First, it's important to choose one that is specifically designed for pregnant women.
Second, look for a product that contains ingredients like cocoa butter or shea butter, which are known for their ability to moisturize and nourish the skin. Third, make sure to be consistent with use.
Apply the cream to your belly and thighs every night before bed to keep your skin supple and hydrated.
A Little Grace
A pregnant woman's body is going through a lot of changes. She may be feeling sick, tired, and emotional. Sometimes she may feel awesome while other days she may need to stay on the couch for hours.
Support and encouragement is one of the most important items on this list of 10 things a pregnant woman needs. It takes a village to raise a child and that begins with pregnancy!
And The Top Pregnancy Must-Haves That Every Mom-to-be Needs
Pregnancy is a beautiful time in a woman's life, but it can also be a tough one. Above you have the 10 things every pregnant woman needs to feel good during pregnancy.
Below you have the list of absolute pregnancy must-haves that are non negotiable for any pregnant woman:
A good prenatal vitamin – to help give the baby all the nutrients it needs to grow and develop.
Folic acid – important for your baby's neural health.
Exercise – gentle walking or swimming is great for achy joints and to make you feel better.
Sleep – while getting good sleep can be hard during pregnancy, it is important!
Healthy diet – this goes without saying but "you are what you eat" has never been truer than during pregnancy.
Relaxation – take a warm bath, read a good book or join a prenaatal yoga class to avoid stress.