Congratulations dad! Don't let mom have all the fun- check out this list of the best pregnancy apps for dads and get ready for your baby!
Why do dads need an app? It's fun for fathers-to-be to follow their partner's pregnancy milestones, to see how the baby is growing and to learn baby tips and tricks for the newborn stage.
Given that baby is not growing inside dad, an app specially designed for them can be a nice way for them to feel a part of the pregnancy and to feel included in the whirlwind that is pregnant life.
Getting your partner on board with an app is also great for you! They will learn lots about pregnancy and it can bring you closer together to share everything together.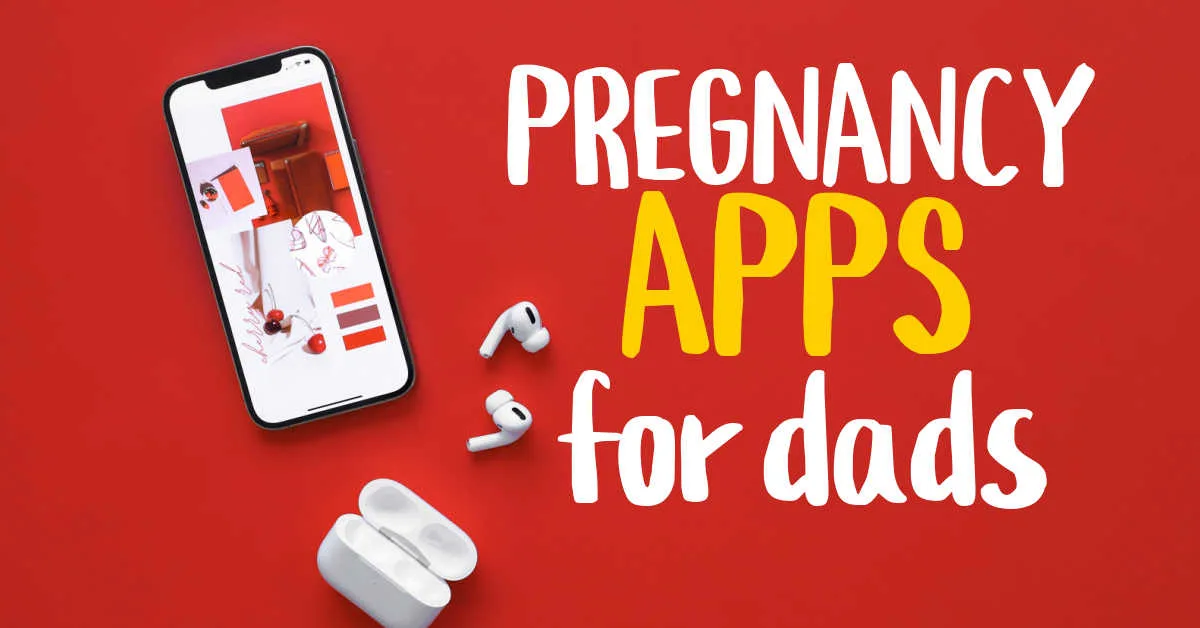 This post contains affiliate links. Please read my Disclosure for more information.
RELATED POSTS
The Best Pregnancy Journal Picks
43 Pregnancy Quotes And Parenting Advice For Expecting Moms
10 Best Pregnancy Apps For Dads
The other day I was scrolling around on one of the big pregnancy sites and I started wondering if there is an app for expectant dads. I was pleasantly surprised to see that there are quite a few!
Below are the 10 best apps for dads-to-be.
These are our top picks for apps to support your pregnant wife with her growing bump.
While some of the apps are completely free, others do cost.
Many of them are under $5 on either Apple iOS or Google Play.
Downloading one of these apps to your husband's phone on the sly is a great way to tell your husband you're pregnant too!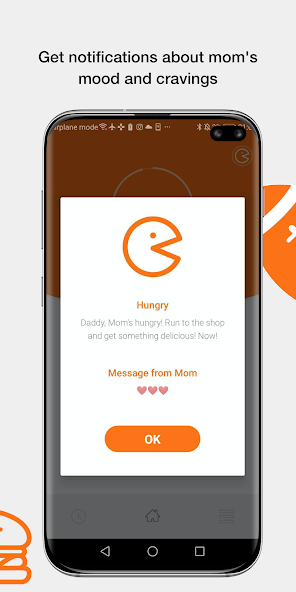 Apple App Store ($3.99)
Google Play ($2.49)
This app is really cute. Every day your baby will send you a message about their development.
🍼 Your child will let you know how it is developing.
🍼 Know what your partner feels when she is pregnant.
🍼 Your baby will tell you how to take care of its mother to make her happy.
🍼 Find out how fast your child is growing and how big it is in a given week
🍼 You will be prepared for your baby's birth
(There is also a HiMommy app in case you were wondering. )
Apple App Store (Free)
Google Play (Free)
🍼 Weekly Tips
🍼 Baby Updates
🍼 Daddy deep dives – more information on complex topics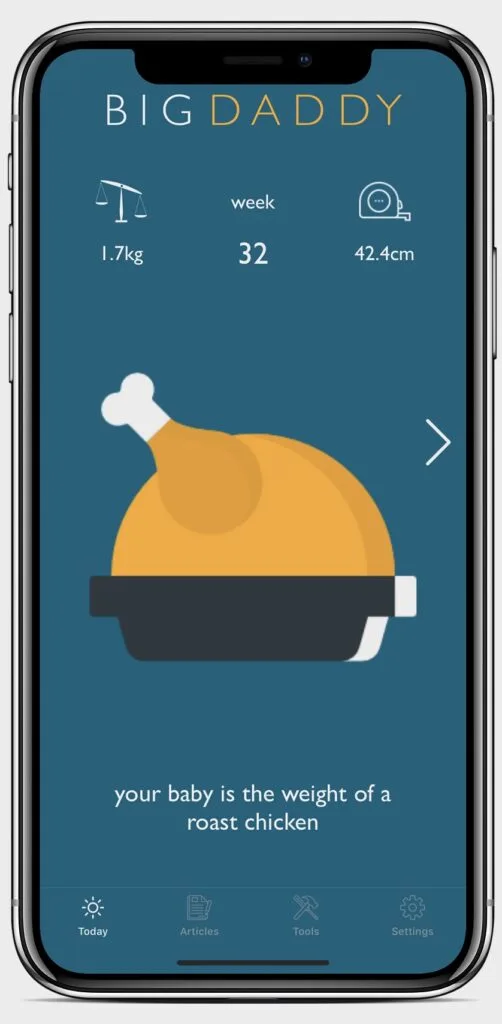 Apple App Store (free with optional upgrade)
I just love the name of this app- brilliant!
The Big Daddy was created by a dad and doctor and is made to help you feel more involved in your partner's pregnancy.
It will get you through the next nine months:
🍼 Keep track of your baby's development with weekly updates for the full nine months
🍼 Visualize how big your baby is with the manliest size comparisons you've ever seen. Think Big Macs instead of blueberries.
🍼 Brush up on your baby banter with weird and wonderful facts about pregnancy
Apple App Store (Free with in-app purchases)
Google Play (Free with in-app purchases)
The Daddy Up app is known as "The field guide to Pregnancy". It is themed like an outdoor adventure with sections called "The Woods", "The Mountain" and "The Peak". It's really cute.
I love the fun features of this app including shareable baby announcements, information on baby names and help with things like picking a car seat.
🍼 Weekly Pregnancy Progress
🍼 Manly baby-size comparisons
🍼 Customizable daddy checklist
🍼 Journal log
🍼 Contraction counter
​
Apple App Store ($2.99)
Google Play ($3.49)
The Who's Your Daddy App wins the prize for the best name. I originally thought it was an app for doing paternity tests a la Maury.
In fact, this app is one of the best pregnancy apps for dads with lots of great features.
🍼 290 daily tips telling you what to do and what not to do during pregnancy.
🍼 Uses humour to guide you through pregnancy.
🍼 42 personalized weekly updates for you, your partner and your baby.
🍼 Helpful tools like a hospital bag checklist, to-do list and potential baby name list.
🍼 Contraction counter
Apple App Store ($1.99)
Google Play ($3.49)
This app does exactly what it says- it gives new dads quick tips and helpful guides on things they need to know as new parents.
This is a good pregnancy app for after your baby is born and will help to answer lots of questions first-time dads might have.
🍼 Over 250 stress-busting tips for first-time fathers.
🍼 11 Essential how-to guides packed with useful information
🍼 5 Must-Have Checklists, helping you avoid the stress of packing for labour, preparing your home and taking your baby out and about.
​​🍼 100s of helpful photos that offer practical advice on the ins and outs of life for upcoming dads.
​🍼 Topics covered include breastfeeding, bottle feeding, looking after mum, bathtime and crying.
Apple App Store ($1.99)
Google Play ($3.49)
This pregnancy app is highly rated and has lots of amazing information for every stage of pregnancy and beyond.
This app is a fun way to track your pregnancy as first-time parents.
🍼 Track baby's growth with the pregnancy tracker
🍼 Fun features such as Zodiac fun and information about celebrities who share the same birthday as your baby
​​🍼 New tips arrive 2-3 times a week in bitesize chunks.
Apple App Store (free trial with in-app purchase options)
Google Play
If you want an app with lots of premium features that is more than just a pregnancy tracker app, then Sprout Pregnancy is for you.
This app is available on both iOS and Android devices and is packed with all things pregnancy.
It is not targeted specifically at fathers but is perfect for expectant moms and dads to track their first baby together.
🍼 Free PDF download pregnancy journal to track your belly photos and pregnancy journey.
🍼 Free checklists including a hospital bag checklist
​​🍼 A baby tracker app feature that gives you accurate information throughout all the weeks of pregnancy
First-time moms can use the health tracker to manage pregnancy symptoms and appointments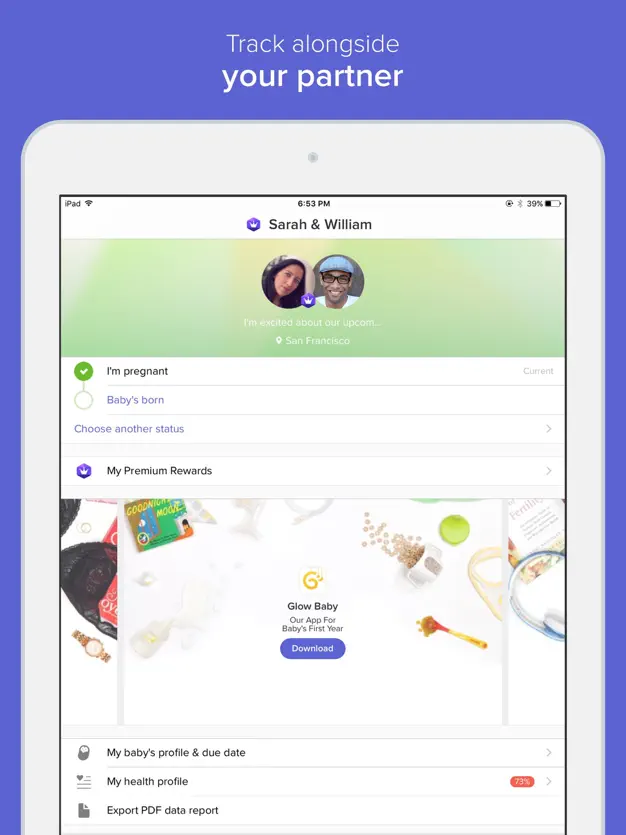 Apple App Store (free to download with premium features for $29.99 for 3 months)
Google Play
​Glow has a ton of great apps and this bump app is one of their best.
If you are a first-time dad (or mom), you will love all of the premium features of this useful app that will make the months of pregnancy a breeze.
The price is good for any of the Glow apps and is really a one-stop show for everything you need at this exciting time.
🍼 The standard pregnancy must-haves such as a due date tracker, fetal development facts and baby's size tracker
🍼 Miscarriage support
​​🍼 Kick counter and contraction timer for dads to help mom through labor.
​🍼 Helpful community forum to get advice from other moms and dads about your new baby
Apple App Store (3.99)
Google Play
This is the best app for family members including dad, to help with your baby's feeding schedule. It includes a weight tracker and many handy tools to give you peace of mind when it comes to your baby's weight gain and feeding schedule.
It makes it really easy to track diaper changes and any other important information in real time so that you can tell your doctor or midwife at your appointments.
🍼 Track baby's feedings, diaper changes and sleep patterns
🍼 Great for first-time moms and dads to get a good idea of their baby's schedule.
​​🍼 Get the ad-free app with in-app purchases or a subscription on Google Play​
Pregnancy Apps For Dads: Final Thoughts
First time dads can often feel a little lost at sea when it comes to pregnancy. After all, it can be hard to know exactly how to help your partner get ready for the arrival of your baby.
Luckily technology has come a long way and now there a tons of great pregnancy apps that act as a one-stop shop for everything pregnancy related.
From tracking fertile days to weekly meditations and daily articles, the apps above are sure to be your trusty companion for the next 9 months.