Learn how to build the perfect maternity capsule wardrobe that won't break the bank. Find out what you need and download a free printable checklist to have you looking chic and perfectly pregnant!
Even if you are not normally a minimalist, pregnancy is the perfect time to test out a maternity capsule wardrobe.
I used to be one of those people with too many clothes and nothing to wear. After my pregnancies, I realized that less clothes make life less stressful.
A maternity capsule wardrobe is easy to build and can also help you save a ton of money. The key is making sure you only buy what you really need and will wear.
If you want to stick to a budget when buying your maternity wear (after all, that means more money for cute baby stuff), make sure to check out my list of places to where to buy super cheap maternity clothes.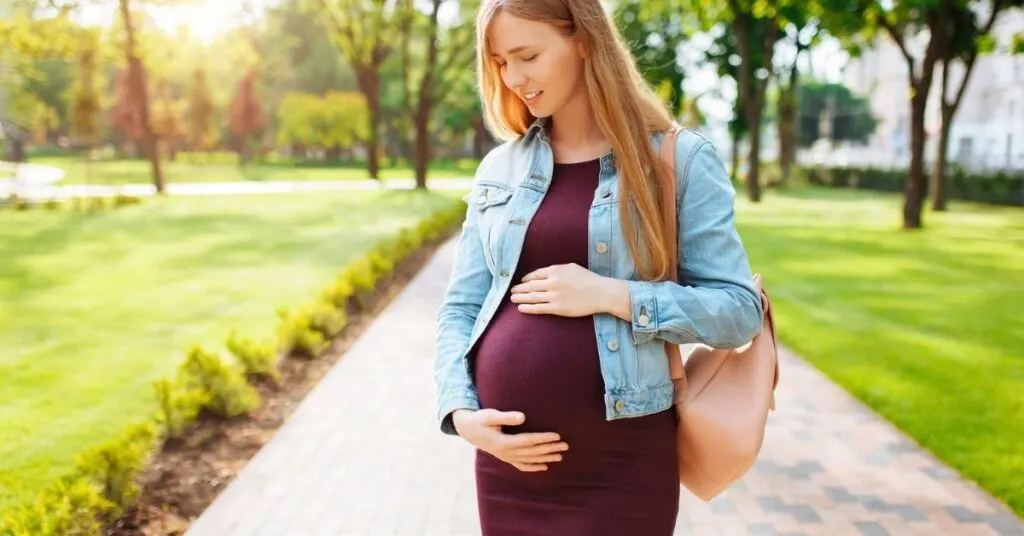 This post may contain affiliate links. Please read my disclosure for more information.
RELATED POSTS
What Is A Maternity Capsule Wardrobe?
A capsule maternity wardrobe is a great idea for those people who don't want to go crazy with shopping (save that for the baby clothes!).
It is essentially a limited number of items that you mix and match to create different maternity outfits throughout your pregnancy.
The idea is that each item in your capsule wardrobe can be worn with a few other items to create lots of effortless looks.
In case you are not familiar with the term, capsule wardrobes became popular along with minimalism.
They really entered the mainstream in 1985 when designer Donna Karan launched the first capsule collection called "Seven Easy Pieces."
The idea of a capsule wardrobe is a heavily edited closet where you mix and match your favorite clothes to create cute and easy to wear outfits.
For most of us, pregnancy is the ideal opportunity to give a capsule wardrobe a try as it is a chance for a "clean slate". It can also help you save a bunch of money and make getting dressed in the mornings so much easier.
I really enjoyed only have a small selection of clothing to choose from when I was pregnant. It felt liberating and I got more creative with accessories such as scarves and jewelry.
If you have never tried a capsule wardrobe, now is the time to give it a try!
How To Build The Perfect Maternity Capsule Wardrobe
If you want to know the key pieces to the perfect maternity wardrobe, keep reading.
I've got you covered with options for summer, fall/winter and even a business casual maternity capsule wardrobe for when you have to go into the office.
What seasons will you be pregnant?
The first thing to decide is when you need clothing for. Will you be mainly at home or in casual settings? Will your second and third trimesters be during the hottest months of the year?
If you are wondering when to buy maternity clothes, you really only need to start wearing them at the end of your first trimester onwards.
Bear in mind that as your belly grows, you may want to wear different, more comfortable clothes.
Next, ask yourself "how much can I afford to spend on clothing this pregnancy?"
If this is your first pregnancy and you are planning on having more children, it is probably worth spending a bit more on the basics that will take you through multiple kids.
Another thing to ask yourself is what you want to wear for special occasions.
You can add a special baby shower dress or photoshoot gown to your capsule wardrobe if needed.
Repurpose What You Already Own
Go through your existing closet and look for clothing that you wear during your pregnancy. Anything open-fronted or zippered can be worn all 40 weeks. Think cardigans, jackets and vests.
Yoga pants and stretchy leggings can probably also be worn at least through 2nd trimester, especially if you wear them under your belly.
Repurposing your pre-pregnancy wardrobe will help you save a ton of money in specialized "maternity clothes".
10 Must-Haves for the perfect pregnancy capsule wardrobe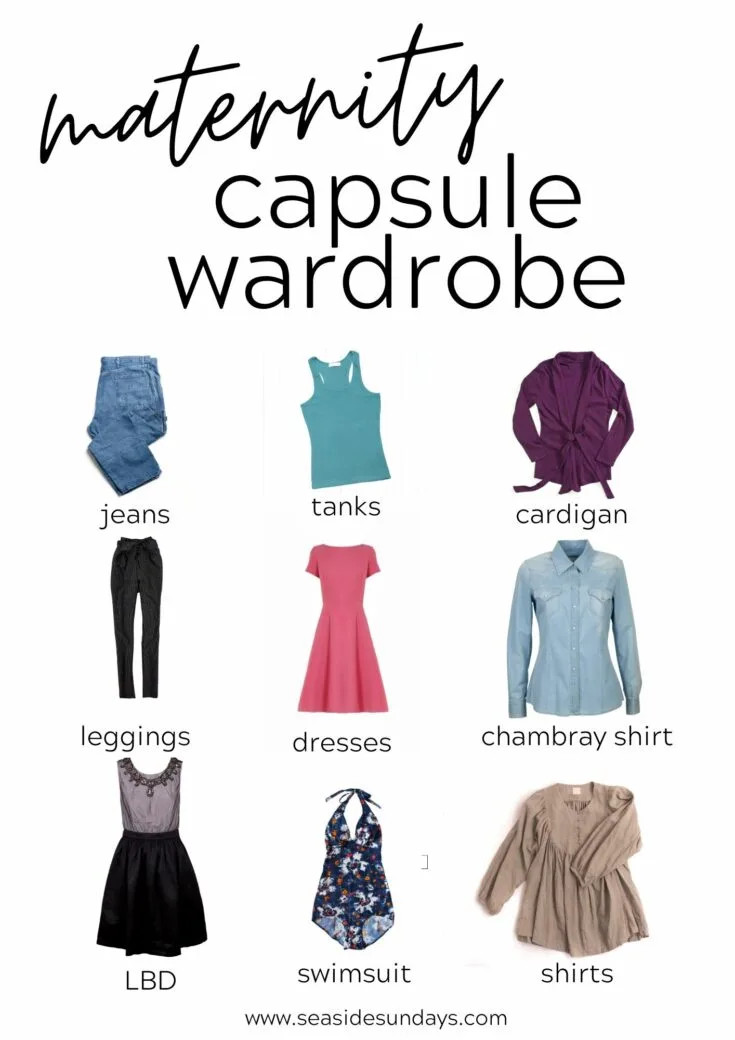 Your maternity style doesn't need to break the bank and you can make that baby bump look amazing with just a few special maternity pieces mixed in with your regular clothes.
Here's what you need:
First Trimester
You can probably get away with your regular size clothes for most of your first trimester. Regular tops and a bump band for jeans and pants are a great choice for everyday wear.
As you won't need to buy a whole new wardrobe until you get a lot bigger, hold on from buying too many maternity things until pregnant belly gets much bigger.
Tank tops
Belly band
Breezy dresses in the summer months
Wireless bras
Second Trimester
Now your belly will be showing and it's time to break out the cute maternity clothes.
To get the most wear out of your clothes, now is the time to buy your entire maternity wardrobe.
Here are some essential pieces that it is worth investing in and that should last your entire pregnancy.
2 Pairs of maternity jeans
A little black dress (for dinners out, parties etc)
A shirt dress that can be worn with a cardigan in the cooler months
At least one maternity bra
Maternity pants or leggings that fit over your growing bump
Third Trimester
You probably won't need to buy any new maternity items in the 3rd trimester but you will mostly be wearing things from the second trimester plus:
Maxi dresses (again)
Tops in stretch fabric (with lots of room)
Anything that highlights that beautiful big belly!
The Best Maternity Capsule Wardrobe
Your basic capsule wardrobe for pregnancy really only needs 9 or 10 items.
From there you can mix and match to create different outfits to suit all kind of occasions.
1. Long Tanks

Long maternity tanks are the building block for the rest of your maternity closet. They work in every season – worn alone with shorts in the hot months or under a cardigan in the winter.
I loved the layering tanks from Target when I was pregnant, and truth be told, I still use them now. The extra long length is perfect for tall girls.
If you want to buy online, this 3 pack of maternity tanks from Amazon is an amazing deal.
2. Black Leggings

Black leggings are a pregnant woman's must-have. They are comfy, stretch to fit your growing belly and are cute and slimming.
You can wear your black leggings with a tank and cardigan, under a dress or with a long tee. Shoe-wise, you can go with cute flats, booties or Uggs.
I love flats and Ugg-like boots when pregnant as they don't require you to bend down to tie them up – so much easier.
I like an over the belly pair of leggings like these bestsellers because they don't need to be constantly pulled up.
3. Jeans

Your other maternity capsule wardrobe must-have for your bottom half is a good pair of jeans.
This is one area where it is worth splashing out as you will be wearing them a ton and they may even see you through the first weeks postpartum.
I wore my maternity jeans to my newborn photoshoot. They were just so comfy and flattering.
There are a few different options when it comes to maternity jeans. Along with your regular skinny/bootcut/flare and different wash choices, you can choose which kind of waistband you like.
I love the Old Navy Maternity Jeans as they give you a bunch of options:
The kind of waistband you choose is a personal decision, personally I preferred a front-low panel because I found it more comfortable.
It made the jeans almost like stretchy jeggings.
Another thing to consider is that with full belly jeans, the panel may be visible through light-colored clothing like white tanks. I also found the full panel was a bit itchy on my stomach.
4. Cardigans and Wraps
You don't need to spend money on special maternity cardigans. Regular ones will do the trick as you can just leave them open and unbuttoned.
A nice cardigan or wrap looks great with jeans or leggings and a tank top. Add a cute scarf to finish the look.
My must-have cardigans for any capsule wardrobe are cardigans in neutral colors such as camel, grey and black. You can then add a pop of color with your layering piece.
Another option is to wear a statement cardigan in floral or animal print. This looks amazing paired with black leggings and a black tank.
Here are some cute cardigan options for cheap : (click the picture to check the price)
Pictured above:
5. Long Sleeve Layer
This is optional if you are pregnant in the summer or live somewhere really warm.
If you are pregnant during the winter, in addition to maternity tanks, you may want to add in some long sleeve tops for layering with cardigans.
I love neutral greys and blacks in addition to a marine stripe which can act as a neutral too. Amazon has great options for long sleeve 3 packs.
6. Dresses

Maternity dresses look really cute because they accentuate your bump. It's also really nice to not have anything constricting on your belly, especially as your pregnancy progresses.
You can look on sites such as Pink Blush for pretty boho style dresses for the summer. I also really like the dress options from Liu and Qu like the one below.
7. Chambray Shirt

A thin chambray shirt can act as a cute neutral to pair with shorts or leggings. Look for longer tunic styles if you want some bum coverage.
They have been a maternity must-have for decades and never go out of style.
8. Denim Jacket or Blazer
You really don't need to buy a special maternity jacket or blazer – any one you have will do if you leave it open. Layer a jacket with a tank or top for a cute look that can go from day to night.
A dressy blazer like this one from Amazon looks really nice with jeans for a dinner date.

Maternity Capsule Wardrobe Variations
The above pregnancy wear must-haves are likely all you need if you work from home or don't need to dress up for work. If you want to add a few extras depending on your needs, here is what I would add:
Business Casual Maternity Capsule Wardrobe
For a business casual wardrobe while pregnant, blazers and cardigans are your friend.
You can also add a few extra dresses, maternity tights if needed and a pair of dress pants.
Motherhood Maternity has some awesome skinny dress pants that come in a range of colors and are super comfortable.

You can make any outfit look more smart with a statement necklace like this gorgeous mermaid style one.
Summer Maternity Capsule Wardrobe Ideas

Floaty dresses will take you through the summer with little need for anything else.
2 or 3 extra dresses for summer should be enough to get you through without feeling that you are always wearing the same thing.
Long floaty floral dresses are really trendy right now and are almost made for pregnant women. You can choose from tons of different styles for great prices on Amazon and Pink Blush. .
You can also add in a cute pair of denim maternity shorts which fit the same as maternity jeans.
Summer can be a tough time to be pregnant because of heat-induced swelling but the upside is that you get to wear flip-flops and you get to do really cute beach baby reveal photoshoots!
Fall/Winter Maternity Capsule Wardrobe Must-Haves
You don't really need to add much else to your pregnancy wear if your second and third trimesters are over the winter months. Chunky cardigans and hoodies should see you through.
You can add a cute sweater or two if you want but it's not necessary. Personally I would prefer to buy additional cardigans that I can wear after baby is born too (a cardigan and a maternity tank are perfect for nursing).
Do you need a maternity coat?
I will tell you that my personal opinion is that you don't need to spend money on an expensive maternity coat. I had two spring babies and was pregnant twice throughout a harsh Canadian winter and I really did not need a special coat.
Mostly, I wore my regular winter jacket unzipped with a thick hoodie underneath. It was totally fine even for standing outside for long periods of time like watching the Santa Parade in December.
If you want to be properly fitted for a coat, save money by buying a maternity coat extender.
Maternity Capsule Wardrobe Pictures
1. Body Con Dress and Jacket
This look is awesome for fall days when you want to look cute but casual. The body con dress can be glammed up with heels for date night.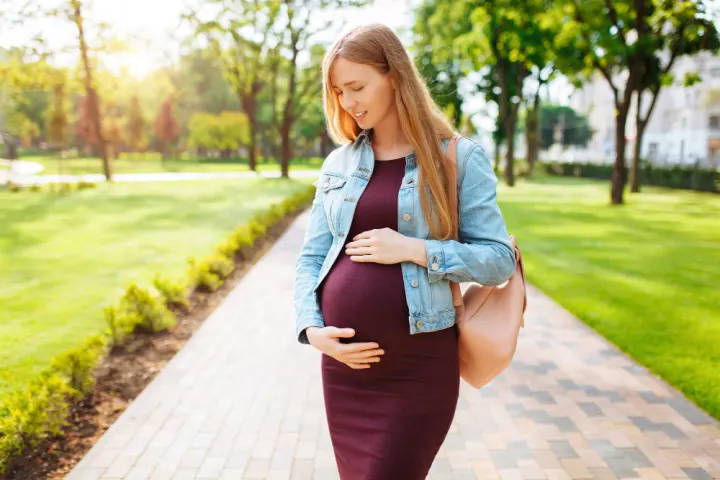 Shop This Style:
2. Chambray Shirt
Comfortable and cute, this is the perfect weekend outfit for pregnant moms-to-be.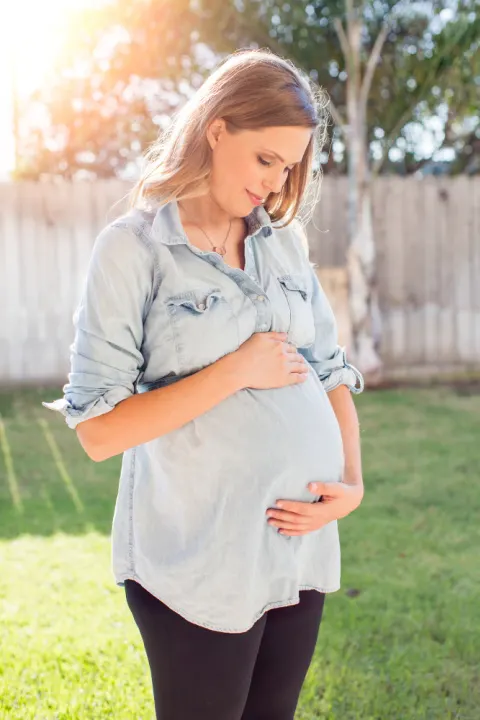 Shop The Look:
3. Fur Vest and Dress
A cute non-maternity vest looks great paired with a cute dress for your fall/winter maternity capsule wardrobe.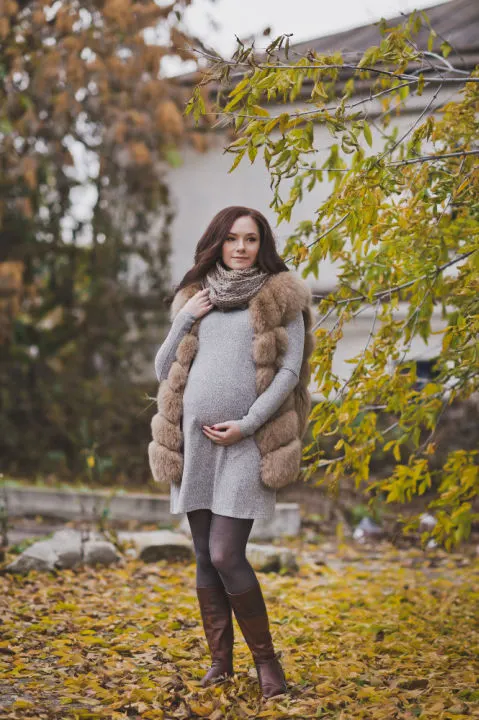 Shop The Look:
4. Belted Maternity Top
A cute belt around a flowy top or dress will really accentuate your bump and looks cute with skinny jeans or leggings.
Shop This Style
How To Build The Perfect Maternity Wardrobe – FAQS
What month do you start wearing maternity clothes?
Maternity clothes are not a one size fits all type of clothing. Depending on how far along you are in your pregnancy, the month you start wearing maternity clothes may vary. For most pregnant women, they will start to feel more comfortable in maternity clothes around the fourth or fifth month of their pregnancy. However, some women may need to wear maternity clothes sooner or later depending on their individual body type and pregnancy symptoms.
If you have been pregnant before, you may find that your body starts to change faster this time around .
How do you create the perfect maternity capsule wardrobe?
Creating the perfect maternity wardrobe can be a daunting task. With so many options available, how do you know what to choose? The key is to focus on pieces that will flatter your figure and can be worn throughout your pregnancy and after the baby is born. Here are some tips on how to create the perfect maternity capsule wardrobe:
1. Start by choosing a few basic pieces that will serve as the foundation of your wardrobe. A good pair of jeans, a few basic T-shirts, and a comfortable maxi dress are all essential items.
2. Add some layers to your outfit for chilly weather. A cozy cardigan or wrap will keep you warm on those chillier days.
3. Invest in a few key pieces that can take you from pregnancy to post-pregnancy (remember to buy your pre-pregnancy size)
Pick neutral colors that go with lots of different outfit combinations.
How much does a maternity wardrobe cost?
Maternity clothes can be a necessary evil during pregnancy, but they don't have to break the bank. The good news is that you don't need to buy a lot of maternity clothes early on in your pregnancy. Most women only need about three or four items for the first trimester and then another six to eight items for the second and third trimesters.
You can find some great deals on maternity clothes if you shop around. Department stores, online retailers, and consignment stores are all good sources for affordable maternity wear. You may also want to consider renting or borrowing maternity clothes from friends or family members who have already had children.
Check out my post on Where To Buy Super Cheap Maternity Clothes for lots of ways to save money on your maternity wardrobe.
The average cost of a maternity wardrobe is around $200, but it's possible to spend much more or much less depending on your needs and preferences.
Free Printable Maternity Capsule Wardrobe Checklist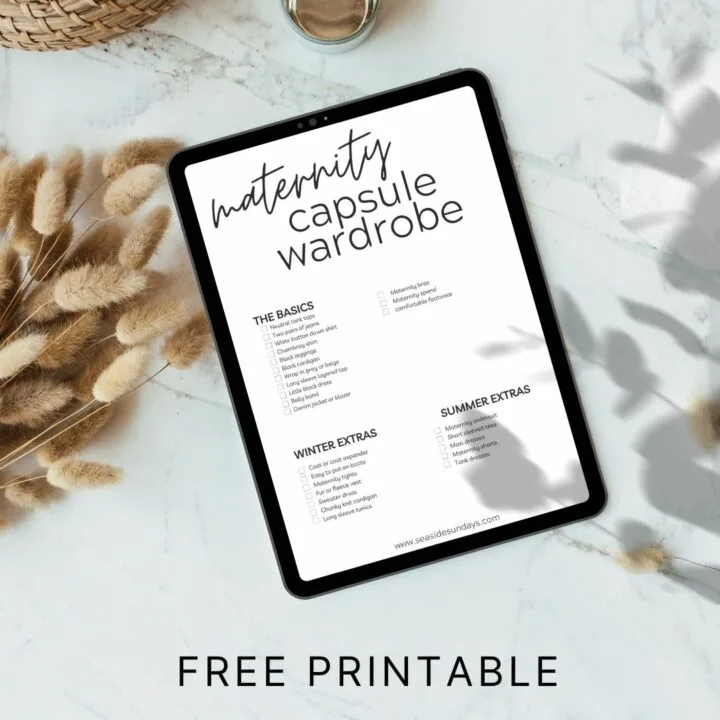 Stay on track with your shopping with this free downloadable pregnancy capsule wardrobe checklist.
Just fill out the form below and you can download and print it at your leisure.
The Perfect Maternity Capsule Wardrobe – Final Thoughts
Making a maternity capsule wardrobe is a great idea if you want to transition from pregnancy into post-pregnancy style without having to spend a fortune. This is especially true because maternity clothes don't get much wear typically.
Maternity fashion has a come a long way in recent years and now there are lots of options to make your pregnant body look fantastic!
By stocking up on affordable maternity essentials, you can build your wardrobe over time and have everything you need without breaking the bank. There are many options for maternity clothing on the market, so find something that fits your style and budget.
More Pregnancy Tips
More Than 15 Freezer Meals To Make Before Baby
How To Have A Baby On A Budget
8 Best Pregnancy Exercise Apps