Keep the kids busy this holiday season with these easy Christmas party games for toddlers.
If you planning some parties this holiday season, you are probably wondering how you can entertain the younger guests. Luckily for you we have a huge list of fun Christmas activities to play at classroom parties or family events.
Whether you want something quick and easy or you want to keep the kids busy over winter break, this list of Christmas party games for toddlers is sure to be a hit.
They are a great way to celebrate the season while having lots of fun – on a budget! Merry Christmas!
Read on for all the details and full instructions for each game.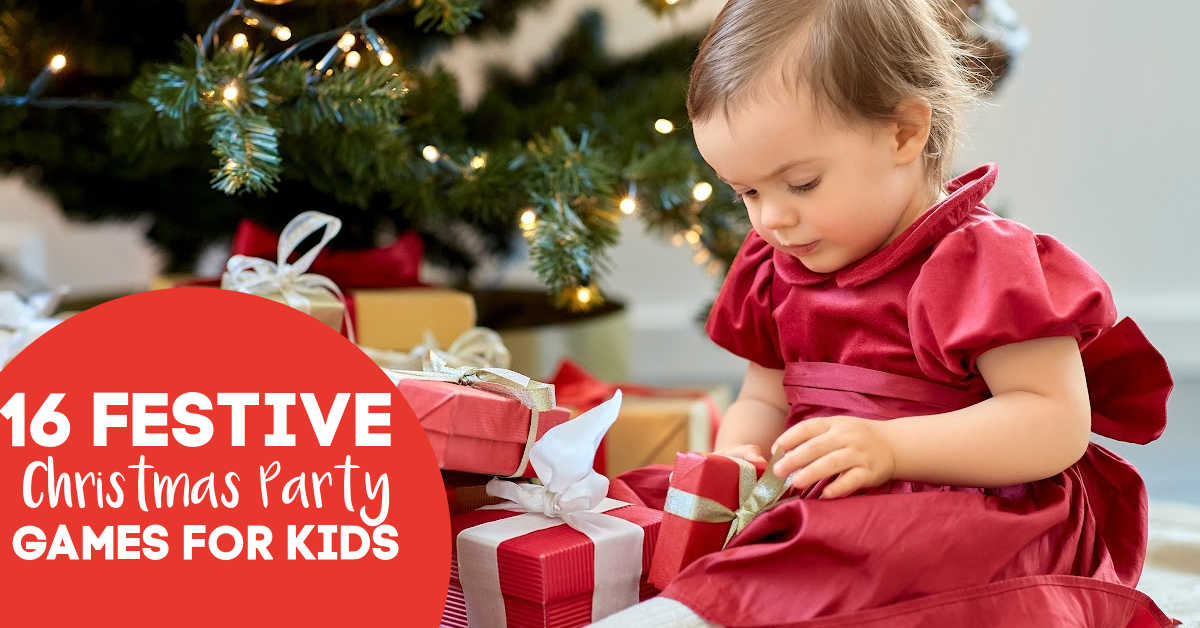 This post may contain affiliate links. Please read my disclosure for more information
MORE FUN KIDS PARTY IDEAS
19 Birthday Party Activities For 2 Year Olds
12 Old Fashioned Party Games That Kids Love
Christmas Party Games For Toddlers
If you're looking for some festive and fun Christmas games to play with your children, you've come to the right place!
Here are sixteen of our favorites that are sure to get everyone in the holiday spirit. From a Christmas minute to win it game to a festive scavenger hunt, there's something for everyone. So get ready to jingle all the way with these fun Christmas party games!
If you want to give your party guest an extra special treat, make sure to also check out our list of 28 Unique Goodie Bag Ideas For Birthday Parties
Pin the Nose on Rudolph
This Rudolph-themed game is perfect for a Christmas party in the classroom!
To play, blow up a picture of the famous red-nosed reindeer and hang it on the wall. You can also buy a kit like the one above from Amazon.
Then, cut out red noses from construction paper and tape them to the wall around Rudolph. Give each child a blindfold and have them take turns trying to pin the nose on Rudolph! The child who gets closest to the real nose wins a prize!
Christmas Charades
One Christmas party game that is always a hit is charades. To play, divide the class into two teams.
One student from each team comes to the front of the room and acts out a Christmas-themed charade while their teammates try to guess what it is. The first team to guess correctly gets a point. Some possible charades include:
Make A Snowman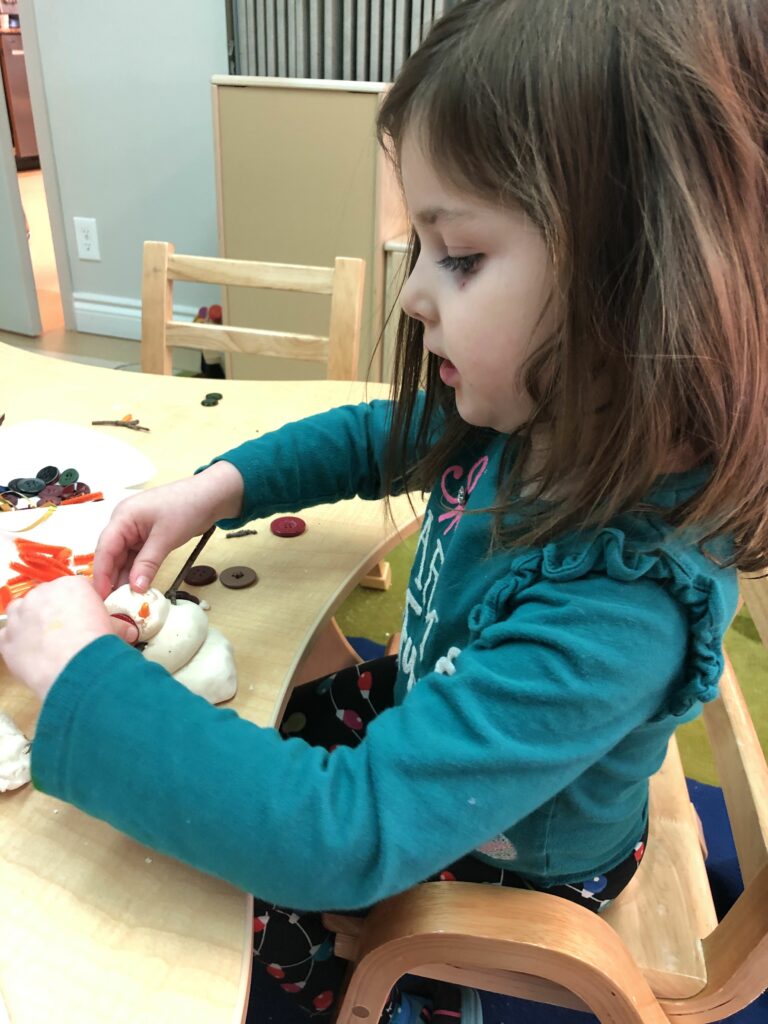 A fun party game or activity for toddlers at Christmas is to make a snowman out of play dough. All you need to do is make some candy cane scented play dough using our recipe (it's non-toxic) and then supply some accessories such as buttons, pipe cleaners and jingle bells.
Snowflake Bumps
This is one of my favorite Christmas party games for toddlers because it is so easy to put together. All you need is to cut out snowflake shapes from cardstock or a paper plate. You'll need one snowflake for every child to start off.
Place them on the ground to act as the "chairs".
Now play holiday music and let the children dance around. When the music stops, every body has to a find a snowflake to sit on as quickly as they can. For each round, take away a snowflake so that one person is left without one each time. That person is out.
Keep playing until there is only one snowflake left and the person who gets it is the winner.
Mystery Christmas Stocking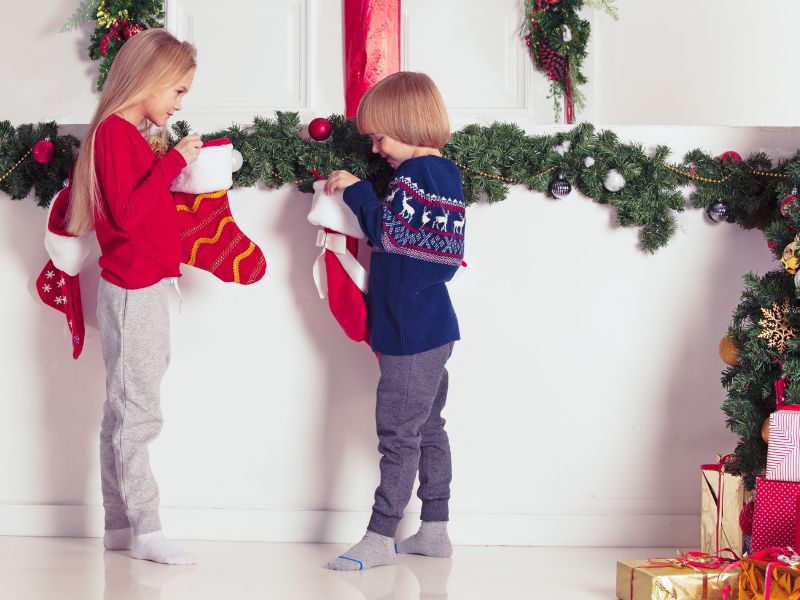 This is a really fun game for all ages. All you need are some random holiday items and a Christmas stocking. Fill the stocking up and then close it securely with a ribbon.
Have all the children sit in a circle and pass the stocking around to let everyone feel what's inside.
Depending on the age of the children, you can either have them write down their guesses on paper or have pictures of some ideas that they can check off.
Jingle Bell Toss
If you are looking for Christmas party ideas for younger children, you'll love this Polar Express inspired game. It is similar to the summer Corn hole game. All you need are 12 red plastic cups and some small jingle bells. Mark numbers on each cup – I normally do 5, 10, 20. Each person takes turns to toss their bells and try and get them in the cup.
You can then add up the number of points each cup is worth.
Christmas Bingo
Put a fun holiday twist to the classic game by playing a holiday edition of Bingo. You can grab some free printable bingo cards here.
Just print them onto paper or card and give each child a bingo dabber. If you have a small stocking stuffer for a prize it will be even more fun!
Cookie Cutter Tower
This is one of my favorite minute to win it holiday games. All you need are a bunch of Christmas cookie cutters in different shapes. Each person has to see how many cookie cutters they can stack into a tower before the whole thing comes toppling down.
Santa Says
An easy way to break the ice at a classroom Christmas party or family gathering is with a quick game of Santa says. This is the same as the old fashioned party game "Simon Says" except we use Santa to make it more festive.
All the children stand up and the teacher gives instructions such as "Santa says touch your toes" or "Santa says jump up and down".
If the teacher says an instruction without starting with Santa says, anyone who follows the instruction is disqualified.
Unwrap the Christmas Gift
This is one of my favorite games to play with kids and I bring it out for every holiday. I have a similar Halloween game here.
For this holiday party game , you'll need a Santa hat, oven mitts, a pair of dice or a timer and a Christmas present that is wrapped in several layers.
Each person takes turns to don the Santa hat and oven gloves. They then attempt to unwrap the gift as quickly as possible before either someone rolls doubles or the timer goes off (whatever works for your crowd).
The person who rolled doubles can then take their place or you can go around the circle taking turns until the gift is unwrapped.
Snow Ball Relay Race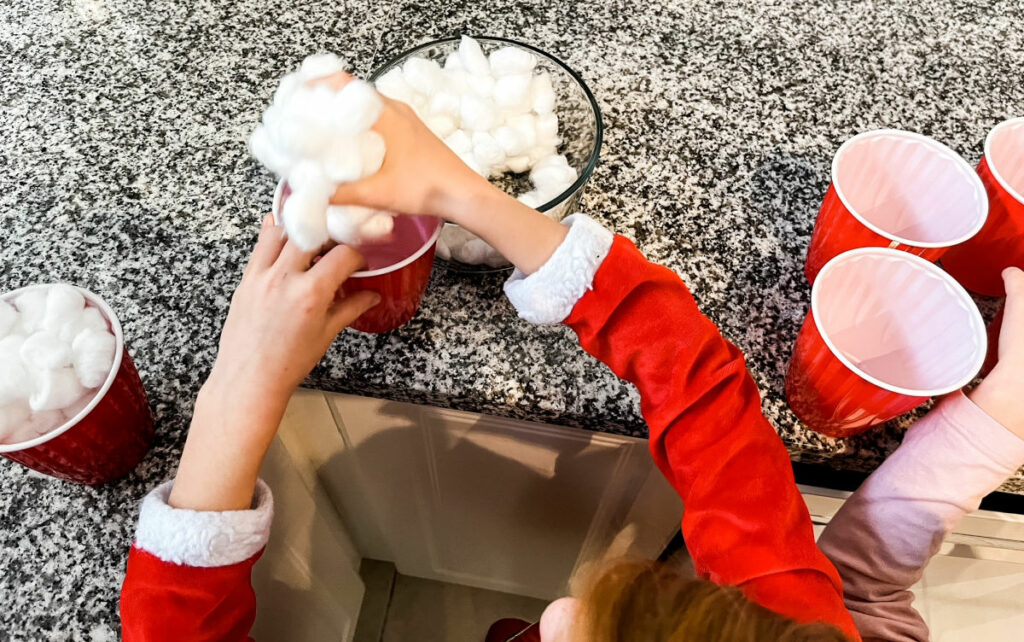 This is a great game that can be adapted for kids of all ages.
Divide the party guests into small groups or teams. Ideally each team would have 3-4 people.
At one end of the room, place a large bowl or jar for each team on the floor or on a table. At the other end of the room, have a large bowl of either small styrofoam balls, white pom poms or cotton balls.
Give each player a plastic spoon or a plastic cup for smaller children.
The aim of the game is for each person in the team to fill their spoon or cup with "snowballs" and then race across the room and add them to their bowl. The first team to fill their bowl is the winner.
You can also use small candies such as jelly beans or M & Ms too.
Do You Want To Build A Snowman?
I've played the Halloween version of this game lots of time but it is an easy game to use at holiday parties too.
All you need are rolls of toilet paper and some willing volunteers. If you are hosting a family party or you have older kids involved, you can either have them act as the snowmen or as helpers for the children.
The object of the game is to use the toilet paper to turn your chosen volunteer into a cute snowman by wrapping the paper around them. You can divide the party guests into two teams and see who can get their snowman finished first.
Hunt The Candy Cane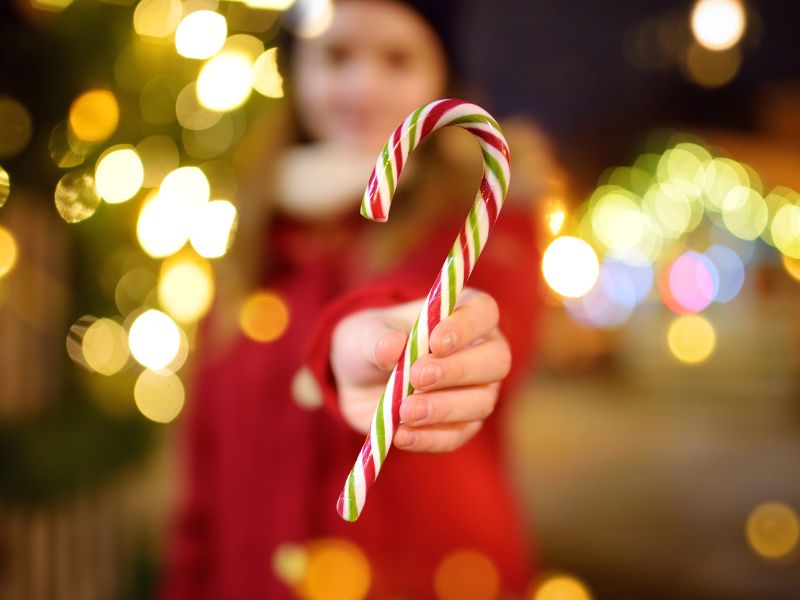 My children love playing this game and it makes a fun activity for classroom Christmas parties too. The first thing to do is to hide candy canes all over the house or room.
Depending on the age of the children, you can hide different colored candy canes all over and get them to hunt for their color only.
If you have some older kids that can help out, you can write little maps on pieces of paper that you leave by each candy cane. Get the older children to help the younger ones read the map to find out where the next candy cane is hidden.
Neighbourhood Christmas Scavenger Hunt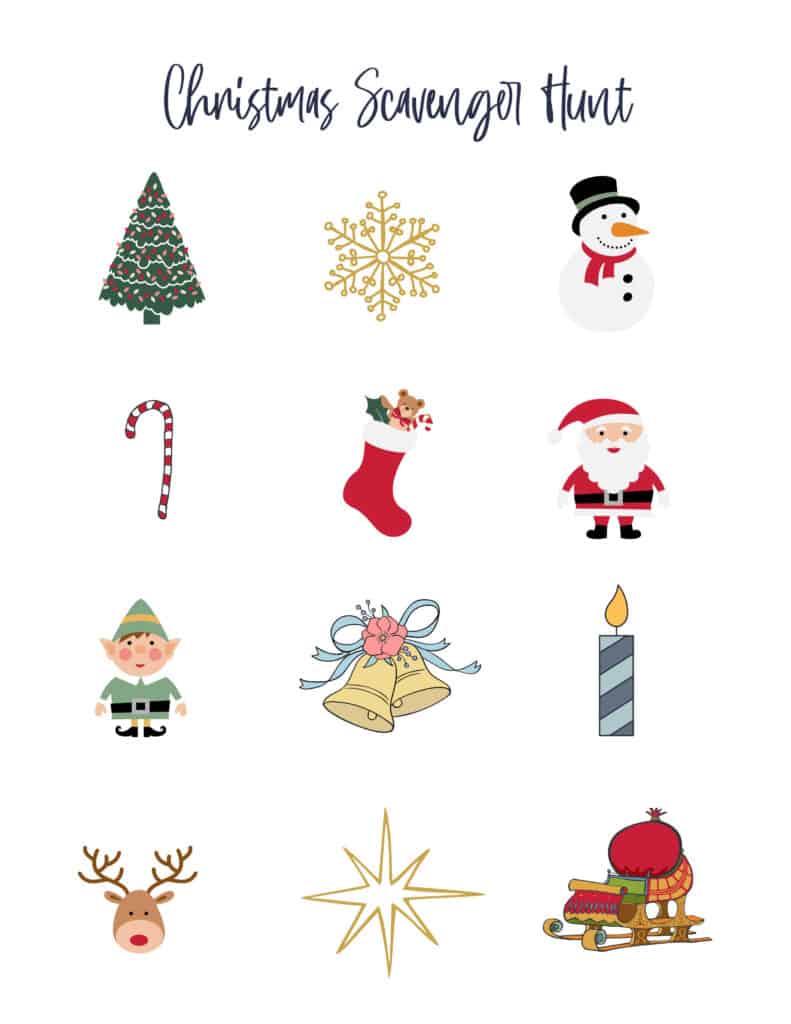 This is a great game to play at Christmas time and it gets the kids out on the fresh air too. All you need to do is use print this free Christmas scavenger hunt for each child and give them a pencil or pen. Then head out for a walk and see what decorations you can find in your neighbourhood.
My children love playing this game every year and it has become one of our Christmas Eve traditions.
Pass The Christmas Present
A holiday take on Pass the Parcel, for this game, you will need some small wrapped gifts, and some Christmas music.
Sit the children in a circle and start the music.
The child who is holding the parcel when the music stops gets to unwrap a layer of paper. Keep going until all the paper is off and the last child gets to keep the prize!
I like to add small prizes from the dollar store in each layer to avoid disappointment.
Design A Christmas Tree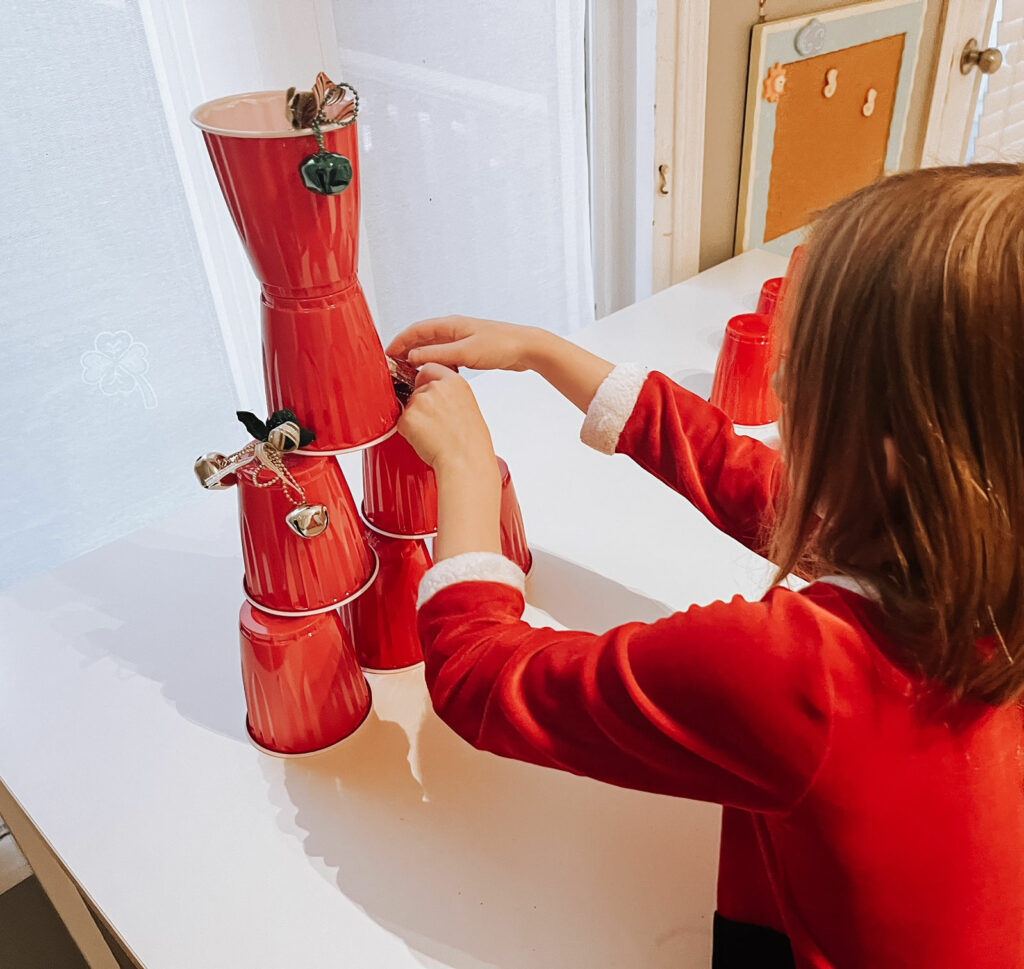 If you want a quick craft to do at preschool classroom holiday party, grab some pipe cleaners in different colors. Let each child use their imagination and creativity to make a Christmas tree out of the pipe cleaners. You can also give them beads to string onto the to make it extra fun.
You can also use dixie cups and holiday decorations for this game too. Give each child 1 minute to build a tower as quickly as they can and decorate it then choose the best one.
This is a great sensory play activity for toddlers and little kids but older children will enjoy being creative too.
More Fun Christmas Activities For Kids
If you loved this list of Christmas party games for toddlers, here are some more fun ideas:
Peppermint Playdough Recipe {Make in 5 Minutes}
How To Make Gingerbread Playdough {Free Printable Gingerbread Man Playdough Mats}
41 Christmas Eve Box Ideas For Toddlers