If you're looking to throw a memorable 3-year-old Halloween birthday party or any Halloween party for toddlers, you have come to the right place!
I've gathered lots of Halloween party ideas for you to throw the most spooktacular Halloween party for your little ones.
From decor to fun snacks and exciting age-appropriate music and games, we have everything you need for the most epic monster bash!
Read on for all our amazing Halloween party ideas for toddlers.
This post may contain affiliate links. Please read my disclosure for more information
MORE HALLOWEEN FUN
21 Best Baby Halloween Costumes To Celebrate
51 Cute Baby First Halloween Quotes For Instagram
The Best Halloween Party Ideas For Toddlers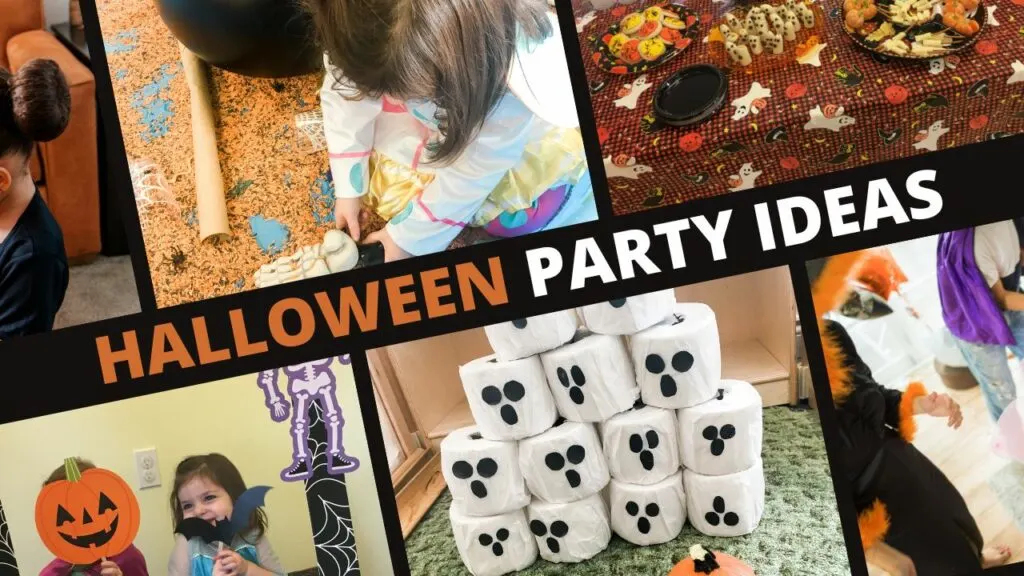 ​Below you will find all our ideas for the best Halloween parties for toddlers. Just scroll down to the section that interests you and get ready to get in the Halloween spirit!
Halloween Decor For A Toddler Party
When decorating your house for a Halloween party for toddlers, it's important to strike a balance between creating a festive atmosphere and keeping the decorations child-friendly and age-appropriate.
Here are some ideas on how to decorate your house for a spooktacular Halloween party for toddlers:
Pumpkin Patch
Use pumpkins as a central theme for your decorations. They are cheap and safe for toddlers to play with.
You can transform a corner of your party area into a mini pumpkin patch with lots of fun shapes and colors for your party guests to explore.
Colorful Balloons
Inflate orange and black balloons and scatter them around the party space.
Balloons can add a festive touch without being too overwhelming for toddlers.
You can also tie them to chairs or create balloon arches at the entrance to set the Halloween mood.
Paper Jack-O'-Lanterns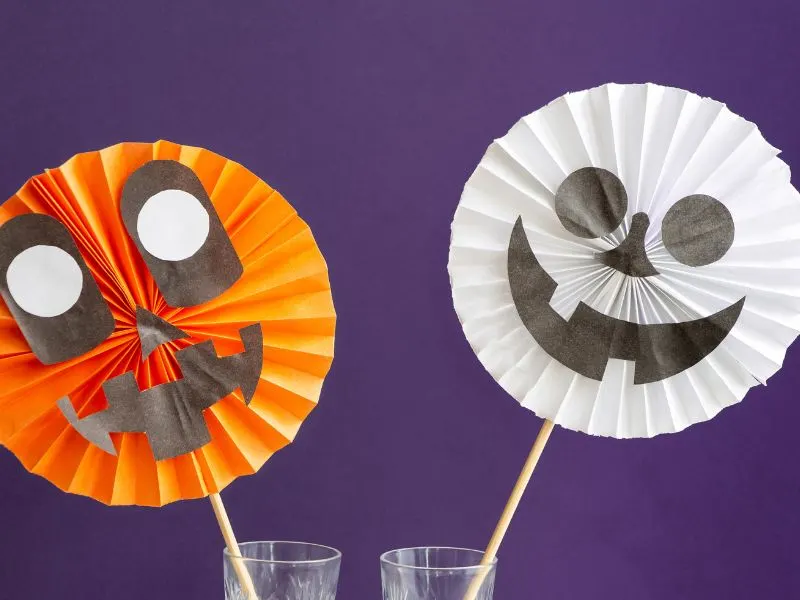 Create paper jack-o'-lanterns by cutting out pumpkin shapes from construction paper. Let the toddlers help decorate them with crayons, markers, or stickers.
Hang the jack-o'-lanterns on walls or string them together to make a garland.
Spooky Silhouettes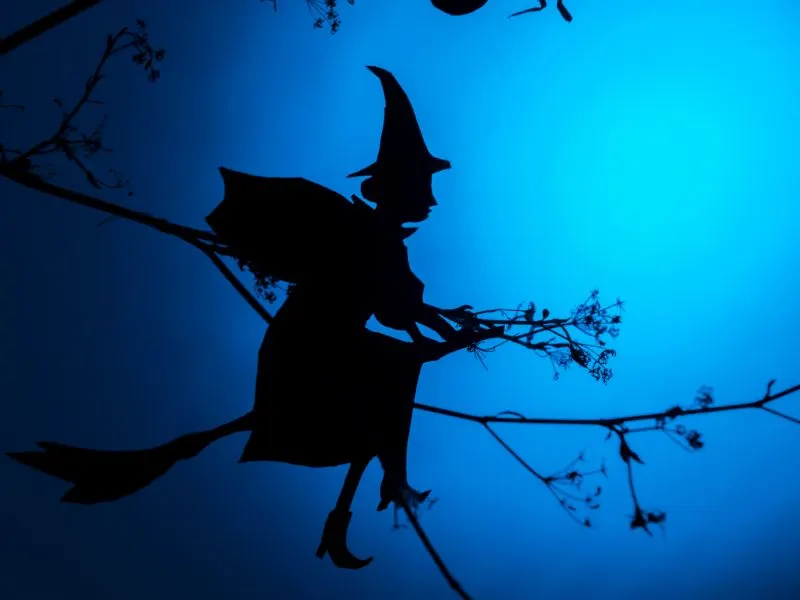 Cut out Halloween-themed silhouettes, such as cats, witches, or bats, from black construction paper or cardstock.
Stick them on windows, doors, or walls to create a festive ambiance. Silhouettes are simple yet visually appealing for toddlers.
Friendly Ghosts
Use plain white pillowcases and a Sharpie to make easy ghosts and hang them around the room or over chairs.
Glow-in-the-Dark Room
You can use glow-in-the-dark stickers or cutouts in Halloween-themed shapes like stars, moons, or bats. Stick them to the walls or ceiling to create a magical and slightly spooky effect that toddlers will find intriguing and fun.
This works especially well if you have a room you can turn into a faux "haunted house" as you can keep the lights on for some extra fun.
​Snacks For A Toddler Halloween Party
While Halloween is synonymous with sweets, with younger kids, your Halloween party food needs to be healthy.
Finger foods work best for this age group – of course, make sure to find out about any food allergies beforehand.
I have a whole list of fun Halloween treats for toddlers here. Here are some of the most popular:
Ghoulish Sandwiches
For a festive touch, use Halloween-themed cookie cutters to create fun shapes with fruits and sandwiches.
Halloween Jello Cups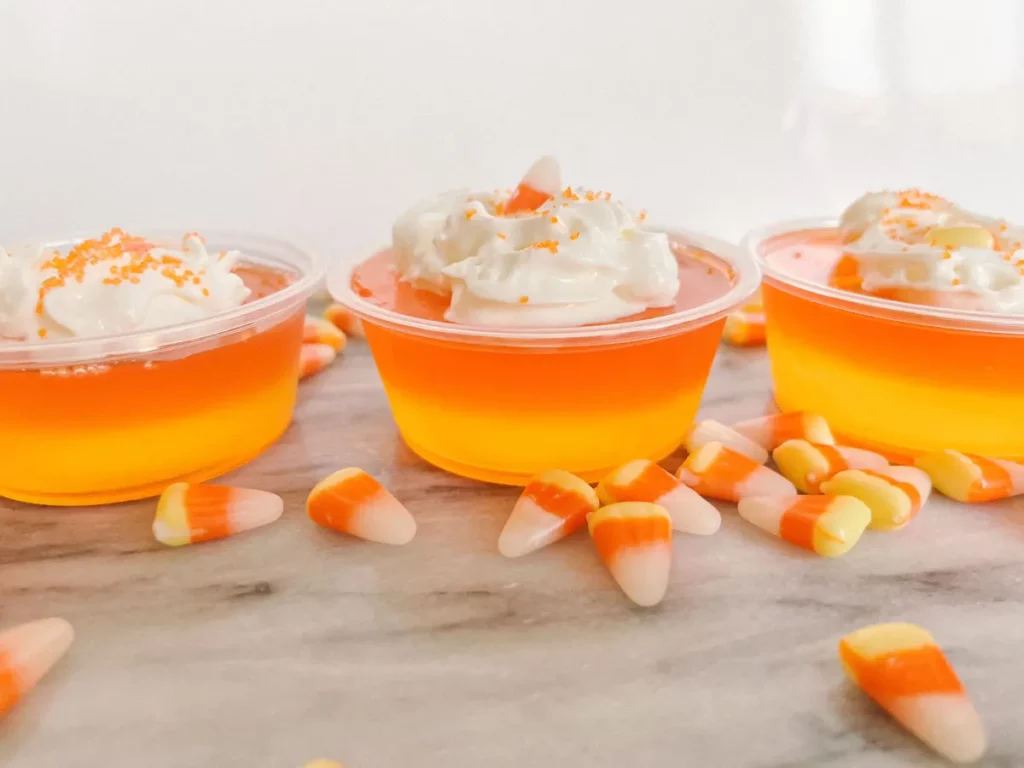 All little ones like Jello and it is one party snack that you can prep a few days in advance.
You can make candy corn jello using layers or orange and yellow gelatin or go crazy with a Jack Skellington themed party!
Spooky Fruit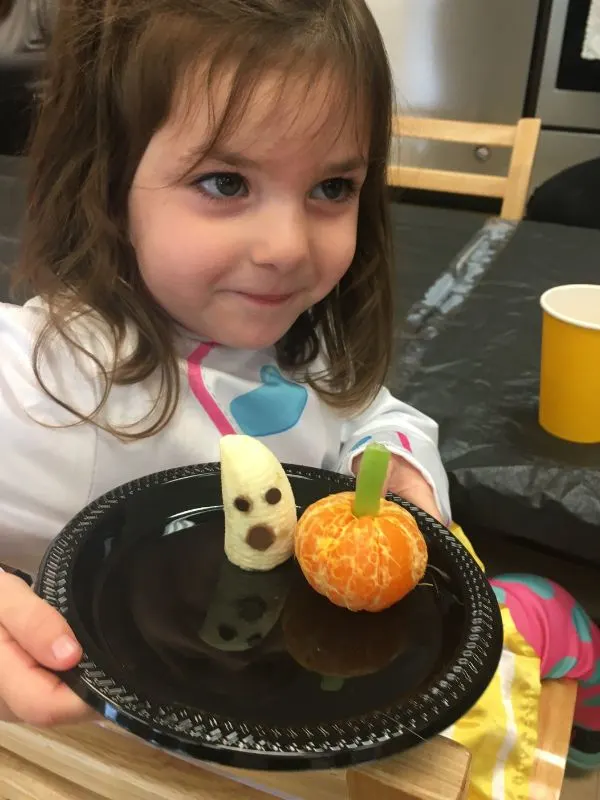 A great way to provide great snacks with a Halloween theme is to decorate fruit.
You can use a marker to draw a Jack O'Lantern face on a mini orange or use a stick of celery to turn a clementine into a pumpkin.
Bananas become ghosts with chocolate chip faces!
As for drinks – you could serve up green hot chocolate (just use green chocolate chips and milk) or apple cider.
Music For The Perfect Halloween Party
After their snacks, your little guests are sure to want to dance so make sure you have a good Halloween playlist ready!
Here's a list of 10 Halloween-themed songs that are perfect for a toddler birthday party:
"The Monster Mash" by Bobby "Boris" Pickett: A classic Halloween song that's fun and catchy, perfect for dancing and singing along.
"Five Little Pumpkins" by Super Simple Songs: A cute and educational song that teaches counting and introduces toddlers to the concept of pumpkins during Halloween.
"Spooky Scary Skeletons" by Andrew Gold: A playful and silly song that adds a touch of whimsy to your Halloween party. It's sure to get the little ones moving and giggling.
"Halloween Night" by Little Blue Globe Band: An upbeat song that captures the excitement and joy of Halloween night, complete with friendly monsters and spooky fun.
"The Itsy Bitsy Spider" (Halloween version): Take the classic nursery rhyme and give it a Halloween twist by incorporating spooky spider-themed actions and visuals.
"I'm a Little Ghost" by The Kiboomers: A cute and lighthearted song that lets the toddlers pretend to be friendly ghosts, floating and saying "boo!" It's perfect for imaginative play.
"Witch Doctor" by David Seville: A playful song with catchy beats that allows toddlers to practice their dance moves while pretending to cast magical spells.
"Pumpkin, Pumpkin" by The Learning Station: A lively song that celebrates the magic of pumpkins and encourages toddlers to dance and sing along.
"Ghostbusters" by Ray Parker Jr.: An iconic Halloween song that toddlers will recognize and enjoy. Sing along, dance, and let the little ones have fun pretending to catch ghosts.
"The Addams Family Theme Song" by Vic Mizzy: A spooky and playful song that brings back memories of the classic Addams Family TV show. It's a great addition to your Halloween playlist and will surely get everyone in the party spirit.
The Best Halloween Party Games For Toddlers
No kid-friendly Halloween party would be complete without some fun Halloween games.
If you have older kids at your party as well as little ones, make sure to check out this list of Halloween party games for kids.
If you are only catering to little kids, here are five fun Halloween party games designed specifically for toddlers:
Pumpkin Bowling
This is one of my favorite Halloween games because it is so easy to set up and doesn't require much supervision.
For this game, you are going to create a bowling alley using rolls of toilet paper decorated as friendly ghosts.
The toddlers will use a small pumpkin as the bowling ball.
They can take turns rolling the pumpkin toward the pins, trying to knock down as many as they can.
This game helps develop hand-eye coordination and provides a delightful Halloween twist on a classic game.
Spider Web Treasure Hunt
Set up a spider web maze using yarn or streamers in a designated area. Attach small Halloween-themed toys, stickers, or treats to different sections of the web.
Let the toddlers navigate through the web, collecting treasures as they go. This game promotes gross motor skills, and problem-solving, and adds an element of excitement to the party.
Witch Hat Ring Toss
Create a friendly witch by placing a large witch hat on the ground.
Provide the toddlers with soft, lightweight rings (you can use foam rings or create them using pipe cleaners).
Have the little ones take turns tossing the rings onto the witch hat. The objective is to land as many rings as possible on the hat.
This game enhances hand-eye coordination and offers a delightful challenge for toddlers.
Ghost Freeze Dance
Choose some lively Halloween-themed music and designate an area as the dance floor.
When the music starts, the toddlers dance freely like little ghosts. When the music stops, they have to freeze in their ghostly poses.
Anyone caught moving after the music stops is out. The last toddler remaining in each round becomes the winner.
This game allows the little ones to enjoy the music, practice listening skills, and have a spooktacular time.
Halloween Bingo
No successful party is complete without a game of bingo. If you have tiny tots, this might be a bit too much for them but older toddlers will love the friendly competition of a game of bingo.
You can download free Halloween bingo cards here and then get the kids to use candy corn pieces as markers on their boards.
More Fun Halloween Activities For A Toddler Party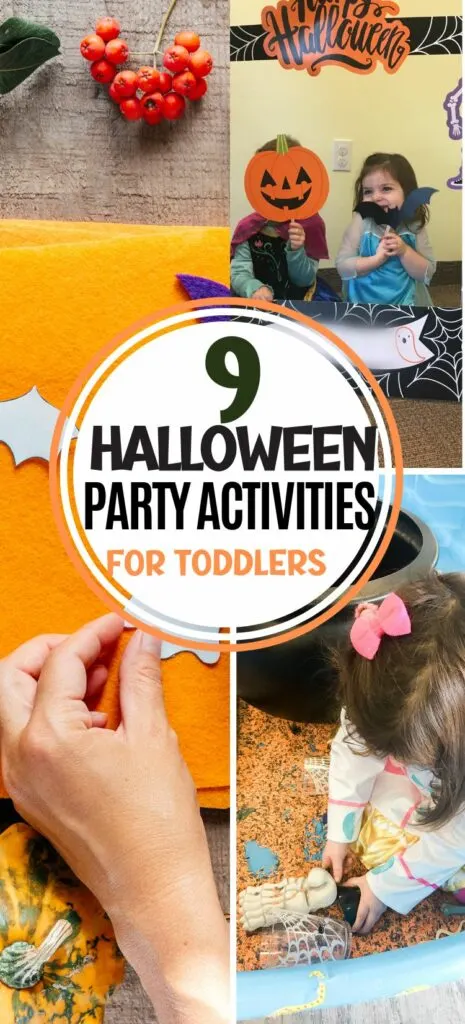 If you love the list of Halloween games above but need some more activities, why not check out the great ideas for more easy activities below?
Mini Photo Shoot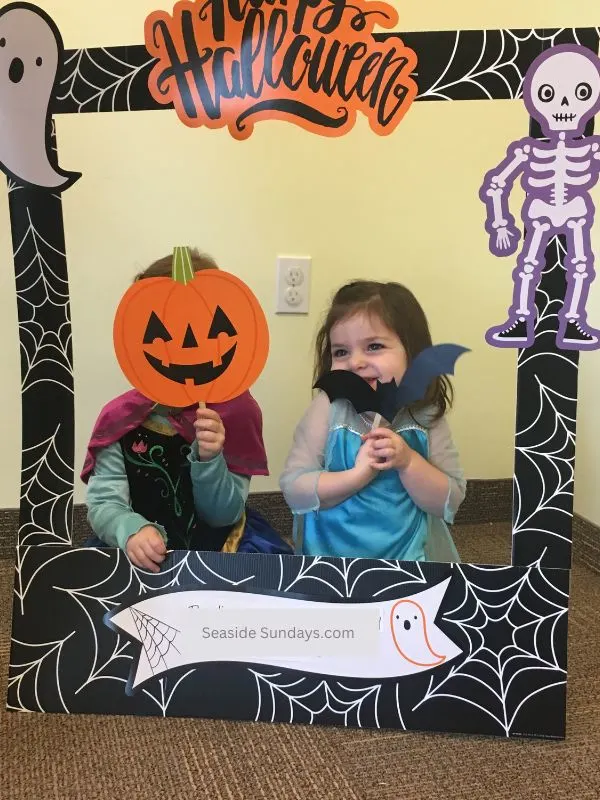 Ok, so this one might be more for the parents but one of the best ways to make the most of your toddler Halloween party is to create a space for everyone to capture the moment on film.
Set up some fun props such as spider webs, hay bales and pumpkins and encourage everyone to strike a pose.
Costume Parade
This is one of my favorite Halloween party ideas because it is always popular.
Before the party, encourage the little ones to come dressed in their favorite Halloween costumes.
Then, plan a costume parade where they can showcase their outfits.
This fun activity adds an element of excitement and allows toddlers to appreciate each other's costumes.
Provide a small treat or sticker for each participant to create a sense of accomplishment.
Sensory Stations
Toddlers love exploring with their senses, so set up sensory stations to engage their curiosity.
Include activities such as a slimy sensory bin filled with "monster goo" (cooked spaghetti).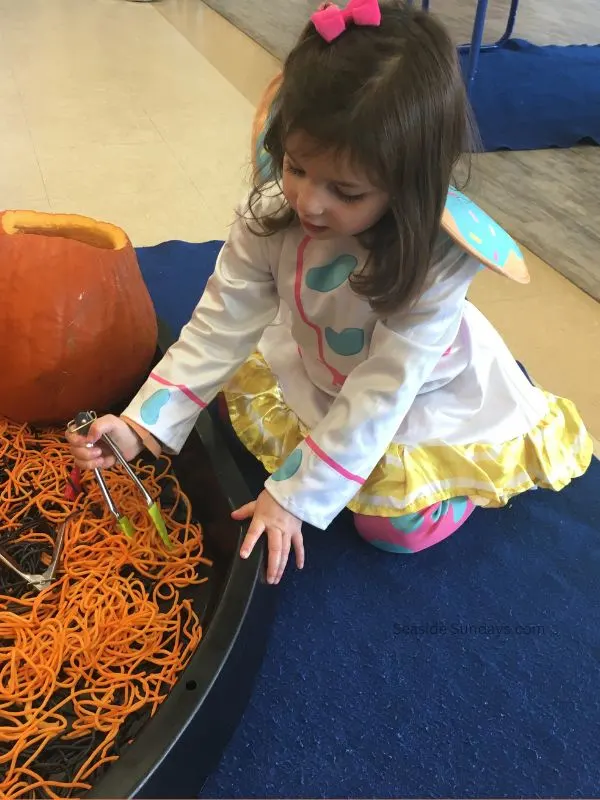 Or how about a touch-and-feel station with various textured materials such as the innards of a pumpkin?
Another idea is a big bucket of dried corn – that is always a hit with little ones.
Lastly, you could dye rice and let them go to down exploring.
These stations will keep the toddlers entertained while stimulating their sensory development.
Playdough Station
Make this homemade pumpkin spice playdough and put some Halloween-themed cookie cutters out with some popsicle sticks and let your little monsters' imaginations run wild.
Get Crafty
While they aren't quite ready for pumpkin carving yet, toddlers love hands-on activities and simple Halloween crafts.
Organize a craft station where they can create Halloween-themed art using safe craft supplies like stickers, foam shapes, and washable markers.
Just grab some foam pumpkins, paper plates, tissue paper and washable paint or markers and let them go to town.
Check out this list for even more Halloween crafts for babies and toddlers.
​Scavenger Hunt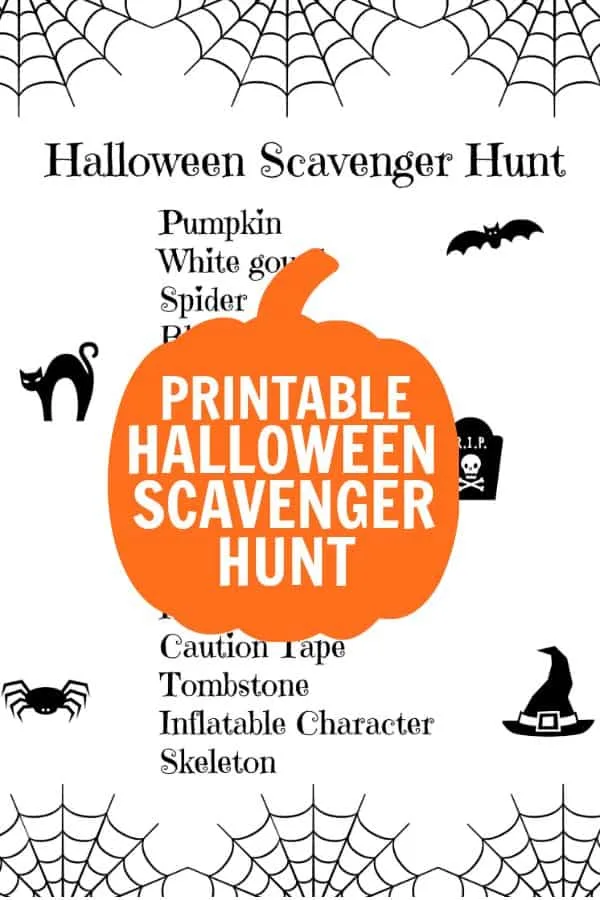 If time allows, why not head outdoors for a neighbourhood scavenger hunt?
Download this free printable Halloween Scavenger Hunt and head outside for a fun activity.
Halloween Treat Bags
Kids of all ages love to end the main even with a party favor or two so why not stick to the Halloween theme with some scary sugar cookies to take home?
Another fun way to end the party is to give every party guest a mini pumpkin to decorate that doubles as their party favor.
If you want something a bit extra, you can fill a loot bag with some of the fun ideas in my post of 30 Candy Alternatives For Halloween.
Tips For Throwing The Best 3-Year-Old Halloween Birthday Party
Now you have a bunch of Halloween party ideas, lets look at some ground rules when throwing a party for your littlest ghosts:
Keep It Kid-Friendly
When planning a Halloween party for toddlers, it's crucial to ensure that the event is age-appropriate and free from anything overly scary or frightening. Opt for cute and friendly Halloween themes such as friendly monsters, superheroes, or beloved storybook characters. This will help create a festive atmosphere while maintaining a fun and safe environment for the little ones.
Safe Halloween Decor
Decorations play a significant role in setting the Halloween ambiance.
However, make sure to choose decorations that are safe for toddlers. Obviously, naked flames are a no-no so grab some LED flameless candles for your Jack O'Lantern.
You should also avoid small, choking hazards or sharp objects that could cause injury. Bear in mind that little ones like to put everything in their mouth so beware of choking hazards like googly eyes and tiny plastic spiders.
Opt for child-friendly decorations like balloons, streamers, and non-toxic face paints.
Soft, colorful lighting can add a magical touch to the party without overwhelming young children.
Plan For Your Guests
For your party to be a huge success, you want everyone to feel comfortable.
Make sure to have spare pull-ups and wipes in the washroom just in case someone needs them.
It is also important to put away any sharp or breakable items before your first guests arrive.
How To Throw The Best 3 year Old Halloween Birthday Party
Throwing a Halloween party for toddlers is always a great time for everyone involved!
From spooky themes to Halloween candy, there is so much to think about but remember that the best parties are fun, relaxed and somewhat unstructured.
After all, when it comes to little ones, the best-laid plans often go awry!
By following Halloween party ideas you can create a memorable and age-appropriate celebration that combines fun, creativity, and a touch of Halloween magic.