Halloween is a great time for making special lunches and snacks for your kids.
Whether you are planning a school party or doing something at home, at this time of year lots of us are searching for the healthiest Halloween treats for school or daycare.
Kids get so much candy and junk on Halloween that it's nice to be able to offer some festive options that are healthy too.
In the list below you will find some easy kid-friendly Halloween treats that you can whip up in no time.
They are so cute that they are sure to be the hit of the party!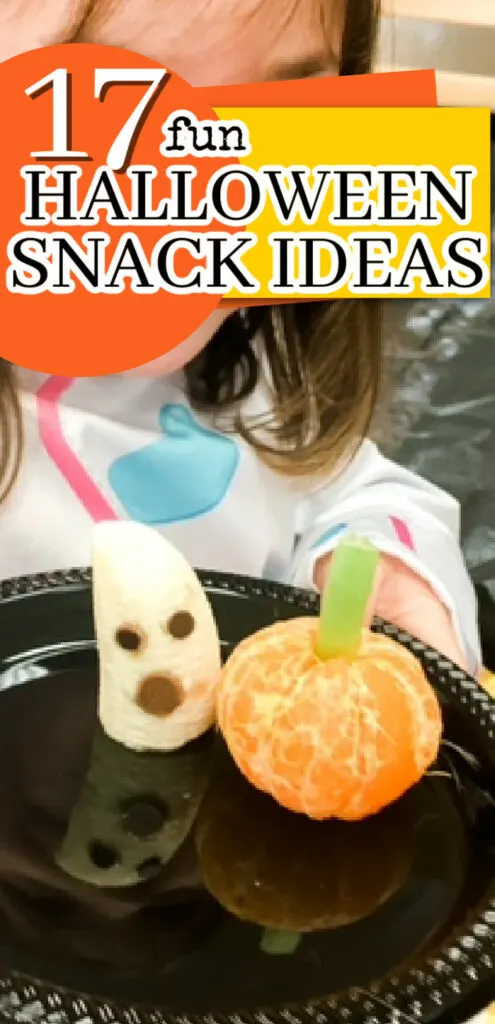 MORE HALLOWEEN FUN
31 Candy Alternatives For Halloween
The Best Halloween Party Games For Kids
Healthiest Halloween Treats For Kids
The sugar-free and Halloween fruit ideas I've included are spooky and fun!
They make easy preschool snacks or would be perfect as part of a cute Bento box school lunch.
They would also make great movie night snacks while you work your way through our free printable 31 Days Of Spooky Halloween Movies checklist.
If you are looking for something other than junk food to hand out on Halloween night, make sure to check out my list of 31 Candy Alternatives For Halloween.
It has tons of ideas of things to pass out to even the littlest trick-or-treaters.
If you are looking for fun Halloween drink ideas for kids, make sure to check out these 13 non-alcoholic Halloween punch recipes.

Below you will find some really creative Halloween snack ideas from food bloggers around the World.
Many of these treats are vegan as well as peanut and gluten-free making them the perfect choice to take to daycare parties or school events.
Healthy Halloween Monster Mouths from TexanErin
These monster mouths are one of the most versatile Halloween snacks you can find, especially if you are hosting a Halloween party and want some allergy-free options.
They're grain-free, gluten-free and dairy-free.
Make them nut-free by substituting a nut butter alternative and using sunflower seeds for the teeth.

Mummy Rice Krispie Treats from My Kitchen Love
Ok, so Rice Krispie treats are not the healthiest Halloween treats for kids in this list but they are one of the easiest and are very kid friendly.
This recipe contains only 4 ingredients and takes just minutes to make.
You could sub in a healthier cereal for the Rice Krispies if you wanted.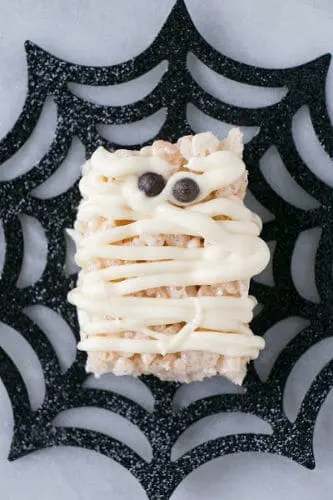 This may be the healthiest Halloween food on the list!
A spooky banana!
These witches brooms are adorable and would make a really easy preschool Halloween snack for a party or daycare.
I'm including these spooky stuffed peppers as they would be great to round out a table full of healthy Halloween party snacks while staying in the spooky spirit.
They would also make a cute family dinner before Trick or Treating.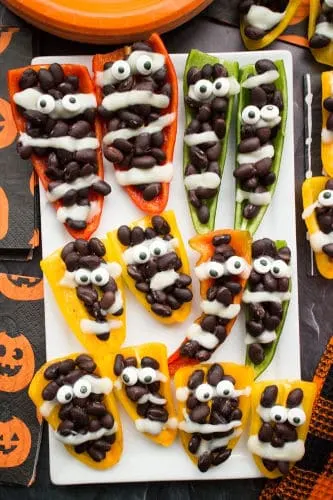 Here is another great Halloween fruit snack idea that works for parties or in a school lunch box for a special treat.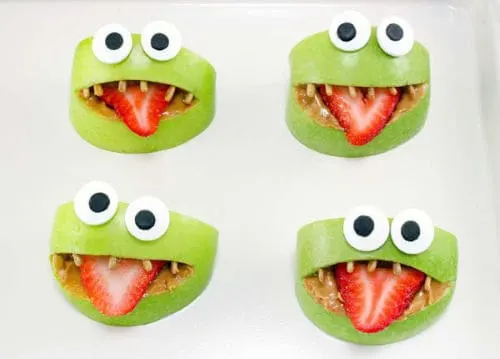 Pumpkin, Apricot & Macadamia Balls from Claire K Creations
A slightly more adult Halloween treat, you can leave out the nuts if you are taking these pumpkin balls to a school party.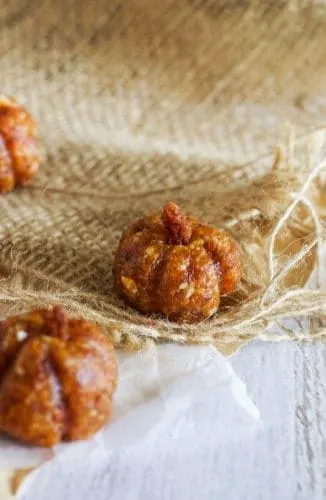 Scary Halloween Monster Bites from Gathering Dreams
These cute monster bites are vegan and make a really cute treat.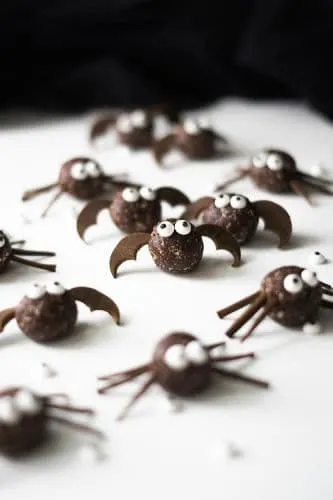 Chex mix is one of my favorite kid-friendly Halloween treats.
You can jazz it up however you like with more candy corn or even Halloween colored sprinkles.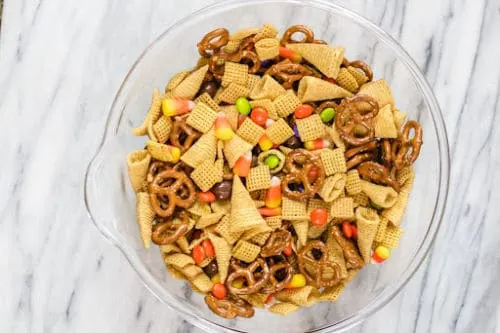 Healthy Jack' O Lantern Oranges from Thrifty Jinxy
If you are looking for original Halloween fruit snack ideas, these Jack'o lantern oranges filled with berries are perfect!
This relish tray is probably ones of the easiest Halloween treats on this list.
No cooking required!
I love this option for a fruit snack for a lunch box or after school snack.
Mummy Pigs In A Blanket from That Fit Fam
You can use veggie dogs to make these hotdogs a bit healthier.
They are sure to be a hit at on 31 October!
Here is a great Halloween bento box idea or a perfect preschool snack option.
Making regular food look festive for a holiday is one of the easiest ways to create healthy Halloween treats that you know the kids will eat.
These Chocolate Fruit "Bugs" are gluten free, peanut free, and vegan.
They are easy to make and great for parties where you need to avoid common allergens.
Here is another awesome fruit snack idea that would be perfect for a special Halloween dessert.
More Halloween & Fall Ideas
Make an Easy Footprint Ghost Craft for Halloween