If you have a child in the 4-10 age range, you are likely very familiar with the "surprise" toys that are all the rage right now.
When I first saw these toys, I couldn't really understand the draw but as we all know, kids love surprises and unwrapping presents so I guess it just makes sense!
I was recently asked to test a new surprise toy on the market and I have to say, it is the first one that I really love! Below you will see my children unboxing their Bananas Toy collectibles and my honest review (from both a parent and a child's point of view!)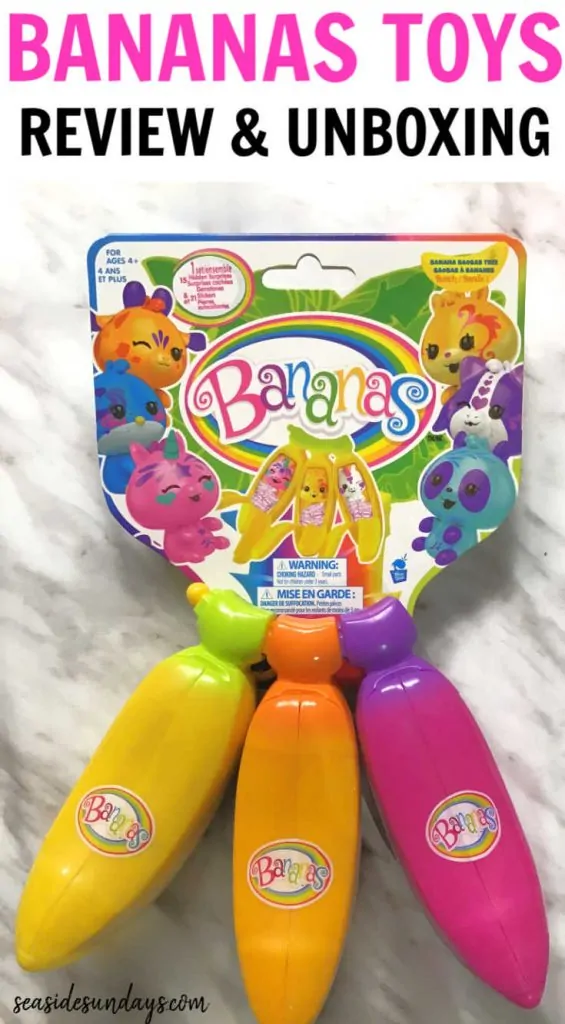 I received the Bananas Toy free of charge in exchange for my honest review of the product. This post may contain affiliate links, please read my full Disclosure for more details.
RELATED POSTS
The Best Princess Gifts For Preschoolers
Girl Power Gifts For Girls Of All Ages
What are Bananas Toys?
Bananas Collectible Toys come in a 3 pack bunch of bananas that children peel open to reveal little packages. Each banana contains a collectible "crushie" animal, two little friends, a collectors guide and gemstone stickers.
Like any good surprise toy, each season features some rare collectible crushies to make the hunt even more exciting.
Bananas are the latest in the surprise toy craze but they take it to another level with no throw-away packaging or useless pieces that get lost.
My daughter's absolutely loved discovering their new Bananas this past weekend.
(If you notice in the video that they mention Roy.G.Biv it's because they think a leprechaun left the Bananas for them to play with – it was St Patrick's Day!
Bananas Toy – what I love
I much prefer the Bananas Toys over other blind bag sets for a few reasons:
No wasteful packaging. The banana skins become the home for the animals and their friends which means they stay together and you don't lose lost of tiny pieces.
They smell amazing!
The plastic banana is easy for little ones to unwrap and play with
Each Banana toy comes with 3 bananas to unwrap making them great value.
The bananas connect together via the vine so make them tidier
Where can you buy Bananas Toy Collectibles?
You can get Bananas at Amazon (both the Canadian and US sites), Walmart, Target in the US and Bed Bath and Beyond and Party City.