Since we moved into this house, I've been desperate to makeover the tile fireplace with something more modern.
The fireplace itself isn't too bad but then I painted the walls with an updated gray paint. Once the paint was on, the beige tile surround just looked outdated and ugly.
This post may contain affiliate links. Please read my disclosure for more details.
First of all I looked on Pinterest for some inspiration and found some amazing Carrara marble fireplaces that would look amazing.
Like this one:
or this one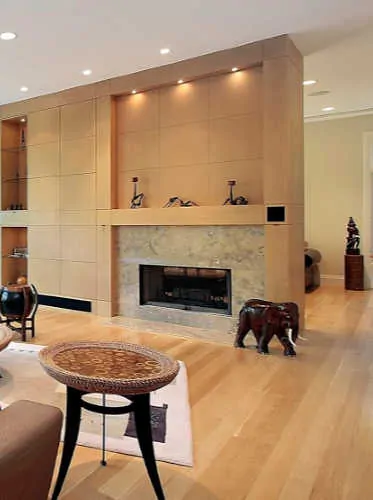 RELATED POSTS
How to refinish and modernize your oak stairs
10 Tips For Painting On A Budget & Saving Money On Your Reno
How much does it cost to retile a marble fireplace?
I got really excited about how amazing my remodeled fireplace would look until I started researching prices.
According to Improvenet, the average cost for remodeling a fireplace is between $390 and $2000.
Given that my fireplace already has tile so it would need to be removed then retiled, I wasn't surprised that some of my quotes including the carrara marble came it at the higher end.
I knew there had to be a cheaper way to makeover the fireplace on a budget. First of all I considered painting the tile but I was worried it would look awful and then be a pain if I changed my mind.
I then though of trying to retile the fireplace myself but after my huge oak stairs refinishing project, I have vowed to not start any more projects that take days or weeks.
Luckily I came across the perfect low-budget solution for my fireplace makeover at the Dollar store of all places! Marble contact paper!
If you have a real wood burning fireplace that you actually use, this won't be a great option for you but if you are looking for a temporary update, marble contact paper might be your answer!
Marble Contact Paper Fireplace Makeover
In the kitchen section of my local Dollarama (Canadian dollar store) I found some awesome marble contact paper.
I had previously used it to recover an old desk so I knew it was not bad quality and sooo cheap.
Each roll cost only $1.25 and I only had to use 3 rolls for this whole project.
If you can't find marble contact paper in your dollar store, you can easily get it pretty cheap on Amazon.
My fireplace is made of marble tiles instead of one long piece of marble and originally I was planning on just papering over the tiles to create a seamless fireplace with the marble contact paper.
In the end I decided to stick with making peel and stick tiles out the paper for a couple of reasons:
Contact paper is so hard to work with. It's so sticky and it's almost impossible to eliminate air bubbles. I figured that the smaller pieces would be easier to put on the existing fireplace.
I was worried that the indentations between the tiles would show through if I used one large piece of contact paper.
Fireplace Makeover Instructions
After carefully cleaning the fireplace and hearth, I measured each tile and then measured the paper using a ruler. I used ordinary scissors to cut out my "tiles".
One by one, I very gently peeled back about an inch of the backing from the paper then used a ruler to very slowly ease the paper onto each tile.
Take your time with this as the slower you go, the less bubbles you will have to fix later.
I purposely cut each tile slightly larger than the existing tile on the fireplace and then I used an Exacto knife to perfect the edges.
I did make sure that the veins of the marble pattern were going in the same direction for each tile so that they looked more uniform and authentic.
Once I was done the fireplace surround, I followed the exact same process for the marble hearth.
For some reason the hearth was a bit more difficult, probably because the tiles are much larger.
Project Notes
All in all, "retiling" the entire fireplace with marble contact paper took around 1 hour of my time.
It was really easy to do and the contact paper makes it simple to lift and re-place if you make a mistake.
It felt good knowing that this was one project that actually can't go wrong!
Total time to makeover – 1 hour
Total cost – $3.75 plus tax!
I've had numerous people over to the house since I remodeled and no one has noticed that the tile is not real Carrara marble.
It's looks that good and was the perfect temporary fix while I save for the real deal!
Have you tried this marble contact paper fireplace makeover? Let me know how it went in the comments!
More money saving ideas
21 Frugal Living Tips For A Better Life
30 Clever Ways To Save On Groceries & Cut Your Spending
The Best Online Survey Sites To Make Money