If you are looking for Easter egg fillers that aren't junk, then you will love this list of cute ideas for that special Easter basket.
This list of cute Easter basket stuffers that are not chocolate or candy is perfect for toddlers and little kids.
With Easter egg hunts, visits to see the Easter bunny and tons of other fun spring activities, Easter is a such a fun time for year to be a kid but it can all get a bit too much when there is chocolate and candy at every event.
That's why I created this list of junk-free Easter egg fillers and cute Easter basket ideas that you can feel good about.
This page contains affiliate links meaning I earn a commission if you use those links. Please see my disclosure for more information.
MORE FUN EASTER IDEAS
The Best Easter Books For Preschoolers
How To Make A Cute Easter Egg Wreath
35 Easter Egg Fillers That Aren't Junk
This list will give you some fun Easter basket filler ideas – in total there are 35 Easter egg fillers that aren't junk or candy.
Choosing things that your children will actually use and appreciate will mean less waste and more fun this spring!
This list is perfect for finding cute Easter egg fillers for little kids but if you have a young baby, make sure to check out my list of 30 Cute Ideas For Baby's First Easter Basket.
I've split the list up into two sections – gifts for outside and inside.
Depending on where you live, it might not be warm enough to play outside at Easter so I wanted to include some fun indoor Easter gifts too!
Most of the gifts on this list are best suited for younger kids and toddlers but if you are looking for things to give an older child, make sure to check out my list of 55 Easter Egg Fillers for Tweens & Teens.
Outdoor Fun Easter Gifts
1.Egg Shaped Sidewalk Chalk
2. Bubbles
3. Jump Rope (I love this cute one with bunnies carved into the wooden handles.)
4. Tennis set
5. Sunglasses
6. Water shoes
8. Sprinkle and Splash Play Mat
11. A sun hat
12. Backyard sprinkler

13. A new swim suit
14. Plant a Pizza Garden – This Vegetable and Herb Starter Kit for Kids is awesome.
Easter Basket Ideas For Inside
16. Stickers – I love old-time Easter stickers from Amazon they are so cheap and perfect for a toddler's Easter basket.
17. Labels for summer gear and toys – I love Mabel's Labels
18. A cute book about bunnies
19. Get 8 more Easter book ideas here.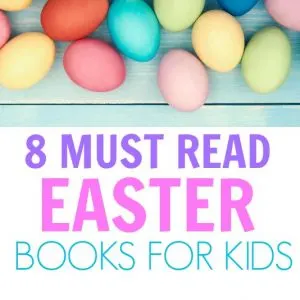 These cute eggs are filled with Play-doh in spring-like colours.
21. Hide & Squeak Eggs for toddlers.
These eggs is one of the best Easter basket ideas for toddlers that I have found. Little kids love these toys and they are great learning activities.
22. Water Wow! Pads
by Melissa and Dough
These mess-free colouring pads are one of my go-tos for long journeys and birthday party favors.
24. An Easter themed Sticker Book
25. Crayola Egg Crayons
These crayons are perfect for little hands and they don't break as easily as regular crayons making them perfect for toddlers.
26. Rubber Duck Family
27. Bunny Snacks
Annie's bunny cheddar packs are perfect for putting in a preschooler's Easter basket
29. Silly Putty Eggs
Silly Putty is fun for older preschoolers who don't put everything in their mouth.
30. Finger Puppets
31. Jellycat Bunny
32. Hatchimals CollEGGtibles Basket
33. Egg-Shaped Bath Bombs
34. Musical Maracas Egg Shakers
35. LEGO Holiday Easter Egg Hunt Building Kit
More Ideas For Kids This Spring:
The Best Easter Books For Preschoolers
The Ultimate Spring Bucket List For Kids
15 Awesome Father-Daughter Dates