Expecting a baby is such a special time and one of the most exciting moments is when you get to share your news with the rest of the world! If you are looking for spiritual pregnancy announcement ideas, in this post we have some of the best Bible verses for pregnancy announcement posts, photos and cards.
Whether you plan to reveal your pregnancy to family in person or on social media, we have you covered. You can use the Bible verses below in cards, as Instagram captions or even check out the amazing pregnancy announcement gifts I've curated from Etsy for you.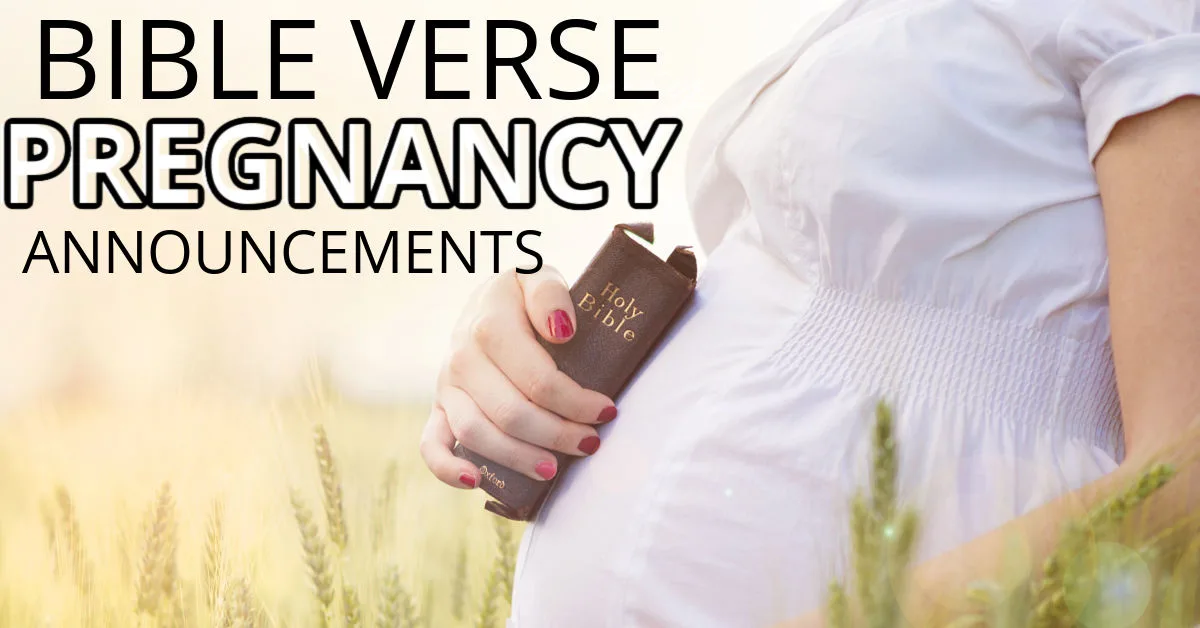 This post contains affiliate links. Please read my Affiliate Disclosure for more information
The Best Bible Verses For Pregnancy Announcement Signs, Gifts & Social Posts
James 1:17
"Every good and perfect gift is from above"
And what better gift is there be than a new baby in your life? I love this verse for a pregnancy announcement!
1 Samuel 1: 27
"For this child we have prayed and the Lord has granted what we have asked of Him."
This is probably the most well-known Bible verse about infertility and getting pregnant. It is perfect for sharing your news with the World in a fun announcement.
Matthew 18:5
"Whoever receives one such child in my name receives me. "
This is a simple Bible verse that is perfect as an Instagram caption.
Jeremiah 1:5
"Before I formed you in the womb I knew you; Before you were born I sanctified you; I ordained you a prophet to the nations."
We all feel that we have an image of our baby before they even exist. I love this Bible quote that really speaks to how magical babies are.
Psalm 139:14
"I praise you, for I am fearfully and wonderfully made. Wonderful are your works; my soul knows it very well."
Your baby is a wonderful work from God and what better way to celebrate that than with this beautiful Bible verse?
1 Samuel 1:27
"I prayed for this child, and Yahweh has given me my petition which I asked of him."
This is one of my favorite infertility quotes from The Bible. It is perfect if you are looking for an amazing infertility pregnancy announcement idea
Esther 4: 14
"Perhaps this is the moment for which you were created"
This is one of the most popular Bible quotes for a baby's nursery wall. It is not as well-known as some of the others on this list which makes it great if you want something unique.
Psalms 127:3
"Behold, children are a heritage from the LORD, The fruit of the womb is a reward."
If you are looking for a simple Bible verse to share with your pregnancy announcement, this one from Psalms is just perfect.
Ecclesiastes 3:11
"He has made everything beautiful in its time. Also He has put eternity in their hearts, except that no one can find out the work that God does from beginning to end."
Sometimes the best things come to those who wait! If you had trouble getting pregnant, you probably know how hard that waiting can be and the verse is perfect for your pregnancy announcement.
Luke 2:40
"And the Child grew and became strong in spirit, filled with wisdom; and the grace of God was upon Him. "
As your baby grows inside you, this quote will really speak to you and is perfect for a pregnancy announcement card or gift.
James 1:17
"Every good gift and every perfect gift is from above and comes down from the Father of lights, with whom there is no variation or shadow of turning. "
And what better gift can there be than a newborn baby? You could pair this Bible verse pregnancy announcement with one of these cute pregnancy reveal gifts for grandparents.
Psalm 139
"You are a child of God, you are wonderfully made, dearly loved, and precious in his sight. "
This adorable Bible quote puts into words exactly what every new parent feels about their baby. It is another Bible verse that is really popular as a nursery decor sign.
Isaiah 49:16
"See, I have inscribed you on the palms of My hands; Your walls are continually before Me."
This beautiful verse tells us that God never forgets us – much like a mother never forgets her babies. This is a very good verse to use for a rainbow pregnancy announcement if you are expecting after a loss.
Song of Solomon 4: 7
"You are altogether beautiful, my love; there is no flaw in you."
Here is another beautiful Bible verse for a pregnancy announcement that is also great for your baby's nursery.
Proverbs 31:10
"She is far more precious than jewels."
The original Bible verse is actually talking about women/wives but this quote from the Bible works really well if you are expecting a little girl.
How To Use Bible Verses In Your Pregnancy Announcement
If you are looking for a special way to announce your pregnancy, you'll love this cute ideas that use Bible verses to share your news.

Just click through each photo to get all the details.