A quick google search for blog hosting providers will bring you tons of different options but which are the best web hosts for bloggers who want to make money, and fast? And aren't all web hosts basically the same?
Let's be honest. Hosting is kind of boring. It doesn't have the glamour of a pretty WordPress theme or the fun of picking a domain name but it is possibly the most important part of your website.
Your host is the "behind the scenes" actor that keeps you blog up and running, keeps nasty bots away and makes sure your website is running fast so that readers stick around and spend time on your blog.
This page contains affiliate links meaning I earn a commission if you use those links. Please read my Disclosure for more information.
If you want to make money from your blog, then you need to choose the right hosting platform carefully. Some free sites such as Wix or Blogger might make it more difficult to monetize your blog using affiliate links and ads. A self-hosted WordPress blog on a quality web host will make it easier to grow your site into a profitable business quickly.
If you want to make money from your blog, don't forget to sign up for my FREE 5 day course on making money with a new blog
Choosing the wrong host can also end up costing you in hidden extras or in wasted downtime that can mean you miss out on affiliate sales and ad revenue.
I recently made the switch to a new host and I used various hosts for websites I had in the past when I was a wedding planner.
The reason I changed recently from Ehost to Siteground because, although I loved ehost and no issues with their service or site speed, they wanted to charge me more than a year's hosting for an SSL certificate! This is what I mean about hidden costs.
I ended up just switching hosts after only 6 months and lost the money I had paid to ehost. I learned an important lesson in the process – try and work out your needs before purchasing a web host as it can cost you in the long term.
What Should you Look for In A Website Host?
Your Needs – Can the host handle your traffic/websites? The last thing you want is your site to be down because you exceed the limitations that you host gives you. Make sure you purchase the correct package from the get-go and move up a level as your traffic grows.
Website Use – If your website will be used as a blog, you probably want WordPress installed which is relatively common. If you plan to do more complicated website building, make sure the host can handle that.
Hidden Extras – Is an SSL (basically a must) included for free? Do you have to pay to transfer your site from another host? How many domains are included with your hosting?
The Cost – Make sure to check the cost for sign up AND for renewal as it is often significantly more. If you are a new blogger, there is nothing wrong with starting out cheap then switching your hosting after your term is up and you are sure you want to keep blogging. My first hosting package was under $100 for the year.
Support – This is the big one for me. If something goes wrong with you site, can you get a live person on chat or on the phone quickly? How helpful are they?
The Best Web Hosts For Bloggers
For the completely new blogger:
Bluehost is the sister company of ipage who recently bought ehost. Bluehost is great for new bloggers who are just starting out and want basic hosting at a good price. If you are not sure how blogging will go and are on a tight budget, Bluehost is a good option.
There are some extras included with Bluehost that are hidden costs with other hosting companies which is why I recommend them for newbies.
If you are a brand new blogger, make sure to check our my guide to Starting a Profitable Blog in 10 Easy Steps – this guide will take you step-by-step from getting your hosting to setting it all up and getting your first readers.
Free Domain Name
WordPress for free
24/7 support (phone or chat)
Self-hosted blog for less than $80 a year which means you can monetize your blog using affiliate links and ads
30 days money back guarantee
Bluehost has 3 plans but I recommend getting Basic one when you are just starting out. Also don't buy any extras that they offer unless you want the Domain Privacy Protection for an extra $0.99 a month (this means no one can find your address etc through your domain).
The basic plan starts at just $2.65 a month if you buy a longer term plan through my link here.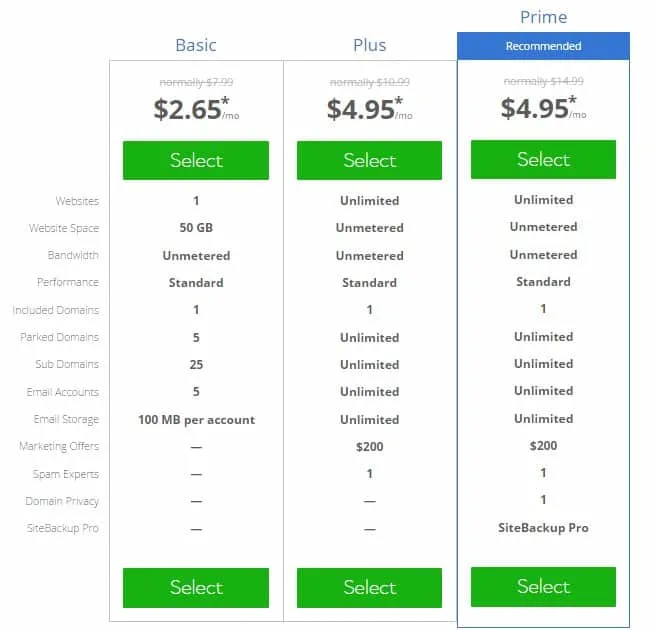 Bluehost also offers FREE SSL certificates for all WordPress sites which is huge. An SSL certificate gives your site the padlock sign in the browser bar and is favored by Google in searches. I highly recommend starting your blog with the SSL installed to avoid having to do redirects at a later date.
For the Growing Blogger:
If you have been blogging for a while or are moving an established Blogger or Wix blog onto a self-hosted platform, I recommend Siteground.
Siteground is the host I recently moved to and I have been very happy with my decision. My goal with web hosting is that I pay them once then never have to speak to them again because there are no issues. So far that has been the case with Siteground.
I did a lot of research on website hosts for blogs that were similar to Seaside Sundays and Siteground was a name that kept coming up. Many people mentioned the awesome customer service and, as I am not techy at all, this was very important to me.
Free WordPress & Themes
Free daily site back up
Free SSL Certificate
24/7 Support – I have found them to be extremely helpful
Claims to be faster than the other large hosts
Free site transfer – this is a great feature of Siteground if you are moving from another host like I did. I gave them access to my ehost cpanel and they did all the work for me for free.
30 day money-back guarantee
Just like Bluehost, Siteground offers 3 plans depending on your needs. It really comes down to pageviews and I recommend getting the next level up if you are on the borderline.
I ended up going for GoGeek although I am not quite at 100,000 pageviews a month… fingers crossed I make it there soon!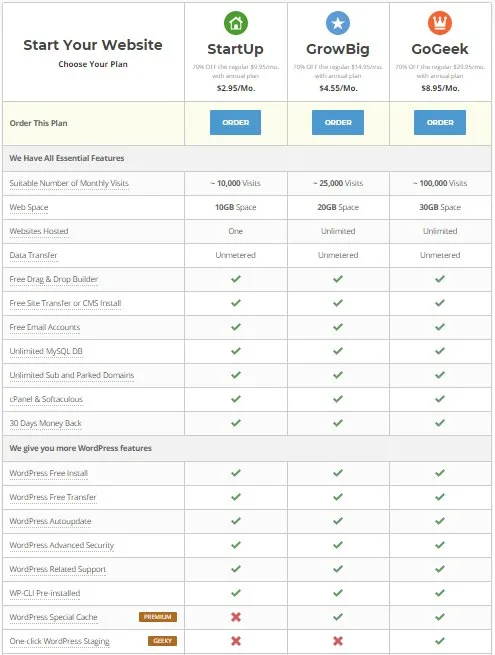 More Blogging Tips:
Start a Profitable Blog in 10 Easy Steps
Make Money With Your New Blog – FREE 5 Day Course
4 Easy Ways to Promote Your Pins
Optimizing Your Pinterest Strategy
The Top 8 Affiliate Networks For New Bloggers