Choosing a fertility clinic for IVF or IUI treatments can be daunting. There are a lot of different factors to consider before you decide on the location that works for you.
Although your family doctor will be able to recommend and refer you to a clinic, it is worth doing some research on your own and checking for real-life reviews of the clinics available to you in your area.
Many people look at the success rates of a fertility clinic and make their decision based on those but as you will see below, even success rates can be a little misleading.
MORE IVF TIPS
Preparing For IVF – Tips For Success (Free Download)
Fertility And Caffeine – Is It Really That Bad?
10 Questions to Ask When Choosing a Fertility Clinic
Below are the top 10 questions to ask before you commit to a fertility clinic and RE.
If you are getting ready for IVF, these questions will help you choose the right clinic.
You can also download this free IVF success checklist to give yourself the best possible chance.
1. What is the IVF success rate?
You can look up a clinic's success rates on the SART website if you are in the USA. Some clinics also publish their IVF success rate on their own sites.
Although the rate of live pregnancy is useful, remember that some smaller clinics may not have enough data for the numbers to be accurate.
Some Fertility clinics also turn away patients that they think will skew their success rate which can result in over-inflated numbers compared with clinics who will accept every patient.
You also want to look at the success rate of the individual doctors.
A 2016 study* presenting at the showed that the live birth rate following embryo transfer is significantly influenced by the physician performing the transfer.
*Page 26.
2. How flexible are your appointments?
Most cycle monitoring appointments are first thing in the morning so make sure that the clinic offers times that work with your schedule.
It is also worth asking how often they are running late. I had a number of times where I was waiting 45 minutes for my cycle monitoring which was very frustrating when I had to get to work.
Before you commit to a fertility clinic, check the wait times for the initial appointment. In my area they ranged from 2 months to 1 week.
RELATED: 16 Fertility Herbs To Help You Get Pregnant Fast
3. How big is the clinic?
Bigger isn't always better when it comes to IVF clinics.
The clinic size you choose will all come down to personal preference; do you prefer a one-on one personalized service or are you happy to be "just a number" but have access to a more flexible appointment schedule and potentially better equipment and resources.
4. How experienced are the lab technicians?
Even if you are not at the IVF stage, it is worth asking about the lab procedures and set-up when choosing a clinic.
The technician's expertise can make or break an IVF cycle and you want to make sure your clinic is top-notch if you do decide to go that route.
5. Is the location convenient for me?
For 5- 10 days a month, you will have to attend appointments at the clinic for cycle monitoring or treatments so it is important that the clinic's location works for you.
Check to see if they have a satellite location where you can go for your daily monitoring that is more convenient if the main clinic is far away.
6. How does cycle monitoring work?
Make sure to ask who will be doing your daily cycle monitoring.
At some clinics you are seen by ultrasound technicians and then get the results online or by phone later while at others, you get to see the RE each day to check on next steps.
Personally, I liked to meet with the RE after each monitoring appointment to discuss medication levels and timing of my treatments.
7. Do you sync IVF cycles?
If you are planning on doing IVF at the clinic, make sure to ask how they schedule the cycles.
Some clinics will start cycles on an individual basis, at whatever time works for your cycle while others like to "batch" cycles and put several patients on the same timeline so that all retrievals are done at the same time. (this is controlled by Lupron or another suppressent).
Also make sure to ask how they handle the holidays as some clinics do not schedule any cycles for the whole of December which can hold you back if you are anxious to get going.
8. How often will I see my doctor?
Find out if you will have one RE for all your care or if you will have the "doctor of the day" depending on the schedule. At some clinics you will only meet the doctor at specific appointments (such as debriefs after a cancelled cycles or primary planning meetings).
Personally, I liked to have a relationship with my doctor so I felt that the care was more tailored to my needs but you may be comfortable with meeting with the Nurse Practioner during your appointments.
At some clinics the doctor is available to speak on the phone if you have questions so if this is important to you, it's worth finding out how available the doctors will be.
9. What are the Doctor's philosophies?
Is your doctor open to alternative therapies such as acupuncture and diet changes? Are they more of a "one size fits all" or do they want to heal your body to help you get pregnant with less medication and interventions.
RELATED: The Fertility Diet that Changed my Life
10. How much is IVF/IUI/monitoring?
I'm including cost at the end because, while I wish it were not a major factor in choosing a clinic, the reality is that prices can vary wildly and not everyone has an insurance plan that covers IVF and IUI cycles.
It is worth shopping around to find out the costs involved in different cycles before you commit to a clinic.
Even if you are not (and may never be) at the stage of IVF, check the prices out just in case.
Some clinics also offer package deals where they guarantee you will get pregnant within a certain number of cycles or get your money back.
If you need help with your budget for IVF, you can use an IVF Budget journal or tracker like this one.
FREE Fertility Resources (Ebooks, Checklists and more)
Click the links to instantly download the following useful resources, at no cost!
More Fertility Tips:
The Best Supplements to Boost your Fertility
The Fertility Diet that Changed my Life
Fertility Superfoods Worth Eating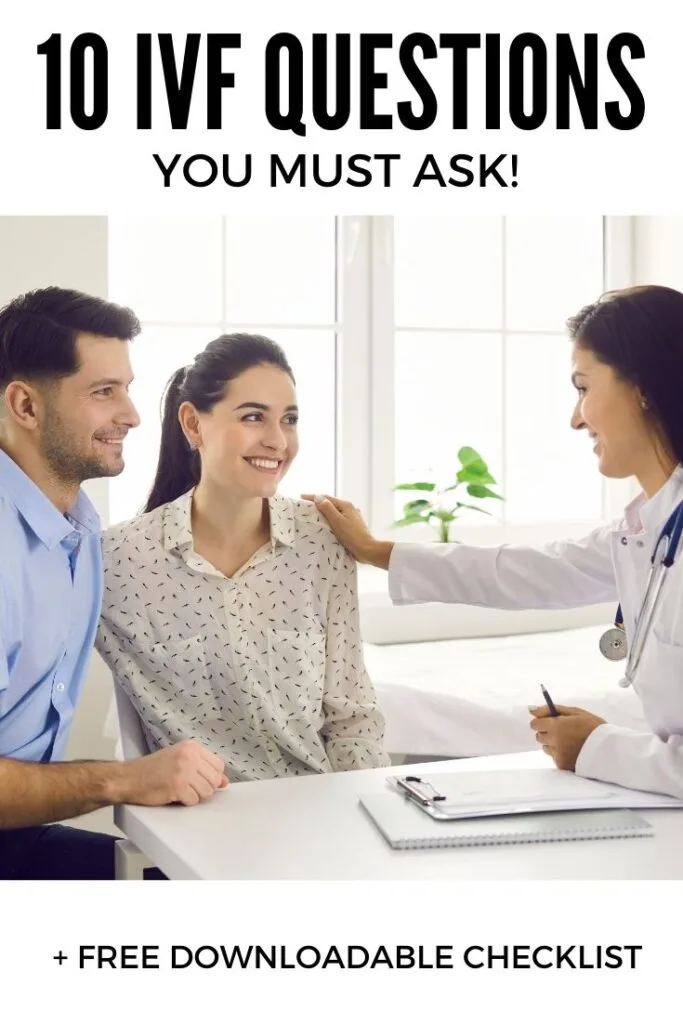 Free 14 Day Fertility Meal Plan!
Boost your fertility with this 14 day kick start program
Sign up for instant access to this free plan & more fertility tips