Make Easter extra special this year with these fun Easter traditions for toddlers!
Easter is an exciting holiday for adults and children alike!
For toddlers, it's the perfect time to experience new traditions that will help them understand the meaning of Easter.
From egg hunts to crafts, there are so many fun activities that can keep toddlers entertained and engaged on this special day.
That's why we've compiled a list of some of our favorite Easter traditions especially with toddlers in mind.
This post may contain affiliate links. Please read my Affiliate Disclosure for more information.
The Best Easter Traditions For Toddlers
Easter is a special time of the year for families to come together and celebrate the holiday and the start of spring.
For many, the festivities center around traditions that have been ongoing for generations such as Easter egg hunts and attending church.
It is so fun to introduce your child to your family traditions and create new ones along the way.
There are many different ways to bring joy and excitement into the lives of toddlers this Easter season. From egg hunts to painting eggs, there are so many creative traditions that can help introduce toddlers to the wonders of this beloved holiday.
Read on for our top picks.
Easter Egg Hunt
Egg hunting is one of the most beloved classic Easter traditions for families.
This timeless tradition has been enjoyed by children for decades, and it can be a fun way to get your child excited about the upcoming holiday.
Although there are often community events and large epic egg hunts, you may find it better to create your own egg hunt at home for younger kids. It is easy to set up and so much fun.
On Easter morning, gather some brightly colored plastic eggs and hide them around the house or garden. An outdoor egg hunt is always fun – in our house we tend to place the eggs both inside and outside the house!
Let your toddler explore as they search for each egg; they'll love being able to find them all and put them in their Easter basket.
And of course, you'll need some fun Easter egg fillers too! Jelly beans are always a good option but if you want some less junk things, check out my list of great non-junk Easter egg fillers for kids.
Your little one will be delighted when they open up their eggs and discover what's inside.
Eat Hot Cross Buns On Good Friday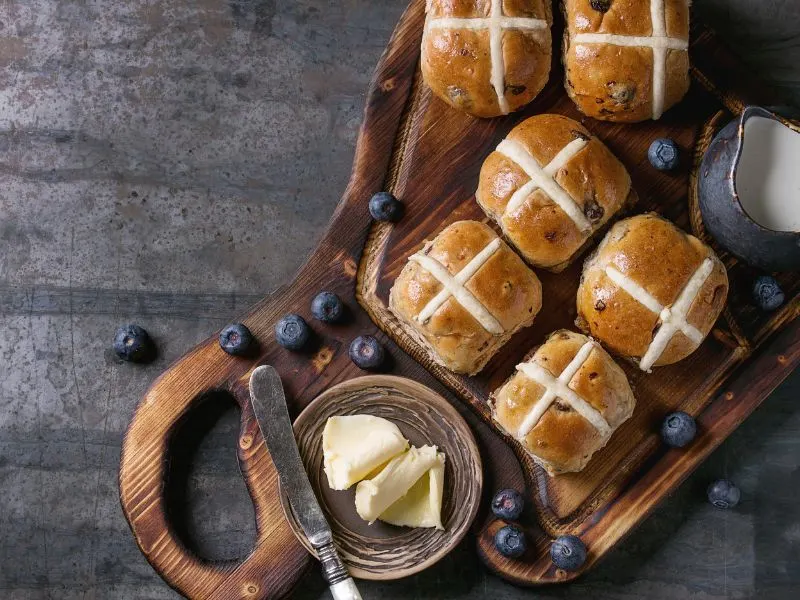 One of the most popular traditions eating hot cross buns on Good Friday.
These deliciously soft and spiced treats are easy for toddlers to eat and make for a fun snack.
Hot cross buns also have a symbolic meaning, as they represent Jesus Christ's crucifixion on the Cross.
For young children, this can be explained in simple terms: that Jesus died on the Cross so that everyone can live forever.
Do Some Easter Crafts
Easter is a fun and exciting holiday for toddlers. It's the perfect time to start teaching them about the many traditions associated with this special day.
Easter crafts are a great way to share the true meaning of Easter with younger children while keeping it fun and age appropriate.
From hand print crafts and making homemade cards, to constructing festive decorations like bunny masks, I have 20 great Easter crafts for toddlers for you here.
Many stores will have pre-made kits for craft projects that you can purchase if you don't feel up to putting together craft supplies yourself.
Bake Some Easter Goodies
Kids of all ages love baking and helping in the kitchen but we typically think of the winter holidays when it comes to baking cookies and treats.
There is no reason why Easter baking can't become one of your own Easter traditions – make a wonderful dessert for Easter lunch or throw a little tea party.
Resurrection rolls are a new tradition that I have adopted in my own family and they are a huge hit.
I have a great list of Easter treats for preschoolers that are fun and easy to make!
Read Some Easter Books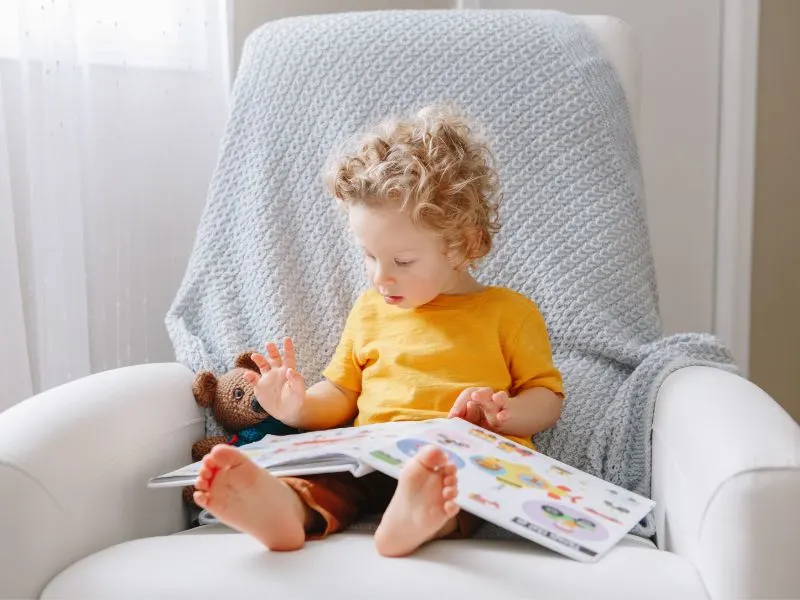 Of course, you'll want to share the story of Easter with your little one but there are also a lot of other great books that are perfect for sharing at bedtime at this time of year.
Here is a list of fantastic Easter books for little ones.
Fill An Easter Basket
Filling up an Easter basket with goodies can be an easy way to bring out your child's playful side and is one of the most classic Eater traditions.
You can make a basket together as a fun Easter craft or buy a personalized one online.
Fill their Easter basket with plastic Easter eggs, Easter candy and of course, a chocolate bunny!
You can hide the Easter basket at the end of your Easter egg hunt or set it out on Easter morning.
Take A Special Easter Photo
Taking a family photo is one of my favorite holiday traditions and Easter is a wonderful opportunity for that perfect photo.
You'll probably have bought them new Easter clothes so it makes sense to capture an adorable picture that you'll cherish for years to come!
From classic pastels and bunnies to bright colors and fun accessories, there are many different ways you can help your toddler look their best on Easter Sunday.
Plus, many malls still have visits from the Easter bunny so you can get the classic photo of your child screaming while they sit on the lap off a human sized bunny. Or not.
If the mall photos aren't your thing, here are some great DIY Easter picture ideas you can do at home.
Dye Easter Eggs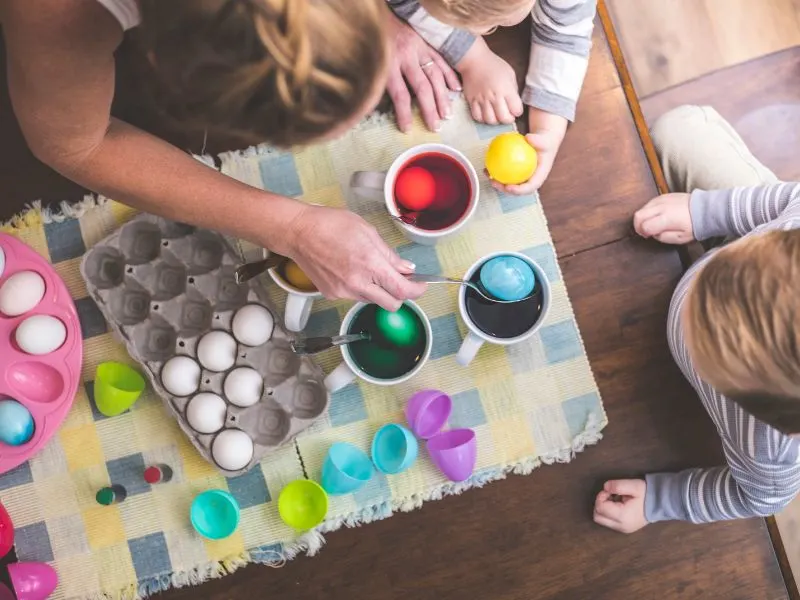 Dyeing Easter eggs is something the whole family can enjoy and is 0ne of the most popular Easter traditions for toddlers and older children alike.
With some simple supplies such as food coloring, vinegar, and hard boiled eggs, you can create an enjoyable activity for your little one. You can even use natural dyes such as beetroot juice and spinach if you prefer.
To begin with, fill up a bowl or cup with the desired color of dye by mixing some drops of food coloring into room-temperature water.
If you want to achieve brighter colors, add a teaspoon of vinegar to each cup as well.
Then have your toddler dip their hard-boiled egg into the cup until it reaches their desired shade before placing it onto a drying rack or paper towel.
Watch Some Easter Movies

One of the most enjoyable ways to spend some quality time together this Easter is to watch some seasonal movies.
There are quite a few great Easter movies available that will keep toddlers entertained—from animated classics to live-action films.
From classic tales about bunnies to heartwarming family stories, these films will provide the perfect entertainment for any Easter celebration.
Here are some of the most popular:
Make Resurrection Eggs
Resurrection eggs are a fun and engaging way to share the Easter story with toddlers.
This easy Easter craft can be adapted for any age group, and it's a great way to teach young children about Jesus' resurrection.
It can also help them learn Bible verses associated with each scene and learn about Holy week. Here are some simple steps to make your own resurrection eggs.
First, gather all of the materials needed for this project:
12 colorful eggs
Small objects that represent the events in Jesus' life such as a stone for the sealed tomb paper
Markers
Glue
Slips of paper with Bible verses (grab some free printables here).
Decorate An Easter Egg Tree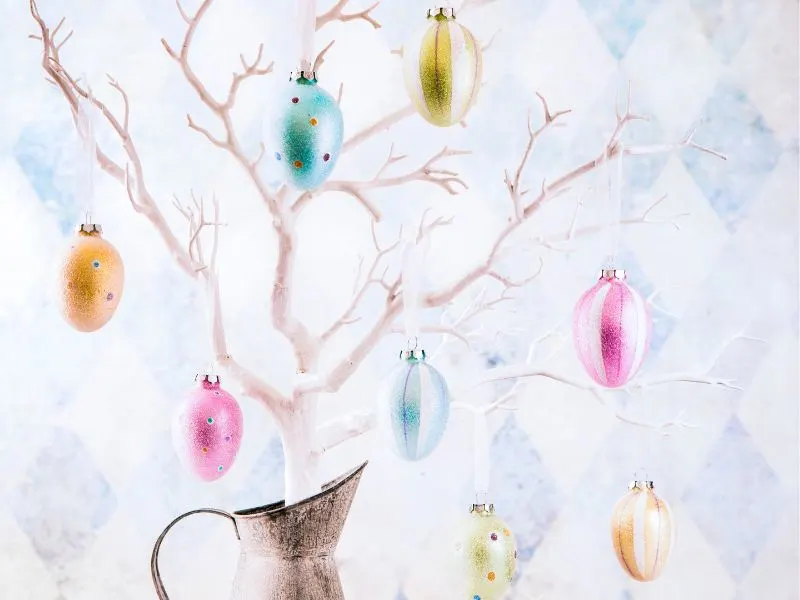 Get the entire family involved with a new Easter tradition this year! An Easter tree! Trees aren't only for Christmas, after all!
This fun and festive activity is a great way to get toddlers involved in celebrating Easter. With just a few simple supplies, you can bring this special tradition into your home this year.
This craft project is easy enough for even the youngest members of your family to take part in.
All you need are some hard-boiled eggs, colorful ribbons and bows, and festive decorations like glitter glue or paint pens to create truly unique works of art. Kids can string together the eggs using ribbon or lace, then hang them from the branches of an artificial tree or even a real plant.
Plant An Easter Garden
Planting a spring garden can be an easy and fun activity to celebrate the season and is sure to become one of your favorite traditions this time of year.
Gardening is a great activity that will help to teach children about the environment, plants and nature in general.
Toddlers will love picking out their favorite flower or vegetable seeds to plant in their garden and watching them bloom.
Host An Easter Brunch
Hosting a delicious Easter brunch is a fantastic way for families to celebrate a special Sunday morning.
From setting up bright decorations to whipping up little treats, hosting your own Easter brunch can be a great way to make lasting memories with your little ones.
When planning an Easter brunch for toddlers, keep it simple! Pick out some fun decorations such as bright tablecloths and festive centerpieces that are both easy-to-clean and safe for children of all ages.
Opt for kid-friendly foods like mini pancakes shaped like bunnies or muffins – don't forget some carrots on the side of course!
Leave Easter Bunny Footprints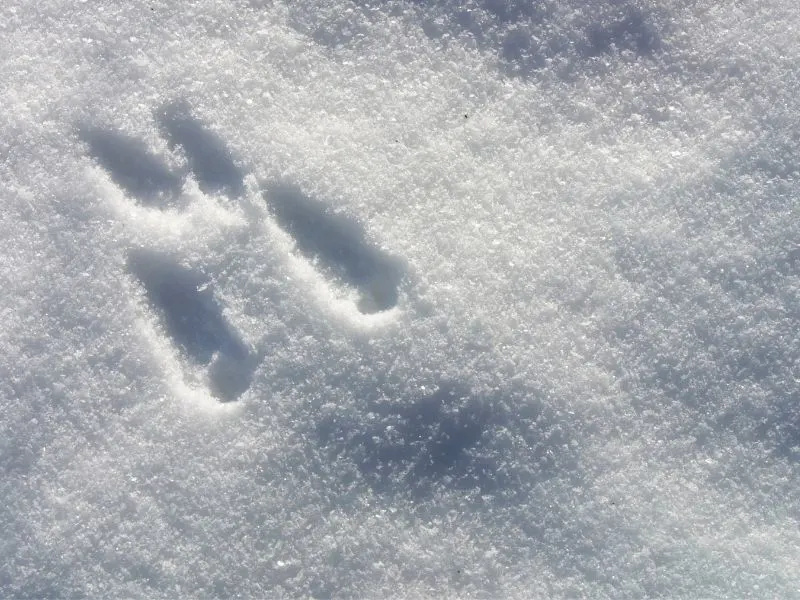 Little kids will absolutely love finding footprints from the Easter bunny outside your house! This is one of those great ideas that is becoming more and more popular each year and it just adds to the Easter fun.
To make the footprints on the sidewalk outside your house, just use white flour or icing sugar.
Visit A Farm
A fun Easter tradition for toddlers is to visit a farm during Easter weekend. Older kids and toddlers will enjoy meeting the newly hatched chicks and other baby animals and it is the perfect way to celebrate the arrival of spring outdoors!
Attend Church Services
We all know that Easter is one of the most important religious holidays in the Christian calendar so even if you don't normally go to church, attending Easter or Palm Sunday services can be a meaningful way to teach your toddler about Easter.
Play Some Easter Games
Make Easter extra fun with some outdoor games such as an egg and spoon race or a nature scavenger hunt. If the weather isn't great, you could play some Easter themed board games or simple Easter party games such as Pin the Tail on the Bunny.
Decorate An Easter Bonnet
Easter is a wonderful time of year to get creative with your little ones and create some fun memories.
One great Easter traditions for toddlers is making and decorating an Easter bonnet – bonus points if you get to wear it in an Easter parade!
It can be lots of fun to add ribbons, feathers, bows other supplies to an old hat to turn it into a dazzling piece of art. It's also a great way to make good use of crafting scraps you have at home.
Your toddler will love exploring their creativity and expressing their own unique style too.