I love doing my own photoshoots at home so I created this list of baby Easter picture ideas that you can recreate at home.
If you're looking for some adorable Easter-themed ideas for baby photos, look no further!
We've gathered some of our favorite ideas to help get you started. From sweet poses with bunnies and chicks to simple setups with colorful eggs, these pics are sure to bring a smile to your face.
So grab your little one and get snapping!
This post may contain affiliate links. Please read my Affiliate Disclosure for more information
MORE EASTER IDEAS
55 Easter Egg Fillers for Tweens & Teens
35 Creative Easter Basket Ideas For Toddlers
The Best Baby Easter Picture Ideas
Looking for cute ideas for your baby's Easter photoshoot?
Cute photos are one of the most fun ways to celebrate baby's first Easter and they don't have to cost the earth.
It's easy to do some DIY Easter photos with the right tools and these fun inspirational ideas.
I love taking photos of my kids at home and originally did this when I wanted to save money on my Christmas cards.
I made a list 15 Creative Christmas Photo Ideas You Can Do At Home and now I've decided to do the same for Easter.
Whether you are looking for some cute photos to make baby's first Easter special, or you want to send cute Easter cards to friends and family, you will love these ideas.
From classic poses to whimsical setups, your baby will look adorable in any of these photos.
Plus you won't need to spend hundreds on professional photos.
1.Bunny on the grass
If the weather is good, you can easily recreate this simple photo idea with some plastic Easter eggs and some paper basket filler.
Dress your baby in bright colours to contrast with the grass.
2. Baby in a Basket
Here's another really simple Easter photo idea for a slightly older baby.
Put them in a large Easter basket on the grass and then throw some Easter eggs around and let them explore.
By the way, if you are wondering what to give baby for their first Easter, make sure to check out my list of 30 Cute Ideas For Baby's First Easter Basket.
3. My best bunny friend
If your baby is really tiny this Easter, a really simple photo idea is to lay him on the bed with a white blanket and a cute Easter bunny stuffy.
4. My Easter Present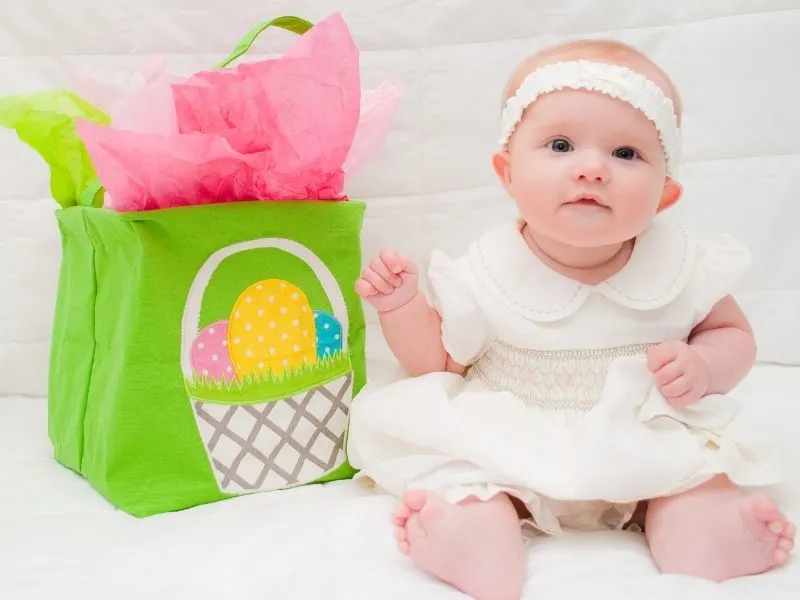 One of the easiest baby Easter picture ideas for a baby who can sit up is to dress them in a fancy Easter outfit and put a cute Easter bag or basket next to them.
Simple but so cute!
5. My Little Bunny
This adorable Easter bunny suit is all you need for the perfect baby Easter photo.
You can grab a similar bunny suit for babies and toddlers for a great price on Amazon.
6. Sibling Easter Photo Idea At Home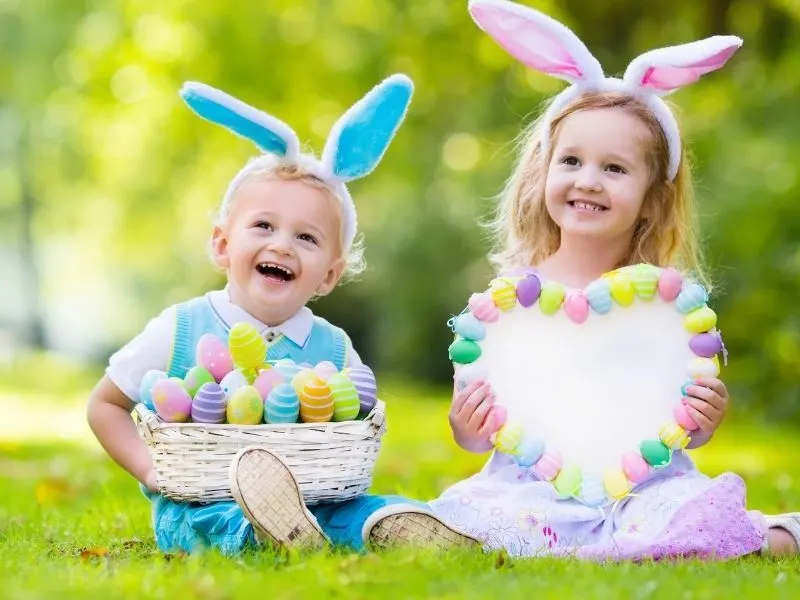 If you have more than one child, make it a fun DIY sibling Easter photo by taking them out on the lawn with some cute outfits.
To make it extra cute, you can fill an Easter basket with plastic eggs or stick some on a cardboard heart like big sister in the photo.
7. Simple At Home Easter Photo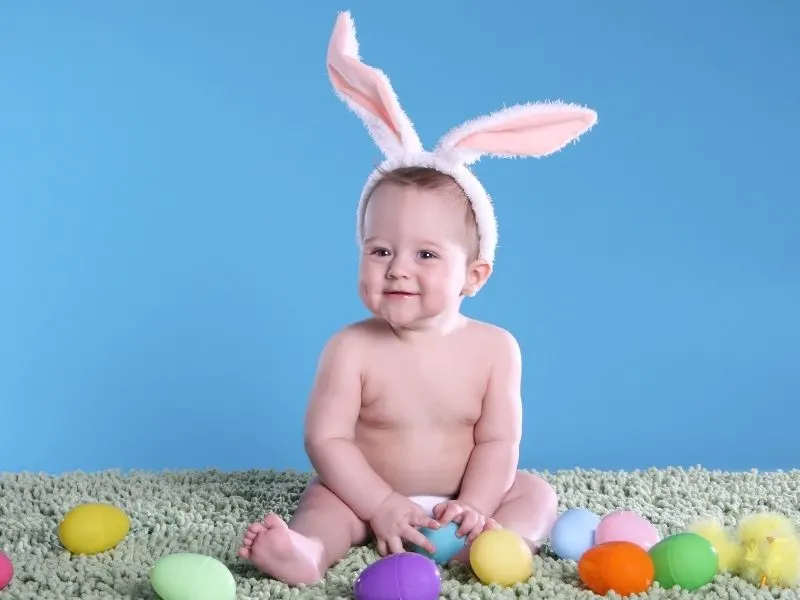 It doesn't get much more simple than this cute baby Easter picture idea.
All you need are some plastic eggs and some bunny ears. Plop baby on a cozy rug and start snapping away.
8. Easter baby in the grass
Outdoor pictures are some of the best DIY photos because you don't have to worry about lighting or shadows like you do in the house.
You can grab iridescent Easter eggs here.
9. Crochet Baby Easter Outfit
I love these adorable crochet Easter outfits for babies that include the hat pictured plus a diaper cover with a pink pom pom tail!
10. Fluffy Easter Photo
If you have a super fluffy blanket or rug, you can use it as a wonderful prop for your Easter baby pictures ideas.
You can grab a similar style for super cheap on Amazon and they are great for the nursery.
Some greenery (real or fake) and some eggs and you have a fantastic Easter photo.
11. My First Easter Basket
Fill baby's Easter basket with cute eggs. The eggs pictured are covered with gold leaf and you can get similar ones on Etsy.
12. Easter Dress
A really simple photo idea is to dress baby up in their Sunday best and then take a photo of them with their Easter basket.
13. Easter Explorer
Another really simple Easter picture idea for babies and toddlers is to let them explore a basket full of Easter eggs while you take photos.
Sometimes the best shots are not the ones where they are smiling directly at the camera.
14. My Best Friend Chick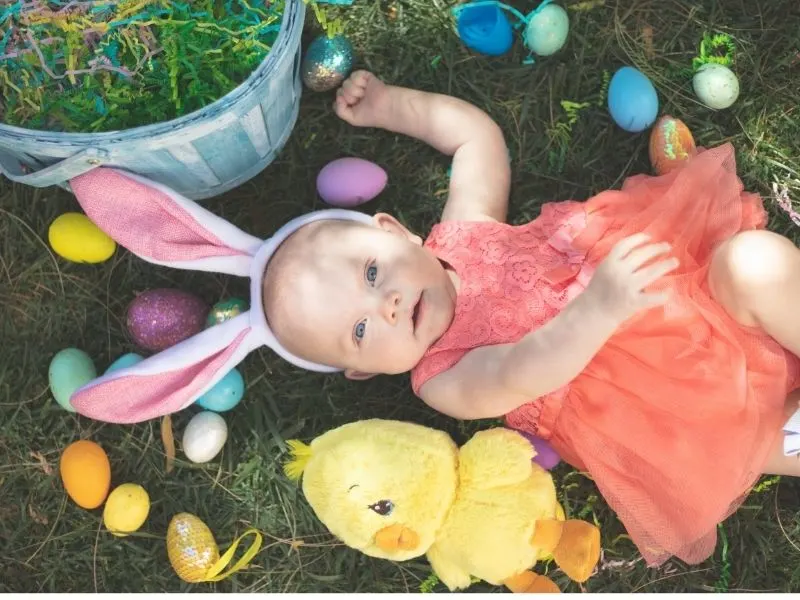 A big fluffy chick and some sparkly Easter eggs on the grass make for a simple and easy to recreate DIY Easter photo idea.
15. Easter Favorites
Create your own Easter scene with some flowers, eggs and bunnies.
16. A Bucket Full Of Eggs
This photo is a bit blurry but you get the idea! Put a cozy blanket into a basket or even a cardboard box and then fill it with plastic eggs and let your baby go to town.
17. Pretty in Ruffles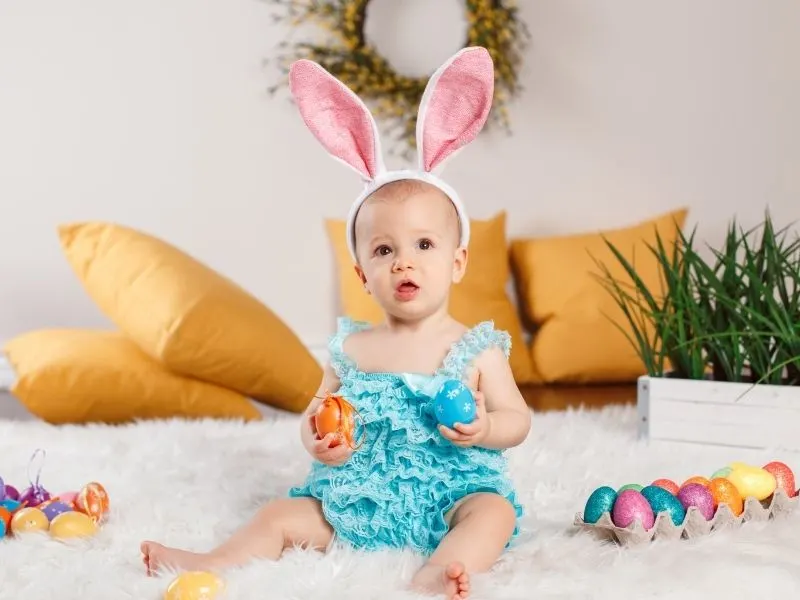 A super cute ruffler romper like this one from Amazon looks perfect for Easter.
18. Some bunny loves you
Cold carrots make great teethers for babies plus they are fantastic photo props fr the cutest baby Easter pictures!
19. Sibling Easter Portrait Idea
No Easter would be complete without a chocolate bunny!
Take the kids to the park and watch their excitement as they discover this sweet treat!
20. Twinkling Lights
A strand of fairy lights and a fluffy blanket make for a really cute and simple Easter photo.
21. Easter Egg Hunt
There is nothing cuter than a little boy in a bow tie!
Dress your baby in their Easter best and let them go on a backyard Easter egg hunt while you take photos.
22. Easter Picnic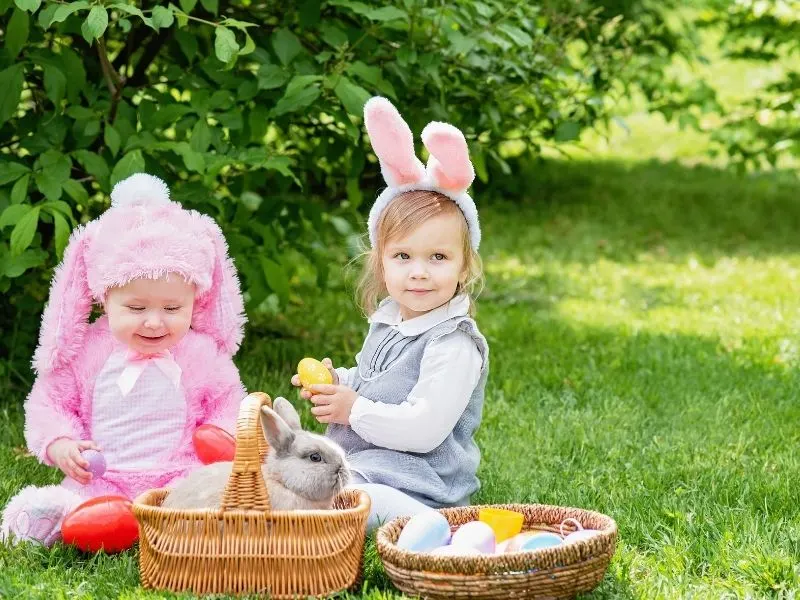 You don't need a live bunny to have a really cute Easter picnic photoshoot.
Newborn Easter Photo Ideas
If you are looking for some cute photo ideas for your newborn's first Easter, you will love the Easter picture ideas for babies below.
Taking photos of newborns is never easy but you can get some really cute photos quite easily if you time it right and have a lot of patience.
(By the way, if you are expecting and want to let everyone know around Easter time, make sure to check out my cute Easter pregnancy announcement ideas.
23. My Best friend and I
If you are looking for newborn Easter photo ideas, this is one of the easiest to pull off. Once baby is asleep, gently lay him or her on a white sheet next to a cute bunny stuffed animal.
Cover them up to their chins with a white sheet or comforter and take as many photos as you can!
24. Little birds nest
This amazing photo is easier to recreate at home than you think. The main thing you need are the props!
You can grab the twig basket for newborns on Etsy for a great price.
Then all you need to do is line it with a super fluffy white blanket and put some real eggs next to it.
25. Bunny in a basket
Putting your baby in a basket is one of the best Easter picture ideas for newborns.
You can use the twig basket above or a regular wicket basket to create this Easter basket scene with your own little bunny as the star in the show.
26. Waiting for the Easter bunny
Here is another DIY baby Easter photo idea that you can adapt at home.
You can use a brown fluffy blanket on the ground or make your own little wooden bed like the one in the picture.
If you want to buy a rustic wooden newborn bed, you can get one similar to the photo from Etsy.
Then all you will need are some Easter eggs and a chick toy to complete your photo.
27. Two little Eggs
Cute photo props are always your friend when it comes to DIY Easter photo shoots.
To make this picture at home, you just need to dress baby in neutral colors and then wait until naptime.
Then just gently slip the props into place and get your Easter newborn photo!
You can grab the fabric Carrots from The Craft Witch YEG and you can make the eggs yourself with foam stickers and a sharpie on hardboiled eggs.
28. Cracked Egg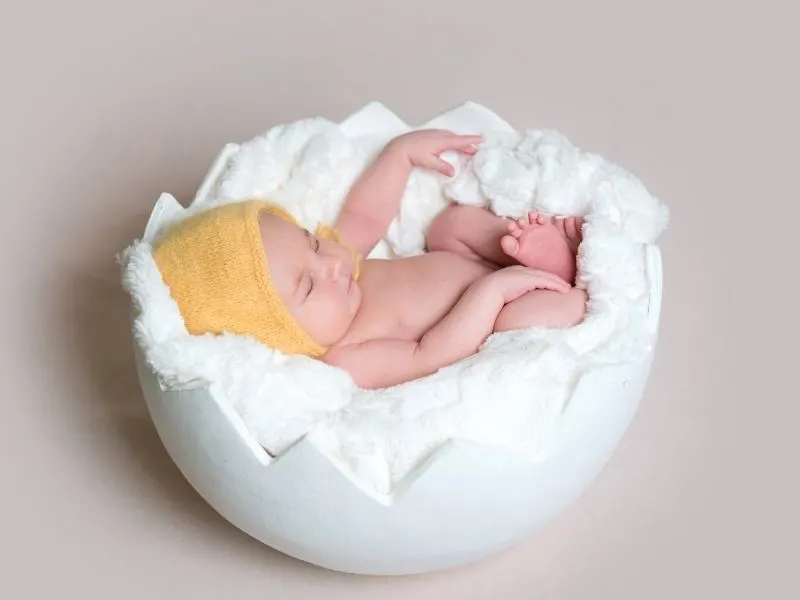 Here is another Easter newborn photo idea that just required a simple prop and a fluffy blanket.
You can buy a half egg shell photo prop from Etsy. If it seems too difficult or pricey, another easy way to recreate this newborn Easter photo idea is to use a digital file.
If you know how to use photoshop, you can buy a digital file of an eggshell for a fraction of the price and then add a photo of your baby to it.
You just add your baby by adding a mask and painting away the Layer Mask in Photoshop. Understanding of how masks work in photoshop is needed to make this work but it can be worth learning.
29. Photo with a real bunny
If you own a bunny or have a friend who does, you can create really cute images with your baby.
30. Candy Love
Oversize foil eggs in different colors are an easy and cheap photo prop for a newborn Easter photoshoot.
Easter Pictures Ideas For Toddlers
If you have a toddler and want to take some cute Easter photos at home, here are some ideas for your DIY photoshoot.
31. Keep It Simple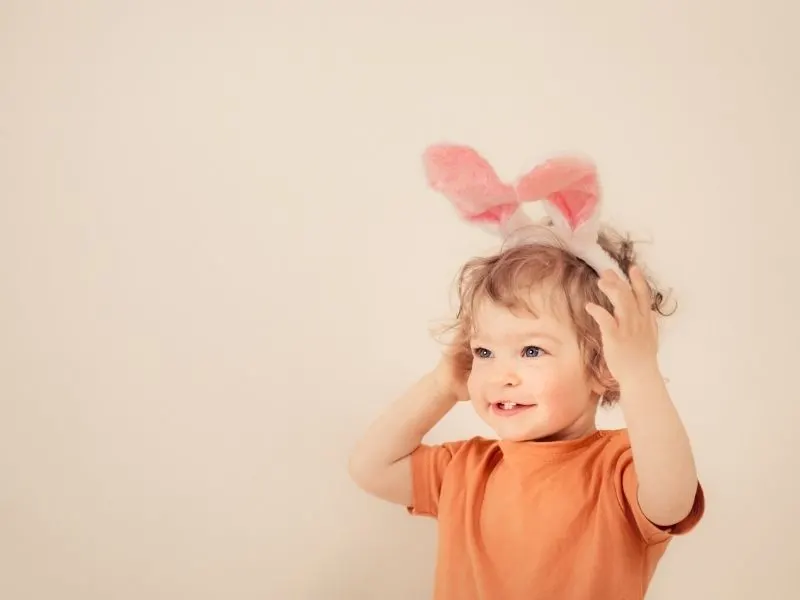 Find a blank wall in your house and you have one of the easiest Easter pictures ideas for toddlers.
You can use the free Lightroom app and a Lightroom preset to get the same kind of lighting as in this dreamy photo.
32. Painting Easter Eggs
Even little babies can have fun getting messy decorating the Easter eggs—you'll definitely want to capture all the fun they'll be having!
Try taking a few close-ups of their tiny hands as they paint away.
33. The Tiny Details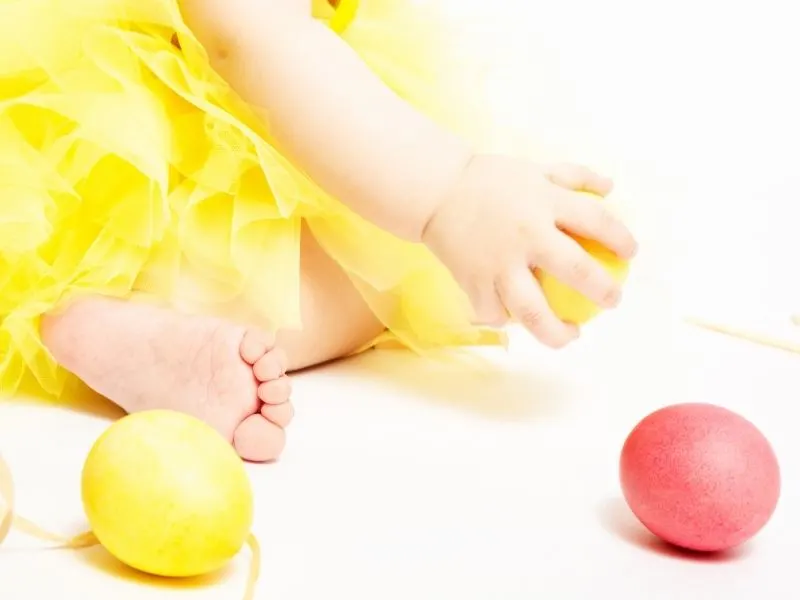 One of the nicest Easter picture ideas for toddlers is to focus on the little details like their feet and hands.
34. Some bunny loves you
A cute bunny hat is all you need for this funny photo idea for toddlers and older babies.
35. Look Who Arrived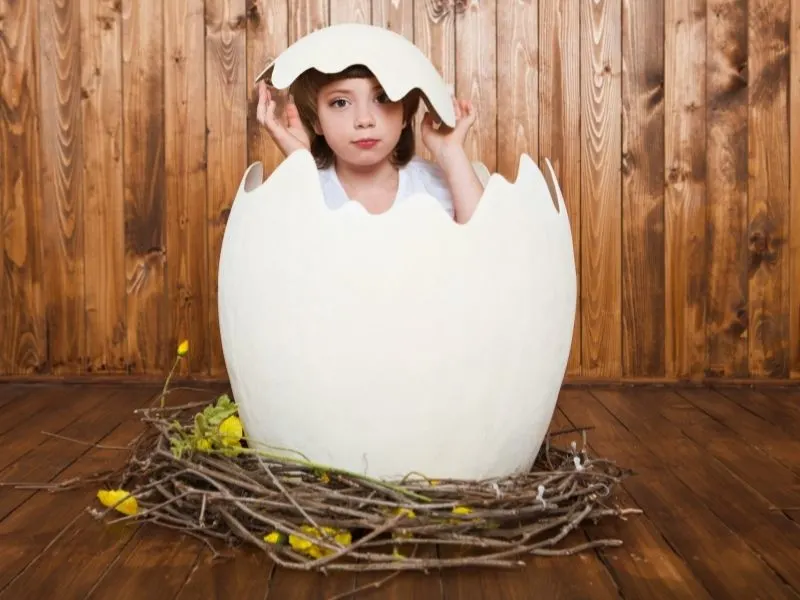 Toddlers and older kids can get in on the Easter egg fun with larger egg props like this one that you could make yourself out of white cardstock.
36. Bunny Banner
A simple Easter photo idea for toddlers and older kids is to have them stand in front of a cute Easter banner like the one in the photo.
37. Easter Chicks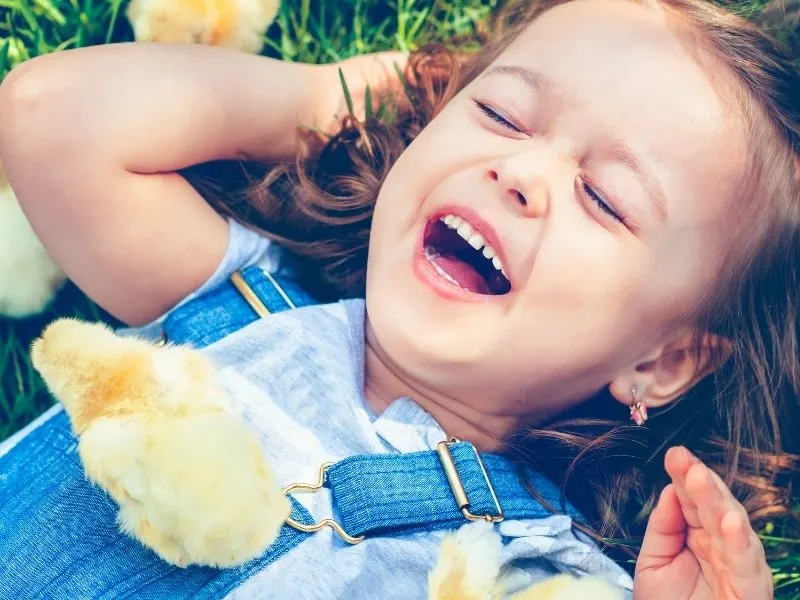 If you can get some photos of your child with some real like Easter chicks then you have an easy recipe for one of the cutest photos ever!
Baby Easter Picture Ideas – Tips for Success
Easter is the perfect time to capture your kids enjoying lots of fun spring activities such as getting outdoors, discovering the first blooms and of course, hunting for eggs.
Most of the baby Easter picture ideas above don't require much more than some simple props and your smartphone.
Here are some ideas for capturing great photos throughout the Easter season:
Don't forget to snap candids
Keep your camera handy when you are doing Easter crafts or going for walks in the spring. There are so many fantastic opportunities for cute photos.
Set up a home studio
If the weather isn't great or you would rather take the photos at home, all you need is a white backdrop (a thick white sheet will work) and pastel or white clothing.