If you are reading this, congratulations are probably in order! Whether you are already a new mom or are still basking in your pregnancy glow, it's never too early to start signing up for your Canadian baby freebies.
If you are the friend of a soon-to-be mom, read on for a great list to share with the new parents or even send off for the free baby stuff yourself and make them up a cool baby shower gift basket.
You might have read some startling statistics about the expense of a new baby, in fact, a 2010 study showed that costs can run as high as $12,000 in the first year!
I really don't think it needs to cost you anywhere near to that if you plan stick to your baby budget and, most importantly, take advantage of all the freebies for expecting moms that you can get your hands on!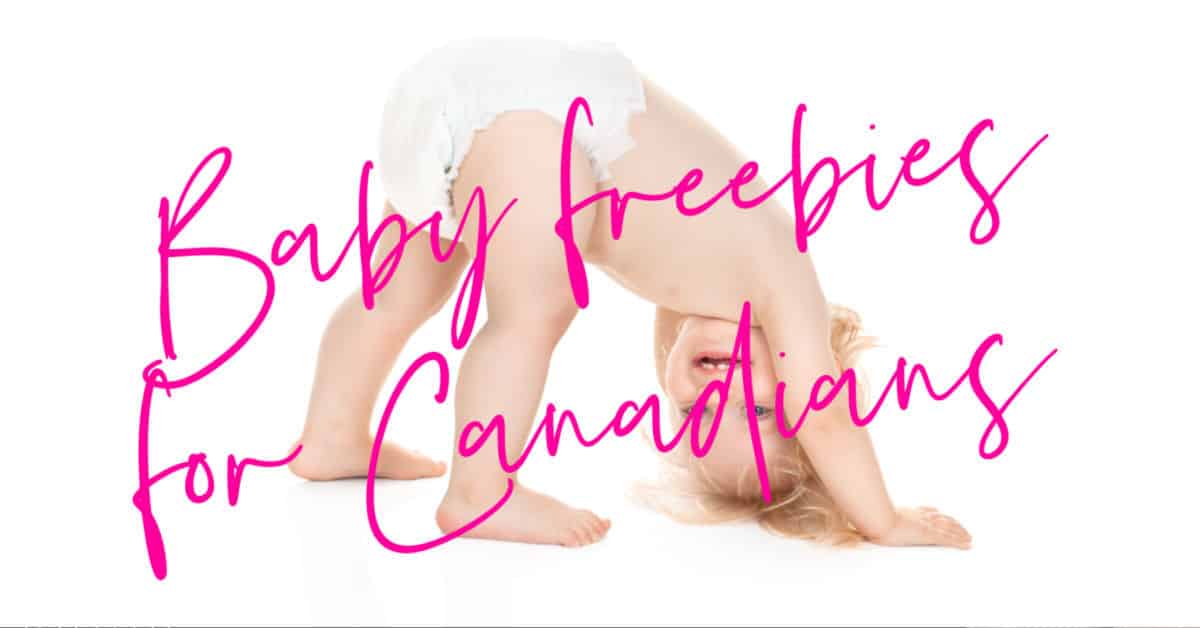 This page contains affiliate links meaning I earn a commission if you use those links. Please read my Disclosure
RELATED POSTS
How to Have A Baby on A Budget
50 Newborn Baby Tips and Tricks (From Real Moms!)
Why Do Companies Offer Free Baby Stuff To New Moms?
There are tons of ways to save on baby must-haves and the place to start is with all the new baby freebies Canada has to offer.
You'll quickly realize that as a new mom, you are in high demand, and I'm not talking about your newborn needing you 24/7.
Companies that sell diapers, formula and other baby items have realized that if they can win you over and earn your loyalty now, they may have a new potential customer for years to come (especially if you go on to have more than one child).
To earn this brand loyalty, they offer free baby samples and even goodies like a free diaper bag and free baby bottles to new moms.
This means there are hundreds of dollars worth of Canadian baby freebies up for grabs for anyone who wants to take advantage.
Make the most of this and take advantage of all the Canadian baby freebies you can. These include registry completion offers and even free online courses – keep reading for all the details!
The Best Freebies for New Moms in Canada 2022
Free Baby Gear For New Moms
The Mother's Lounge offers some awesome baby freebies for new moms and babies. Just pay shipping when you use code SEASIDE100 and the items are free!
I have the car seat canopy, the nursing cover, tons of the baby leggings and they are all awesome!
There are even some awesome pregnancy freebies like belly bands (and $50 off a pregnancy pillow which will be a lifesaver if you are struggling to sleep)
The shipping stings a bit because it is in USD but the quality of these items is great and even with the shipping these are quality products that sell for a lot in boutiques at home. They make great baby shower gifts too.
Use coupon code "SEASIDE100" for these baby freebies:
You can choose from the type that hangs over the handles or the new style that doubles up as a nursing cover or blanket.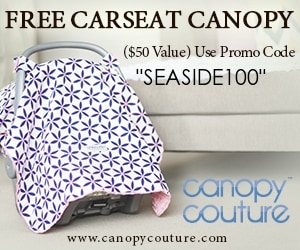 Create your own design or choose from one of the templates from other customers.There are tons of great ideas, this would make a great baby shower gift or even pregnancy announcement!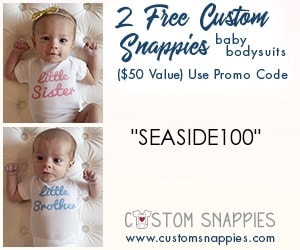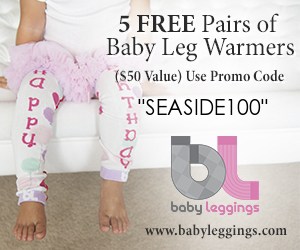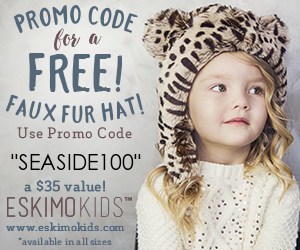 (add baby's name or a cute slogan)
Use the coupon code to get $35 to spend at LittleFans.com. Choose from bottles, bibs, security bears and more.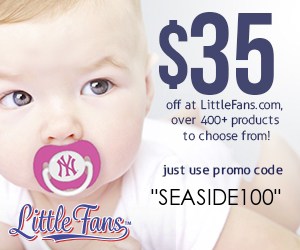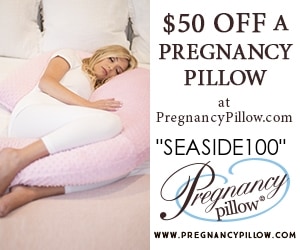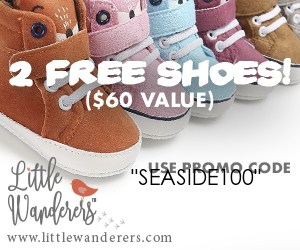 You can use the code "SEASIDE100" on each of these websites – no limit!
Baby Discounts For Expecting Moms – Baby Registries
Open an online baby registry for free on Amazon and get a 10% completion discount to anything you add to the registry.
What Is A Completion Discount?
This is when you can personally purchase anything left on your registry after your showers etc and get 10% off! It's a complete no-brainer and obviously it makes sense to add absolutely everything to your registry that you may want to buy.
How the Amazon Registry Discount Works
You can items from any website to your Amazon registry and get the discount
There is a 90 day free return policy on baby items
Plus sign up for a free trial of amazon family and get 20% off diapers and other special coupons.
You can either start your registry online or in-store to get the following benefits with BabiesRus (including another completion discount!). Bonus- join their R Club for extra discounts.
1) Get a $25 coupon* when you add 25 items and sign-up for emails
2) Enjoy 10% off** your remaining registry items. RClub members save 15% off** remaining items.
3) Get a Baby Swag Bag loaded with trial packs, samples and coupons
Buy Buy Baby is now in Canada! Start your baby registry online and get a 20% completion discount.
The US site also mentions a free goody bag but I don't see it on the Canadian website, worth an ask though when you are in store because likely they are offering it to Canadians too.
Free Baby Stuff By Mail
You can get free baby gear by mail by either emailing companies or filling out forms online. It's simple and easy. I advise you to join these free programs as soon as possible as they do tailor the freebies to the age of your baby.
Even if you don't plan on using formula, you can still benefit from these freebies as they include other baby samples like free diaper bags, free change pads and also coupons for free baby food as your baby grows.
RELATED POST: The Ultimate Guide to Baby gear for minimalists
Free Formula Samples for Canadians
From a purely cost-saving point of view, breastmilk is your best option. It's free and you don't need much extra stuff like bottles and sterilizers.
If you want to get a nice nursing cover, you can get a free one at uddercovers.com using code SEASIDE100
If you need a breast pump, make sure to check with your insurance before shelling out for one, I got 80% of my wonderful Medela Freestyle Breast Pump
covered by providing a doctor's note. (and yes, you can buy it from Amazon using your 10% baby registry discount.)
If do want to pump or even are considering exclusive pumping, you can get a ton of tips here. I exclusively pumped for 6 months with my second daughter and it saved me a TON in formula costs.
Here are some breast pumping tips to maximize your milk supply.
If you decide to formula feed, these freebies could save you a ton of money over your baby's first year.
Below you will find the sign ups for the big 3 formula companies in Canada.
These 3 programs are worth joining for the free samples they send to Canadian moms, two years in and I am still getting coupons in the mail for snack foods and things like Pediasure.
Sign up for the Similac Club while you are pregnant and you will get a $10 cheque for Similac Mom drink, a sample pack of formula and coupons and then a $5 cheque every few months for your baby's first year.
Sign up for the Similac Club here.
You have two options when you sign up for Enfamil Family Beginnings – you can either get coupons for free stuff that you redeem in store or they will send you some sample packs.
Bang for your buck and the environment is the coupon option – you will get to redeem them for free full-size products in the store of your choice.
Sign up for Enfamil Family Beginnings here.
Sign up for the Nestle baby program and you will get free formula sample cans, a free diaper bag, diaper pad and other goodies plus more coupons for baby food when your baby turns 5 or 6 months.
In Store Canadian Baby Freebies
Even if you are planning to use your registry at Amazon.ca, it is totally worth creating a second baby registry at another store because you can get discounts and freebies just for signing up!
Sign up for the Bump Benefits plan and you can get discounts and free baby samples. (You can sign up in store or on the Thyme website).
Sobeys Pharmacy (within Sobey's grocery stores) has a great program that will give you a goody bag when you sign up and free prenatal vitamins for up to 2 years.
This is one baby freebie that is only available for those of you who live out West. Sign up for the London Drugs Welcome package which includes free baby samples. You can also redeem the coupon online when you make an online order.
Sign up for the Welcome Baby package here.
Online Canadian Baby Freebies
For more free stuff for new moms, Canada- specific websites of big brands are worth checking out as well as online only freebies.
26. Baby Prep Bundle (Free Prenatal Class)
If you want more tips for prepping for birth and baby, I highly recommend this free baby prep bundle. It was created by a labour and delivery nurse and is packed with tons of tips.
You can download the free baby prep bundle here.
You can redeem codes on diapers and wipes packs for free gift cards, toys, and Shutterfly photo products. Make sure to "like" their Facebook page as they sometimes give out free codes.
Baby Box Canada has rebranded as Family One. The free baby box is gone (they offer something similar for a fee) but it's worth signing up to take advantage of other freebies and offers from their partners.
Moms Meet has just been launched in Canada and is a new program that allows you to get baby freebies in a couple of different ways – sign up as a Mom Ambassador and get sent free baby samples to try with your mom friends.
You then submit an online survey and photos with your feedback on the product.
Moms Meet also has a rewards program that runs along side the sampling portion, you can earn rewards for answering questions, going on the website etc and then redeem your points for gifts.
Aside from making the best pacifiers
money can buy (my daughter wouldn't take any other ones and I have heard the same from tons of new moms), MAM offers a great club with a free pregnancy calendar and free product testing opportunities.
Recently revamped, download the app and upload your grocery store receipts to earn points for gift cards and free baby stuff including coupons for diapers.
Also make sure to sign up for the No Baby Unhugged program from Huggies.
They will send you a free pack of newborn diapers by signing up. Valid in the US & Canada.
Did you know that Best Buy sells baby items? I actually bought an awesome maternity swimsuit there – worth checking out as an alternative to the usual maternity store.
Apply online for the Best Buy Baby samplers club and you may get selected to receive free samples. I don't love this one as it is not guaranteed but it is still worth signing up for.
Apply online for the Best Buy Club here.
Cetaphil is a brand of baby body care items and they have a club that you can sign up for online. You'll get a $5 coupon for signing up plus other offers and coupons as time goes on.
Join the Cetaphil Parents Club now
Even More Canadian Baby Freebies
34. Baby Shows
If you live near a large urban centre, make sure you hit up the baby shows! Check Groupon or Wagjag to save on the entrance fees or sign up on the show's website for early VIP deals.
Bear in mind that many of them might not be in person this year but they will likely be held virtually and you can probably still get a bunch of swag if you sigh up.
I find I always get enough free samples of baby products to make up for the entrance fee and more! There are also lots of contests to enter at the shows. I even won a $200 car seat at one of the Toronto shows when I was pregnant!
The major baby shows in Canada include:
The Baby Show – Toronto/Mississauga every April & November
Bump, Baby & Toddler Show – Hamilton, ON – Spring & Fall
Baby & Tot Show, Calgary – Spring and early Fall.
Baby & Family Fair , Vancouver & Victoria, every fall
Mom, Pop & Tots Fair – Edmonton, Spring
Parent & Kids Fair – Montreal & Quebec City, Spring
This is not an exhaustive list so it's worth googling to see what baby fairs are in your area. I have also found that the smaller fairs sometimes have the best free stuff and samples on offer!
Register for events in your area and get a free gift bag plus meet vendors, at the one I attended there were games and even shower cake!
Aside from all the great Canadian baby freebies for expecting moms that I've mentioned above, Canada also has awesome public health programs that you can join when you are pregnant and once your baby is born.
You can access freebies in person such as prenatal classes, home visits from a nurse and free lactation consultants at the hospital or region.
Free car seat clinics are also help by most local municipalities and also St John's Ambulance but make sure to sign up asap as they book up fast.
For more information on these freebies, contact your local health region or family doctor (they should have a website!).
More Baby Advice:
51 Best Pregnancy Movies To Watch When You're Expecting
50 Newborn Baby Tips and Tricks (From Real Moms!)