Deciding how to congratulate a coworker on a new baby can be a bit of a minefield.
Of course, you want to acknowledge the safe and healthy delivery of the newborn baby as this is always a time to celebrate.
However, it can hard to know how formal or informal to be, especially if you are not close to the mother or father in question.
The truth is, however you decide to congratulate your coworker on their big news, you are likely to get a great reception.
Speaking from someone who has been on the receiving end of coworker well wishes two times, it truly is the thought that counts.
I was happy to hear from my colleagues especially when I already felt a bit "out of the loop" after I had my children.
In this post, we will look at some examples of new baby congratulations messages so you can use them as your own or as inspiration for your own heartfelt note.
How to Congratulate a Coworker on a New Baby
What Kind of Message should you send?
If you're close with the coworker that just had a new baby, then it is appropriate for you to be more funny and personal in your well wishes.
If the person is not as close with you, but still on your team or in your circle of friends, then a more formal message would be appropriate.
What To Say To A Coworker You Are Close To
I'm so excited for you and can't wait to meet your little bundle of joy! Please send pictures soon!
Congratulations on your new baby! Enjoy these precious early days, and don't worry about work – everything is under control!
Best wishes to an amazing couple as you share in the love (baby's name) has brought you. Wishing the 3/4 of you all the best!
I can't believe he is finally here. He is absolutely adorable and we are all so happy for you! Enjoy the newborn snuggles!
I'm so happy for you! You look glowing and I just love the name you picked! Congratulations!
Formal newborn wishes for a coworker
If you have a more formal relationship with your coworker, then try one of these phrases:
Wishing you and your family the absolute best at this exciting time! Enjoy this time with your new family!
Congratulations for the arrival of baby, best wishes to you and your family, please bring her in to meet us all when you get a chance.
We are so happy for the arrival of your healthy new baby. Everyone at the company is so excited for you and wishes you all the best!
4 Ways To Congratulate A Coworker who just had a baby
Depending on how close you are to your coworker and your individual work environment, you can celebrate the new arrival in a number of ways, including:
In person visit
an email of congratulations
A card
A gift sent by mail or courier
A Visit to the New Baby
If you are invited to visit the new baby then we can assume you are in the inner circle!
Take a gift and a card and make sure to sanitize your hands. Other than that, just enjoy the newborn snuggles.
Sending Newborn wishes by email
The most common way to congratulate a coworker on a newborn baby is by email.
In my experience, HR or a friend of the new mom or dad receives notice of the baby's birth and passes the word on.
If you want to share your well wishes with the family, you can use some of the examples at the top of this post or use one of the sample emails below.
Remember that if your coworker is on maternity leave, they may not have access to their work email.
Here are a formal email you can send to the new mother or father:
Dear Coworker,
HR just shared your wonderful news of the birth of your new baby.
Best wishes and I'm sure your new addition will bring so much joy to you and your family.
Sending you all wishes of health and happiness,
Warmly,
And here is another option:
Dear Co-worker,
We just heard the wonderful news today, and are all so excited for you. Sending you and your entire family heartfelt congratulations at this wonderful time.
Enjoy this special time with your newest addition and I wish you a lifetime of happiness together.
warm regards,
If you have a much more informal relationship with the coworker but want to make sure not to say the wrong thing, try this email:
Dear Co-worker,
Congratulations on the arrival of the newest member of your family! I know you two will be incredible parents and a lifetime of happiness with your new baby.
Enjoy the coming weeks and stay in touch! We want pictures of the little angel!
Lots of love, your co-worker
Funny Ways To Congratulate a Coworker on a new baby
If you want to inject some humour into your new baby email, then tread carefully so you don't say the wrong thing.
Remember, new parents are exhausted and may not find your jokes too funny. However, if you say the right thing, it is sure to be well-received!
Here are some funny samples of new baby messages
To the lucky new parents ,
Warm congratulations on your new role as proud parents! Being a new mother is such a rewarding experience, filled with sleepless nights and lots of wonderful memories that you can barely remember through the haze!
Seriously though, enjoy your tiny tot and your new life together!
Wishing you all the best.
Your friend,
Here's an email example that will make them definitely not miss the office watercooler!
Congratulations on the arrival of your new baby! The news of your newborn has gone viral in the office gossip mill! No one is even talking about what happened in the Bachelor last night!
You are going to make amazing parents and we all wish you good luck with your new little family!
Sending A Card of Congratulations
In most places I have worked, we pooled together for a gift and a card but if you want to send a card on your own to the new parents, then its a really thoughtful idea.
The nice thing about sending a new baby card is that it will have a prewritten message inside which can help you to find the right words
If you need some help with new baby wishes for your part of the card, here are some cute ideas:
Congratulations on the birth of your beautiful baby! Wishing you and your wonderful family the very best at this exciting time!
As you dream of possibilities , enjoy these beautiful times with your new baby girl. Congratulations on your new bundle of joy!
Your little girl is here! We are all so thrilled for you on the arrival of your newest family member! Sending you much love and warm wishes at this happy time.
Short New Baby Wishes to Write in a Card
Congratulations on the safe arrival of your precious baby girl!
All our love and warm wishes to the new family member!
Many congratulations on this happy occasion for your family.
Congratulations to the proud parents, we are so happy for you.
What a perfect addition to an wonderful family.
Congratulations to you both on the safe arrival of your happy heathy baby.
We heard that your newborn is the cutest one in the whole hospital!
Here are a few super cute (and funny) new baby card for a coworker options that you can use:
Here is a funny (although a bit vulgar) new baby card that would be perfect to congratulate a coworker on their new arrival.
This is a really pretty card that is formal enough to send to a coworker that you are not overly close to.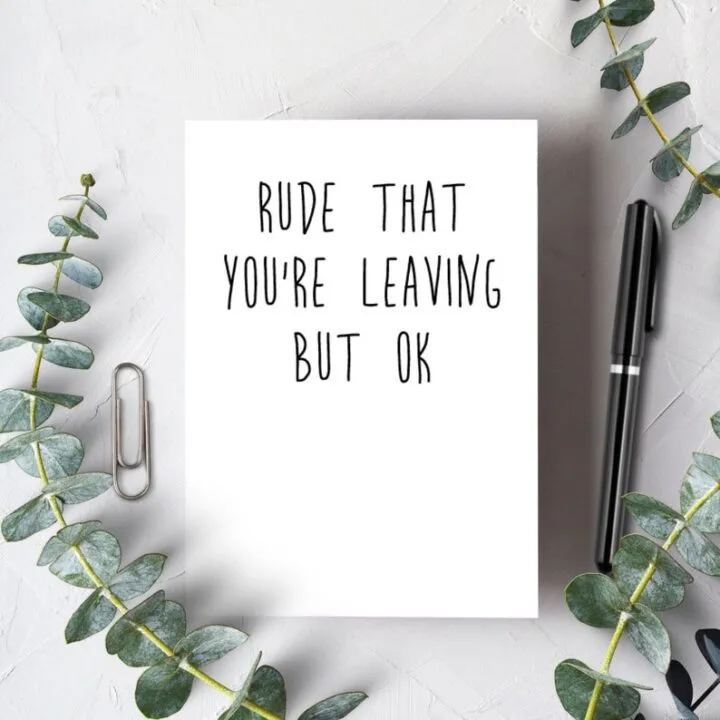 Ok, so this card could also be used for someone who is leaving the company but how funny would it be for someone who is going off on maternity leave?
Sending A Gift To A Coworker to congratulate them on their new baby
Special occasions like the birth of a baby often call for a gift but whether you should send one really will depend on how close you are to your coworker.
Often, companies send a gift basket from the whole office to congratulate someone on the birth of their new baby. It is worth checking with your office to see if they are planning on doing something for your coworker.
If you are close enough and feel that a greeting card or email is not enough, then the best way to find a gift is to look at their list of baby shower gifts on the registry.
You might see some items that were not bought that you could get, the beauty of this is that the gift will either be sent to the new parent's home or they can pick it up at their leisure.
If you don't see anything on the baby registry, consider sending a gift card to a store such as ToysRus or Buy Buy Baby. Alternatively, you could send a restaurant gift card that the new parents can use.
Another good idea is to send a basket of baby goodies along with a congratulatory message. If you are close to the new mom, you could put together your own Postpartum Survival Kit, otherwise you can buy one ready-made.
Here are a few cute gift basket options that you can have sent directly to your coworker's home:
This new baby box perfect gift for that special mom or mom to be (it also comes in a boy version).
This gift box includes:
Muslin Blanket
Soother clip [see below to add personalization]
Muslin drool bib
Hand-knitted white bunny rattle
Soft bristle baby brush
Circular "I'm Here" milestone prop
AND your choice of 1 onesie® with different slogans to pick from.
Want to know how to congratulate a coworker on a new baby and be unique at the same time? How about this cute baby plant and card delivered right to their door?

Diaper cakes are a classic baby shower gift and they are always a fun way to send new baby wishes to a friend or coworker. This one from Amazon comes fully assembled with 60 diapers to start the parents off.
How to Congratulate a Coworker on a New Baby – Final Thoughts
There are several ways on how to congratulate a coworker on the birth of their new baby. Having a new baby is a life-changing moment in someone's life and always worthy of a celebration.
If you want to let your coworker know you are thinking of them, draw from the ideas above for inspiration and you can't go wrong!
More New Baby Gift Ideas
Unique Handmade Gifts For New Moms
What To Buy A New Mom For Herself (Not Baby!)