Are you looking for a great DIY gift idea that your kids can make with you? This peppermint sugar scrub recipe is so easy and fun to make that even the youngest kids can get involved.
Making this candy cane body scrub has become a bit of a tradition in my household.
My two kids love spending an afternoon making it for their aunts and grandmas every December and they often ask for a jar themselves.
The nice thing about the recipe for this holiday sugar scrub is that it takes just minutes to make and won't break the bank.
You can easily make a lot of batches to sell at a school Christmas bazaar or to give as teacher's gifts too. I've also included some free printable gift tags at the bottom of this post so you can make them look presentable quickly.
This post may contain affiliate links. Please read my Disclosure for more information.
MORE CHRISTMAS GIFT IDEAS
What To Put In A Guys Stocking For Christmas
Christmas Gift Ideas For Daughters
Candy Cane Sugar Scrub Recipe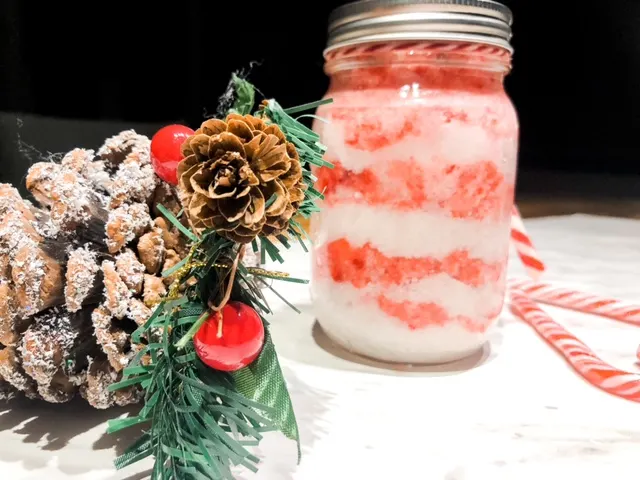 If you are a fan of the Bath and Body Works Twisted Peppermint series, you will love this DIY version of their awesome candy cane scrub.
It makes a great stocking stuffer and is perfect for the shower. I love doing crafts at Christmas so this is one I always made every year. Check out my Chalkboard Sign For Christmas if you want another easy craft to do.
You don't need many ingredients to make the scrub, here's what to have on hand:
White Sugar
Coconut oil or another carrier oil with a mild smell.
Red food coloring
Mason jars with lids ( I use 16 ox ones like these)
Red ribbon or string
This candy cane body scrub is great for:
Selling at your next Christmas Bazaar or fair
Giving as a gift to friends and neighbours
Using in the shower for a bit of holiday cheer every time you bathe.
How to make this minty holiday sugar scrub
Step One
Grab your supplies and put the sugar in a bowl then add the coconut oil. Mix until it resembles wet sand.
You don't want the mixture to be too runny but too grainy will be rough on your skin.
Step Two
Add a few drops of peppermint essential oil into the mixture and stir well. If you don't have peppermint essential oil, you can use peppermint essence for cooking in a pinch.
Step Three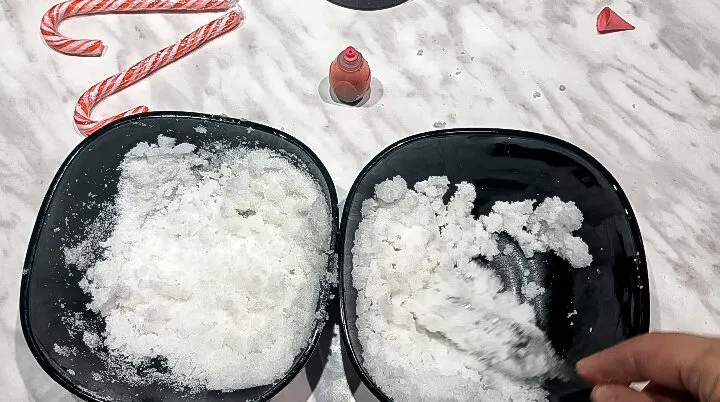 Divide your sugar scrub mix into two equal portions and put in separate bowls.
In order to get the red and white stripes so that the scrub looks like a candy cane, you will need to make two separate mixtures, one red and one white.
I have two kids so I let each one work on a bowl which makes this easy! You can also do one at a time if that works for you.
Step Four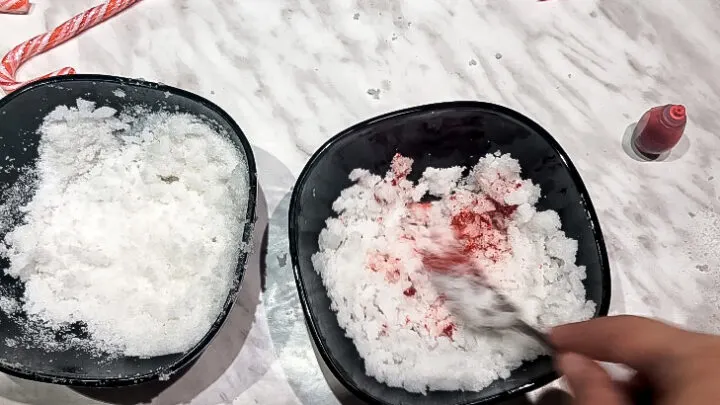 Add a few drops of red food coloring to one of the bowls. Mix and then continue adding the red coloring until you get the color you desire.
Start slow and then add coloring gradually as it can be deceiving.
Step Five
Grab your mason jar and add a layer of the white scrub mixture at the bottom. Pat it down with a spoon so it is nice and flat.
I normally add about an inch of each color but it is completely up to you.
Step Six
Next add a layer of the red to create the "candy cane" effect. Continue alternating layers until the mason jar is almost full.
Step Seven
Tie a ribbon or a piece of string around the neck of the mason jar for gifting. I got my red and white twine from Amazon.
You can also add a cute gift tag or sticker to the jar so that people know what it is.
You can buy blank sticker labels at the Dollar Tree or you can print out my printable gift tags below.
I created these cute printable labels for you to use with your peppermint sugar scrub! Just print them out on paper or card stock.
Then use a hole punch before you thread the twine through.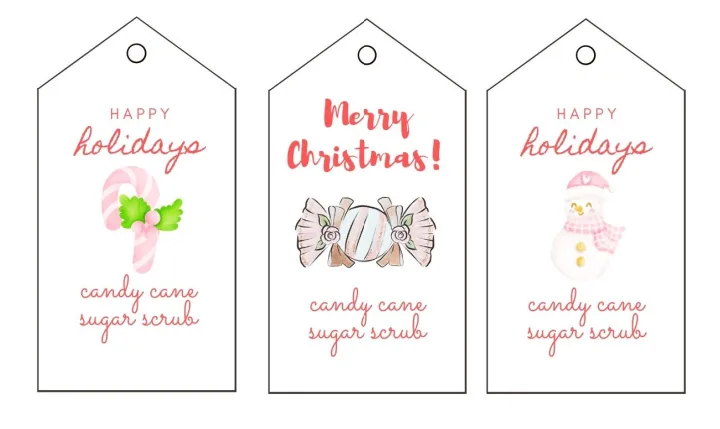 Variations on the Candy Cane Body Scrub
The recipe for this holiday sugar scrub is so easy that you can make all different kinds of varieties.
If you want to make something other than peppermint scented body scrub, you can use a different essential oils.
Some ideas include:
Lavender
Rosemary
Eucalyptus
Orange
Lemongrass
Vanilla
If you want to keep your version as a peppermint sugar scrub there are a few other options you can try:
Use a real candy cane
Another variation of this peppermint sugar scrub recipe is to add crushed candy cane to the red mixture.
All you have to do is put a candy cane in the blender for a few minutes until it is really crushed into tiny pieces.
If you don't have a blender, you can put the candy cane in a zipper seal bag and roll over it with a rolling pin until it is crushed.
Then you can add the candy cane powder to your mixture and stir it in.
This version is really similar to the Bath and Body works scrub.
Yield: 4
Peppermint Sugar Scrub Recipe
This candy cane sugar scrub recipe is perfect for gifting over the holidays.
Plus it is so easy that even the kids can make it! Use this recipe to whip up a batch in under 10 minutes.
Ingredients
2 cups of white sugar
1/4 cup of coconut oil
20 drops of Peppermint essential oil
5 Drops of red food coloring
Instructions
Mix the sugar and coconut oil together in a bowl until it reaches the consistency of wet sand
Add in the peppermint oil and stir
Separate the mixture equally into two separate bowls
Add the red food coloring into one of the bowls and stir.
Starting with the white mixture, pack a 1 inch layer into a mason jar and pat it down
Do the same with the red mixture
Continue layering until the mason jar is full
Replace the lid and tie with a ribbon
Notes
You can use these instructions to make sugar scrubs in different scents such as lavender and lemongrass.
Nutrition Information:
Yield:
4
Serving Size:
1
Amount Per Serving:
Calories:

551
Total Fat:

17g
Saturated Fat:

12g
Trans Fat:

0g
Unsaturated Fat:

4g
Cholesterol:

0mg
Sodium:

6mg
Carbohydrates:

102g
Fiber:

1g
Sugar:

100g
Protein:

1g
More Holiday Ideas
Christmas Gift Ideas For Daughters
20 Baby Stocking Stuffers For A Special Christmas
30 Christmas Goodie Bag Ideas For Kids