Blogging is a great way to make money and build your own brand. However, it can be difficult to come up with ideas for products to sell on your blog.
Even if you are just starting your blog, start thinking about what you can sell product-wise to create an income stream. It could be printable planner sheets, colouring pages or budget printables.
You don't need to wait until your blog goes before you launch a product and you don't need a lot of traffic.
In this post we will look at 6 different digital products you can make and sell on your blog in minutes.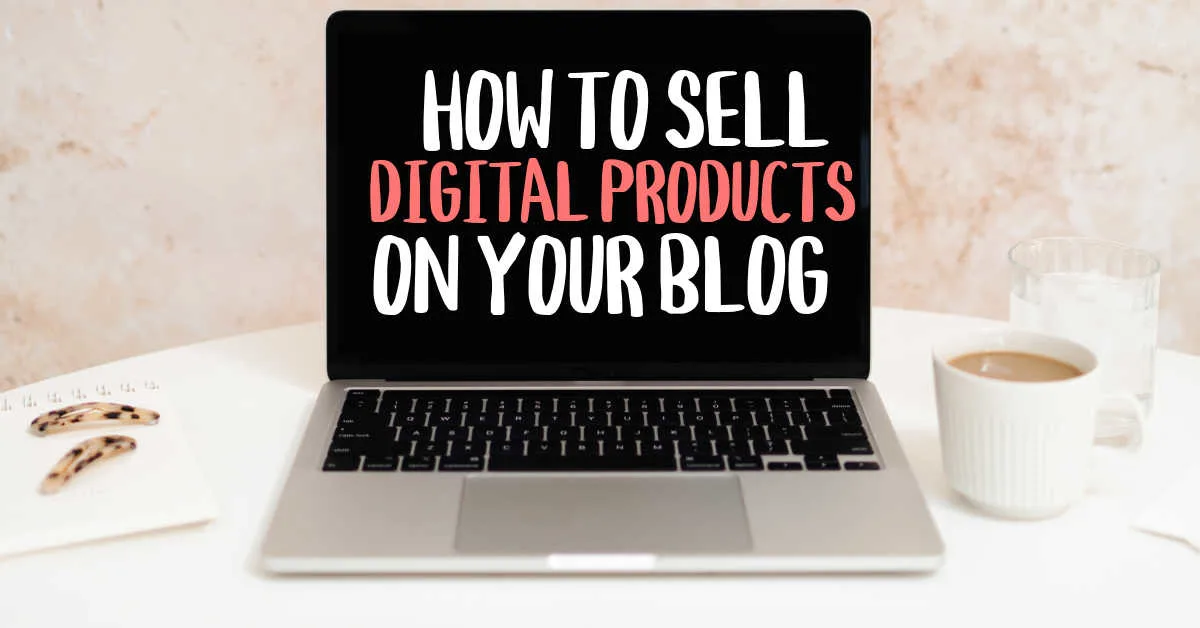 How To Choose A Product For Your Blog
Here are 5 tips for creating products that will sell:
1. Think about what you're passionate about. If you have an interest in a specific topic, chances are there are people out there who share that same interest. Consider creating a product or service that addresses one of those interests.
Making products to sell on your blog isn't as hard as you might think. Here are five tips to help get you started:
1. Know your audience. Who are your target customers and what are their interests?
2. Research what's selling on similar blogs and find products that fit your target market's needs.
3. Choose a product category that's popular on the web and explore related products for inspiration.
This post contains affiliate links. Please read my Disclosure for more information
RELATED POSTS
Blog Post Checklist (Step By Step Guide To Writing A Post)
Why Your Blog Needs A Copyright/Sharing policy
How To Make Products To Sell On Your Blog
There are a few things you need to think about when creating a product to sell on your blog.
The most important part is to make sure the product is something your audience will want or need.
Once you've determined that, you'll need to create a sales page for the product and set up a payment system. You may also want to create a promotional video or write a blog post about the product.
Finally, you'll need to promote the product to your audience and track the results.
What types of products can you sell on your blog?
Blogging is a great way to share your thoughts on a topic, build an audience around a product or service, and make money from those same people. But what products or services can you sell on your blog? Here are some ideas:
1. Physical products: You can sell physical products on your blog by setting up an online store. This could be something you've created yourself, such as clothing, jewelry, or home decor, or something you've sourced from a third-party seller.
2. Digital products: You can also sell digital products on your blog, such as e-books, video courses, or software. This is a great option if you're not interested in selling physical products or if you want to reach a larger audience.
How do you make a product to sell on your blog?
There are two easy ways to make products to sell on your blog. First, you could buy some ready-made PLR (Private Label Rights) planners or materials and sell them as your own.
Here are some places to find these kinds of products:
PLR For Blogs (use promo code SEASIDE) for 10% off
The other option of course is to make your own products, here are some options:
Canva (free or $12.99 a month for the Pro version)
You can use the free Canva program to make your own planners, checklists and other materials.
Canva has a lot of trainings that you can use but it is pretty easy to understand. If you want to use
Google Sheets, Documents and Slides – Free
If you plan on making digital downloads such as budget trackers and simple worksheets, you might be able to use a free program such as Google Sheets and docs.
Where To Find Graphics and Fonts For Your Products
You will need to buy a commercial license for any graphics and fonts that you use.
It's important to get proper copyright licenses when you are planning on selling your creations.
Here are some places to find great graphics at good prices:
Creative Fabrica
I love Creative Fabrica because it allows you to purchase a Print on Demand license for many graphics which means that you can use them in your products.
Often the print on demand license is just a few dollars more than the regular license so it is worth buying.
Canva
With Canva, you can use clipart and fonts that are FREE to use for commercial use in your projects however you will need to alter them (change the color, put a background etc).
The Hungry Jpeg
The Hungry Jpeg. offers lots of great value bundles of graphics, fonts and illustrations for great prices.
They also have a weekly freebie (sometimes a font, sometimes graphics) that includes a complete commercial license that you can use on products for sale – check out this weeks freebie here.
Top 6 ProductsTo Sell On Your Blog
1. Meal plans and shopping lists.
Selling meal plans and menus is a great way to add an extra income stream to your business. The website 5 Dollar Dinners created a huge business doing just that.
You can create simple meal plans in Google Docs, or get a little creative and design them in Canva.
Turn your most popular posts into meal plans as you know your readers are interested in those topics.
Brainstorming Product Ideas
Ask yourself the following:
What do your readers want?
How can you create a bundle of meal plans
Can you create meal plan service where your readers pay by the week or month and get a new meal plan delivered every week (or month)?
2. Cheat sheets and PDFs.
Everyone loves PDFs!
Whether it's a cheat sheet about what to wear for different dress codes or a guide to looking after a puppy, these are always popular and can be adapted to any blog topic.
To find great ideas for your own cheatsheets, take a look at the most popular posts on your blog using Google Search Console or Google Analytics.
3. Monthly Membership
A monthly membership that offers great value is the perfect way to give yourself an income month after month.
There are many ways to do a monthly membership. Maybe you can offer exclusive content every month to your readers or you offer one on one coaching within a paid Facebook group.
For example, maybe you offer meal plans for families that cover all their grocery shopping and menu planning for the whole month. Or maybe you offer teacher plans for the classroom along with worksheets and printables.
Any type of "insider" information you can share, along with printables or even videos can be turned into a thriving monthly memebership class.
4. Ebooks
Ebooks are a great way to build extra income passively.
Again, look at your top posts for inspiration.
What do you love to talk about, help people through, etc?
For example, if you write about homesteading, you could do a mini course on getting started with your own garden and other tips.
You can create your ebook on Canva and use stock photos for the cover.
What Kind Of Course Works For Your Blog?
Is there anything on your blog that you can expand on?
What questions do readers ask most often?
How can you help your readers through the next steps to solving those problems?
5. Workbooks and planners
People love workbooks and plannings around a topic.
If you haven't created a workbook yet, you can do so easily over on Canva. You can also buy PLR planners from the sites I mentioned above and then tweak them to suit your audience.
6. Stock Photos
One of the best digital products to sell on your blog are stock photos. Obviously, you need to have a knack for photography but stock photos are always in demand.
You can sell your photos individually or offer a membership where there are monthly releases of new photo packs.
How do you price your products?
When pricing your products, there are many factors to consider. You must find the right balance between what you charge and the amount of profit you want to make. You also need to be competitive with other businesses selling similar products.
There are two common approaches to pricing: cost-based pricing and market-based pricing. Cost-based pricing is based on how much it costs you to produce and sell the product. Market-based pricing is based on what customers are willing to pay.
You may also want to consider using a sliding scale, which means that you charge different prices for different quantities of the product. This can help attract more buyers without lowering your profits too much.
Whatever approach you choose, be sure to do your research and stay up-to-date on current market trends.
How To Sell Your Products On Your Blog: Taking Payment
The easiest way to sell your products via your blog is by using a third party gateway such as Sendowl or Gumtree. They both work a bit differently. Sendowl has a monthly subscription while on Gumroad, you pay once something sells.
Personally I use Sendowl and have done for 5 years as I find it really easy and simple to use. You can do a free trial of Sendowl here.
If you want help setting up your Sendowl account (it can be a bit tricky), I highly recommend the tutorial ebook called " Start Selling With Sendowl. This book will show you quickly what you need to set up and start selling your physical products.