The humble pineapple has become a modern day fertility symbol in recent years but can it really help you get pregnant?
For years infertility forums have been full of women swearing by pineapple core as a means of increasing their chances of a successful IVF or IUI cycle.
You would be forgiven for asking yourself, therefore – "what does pineapple do for a woman who is trying to get pregnant?"
It's definitely true that pineapples are good for you and they chock-full of nutrients and vitamins but the jury is out on whether they is really good for fertility in a scientific sense.
As pineapple is cheap and available in most supermarkets, it makes a great fertility superfood to add to your diet when you are trying to get pregnant.
The sweet taste is a wonderful addition to a fertility smoothie as it can mask the taste of ingredients that don't taste great like maca powder.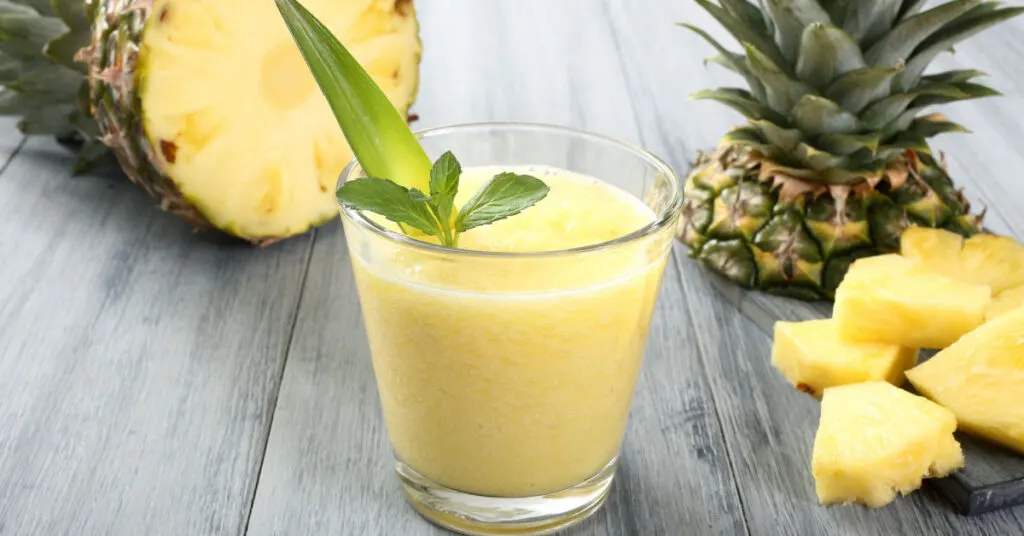 This post may contain affiliate links. Please read my full Disclosure for more details.
Read on to find out exactly when you should eat pineapple for implantation success and improved fertility.
RELATED POSTS
Pineapple and Fertility – The Science Behind The Hype
According to this medically reviewed article on Organicfacts.net, pineapple has many health benefits:
Anti-inflamatory
Immune boosting
Good for digestive health
An enzyme called bromelain that is only found in pineapples is at the root of these benefits.
When we talk about eating pineapple for implantation during TTC or an IVF cycle, we are really talking about the benefits of bromelain on fertility.
What is Bromelain?
Bromelain is found in the skin and core of a pineapple and is often sold as a cream or supplement in health food stores.
Although there have been many studies about the affects of bromelain on conditions such as arthritis and even cancer, I was unable to find some specific studies on the positive benefits on fertility and specifically, implantation.
That being said, the anti-inflamatory properties of pineapple do make it a great fertility food for women who are trying to get pregnant.
In addition, bromelain is known as a blood thinner so it likely works in the same way as a baby aspirin for improving implantation.
You may have heard about women taking baby aspirin while trying to conceive as it may help prevent miscarriages.
I ran this past my OBGYN when I was pregnant and he agreed it could have a beneficial impact for preventing some miscarriages although he said he did not prescribe it himself.
If you are interested in other ways to potentially prevent miscarriage, I highly recommend downloading this free ebook about the things you can do to prevent miscarriage naturally.
So, blood thinners help to drive the blood to the uterus and encourage implantation and possibly prevent miscarriage.
And bromelain is a blood thinner which is where the connection between eating pineapple for implantation comes in.
In fact, pineapple is one of the best foods to help implantation.
Consuming bromelain from a pineapple, and in particular, the core, may help you to get pregnant and there is certainly no harm in trying as you will reap the benefits of the pineapple's vitamins and nutrients regardless.
What is pineapple core?
Pineapple core is the tough insides of the pineapple. The bit we normally throw away when we are cutting up a pineapple.
When I first heard about the benefits of eating pineapple core for fertility, I have to confess that I really did wonder if you can eat pineapple core or if it was some kind of silly joke.
It's pretty hard and nowhere near as easy to eat as the pineapple flesh. It also doesn't taste as sweet.
Unfortunately, the core is where the best part of the pineapple is if you want to reap the benefits of bromelain.
The pineapple core benefits are much greater than the rest of the pineapple so I suggest you mix some core with the fleshy part of the pineapple to make it easier to eat.
What does pineapple core do for fertility?
You can get to the pineapple core by cutting the pineapple flesh away until you are left with just the centre of the fruit.
In order to optimize the fertility benefits of the core, you can cut it into chunks and eat as is or add it to a fertility-boosting smoothie.
By consuming bromelain during key stages of your cycle, you can help promote implantation by increasing blood flow to your uterus.
Add in some other fertility foods that help implantation and you may help to increase your pregnancy chances.
When should to eat pineapple core for implantation success
The best time to eat pineapple core is from ovulation until the day you get a positive pregnancy test.
The 2 week wait is the key time to increase your intake of pineapple as we want the bromelain to help with implantation during that crucial time.
If you are in the middle of fertility treatments such as IUI or IVF, start eating pineapple from the day of your IUI or transfer until you have your blood test.
It's not recommended that pregnant women consume a lot of pineapple, again, due to the blood thinning properties.
That doesn't mean that things like pineapple juice are a no-no for pregnant woman, but you should overdo anything containing pineapple.
How much pineapple core should you be eating for fertility?
You don't need to spend all day every day eating pineapple core . A slice or two of pineapple every day for around 10-14 days per month on a regular cycle is more than enough.
A great suggestion is to buy one whole, fresh pineapple when you ovulate then cut it into five pieces. You can then eat one piece every day for the five days after ovulation (the key time after you ovulate).
How to add pineapple to your fertility diet plan
If you are following the the fertility diet meal plan that I used when I was going through infertility, it's pretty easy to add pineapple core to your daily meals.
Add chopped pineapple to greek yoghurt for a healthy snack
Grill pineapple on the bbq and eat alone or on ham steaks
Slice pineapple onto oatmeal for breakfast
Make a smoothie bowl and add in some pineapple
Pineapple Core Smoothie Recipe
Pineapple core is pretty tough to snack on so a nutritious fertility smoothie is a great way to include it in your daily diet.
One way of getting your daily dose is to add pineapple core into a delicious smoothie
My pineapple implantation smoothie is packed with nutrients and tastes amazing. Plus it is so simple to make.
You can add in some protein powder if you want some extra protein to start off your day. I also like to add maca powder to my smoothies as it is a fertility powerhouse.
Yield: 1 Smoothie
Pineapple Implantation Smoothie
A pineapple core fertility smoothie can help with implantation. This smoothie is easy to make and tastes delicious.

Add in protein powder or maca powder for some extra fertility boosting goodness.

Prep Time 5 minutes

Cook Time 1 minute

Total Time 6 minutes
Ingredients
1 6oz can of no-sugar added pineapple juice
1 slice of fresh pineapple with the core, chopped
1 banana
1/2 cup blueberries
Instructions
Chop the pineapple up
Add all ingredients to a blender
Pour into a glass and enjoy
Notes
Optional add-ins:

Berries

Protein powder

Maca Powder

Spinach
Nutrition Information:
Yield:
1
Serving Size:
1
Amount Per Serving: Calories: 989Total Fat: 1gSaturated Fat: 0gTrans Fat: 0gUnsaturated Fat: 0gCholesterol: 0mgSodium: 10mgCarbohydrates: 253gFiber: 7gSugar: 227gProtein: 3g

The great thing about the pineapple implantation smoothie is that it can really be made however you like. Add in pineapple juice for sweetness and pineapple core for bromelain then go to town with whatever else you want.
Mango, berries, apples and any other fruit can work really well.
More Fertility Smoothie Recipes
Fertility Breakfast Smoothie To Help You Get Pregnant
Wheatgrass Smoothie For Fertility
The Best Smoothie Bowl For Fertility
Pineapple as a fertility symbol
Pineapple become a sign of hope for those going through IUI and IVF cycles. It is a great fertility symbol as it's cute, sweet and healthy!
You can get some really cute good luck charms and accessories to take to your appointments:
These slippers get amazing reviews and are considered by some to be "a must" for women going through IVF. They are perfect for giving you a bit of comfort on your transfer and retrieval days.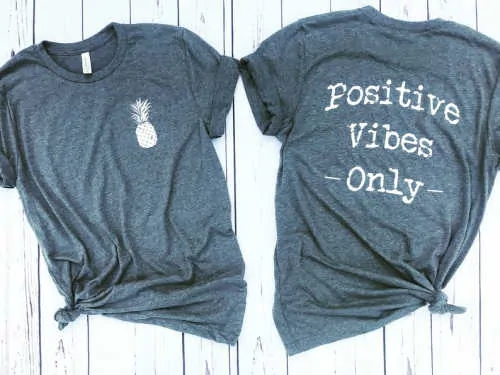 This Etsy store has lots of pineapple and fertility items such as socks and t-shirts.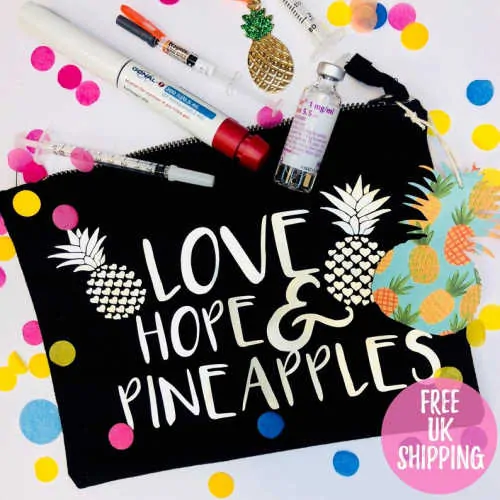 When you are going through IVF, carrying around a bag of meds is part of daily life. This cute pouch makes it a little bit sweeter!
So, what is the verdict on pineapple and fertility?
I haven't found any scientific studies on the positive effects of pineapple core and fertility. I always like to include medical research in my articles and the science just isn't there for pineapple and fertility.
That being said, pineapple may help to prep your uterus for implantation and conception.
It certainly won't hurt to try pineapple core to see if it helps you get your bfp! At worst it will give you a tasty treat every night .
FREE Fertility Resources (Ebooks, Checklists and more)
Click the links to instantly download the following useful resources, at no cost!
More fertility food advice
The Best Fertility Vitamins & Supplements To Boost Your Fertility
Is The Keto Diet Good For PCOS and Infertility?
16 Fertility Herbs To Help You Get Pregnant Fast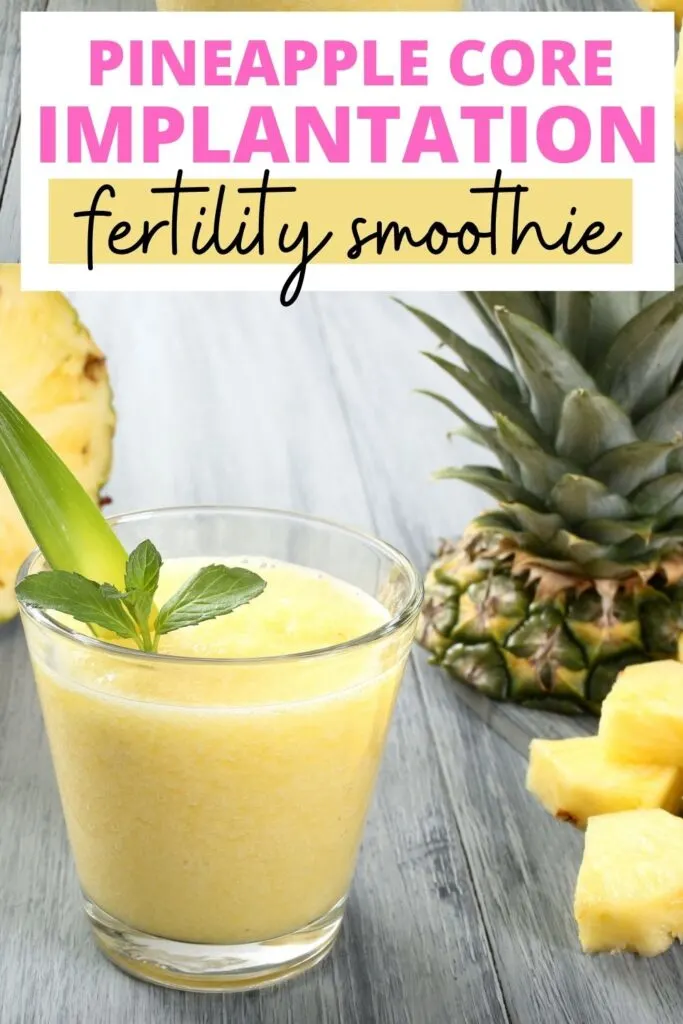 Free 14 Day Fertility Meal Plan!
Boost your fertility with this 14 day kick start program
Sign up for instant access to this free plan & more fertility tips