As the countdown to the New Year begins, there's no reason for your little ones to be left out of the celebration.
Involving your children in New Year's festivities can turn into a core memory for them, and can be a blast for everyone!
To help you make this New Year's Eve unforgettable for your children, we've put together a list of the best New Year's activities for kids.
These are a mix of activities for younger and older kids, with activities that range from super easy to prep to semi-complicated ones that can involve quite a bit of your time and effort.
Nevertheless, these various ideas from making creative crafts, preparing treats, or doing something that the whole family will enjoy, will surely make New Year a night to remember!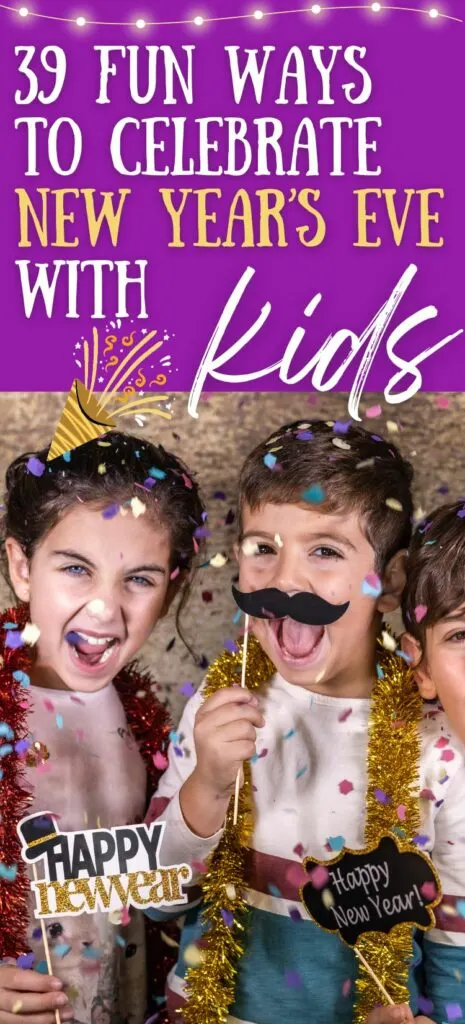 This post may contain affiliate links. Please read my disclosure for more information
MORE FUN HOLIDAY IDEAS FOR KIDS
12 Days of Christmas Activities For Kids (Free printable)
Free Printable Christmas Unicorn Coloring Pages
Best New Year's Activities for Kids
If you are wondering how to have a great time during your New Year's celebrations with kids, you will love the list below.
Whether you are looking for fun New Year's Eve traditions to keep the kids busy or you want to start some New Year's traditions as a family, we have you covered.
Below you will find all kinds of New Year's Eve activities from printable worksheets to New Year's crafts to do together.
Read on for all the great ways to make your New Year celebrations extra special this year!
Classic Family Activities for New Year
Watch a Movie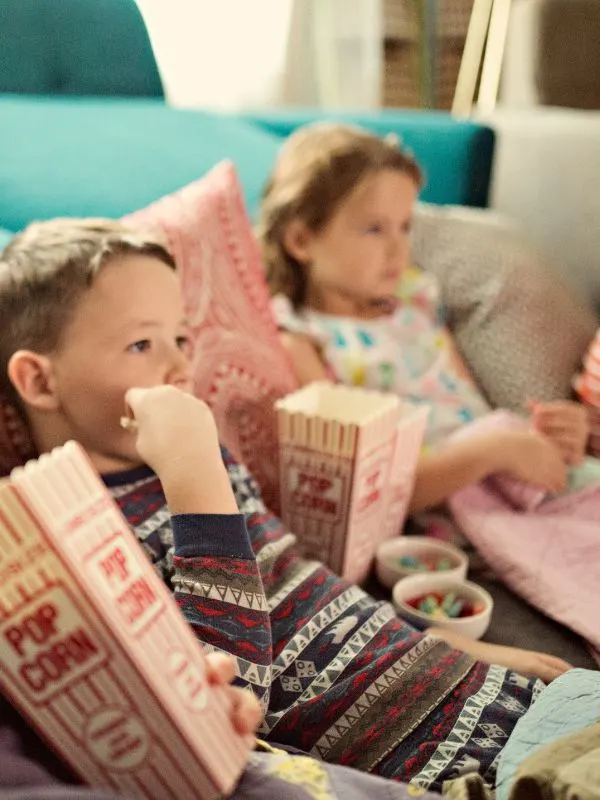 Pick out a family-friendly movie to enjoy together.
It's a cozy way to kick off the night and bring in the brand new year and even more fun if you watch something themed for the holiday.
Even your baby can join in the fun!
Check out rated G and PG movies, such as Rudolph's Shiny New Year for toddlers and Happy New Year, Charlie Brown
Here's a list of some awesome New Year's Movies both for adults and kids.
Glow in the Dark Dance Party
Turn off the lights, put on some fun music, and let the kids dance and twirl with glow sticks, in a New Year-themed style!
Karaoke Party
Have a karaoke contest with your favorite songs.
Pick out your kid's favorite songs or let them listen to you belt out your faves from your era.
Don't forget to sing Auld Lang Syne at least one time!
Brainstorm a Bucket List
Sit down with the whole family and discuss the exciting things you want to do in the upcoming year.
You can provide options for your toddlers if they're too young to dish out ideas.
To get you started, here are 100 things every child should do before they turn 18.
Write New Year's Resolutions
Kids of all ages will enjoy
For older kids, encourage them to make resolutions or set goals for the year ahead.
Let them create some New Year-themed paper where they can write their resolutions, keep it, and then go over it before the year ends!
Prep a Year-End Slideshow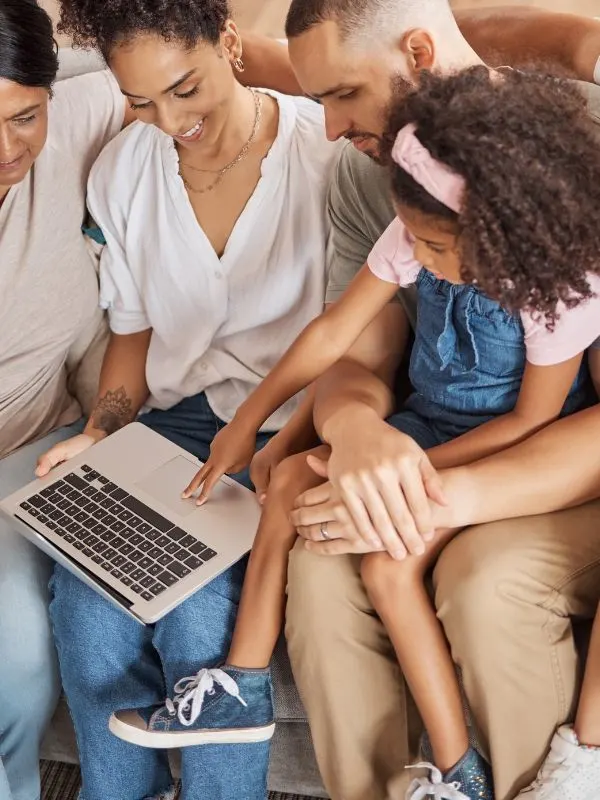 This takes some time to prepare in advance but it can be so worth it, especially if you have a big family.
Gather photos from the past year and create a slideshow with narration and music!
You can point out funny and memorable photos and do a funny narration that will surely be a memorable activity.
Watch Some Fireworks
A classic New Years Eve tradition is to enjoy a fireworks display.
If there are fireworks in your area, bundle up and watch them together from a safe spot.
Nothing going on in your area?
Check YouTube for some of the best fireworks displays around – I love the ones from Disney.
Dress Up with a Photo Booth
Set up a DIY photo booth with props and costumes for memorable snapshots.
Print these free photo booth props and get the kids to color them in as a fun new years craft.
It is a creative and fun activity for the whole family, that can keep everyone occupied!
Read a New Year's Themed Book
Settle down by the fire and read a fun book together.
Here is a list of great New Year's Themed books for kids.
Make A Time Capsule
New Year is the perfect time to create a time capsule that you can hide to look at in years to come.
It's always fun looking back at the things you were into and a time capsule is the perfect way to do that.
You can use my New Year's Time Capsule free printable template.
This is a great activity to do at home or at school with elementary students.
Fun Games and Activities With a New Year Twist
Bingo Game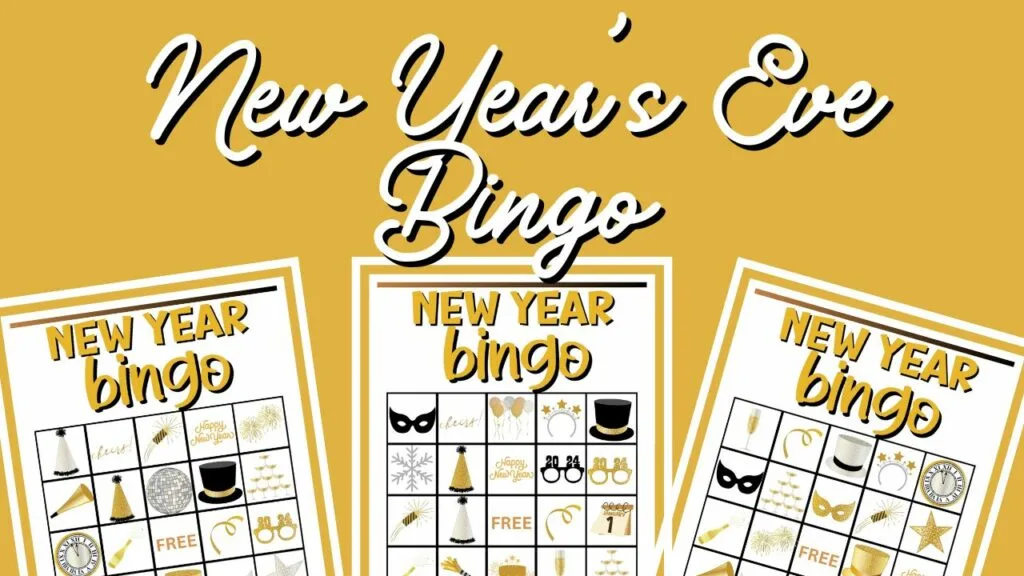 You can use traditional bingo cards or download my New Year-themed bingo cards.
This is always a hit with older kids, especially if it comes with a prize!
I Spy Game
Make a list of New Year-themed items to find around the house or in your surroundings.
Here are some ideas:
Sparklers
Confetti
Fizzy Wine (grape juice looks great)
Disco Ball
Party hat
Clock (for a countdown)
Party blower
Crush the Cups Game
This is one of my favorite Christmas party games for toddlers.
To play, just stack plastic cups into a pyramid and try to knock them down with a soft ball or bean bag.
New Year's Charades
Act out New Year "s-related words or phrases, such as "ball, countdown, calendar, fireworks" and have others guess it!
Minute to Win It Game
Set up fun and challenging one-minute games with a New Year twist.
For example, you can place 12 cups in a clock circle and make them knock it down with pantyhose on their head with a tennis ball in it!
Or make them pop a balloon without using their hand and without sitting on it.
Or make them pass Hershey Kisses using only their mouth and spoon.
Just think of New Year-related items that you can mix in the game!
Who Can Make the Tallest Tower
Use building blocks or household items to see who can build the tallest tower.
This can be an enjoyable activity for both toddlers and slightly older kids.
Play Charades
Make it New Year-themed and take turns acting out words or phrases without speaking.
New Year's Scavenger Hunt
You might need to set aside some time to prepare for this but this can become a favorite game every New Year.
Think of New Year-themed items (eg., confetti, ball) or regular things and write fun clues or riddles about them, leading to hidden surprises around the house.
To make it easier, you can grab this free printable New Year scavenger hunt.
New Year's Eve Countdown Activities For Children
Countdown Activity Bag
Fill bags with fun activities for each hour leading up to midnight.
It can be as simple as giving them some treats, doing some coloring activities, helping out in the kitchen, or doing some New Year-themed crafts.
Pop a Countdown Balloon
Blow up 12 balloons, stick them on the wall, and let your kids pop one balloon each hour.
For toddlers, if they insist, let them carry the balloon and play with it but just let them know they can only pop it when you tell them to.
You can also place notes or tiny surprises inside the balloons for a more fun, popping experience.
I would skip this activity though if you have a baby who can't sleep longer at night – they will keep on waking up if you go for this balloon-popping activity!
New Year Crafts For Kids
Get creative with these fun New Years Crafts to celebrate the end of the year.
Create Salt Painted Fireworks
Create vibrant fireworks on black paper using salt and watercolors.
This is such an easy and fun craft – grab the tutorial here.
New Year's Countdown Clock Craft
Craft a clock counting down to midnight.
You can get a fun paper plate tutorial here.
Make a Noise Maker
No New Year's Eve party is complete without some noise markers to use when the ball drops.
Use recycled objects like empty containers and rice or check out this DIY confetti poppers tutorial.
For toddlers that mouth everything, just give them a pan or pot and a spatula and let them have a go at it!
Toilet Paper Roll Fireworks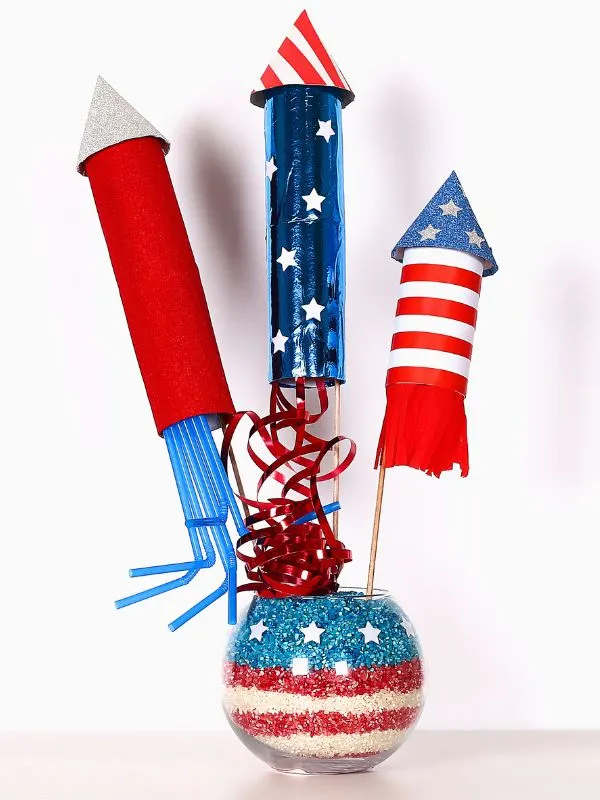 Craft colorful fireworks using toilet paper rolls.
By the way, this is also a super fun 4th of July craft for kids!
New Year Firework Craft
Tell your kids to draw their version of a New Year fireworks display.
​It's a creative way to practice their fine motor skills if you use finger paints or small paintbrushes.
New Year's Eve Handprint Craft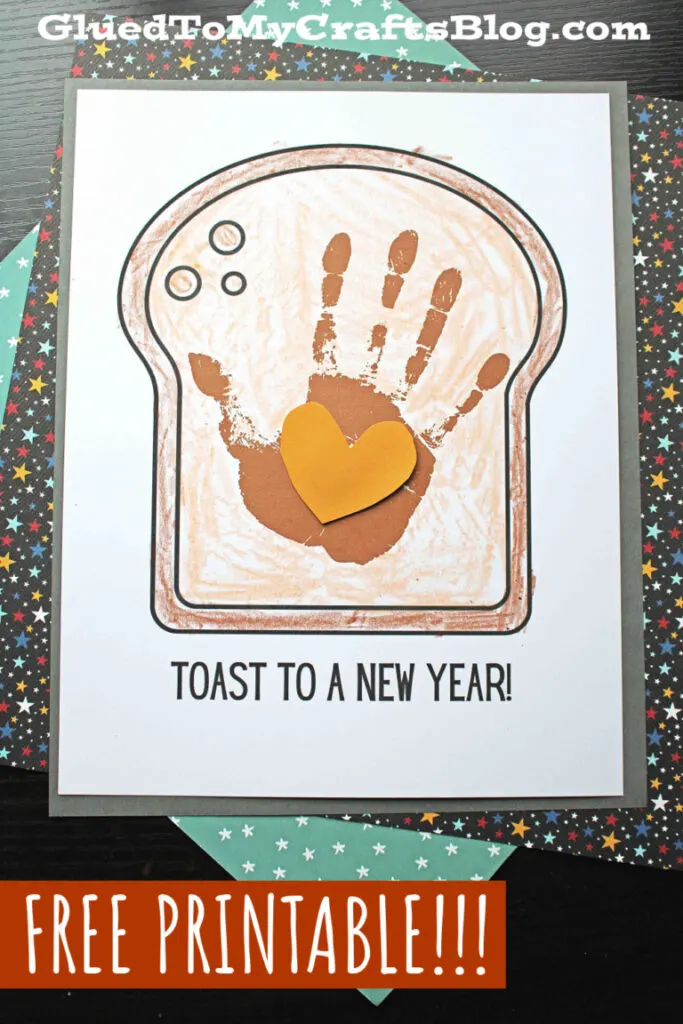 Make handprint art to commemorate the year and remember to write your kid's name and age.
This "Toast to the New Year" is one of my favorites. You can download the free template and all you need is your child's hand and some paint!
Here is one of my favorites:
Pop-Up Card
The start of a new year is the perfect time to touch base with loved ones or update them on everything you got up to over the holiday season.
Your kids can craft a pop-up New Year's card for loved ones near and far.
Make Party Hats or Crowns
Decorate hats or crowns for your festive attire.
You can grab an awesome tutorial here.
Grab pom-pons, glue, ribbons and paint and let your kids go to town.
Don't forget to supervise your toddlers or younger kids if they want to use glue, scissors, or whatnot.
Craft a Wishing Wand
Create magical wands with ribbons and glitter!
All you need is some paper straws and card stock to make fun wands for New Year.
You can get most of the supplies needed from the dollar store making this a fun holiday break activity on a budget.
For toddlers, just let them paint and use the ribbons – glitter is not needed.
New Year's Eve Headbands
Craft together headbands with sparkles and bows.
This activity might be well suited for older kids who don't want to make magic wands.
New Year-Science Themed Activities
Make Glittery Gold Slime
If you don't mind glitter and slime, combine the two and add in the necessary items to make a sparkling gold slime.
Show your kids how to make it but don't let them handle any chemicals.
Just give the finished product to them and let them play with it.
For younger kids, make sure to always supervise them so they don't try to put it in their mouth or worse.
Fireworks in a Jar Science Experiment
This is a simple yet fun experiment that involves a jar of water and adding a few tablespoons of vegetable oil and some drops of food coloring.
See what happens when you pour a mixture of food coloring and oil on top of the water!
Baking Soda Experiment
Just get a toilet roll or a jar, put it inside a large basin, pour some baking soda and food coloring inside the toilet roll, and slowly add in some vinegar using a dropper.
Your kids will be amazed at what will happen at this fizzing New Year's experiment!
Food-Themed New Year Activities for Kids
Prepare Confetti Rice Krispy Treats
Whip up Rice Krispy treats with colorful sprinkles.
Make a Treat and Appetizer Buffet
Ask your kids to help out in prepping their favorite treats and your special but easy-to-make appetizers and create a delicious buffet for grazing throughout the night.
Cook New Year's Eve Dinner Together
Involve the kids in preparing a special dinner, especially the older ones.
Ask them their favorite meals, go grocery shopping with them, let them help cook their dinner and make it a memorable family bonding experience.
Bake A New Year Themed Dessert
Baking is always a sweet way to celebrate!
Check out these amazing countdown cupcakes from More Or Less Cooking!
Pages and Sheets Activities
New Year's Eve Coloring Pages
Print out these free New Year's coloring pages for a simple, low-key activity.
New Year's Eve Word Search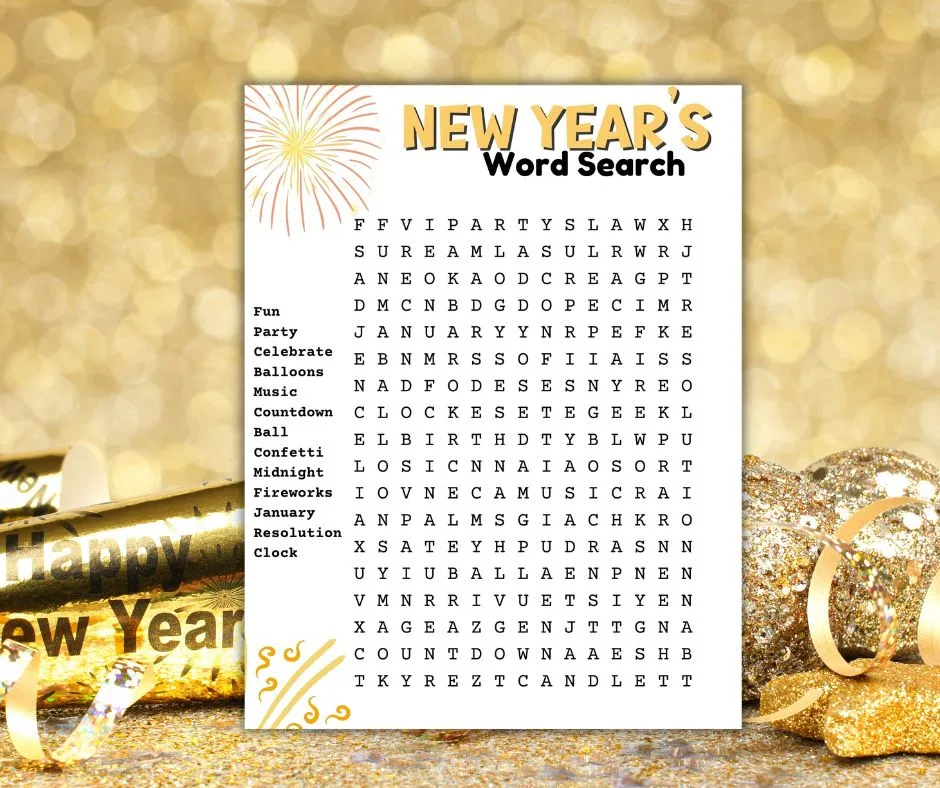 Challenge your kids to a New Year-themed word search puzzle!
This is one of my favorite ways to teach little learners simple words and new traditions.
Best Kids Activities for New Year: FAQs
How can I make New Year special for kids?
You can make New Year special for kids by coming up with fun activities, crafts, games, and even making delicious treats.
What games are appropriate for New Year's Eve parties with kids?
The appropriate games for New Year's Eve parties with kids are bingo, charades, scavenger hunts, and minute-to-win-it games, to name a few.
How can I make New Year's fun for my toddler?
You can make New Years fun for your toddler by prepping for them age-appropriate crafts, and activities such as coloring, having a dance party with kid-friendly music, and early countdown activities with balloons.
Takeaway: Best New Year's Activities for Kids
You don't need to do everything on this list – just choose a few that'll suit your family and mix them if needed.
With these exciting best new year's activities for kids, the New Year will surely become a memorable one for them and the whole family.
Have a Happy New Year!