Tis the season for fun and merriment but if you are looking for an extra fun way to spend some quality time as a family, you'll love these 12 days of Christmas activities for kids!
We have lots of ideas to get you into the Christmas spirit, and it doesn't have to break the bank! Make this holiday season one to remember with these great ideas and new holiday traditions for families!
And don't forget to grab the free printable checklist at the bottom of the post!
This post may contain affiliate links. Please read my disclosure for more information
MORE CHRISTMAS FUN IDEAS
Free Printable Christmas Unicorn Coloring Pages
41 Christmas Eve Box Ideas For Toddlers
12 Days Of Christmas Activities For Kids
If you are looking for a fun family activity or two to keep everyone entertained this holiday season, you will love this twist on the popular Christmas carol.
We have lots of different ways to make the festive period special from fun things to make at home to ways to prep for Christmas day.
Read on for our fun ways to celebrate the season and you be more than prepared by Christmas morning.
Merry Christmas!
On the first day of Christmas: Drive around and look at the Christmas Lights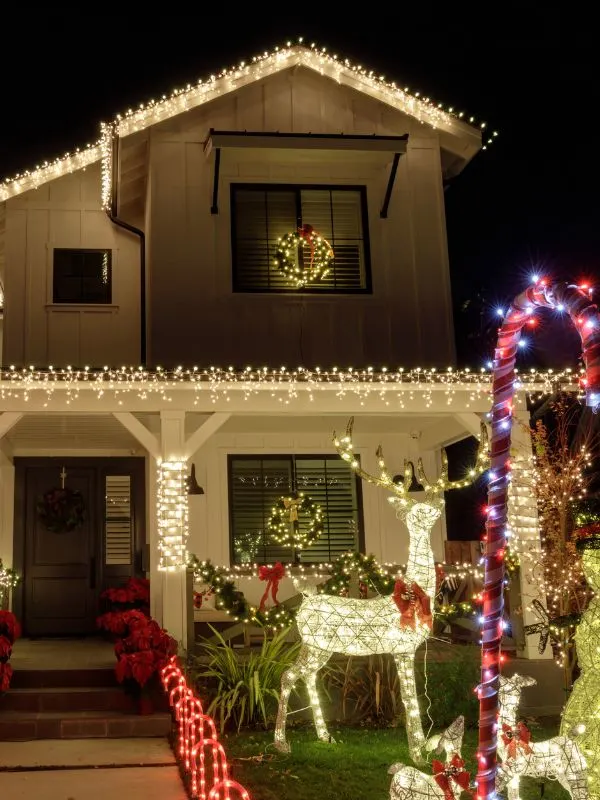 This is a great way to start off the Christmas season!
Fill some travel cups with hot chocolate, grab some candy canes and hit the road to see the best light displays in your town.
To make it even more fun, make sure to download our free printable Christmas scavenger hunt.
My kids love checking off the different things they find as we drive around.
Who knows, you might even find a partridge in a pear tree!
On the second day of Christmas: Have a Christmas Movie Marathon
Not everything on this list of 12 days of Christmas activities for kids involves leaving the house!
A family movie night is the perfect way to spend time together at this time of year.
There are so many Christmas movies to choose from for kids of all ages, from all our favorite characters such as The Grinch or Mickey's Christmas Carol.
Last year I downloaded this free printable Christmas movie bucket list and used that as a starting point for all our family movie nights.
On the third day of Christmas: Do Some Holiday Crafts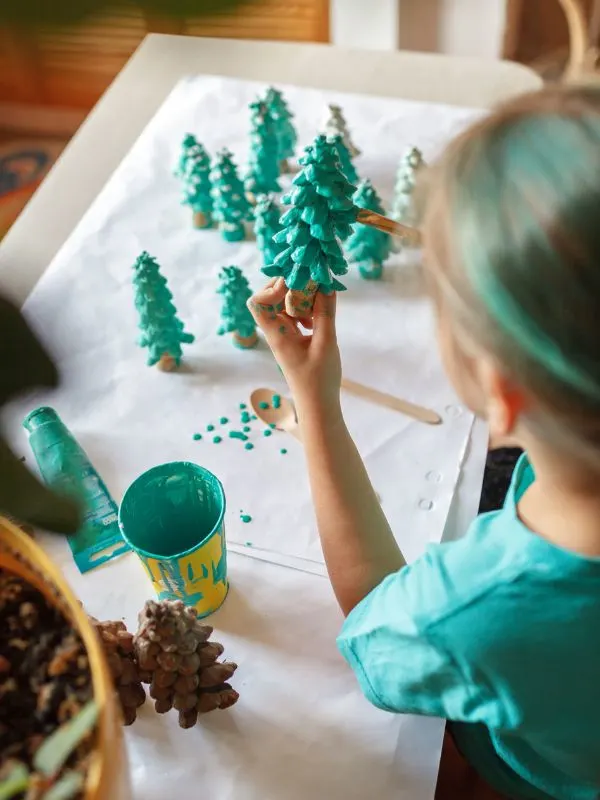 Whether you want to make some Christmas decorations like a classic popcorn garland or some homemade Christmas gifts (check out our 5 minute candy cane sugar scrub), nothing beats a creative activity during the holidays.
We have lots of fun Christmas art projects for you to make – from wall decorations to cute Christmas ornaments like this cute snow globe tree hanger.
Talking of snow globes – check out all these DIY snow globe crafts you can make together.
Looking to really up the ante and make some money selling homemade holiday crafts?
Check out these bestselling Christmas crafts for your next market or Christmas fair.
On the fourth day of Christmas: Decorate A Gingerbread House
There is no better way to get into the holiday spirit than with a gingerbread decorating contest!
You can go all out and make your own gingerbread or buy a pre-built house to save on the drama.
Either way, everyone is sure to have a lot of fun!
To get set up, all you need to do is load up on frosting in different colors and lots of different candy options.
Then just let the kids go to town creating their masterpieces.
On the fifth day of Christmas: Play Some Party Games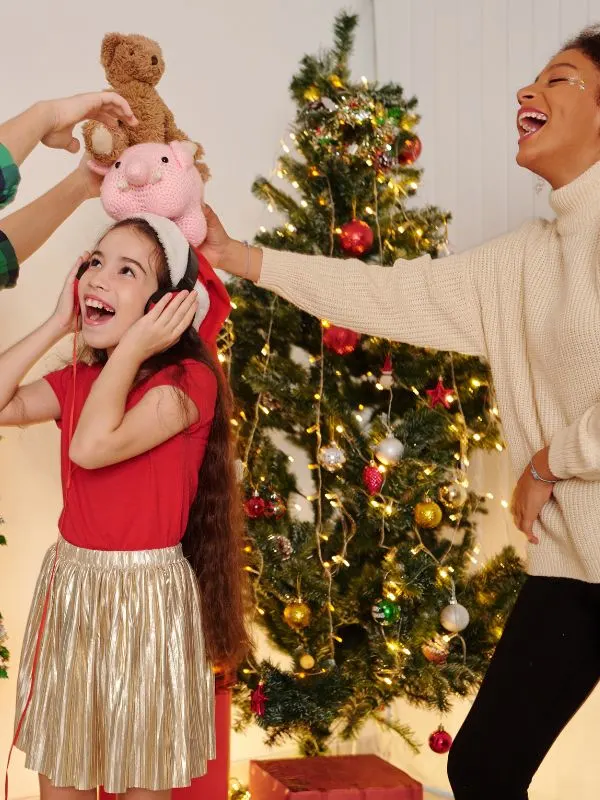 For those days when you don't have many Christmas plans and fancy a night in, why not enjoy a family meal and some fun games?
Of course you could play a card game or a regular board game but it is much more fun to do something a bit more festive.
First off, you can download and print our free Christmas bingo cards and start a new tradition.
​Then you can check out our other Christmas party game ideas – they will be even more fun if you can invite some friends over for even more fun.
On the sixth day of Christmas: Have a Family Dinner
This is fast becoming my favorite tradition during the holidays.
In the rush of the Christmas hustle and bustle, it can be hard to carve out time but we love taking some special moments to have a meal together next to the Christmas tree.
We normally make our meal an indoor picnic of sorts by putting together everyone's favorite food and laying a blanket down by the tree.
We turn it into a sort of favorite things buffet and it is always the hit of the holidays with the kids.
It's so much fun and we always have a great time!
On the seventh day of Christmas: Bake Christmas Cookies
Everyone knows that the holidays are the best time of year for baking all kinds of delicious treats!
Baking together as a family is always a fun activity and a must for your holiday to-do list.
From classic chocolate chip cookies with red and green sprinkles to grandma's traditional recipes, there are so many fun things to bake!
You can make up packages of cookies to take round to neighbours and friends – just don't forget to save some to leave out on Christmas eve!
On the eighth day of Christmas: Do Some Festive Reading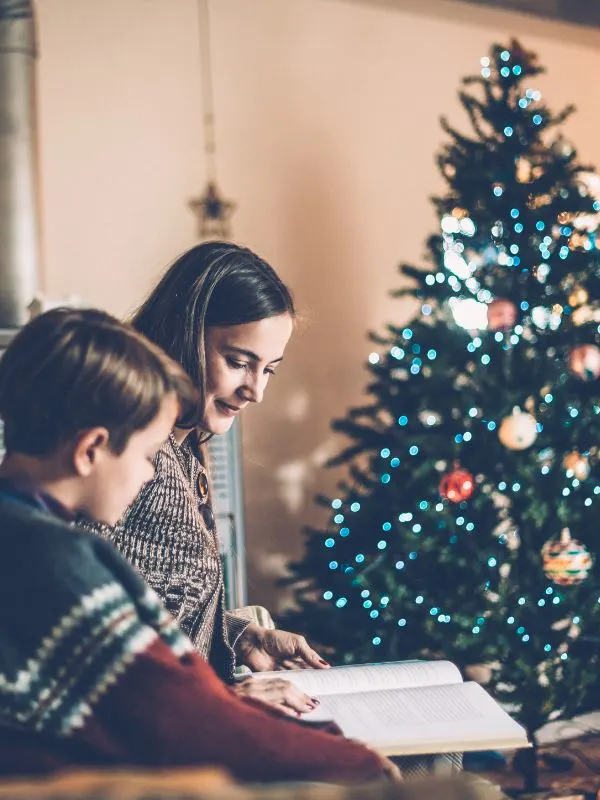 Snuggle up by the fire with a good holiday book!
To be honest, this is one of the 12 days of Christmas family activities that you could throughout the month of December.
One of my friends actually makes a book advent calendar for her kids, packed with a great festive read – one book a night, ending on Christmas eve with the Christmas Story from the Bible.
She wraps them all up and lets the kids pick on book a night to read throughout the season.
Here are some of our favorite holiday children's books:
How The Grinch Stole Christmas
The Jolly Christmas Postman (a personal favorite).
How To Catch a Gingerbread Man
On the ninth day of Christmas: Sing Some Christmas songs
Get the whole family involved with some fun Christmas carols, starting, of course, with the 12 days of Christmas song!
If you are feeling ambitious, you could even put on a mini Christmas concert!
Not the singing kind of family?
Why not blast some Christmas music and dance around the living room, or should I say, rock around the Christmas tree?
On the tenth day of Christmas: Make Holiday Cards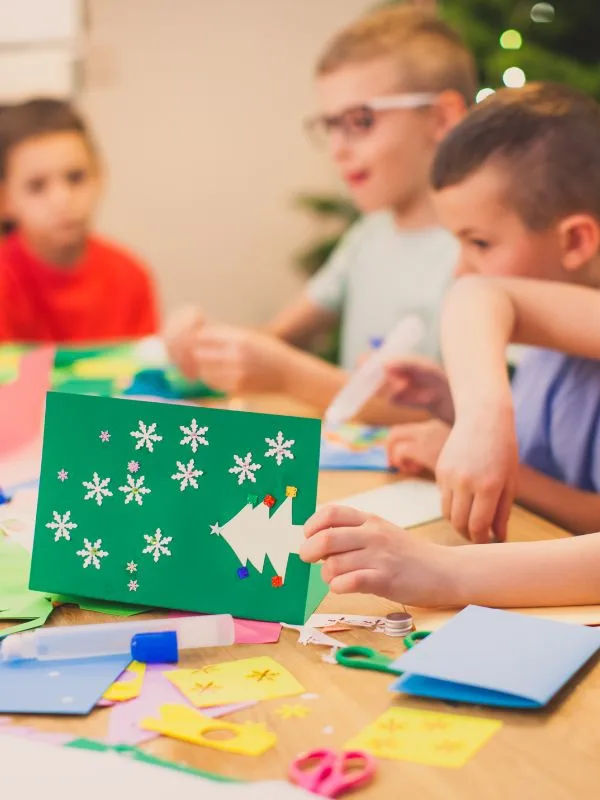 Spread some Christmas joy by making Christmas cards for friends and family!
Sure you can buy printed cards but making your own is such a fun idea.
All you need is some card stock paper and some coloring materials.
To make it even more fun, add in adornments such as glitter, sequins and pom-poms.
On the eleventh day of Christmas: Have a Hot Chocolate Party
This is one of those things that you can really do at any time of year but it is much more fun during the holiday season.
To set this one up, simply make a big batch of hot cocoa and then put various toppings in little bowls, kind of like a candy buffet.
Ideas for fun toppings include:
Mini holiday m&m candies
Mini marshmallows
Chocolate chips in festive colors
Holiday sprinkles
Crushed candy canes
Of course, don't forget the whipped cream and various syrups too!
On the twelfth day of Christmas: Attend a Christmas Parade
This is probably my favorite item on this list of 12 days of Christmas activities for kids.
Most towns and cities hold a holiday parade in December and these are a fun and free way to see Santa Claus before he visits on December 25th.
Make sure to get to your local parade early to get a good seat so you can enjoy the festivities and get into the holiday spirit!
12 Days Of Christmas Countdown: Free Printable
Just click the link below to download the free Christmas activity ideas.
No need to input your email address or anything, just click the link below to grab the printable.
Free Printable 12 Days Of Christmas Ideas: The Fine Print
Please note that this printable is for personal use only. They may not be sold or reproduced in any other way. Classroom use permitted.