The movie came out in 2013, but Frozen is still one of the most popular party themes. If you are looking for a great favor for your own birthday party, these Frozen inspired candy kabobs are sure to wow your guests!
The candy kabobs are easy to make but there are few things that can make the process a bit simpler. Here are my top tips for getting the best candy skewers: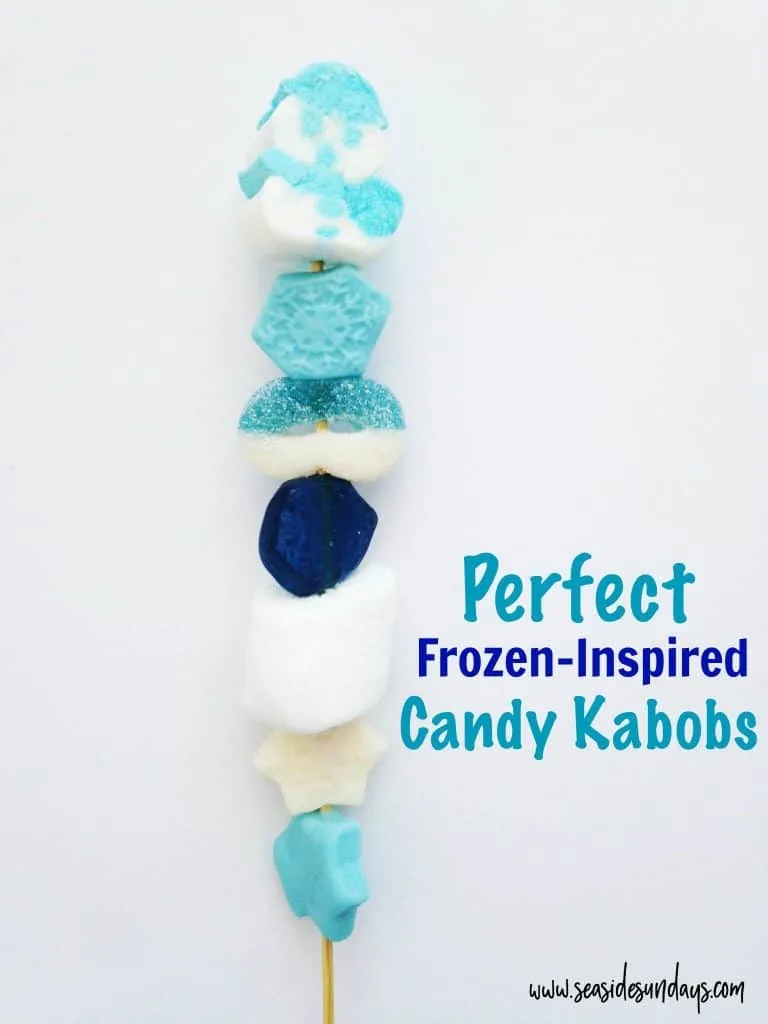 This post contains affiliate links. Please read my Disclosure for more information.
MORE FUN PARTY IDEAS FOR KIDS
28 Unique Goodie Bag Ideas For Birthday Parties
19 Birthday Party Activities For 2 Year Olds
What You Need To Make Frozen Inspired Candy Kabobs
1. Signature Candy in Frozen Inspired Colors
You can either choose different hues of blue/teal as I did or go for the coronation colours of teal and purple.
Each kabob needs 7-10 pieces of candy on it in different shapes and sizes.
Find a few pieces of special candy to really up the wow factor then fill the rest in with regular stuff.
I was lucky enough to find some snowflake gummies and snowman-shaped marshmallows that fit my theme perfectly and I found similar candy on Amazon:
Find the Gummy Snowflakes here.
Get Snowman Marshmallow Peeps here.
2. Filler Candy
Once you have a few really special pieces, you can fill the rest of the skewer with regular candy. Regular Marshmallows are great as they take up a lot of space on the skewer and look like snowballs.
You can use any candy in your theme colours and translucent candy looks great too.
I originally planned to use the white candy sticks but you really need the pointy end of the skewers to make it easier to ensemble the kabob.
These bags will fit your kabobs nicely and give you just enough room for larger candies like marshmallows.
Tips For Making Perfect Frozen Inspired Candy Kabobs
Plan ahead. In winter you will be able to find more options for snow themed candy shapes so if you can buy in advance, it will save a lot of hassle.

Have a glass of water on hand and dip each skewer in before sliding on the candy. This helps the candies from sticking to the wood when they're sliding on. I had to repeat the dipping a few times for each skewer.

Marshmallows tend to slip easily down the skewer so make sure they are held in place on the stick by a firmer candy.

Alternate different shades of blue or purple to create an interesting kabob.
Play around with the direction (sideways or upright) of the candy to create different looks. This will save you buying so many types of candy.
Choose thick candy and gummies. Thin ones will rip when you try and put the skewer through them.
Pick a pretty ribbon to tie the pretzel bags at the bottom.
More Fun Ideas For Kids:
Retro Party Games Your Kids Will Love
Heart Shaped Hand Print Photo Frames
The Best Princess Gifts for Preschoolers