Do you remember the old school party games you used to play as a kid? Nowadays, children's birthday parties seem to have evolved into a huge to-do at play places featuring visits from Princess or pony rides. Most of them cost upwards of $300 just for a simple preschool birthday party.
If you long for a simpler celebration for your kids, consider going back to basics with some traditional birthday games. I recently threw a party for my 4 year old and all of her friends just loved playing preschool party games like pass the parcel and musical bumps.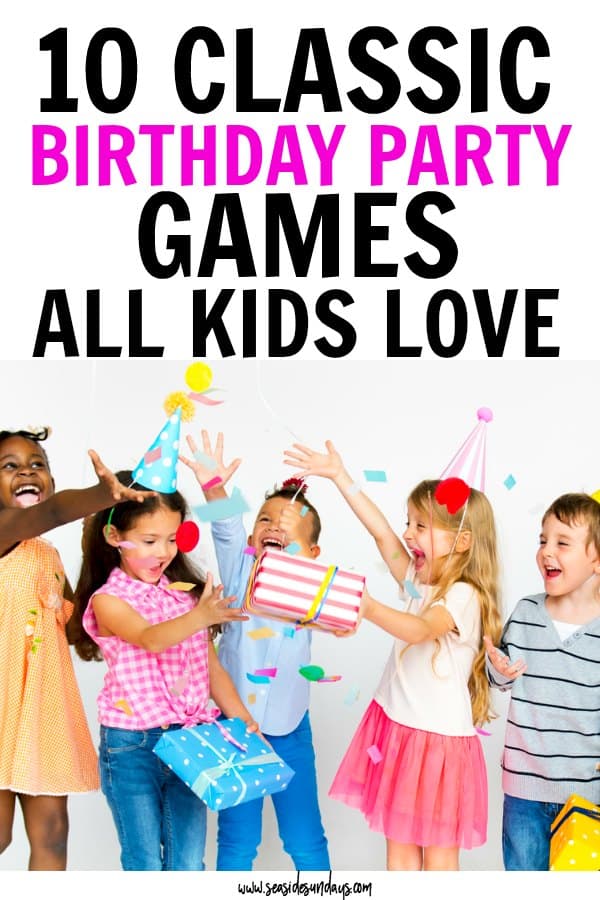 This page contains affiliate links meaning I earn a commission if you use those links. I only recommend brands I use and trust.
The great thing about these traditional party games is that there is no limit on how many children can join in so they are great for those parties where you have to invite the whole class.
RELATED: The Best Party Games For A Spooky Halloween
The retro party games will take you back to a time of simple pleasures and will save you a bunch of money at the same time while keeping these old fashioned birthday party games alive for generations to come.
Kids will have a ball balancing eggs on spoons and jumping in a potato sack with their friends.
The truth is, it doesn't always cost a lot to have fun!
The Best Old School Party Games for Kids
1.Pin the tail on the donkey
What you need
Picture of a donkey or other animal, stuck on the wall.
A "tail" to stick on the donkey
A blindfold
You can buy ready-made kits such as this one from Amazon.com
How to play
Each child takes turns to be blindfolded. Spin him around 3 times then guide him in the direction of the donkey.
Mark with a pencil where he puts the tail. Closest to the correct place wins a prize!

2. Pass the parcel
What you need
A small gift wrapped in 10-15 layers of paper
Small prizes or candy for the other layers (enough for each child).
If you are short on time or enthusiasm, you can buy ready-made Pass the Parcel gifts, they come in various themes and options but they aren't cheap.
Pass The Parcel Pro tips
Alternate between wrapping paper and tissue paper for the layers to make it easier for the children to only take off one each time.
Create enough layers so each child gets one small trinket within a layer of paper PLUS one grand prize at the end. This makes it much more exciting than everyone knowing the person who is left will get the big prize.
How to play
All the children sit in a circle and when the music plays, they pass the parcel to the person to their right.
When the music stops, the child with the parcel may open one layer of paper. Continue until someone wins the prize at the end.
3. The Chocolate Game
What you need
A large, unwrapped bar of chocolate. This massive Hersey's chocolate bar weighs in at 5lbs and would be awesome for this game.
A knife and fork
A pair of dice
Thick gloves, a hat and a scarf.
How to play
The children, seated in a circle, take turns to throw the dice then pass them to the left.
If a child rolls a double, they go to the middle of the circle, put the clothes on and can try to eat as much chocolate as they can, only using the knife and fork – no hands!
When the next person rolls a double, it's their turn to try and eat the chocolate. Continue on until the chocolate is all gone.

4. Musical Statues/ Freeze dance
What you need: Music
How to play: Everyone dances until the music stops then they must freeze. Anyone who moves is out. Keep playing until only one person remains.
5. Sleeping Lions
What you need:  Nothing!
How to play: All the children except one or two are "lions" and have to lay on the floor as still
can without making a noise. The remaining child is the hunter and has to walk around trying to make the Lions laugh or move by telling stories and jokes. If you move, you are out!
6. Egg and Spoon Race
What you need: Space to run, Enough tablespoons for everyone, uncooked eggs. If you don't want to mess around with the eggs or if you have to play inside, you can buy plastic egg and spoon kits like this one.
How to play: Balance an egg on your spoon and race to the finish line. The first one there with the egg still intact is the winner. Make it even harder for older children by doing relays where they have to pass the egg to someone waiting with an empty spoon.
7. Blind Man's Bluff
What you need: A blindfold and space to run
How to play: One child is blindfolded and spun around while the other children scatter. The "blind man" has tag one of the other children and guess who it is. If they guess right, that person becomes "it".
8. Musical Chairs
What you need: Enough chairs for all the children. Music
How to play: Put the chairs back to back in a line in the center of the room. While the music plays, the children must dance around the chairs. When the music stops, they have to scramble to secure a chair. The person without a seat is out. For each subsequent round, remove a chair until there is only one remaining (and two players).
Variation of Musical Chairs: Musical Bumps
Musical bumps is a good option for young children such as preschoolers as it removes the risk of them falling off the chairs or banging into them in the frenzy to get a spot.
What you need: A spot on the floor for each child (can be a small mat or even a X created using masking tape would work). For a Frozen themed party I threw, I used felt snowflake shapes from the Dollar Store.
How to Play: When the music stops, each child has to find their spot and sit on it. Gradually take away a spot each time until there are none left.
9. 3 legged race
What you need: It's easy to make your own bands for the 3 legged race using pieces of ribbon or rope for one per two children. You can also get these
3-legged race bands from Amazon.com. 
Space to run.
How to play: Pair up the children, Tie their two inside legs together with the ribbon. Once they have had a practice of walking, stage a race to see which pair is the fastest.

10. Sack Race
What you need: A large sack for each child such as these burlap potato sacks . Space to run.
How to play the sack race: Each child gets their legs inside the sack and races the others to jump to the finish line.
More Fun Activities For Kids
The Ultimate Spring Bucket List For Kids
101 free things to do with your kids
The Best Summer Activities for Kids
25 Winter Budget-Friendly Activities for kids
Start A Blog That Makes Money
Ready to start a blog and make money from home?
In this FREE 5 day email course, I will show you the exact steps I took to take my mom blog from $0 to a consistent $2000 a month within 4 months.