A printable Christmas planner has become my must-have for getting through the holidays unscathed.
Everyone knows that the holidays can get stressful, there is so much to do, lots of things to buy and of course, so much fun to be had!
The best way to make sure you can really enjoy the holidays is to stay organized and plan the season out.
I love lists and track everything from my gift budget to the activities that I want our family to do throughout the season.
By using a Holiday planner, I know I am not missing anything and I don't have to worry about remembering it all!
I used to use my regular yearly agenda to plan out the holidays but there just weren't enough pages for all my lists and I ended up with scraps of paper all over the place.
Now I use a printable Christmas Planner that takes me right from the beginning of November through Christmas and helps me plan out every detail and stick to my Christmas budget!
My Printable Christmas Planner is packed with over 60 pages of lists, budgets, inspiration and fun!
Here's what's inside the Printable Christmas Planner for 2022:
61 Festive Pages including:
Shopping Planners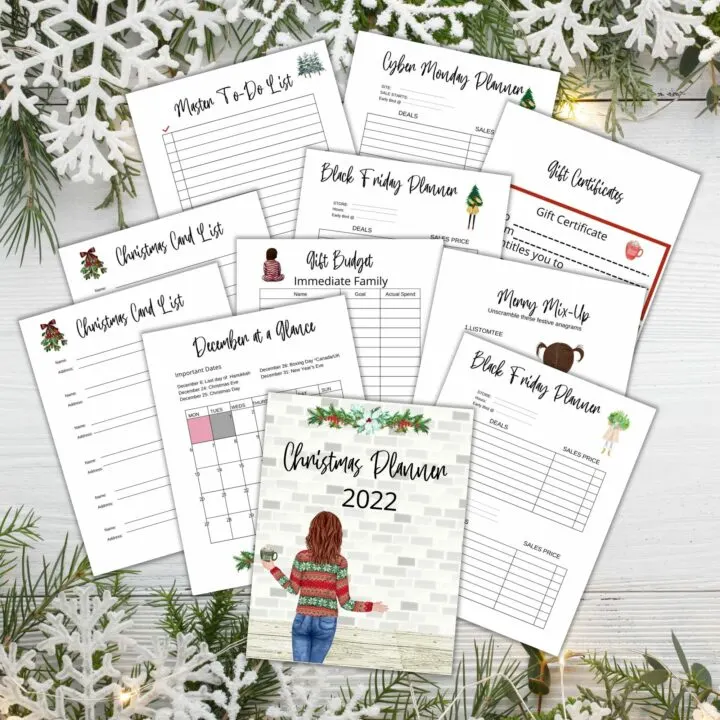 Eliminate the stress of holiday shopping with budgets, planners and tracking sheets:
Gift Budgets for immediate and extended family as well as friends, teachers etc.
Black Friday and Cyber Monday planning sheets
Online Order Tracking
Gift Budgets for all categories
Holiday expense trackers to keep you focused
Printable gift certificates in two styles
To Do Lists
Know what to do when and get things done on time with helpful to do lists:
Holiday To-do lists with suggested dates and deadlines
Meal planners for Thanksgiving and Christmas
Hour by hour planners for both Thanksgiving day and Christmas
Master to do lists to fill out as you go
Christmas Card list
Family Fun
Make the most of the holiday season with fun and games for the whole family:
Christmas Bucket lists for all the family including Christmas movie bucket lists
Christmas Trivia
Word Scramble
Christmas Scavenger Hunt
Holidays in Review – what worked and what didn't
Bonus Christmas Planner Bundle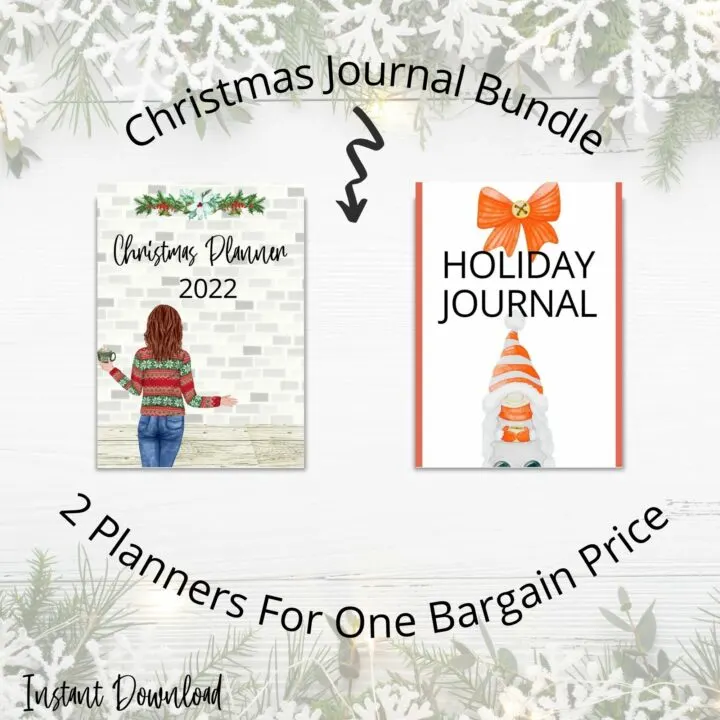 Bonus Christmas Journal For Children
Purchase the Christmas 2021 planner here and get a bonus children's Holiday Journal that can be printed, coloured and filled out.
There are over 40 pages with different holiday icons to color and pages to fill in with holiday memories. I've added some cute prompts to some of the pages to get you started.
This would make a great stocking stuffer for children or a fun December activity.
A glance inside the bonus children's journal:
Get the 60+ page Christmas planner and the bonus Children's colouring journal for just $8.99
Holiday Posts You Might Like
10 Creative Christmas Photos Ideas you can do at Home
25 Cute Christmas Snacks For Kids