Choosing stocking stuffers for kids is always one of my favourite things about Christmas and the holidays. It's so fun to spend time picking out just the right item and watching the kids' faces as they reach down to see what is next.
In the past, I was definitely guilty of going for quantity over quality. I would panic at the last minute and end up buying junky little stocking stuffers from the dollar store.
Half the time my kids played with their stocking stuffers for a few minutes and then they just joined the junk at the bottom of the toy box.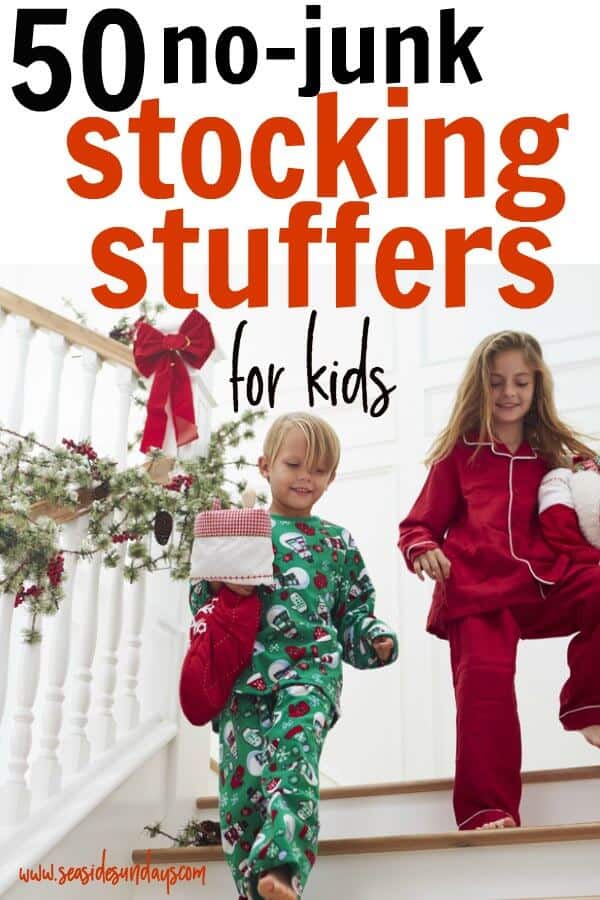 This list of 50 useful stocking stuffers for kids will give you some ideas for all ages. Choosing things that your children will actually use and appreciate will mean less waste – both of your money and of resources in general.
RELATED POSTS
25 Cute Christmas Snacks for Kid Parties
10 Ways to make baby's first Christmas special
If you want to to cut back on the junk this holiday season, one way to control your holiday spending is to have a clear idea on what you are planning to buy your kids.
In our house, we love to do the 4 gift giving plan:
Something to wear

Something to read

Something they want

Something they need
I've used the idea of the 4 gifts to create the list so you can choose a couple of things from each section for a well-rounded stocking.
50 Useful Stocking Stuffers For Kids
Something to Read
A Magazine (or subscription card)
A journal or notebook to write in.
I love giving a special holiday journal that they can use to record their favorite Christmas memories and things we did over the holidays.
My stocking stuffer journal is a free bonus when you buy the Christmas Planner for 2019 and it makes an awesome gift for kids.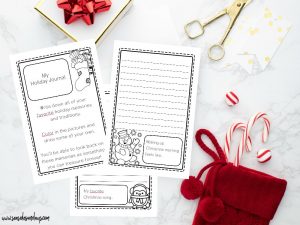 Something To Eat
The traditional clementine
Hot Chocolate packages like these
A favorite chocolate bar or candy
Something To Play With
Play silks – these are great for imaginative play and dancing around the living room! 
Glow sticks/Glow bracelets
Something To Wear
Something Useful
Use code SEASIDESUNDAYS  for 10% off ALL Mabel's label products until Dec 7, 2018
Something For Another Day
Keep the fun going after Christmas day with a special gift or outing that you can plan for.
A cookie cutter in a fun shape
Tickets to a show (local theatre, movie tickets)
Personalized Thank you notes – check Vistaprint or Shutterfly for ideas.
A small gift card for a special drink out
Groupon for a local attraction such as bowling or the zoo
Looking for a way to simplify your holiday season this year?
Last year I started using a Christmas Planner and it completely streamlined my holidays and made me so much more organized.
The planner I use has planning pages for Black Friday, Online purchase trackers, Christmas card lists and gift budgets and planners.
It also comes with a 50 page bonus printable Christmas journal for kids which makes a great stocking stuffer that will keep them occupied all holiday long.
Check out the planner and the bonus journal here
You might also like:
How to Save $1000 for a debt-free Christmas
12 Easy Ways to Save on Holiday Shopping
How to Make an Easy Snow Globe Ornament
Free Printable Christmas Scavenger Hunt for Kids
Start A Blog That Makes Money
Ready to start a blog and make money from home?
In this FREE 5 day email course, I will show you the exact steps I took to take my mom blog from $0 to a consistent $2000 a month within 4 months.