This time of year, lots of us are looking for cute Christmas snacks for kids. Maybe you are even hosting your own kid's Christmas party and are looking for some fun snack ideas to serve.
If you are looking for classroom Christmas treats to bring to school, you will love the healthy Christmas snack ideas below.
Whether you need to bring Christmas treats for school parties or daycare holiday events, the list below is sure to give you some great ideas and there is something for every skill level.
And if baking is not your thing, in the list below you will even find some easy Christmas snacks for kids to make themselves for your holiday events and parties.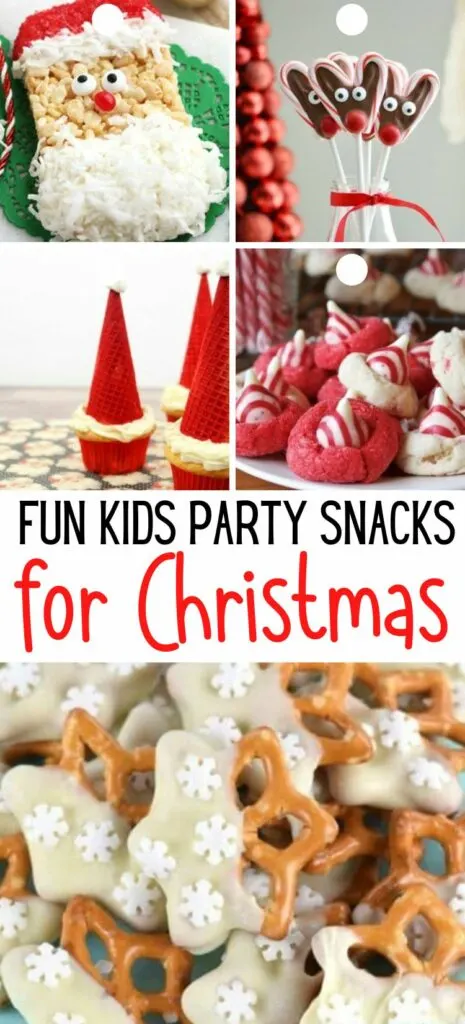 This post may contain affiliate links. Please read my Disclosure for more details.
MORE CHRISTMAS FUN
Free Printable Letter To Santa Templates
15 Creative Christmas Photos You can DIY at home
50 Stocking Stuffers For Kids – No Junk Allowed!
25 Christmas Treats For School

Are you wondering "what should I bring to school for a Christmas party?"
Check out the list below – it is packed with fun classroom Christmas treats using pretzels and fruit ideas for a Christmas party that is perfect for school or daycare.
It can be hard to find fun snack ideas that kids want to eat and that are relatively healthy which is why I am so excited to share these fantastic holiday themed snack ideas.
Easy & Cute Christmas Snacks For Kids
For each of the recipes below, just click the link to be taken to directly to the Christmas treat recipe and all the directions so you can make them yourself.
Nutcracker Pretzels
Christmas treats using pretzels are one of the easiest to make.
I think these simple snowflake snacks that would be great for a Nutcracker (or even Frozen) themed birthday party.
They would actually also be a really good addition for Christmas Goodie Bags if you put them in a cute baggie.
Grab the snowflakes sprinkles here.
Sugar Cone Christmas Trees
These cute Christmas treats from The Suburban Soapbox will look amazing as an edible centrepiece or as part of a cookie platter.
Get those cute gingerbread man cake toppers here.
Santa's Cookies & Milk
How cute are these little Letter to Santa cookies?
They would definitely wow the kids as a classroom Christmas treat!
I almost added these cookies to my list of free printable letter to Santa printables – they are such a great idea for holiday parties.
No Bake Gingerbread Cake Pops
Cake pops are always a hit with my kids and these no-bake gingerbread ones are one of my favorite Christmas treats for school as they are so portable.
If you are looking for a fun Christmas snack for kids to make with you, these holiday treats are perfect.
Candy Cane Cookies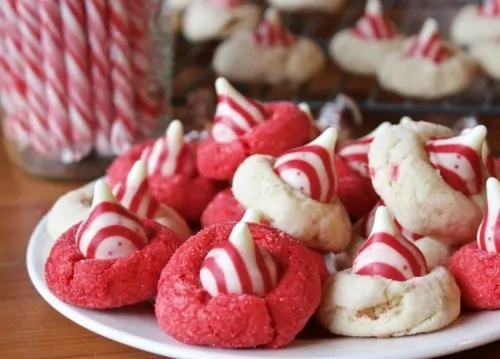 The perfect classroom Christmas snacks not only taste good but they look festive too!
I think you'll agree that these candy cane cookies definitely check off all the boxes.
These Christmas treats are made with the Christmas edition kisses and are a staple in my house every holiday season.
Rudolph Rice Krispies® Treats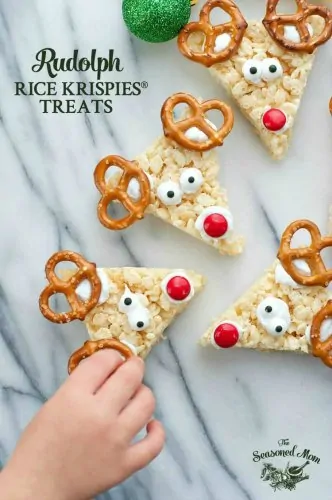 Rice Krispie treats like these fun Rudolph ones always make great Christmas snacks for kids – they can help make them too!
Edible googly eyes can be purchased here.
Reindeer Chow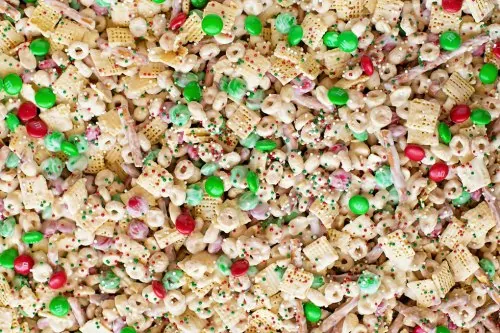 Put out bowls of this festive trail mix reindeer chow before playdates and Christmas gatherings, it is perfect for all ages.
Snowmen Snack Cups
Popcorn is one of the best classroom Christmas snacks you can bring because it is somewhat healthy and so easy to make.
If you are tasked with bringing kid's Christmas party snacks for preschool or daycare, these snowmen cups are a great idea.
They are easy to put together and so cute.
Grinch Popcorn
Who doesn't love the Grinch? Why not have a Grinch-themed party while you watch the movie and serve up this fun green popcorn snack?
Oh, and if you are looking for a more adult beverage for an at home Christmas party, make sure to check out this Grinch cocktail!
Santa Hat Cupcakes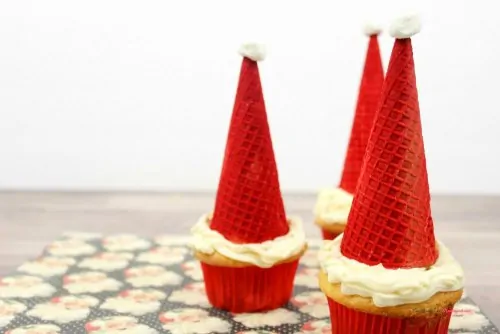 Cupcakes are always one of the most popular Christmas treats for school.
These Santa hats are so easy to make are sure to be a crowd-pleaser.
Coconut Bliss Ball Snowmen
If you need a gluten-free Christmas party snack, these coconut bliss balls are one of the healthiest Christmas treats on this list.
They require only 6 ingredients and are vegan as well as gluten and sugar-free.
The other nice thing about these treats are that they are no-bake so the kids can make them with you!
Penguin Marshmallows
Older kids will love making these cute Christmas treats out of marshmallows and candy treats.
These penguin marshmallows are super popular at holiday parties and as a playdate snack.
Candy Cane Reindeer Pops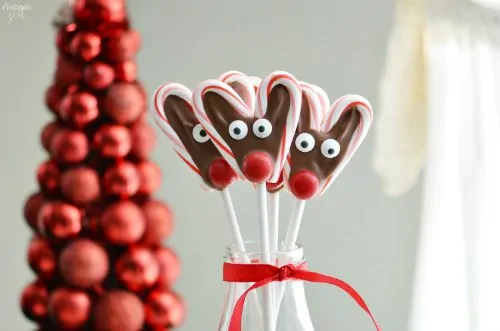 These Reindeer pops are another simple no-bake Christmas treat that would make a great Christmas party favour too.
Holiday Pudding Cups
I love classroom Christmas treats that require minimal prep!
These pudding cups are another great option for taking to a daycare holiday party for snack-time.
Sugar-Free Coconut Ice
Coconut ice is one of those treats that just looks pretty but it basically just sugar which doesn't make it one of the most popular classroom Christmas treats.
This sugar-free version, however is low-carb and keto-friendly so it is great for pre-Christmas snacking when you don't want to go overboard plus you can give it to the kids guilt-free.
Santa Rice Krispie Treats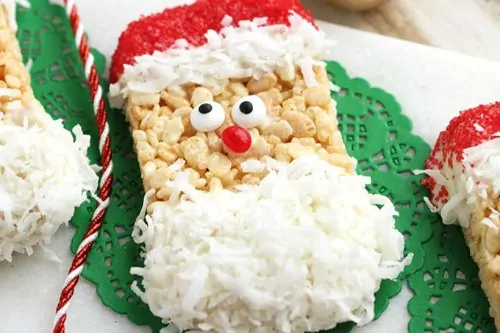 Here's another easy Rice Krispie Christmas treat idea that would be great for lunchboxes or school snacks.
These Santa snacks are always a hit with my kids and they are so easy to make!
Gingerbread Reindeer cookies
These reindeer cake cookies are fun Christmas snacks for kids that they can help decorate and even bake.
Pear Rudolph
This is one of the best fruit ideas for a Christmas party that I have seen!
If you are looking for a healthy Christmas snack that is still festive, this cute reindeer made out a whole pear is perfect for little kids.
Santa Cookies
These Christmas cookies are easy enough for children to make with supervision and they look great too!
Christmas S'mores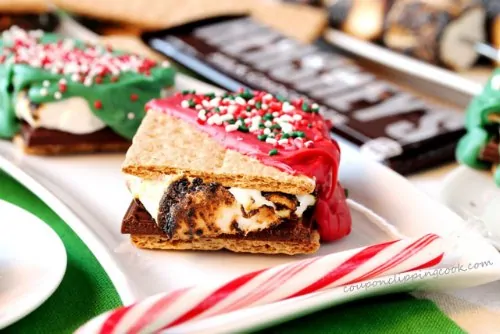 These Christmas s'mores would make a fantastic winter treat with a mug of streaming hot chocolate after an afternoon of ice skating or one of the other ideas on my winter bucket list
Christmas Layered Jello Pots
All children love Jello and it is one of the easiest classroom Christmas treats you can make.
These festive jelly pots will also make a cute dessert for Christmas dinner.
Apple & Peanut Butter Christmas Sandwiches
If you are catering for younger children and are looking for fruit ideas for their Christmas party, these little "sandwiches" are perfect for a Christmas snack.
Traditional Gingerbread Men
Gingerbread men are one of those classic Christmas treats that everyone loves.
A fun Christmas activity is to let the children decorate their gingerbread man themselves.
Peppermint Bark Cookies
Peppermint bark is a holiday staple and there is always some out at my Christmas parties.
These peppermint bark cookies are a really nice twist on a classic.
Snowman Cupcakes

These snowman cupcakes are cute Christmas snacks for kids to make with a little help from a grown-up.
They are easy to make and don't require fancy icing skills.
Snowmen Donuts
For younger children who like to help with holiday baking, these snowmen donuts are easy to put together and make a great Christmas classroom snack.
More Christmas Fun For Kids
Free Printable Christmas Scavenger Hunt For Kids
20 Holiday Traditions To Start With Your Kids This Year
10 Ways To Make Baby's First Christmas Special
15 Creative Christmas Photos You can DIY at home
20 Baby Stocking Stuffers For A Special Christmas
Looking for a way to simplify your holiday season this year?
Last year I started using a Christmas Planner and it completely streamlined my holidays and made me so much more organized.
The planner I use has planning pages for Black Friday, online purchase trackers, Christmas card lists and gift budgets and planners.
It also comes with a 50 page bonus printable Christmas journal for kids which makes a great stocking stuffer that will keep them occupied all holiday long.
Check out the planner and the bonus journal here