There are lots of ways to make some extra income, you can do online surveys from home or drive for a company like Uber or Lyft. However, some of the most fun side hustles are the ones that are related to your own hobbies or interests.
If you want to make some extra income and are struggling to come up with a good idea, have a look at the things you like doing and see if you can convert them into a small business or money making hobby.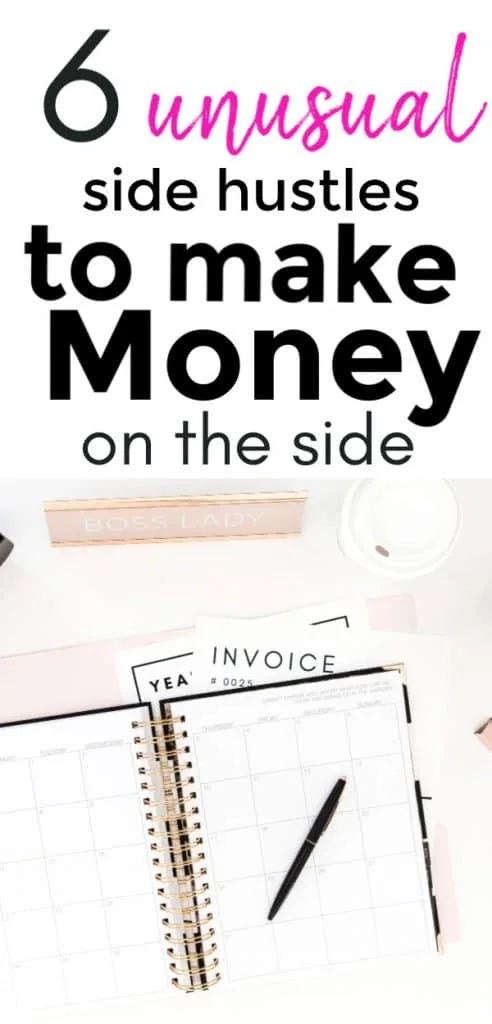 This page contains affiliate links meaning I earn a commission if you use those links. Please read my Disclosure for more information..
Some of the best side jobs are things that you like doing anyway but that you can get people to pay for:
6 Unusual Side Hustles To Try
Below you will find 6 exciting side hustles that you can do without any special training in most cases. I've also noted the earning potential for each job so you can see what to expect.
1.Tour Guide
If you live in a touristy town or a vacation hotspot, becoming a tour guide can be a great way to make some extra cash. Groups of tourists are always in need of someone to show them around or take them to the "insider" restaurants and clubs.
If you have a special interest, you can earn even more money by catering to niche tour groups such as:
architecture
history
churches and synagogues
immigration
ghost stories
What skills are required to become a tour guide?
Languages are a huge plus for tour guiding.
An outgoing personality.
Good directions and organizational skills are pluses
How much do tour guides make?
Expect to earn $50-100 for airport pickups and up to $300 a day plus tips for guiding.
2. Children's Entertainer
If you love working with kids, have some talents like balloon animals, face painting or you look and sing like Elsa, then working at children's parties and events might be for you.
Some of the most in demand children's entertainers:
Characters from movies are in demand for birthday parties, festivals, and corporate events (licensing required for many)
Circle times and themed birthday party crafts are great for the under 4 crowd
Magicians
Clowns
Animals – reptiles, ponies or unicorns!
Sports – skating parties, soccer, baseball
I've seen clowns doing balloon animals at daycare open houses, 10K fun runs and "customer appreciation day" at my gym.
I've also been to a lot of parties run by teachers who run party side businesses doing preschool songs, circle times and handprint crafts with the kids for a small fee ($100-150).
The key to getting work as a children's entertainer is word of mouth and reputation. And don't forget your police background check!
What skills do you need to be a children's entertainer?
Good with kids
Clean police background check and references
A talent for fun – balloon animals, face painting or character singing all command more money.
Earning Potential
$70-300 per event (2-3 hours).
3.Wedding Officiant
Do you have a loud, commanding voice? Do you love weddings?
Being a wedding officiant might be for you! Many couples are now choosing to get married outside of the church and are looking for non-denominational officiants to preside over their ceremony.
Depending on your state, you may even become ordained online. The Universal Life Church (ULC) is a multi-denominational religious organization that ordains people online for free in minutes.
This is a great side hustle if you can build up a good reputation in your local wedding industry. If you want to get into the wedding industry but are not sure being an officiant is for you, you might want to consider becoming a wedding planner – they can earn up to $2000 a month part-time!
What do you need to become a wedding officiant?
Comply with state regulations with regard to ordination and state laws
Be good under pressure and comfortable with public speaking
Be a people person, this is the most important day of your couple's lives. You need to be professional and reliable.
Almost all work will be on Saturdays
Earning Potential
$350-$600 per wedding. You could do several weddings each Saturday in the summer which would increase your earning potential.
4. Movie Extra
Being an extra is one of the most fun side hustles. I once worked at a company that hired extras to "work" in the warehouse whenever we had a potential client visiting to make the company look larger and busier than it really was.
This happens way more than you think and means that working as an "extra" can mean more than hanging around on movie sets.
Extras aren't just for the TV industry but if you live in a large city or movie hub, it will definitely be easier to get work. You might also find ads for extras needed to fill seats in the audience at live TV shows like award ceremonies and daytime TV shows.
To get extra work you can sign up with a talent agency in your city or check the Craiglist listings for one-off jobs.
Skills Required
Reliability and flexibility as you may get called at the last minute
You must be good at following directions and paying attention
Be prepared to wait around for hours or work during the night
Earning Potential
If you are not represented by a union, expect to make between $8-15 an hour. Unionized extras can make upwards of $30-40 an hour.
5. Home Spa Party Hostess
I came across this side hustle recently and it is so simple and lucrative!
My daughter was invited to a 3-year-old's birthday party and they had a lady come to do a home spa. As this was a kids party, the hostess didn't need estetician skills. The girls got their hair curled, their nails painted, drank sparkling "champagne" and generally ran around like typical 3-year-olds
Skills Required
Equipment – hair curlers, nail polish and files, kid's make-up, spa gowns and slippers
Professional and respectful. As you are in someone else's home, you need to make sure you don't make a mess.
Must love very excited little girls
Earnings Potential
$200-$400 for 2 hours work
6. Online Teacher
There has never been higher demand for online teachers as right now. As far as side hustles go, they are perfect for anyone with a full-time gig who needs extra money.
These teaching positions pay well (up to$22 an hour) and are flexible jobs that you can do in the early morning or evenings.
The great news? You don't need to have a degree in education to become an online teacher. Many companies accept native English speakers who hold a Bachelor's degree in any subject.
Learn more about teaching online here>> The Best Outschool Classes – Honest Outschool Review