Looking for Outschool reviews? Want to know what are the best Outschool classes?
This is my honest overview of my experience with the Outschool platform after using the site for the last 2 years.
What Is Outschool?
A quick scroll through any online parenting forum will reveal at least one discussion about the Outschool classes and whether Outschool is worth it.
That's because this unique homeschooling resource offers a variety of live, online classes for kids of all ages.
But what do parents really think about the quality and value of Outschool classes?
My kids have taken part in lots of different Outschool classes and as I know everyone is always searching for Outschool reviews, I wanted to share my experience with you.
In this post we will look at exactly what Outschool is and what to expect if you book your kids in a class.
Plus I have a special link for $20 so you can try out a class or two for free!
This post may contain affiliate links. Please read my Disclosure for more information
All About Outschool
Outschool is an online platform for connecting students with teachers for supplemental learning classes.
Although the site is really popular with homeschooling families, in the last few years, parents who want to keep kids learning, social, and pursuing their passions while staying home have really found the platform to be useful.
Since launching in 2015, Outschool has been featured in The New York Times, CNN, and other major media outlets.
What's most impressive about Outschool is the quality of the teaching staff.
Teachers must submit a video introduction and complete a rigorous interview process before they are approved to teach on the platform.
As a result, Outschool boasts a 1:5 teacher-student ratio, which is exceptionally good compared to other online learning platforms.
In this blog post, we'll take a closer look at what makes Outschool so great and also look at the best Outschool classes for each age group.
How Does Outschool work?
It is really easy to get started with Outschool and your kids can be learning something fun starting today!
First of all, you will need to create an account with the platform.
If you open your account using my special link here, you will get $20 to use towards your first classes.
You can add your kids to your profile so that your search results are tailored for their ages.
Once you have created your account, you can start searching for classes for your children.
Just click the "find classes" button at the top of the page and filter according to your preferences.
You can filter by:
Day of the week
Time of day
Age of your kids
Price
Subject
You can also type in your keywords into the search bar.
What classes are in Outschool?
Outschool offers classes in over 100 subjects, from coding to cooking to foreign languages.
There are STEAM classes to suit all age rooms and interests.
Some of the most popular classes include:
Coding
Storytime
Virtual Escape Rooms
Language Classes
Dance Classes
Crafts
My kids have taken all kinds of classes from languages to creative writing. Here is my daughter in her gymnastics class last week!
How To Book A Class On Outschool
Once you have found a class that you like the look of, click on it to read more information about the teacher and the class.
You'll find out how long the class is and how much it costs but you can read lots of Outschool reviews from other parents who have taken the class.
Lots of teachers have videos in their profile that tell you a bit more about them and the classes they teach.
My kids love the dance classes on Outschool so I tend to book them one a week, this is the latest one!
To find out the times available for the class, just scroll down and you will see the full schedule. If you don't see a time that works for you, you can also make a request.

Pick the time you want and input your payment information. You'll get a confirmation email within a few minutes.
You can also see your learner's schedule at anytime on the Outschool website.
What happens on the day of the class?
5 minutes before your class begins, head to your Outschool login and on the homepage you will see your upcoming schedule.
Just click to the class you want to go to and click the "enter classroom as *kid's name*" button. You will see a link to go to the live class.
All Outschool classes are held via Zoom so make sure to download the app beforehand.
You will be taken to a Zoom waiting room until the teacher starts the class. Make sure your child knows how to mute and unmute their microphone.
Although you don't have to, it is better to keep your video on for the class so that the teacher can interact with your kids.
How Much Do Outschool Classes Cost?
Outschool classes cost varying amounts depending on the length of the class, the topic and the type of class.
I've found that most classes cost between $8-20 per lesson with most being around $12.
Do I have to commit to a series of Outschool classes?
Here is one of the top reasons I love Outschool – there is no commitment.
I love that my kids can try all different kinds of class without having to commit to a 6 week session or a long program.
There are a few different types of class available, the majority being either one-time or ongoing classes.
The one time classes are, as the name suggests, one-off lessons that you pay for and attend just one time.
Ongoing classes are held on a weekly or biweekly basis and go more in depth on a topic or build on the subject as the weeks go by.
You can book either kind of class but make sure to unsubscribe from an ongoing class if you don't wish to continue after you try it out.
Outschool takes the payment for ongoing subscriptions on Sundays so you have to cancel before then to avoid a fee.
What Are The Best Outschool Classes?
The best Outschool classes depend of course on what your kids are interested in and how old they are, but I would love to recommend a few to you.
Best Outschool Classes for Little Girls
I have two little girls aged 5 and 7 so I'm really familiar with the Outschool offerings for that age group.
My kids took part in a Christmas class with Allyson (or Peppermint Snowflake) as my kids know her. In fact my 3 children aged 5,7 and 10 all joined the class and just loved it.
I highly recommend these classes if you have kids who love storytimes, crafts and anything magical like princess or unicorns.
The teacher provided coloring sheets, a craft and a letter to Santa that the elf read out and discussed in the class.
Although this was more of a fun class than an educational one, it was perfect for little kids.
My daughter did two of these classes this week (Olaf's Winter Ballet Dance Adventure and "Into the Unknown!" Frozen Ballet Dance – Beginner Ballet Dance #), what can I say, I have a Frozen fan!
We've been doing online school the past month and these dance classes were perfect for getting some exercise on snowy days.
Miss Lauren has tons of great dance classes that kids love, she is really engaging and my kids learned beginners ballet moves too.


In this ongoing class, learners will use their problem solving skills to help Barbie (or their favorite doll) design, build, and create amazing items that their dolls can actually use!
Best Outschool Classes For Little Boys
If you have a little boy who is interested in trying some online classes, here are some of the best:

Children will learn about the fossils and dinosaurs that Pokemon are based on while playing fun interactive games with their peers in this class
If you have a Minecraft fan in the house, why not get them learning with this fun coding class?
Computer science is essential for students to learn at an early age, as it helps in all subject areas.
Writing code helps spark creativity and problem solving within your child. Minecraft is a fun and easy way to set the foundation for writing code.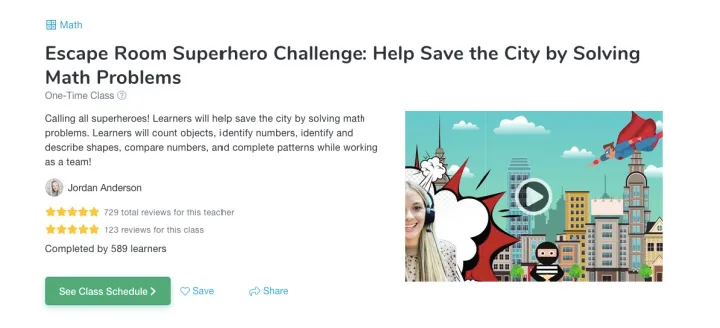 Calling all superheroes! Learners will help save the city by solving math problems.
In this class, children will count objects, identify numbers, identify and describe shapes, compare numbers, and complete patterns while working as a team!
Outschool Popular Classes
Outschool publishes a list of the most in demand classes every week plus the most requested topics from parents
Classes are very popular in the 2-6pm PST time range, as that's when most students are out of school for the day.
That being said, there are classes at all times of day because Outschool teachers are location globally and are on different time zones.
Some of the most popular class topics include coding and tech, art and health and wellness.
Outschool Reviews – FAQS
Is Outschool for adults too?
When looking for classes for my daughters, I see dozens that I'd love to take!
Unfortunately, in order to maintain student safety, Outschool classes are geared strictly to the under 18 crowd and independent adults are not allowed to participate.
Can Outschool be used for homeschooling?
Outschool was originally designed for homeschooling families and it is perfect for supplementing your homeschool curriculum.
It is for homeschooling families as you can sign up and pay as per class making it great for your budget too!
How many students are in Outschool?
There are currently 500,000 learners enrolled with Outschool. In my experience, most classes have between 5-10 student in the class.
Is Outschool legit?
Yes! All teachers have to undergo a review process that includes video lesson plans and interviews.
My kids have taken lots of different classes with different teachers and I have found each and every one to be professional, engaging and very knowledgeable.
Is Outschool safe?
Yes! It's been a very safe and easy way for my kids to learn from home. Outschool is big on student safety and I have never had any concerns at all.
More Parenting Tips
55 Easter Egg Fillers for Tweens & Teens
Easy Pumpkin Spice Playdough Recipe
Last Day of School Free Printables