Every year I like to make an ornament with the kids and the snow globe ornament I made this year is the easiest yet!
This ornament is so fun to make and you can do a ton of different styles and colors so that your tree isn't too mismatched!
I got the idea from one of my friends.
On her wedding day, her mom handed her a big box full of Christmas ornaments to hang on the tree in her marital home.
In the box there was one ornament from each year of her life. I just love that tradition.
**I was compensated for this post. This post also contains affiliate links and I will be compensated if you make a purchase after clicking on my links.
MORE FUN CHRISTMAS CRAFTS
12 Days of Christmas Activities For Kids (Free printable)
30 Festive Free Printable Christmas Bingo Cards
Easy Dollar Store Snow Globe Craft
For this simple craft, I got almost everything I needed at Dollar Tree which made it a frugal craft as well as an easy one!
You may not be aware but you can order online at DollarTree.com if you don't have a store near you.
Buy Christmas Toys, Books and Crafts in Bulk At DollarTree.com
Everything I bought was a dollar and I had plenty of supplies left afterward for more crafts and activities for the holidays.
What You'll Need for the Snow Globe Ornament
You can really use whatever you have on hand to make this fun snow globe ornament – foam sheets, glitter and sequins are all great!
Here's what I used:
Green Foam sheets (I bought these Christmas tree foam sheets so we could do more crafts throughout the season)
Glitter glue or other decorations
Sequins or crafters faux snow for the snow
Hot glue gun
Ornament marker or sharpie
Directions For Making A DIY Snow Globe
Either using a cookie cutter or freehand, draw the shape of a Christmas tree on the foam and cut it out.
Of course, you can cut out any shape you want – other great ideas include a snowman or a reindeer.
Decorate the foam cut-out as desired, using glitter glue or jewels and sequins
Balance the ball on a glass and put a thin line of hot glue on the bottom of the tree, fold it and carefully slide it into the clear plastic ornament.
If it's too tricky, you can add the glue at the top of the ornament and have it "floating".
Add glitter or sequins to the bottom of the ornament using your fingers or a funnel.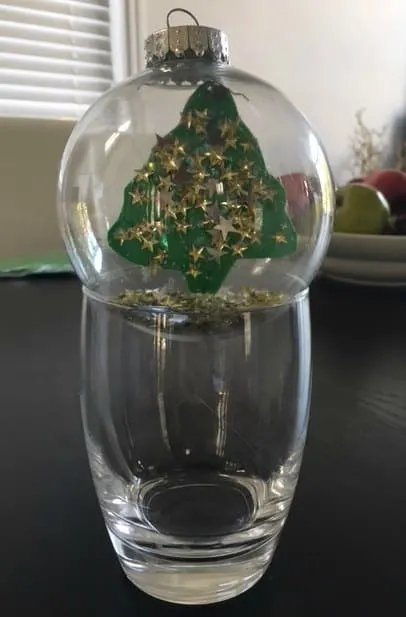 Close the ornament and write the year or child's name with the ornament marker.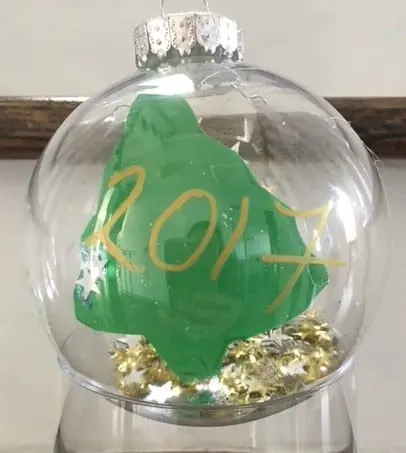 The Final Snow Globe Ornament!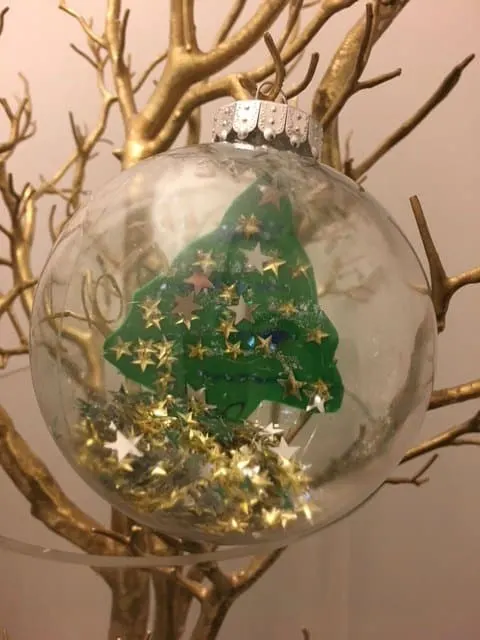 If you love this DIY snow globe, make sure to check out these other fun snow globe crafts you can make at home.
More Holiday Fun!
15 Creative Christmas Photos you can do at Home
Free Printable Christmas Scavenger Hunt for Kids
50 Stocking Stuffers that will cut down on junk