You probably have been using Pinterest for years to find new recipes, fashion inspiration, and decor ideas but did you know that you can actually make money on Pinterest?
If you are in need of some extra income to support your family or pay off debt, a side job or "side hustle" can be an awesome way to make some extra cash either from home or in your spare time.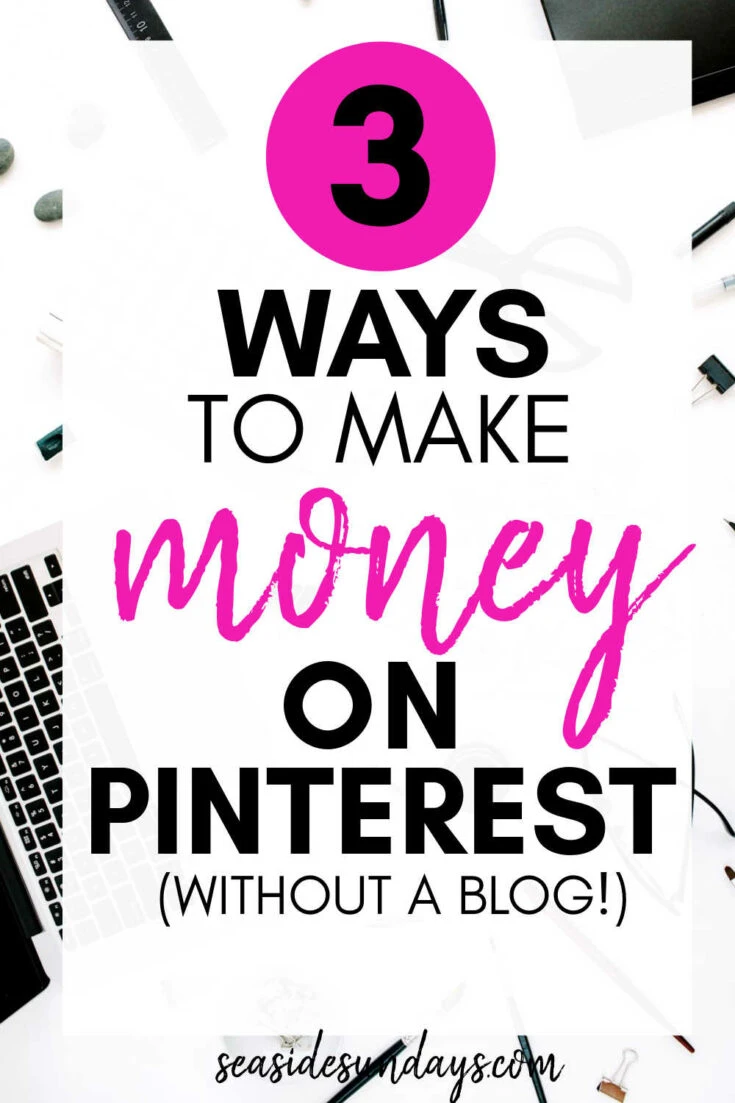 This page contains affiliate links meaning I earn a commission if you use those links. Please read my Disclosure for more information.
A quick google search for making money will bring up a lot of articles about starting a blog or joining an MLM but one of the lesser known ways to earn extra income is on Pinterest.
Pinterest is primarily a visual search engine with around 200m users. The membership is heavily skewed female so bear that in mind when thinking about how to make money using the site.
For each of the 3 methods below, you will need the following:
A Pinterest business account with rich pins activated (your client should have this for method #2). You can convert your personal Pinterest account to a business one or create a new account. Once you have it set up, apply for rich pins. This tutorial is the one I used.
Access to a photo editing tool. I use PicMonkey

which does have a small charge (totally worth it in my opinion) but you can also use Canva which is free.

A Pinterest strategy including Pinterest Group Boards and a way of getting your pins out there – see this post for more information on manually pinning or using a scheduling tool such as Tailwind.
3 Ways to Make Money on Pinterest
1.Affiliate Pins
Adding affiliate links on Pinterest is probably the easiest way to get started making money on the platform. You do not need a blog to be approved for a lot of affiliate programs although it does help for the networks.
If you want to start a blog quickly and for low cost, you can sign up for a free WordPress account or get a self-hosted blog using this tutorial – Start a Profitable Blog in 10 Easy Steps.
Some easy things you can promote include:
Products you love such as candles, planners or gift ideas
Services you use such as savings websites and apps like iBotta
Courses and ebooks you are interested in or have taken
How to find affiliates to link:
Join an affiliate network such as shareasale.com

where you can access many different products and companies with one login.

Look for "pay per click" affiliates that will pay you if someone clicks on your link regardless of whether they actually make a purchase. ShopStyleCollective is a good one to try if you are interested in fashion.
Check out the web pages of courses and ebooks that you are interested in – you do not always have to buy or complete the course to become an affiliate as many people are happy to have the promotion.
For a really good bang for your buck investment, consider purchasing the Genius Blogger Toolkit. It's a huge package of tons of different courses and ebooks (over $6000 worth) for a really low price. I bought the package in April and then signed up for every affiliate program going, it's the easiest and cheapest way to get on a bunch of affiliate programs for top courses.
Bonus – you get a ton of great courses!
Check for "refer a friend" codes on websites and apps you like. A few examples to start you thinking – online contact lens sites, online stores for baby products, couponing sites, and apps.
Here's a complete list of affiliate networks you can join.
For all the details on how to use affiliate links on Pinterest including how not to get flagged as spam see this post:
How much can you expect to make using affiliate links?
The world is really your oyster when it comes to affiliate links. A lot will depend on the kind of product that you are promoting and the commission level. For example, ebooks and courses often have a 40% commission level while products such as baby products may pay out closer to 5%.
2. Become a Pinterest Virtual Assistant
If you have some spare time during the week and evenings, consider becoming a Pinterest Virtual Assistant (VA) for a brand or blogger.
What is a virtual assistant?
A VA does many jobs that their employee either doesn't have time or expertise for. It is a home-based position (hence, virtual) and your tasks will vary depending on what is needed at that time.
Tasks could include:
Scheduling pins in Tailwind
Manually pinning or repinning
Participating in Pinterest share threads on Facebook
Creating pins using photo editing software
Organizing the blogger or brand's Pinterest profile and boards.
Updating Pinterest descriptions
How much can you expect to earn?
Obviously, there is no set salary as your pay will depend on how many hours you work and what kind of skills and experience you possess. Based on VA income reports, it looks like $1000 a month is very achievable.
How to get started?
To get started as a Pinterest VA, you will need to promote your services and get clients! Most VAs do have a website where they show the services they offer so you may want to register a domain or you could also use a Facebook page for free until you get going.
3. Sell your own products on Pinterest
Selling your own products can be the most lucrative option for making money on Pinterest.
Many crafters, entrepreneurs and small (and large) business use Pinterest as a way to either get traffic to their website or to promote their own products on a platform such as Etsy.
If you are crafty or have a product such as an ebook or course to sell, Pinterest is a great way to get sales from a wide audience.
What kind of products do well on Pinterest?
The best way to see what works well is to spend some time on Pinterest and search for items that interest you. Items that are very popular include:
Items that are very popular include:
Wedding items such as decor, invitations, and accessories
Newborn photo props like crocheted outfits and hats
Handmade jewelry
Ebooks about self-improvement and parenting
Party favors and gifts
Printables such as prints for the home, planners, and worksheets (budget, fitness etc). If you are interested in making your own printables, check out This free ebook on which printables sell best on Etsy.
Once you have decided on the kinds of product you wish to sell, you can either add them to your Etsy account or use a free platform such as Shopify to create your own online store. You can then make pins that feed directly to your store and products.
How much can you make?
Potential earnings and chances of success will depend a lot on the product you sell. High volume, low-cost items will probably be easier to promote and get traction on than big-ticket items.

Create The Perfect Pin In Minutes!
Subscribe to get my FREE ebook on creating a pin that gets noticed and brings you traffic.
More Ways To Make Money:
6 Unusual ways to make extra money
How to become a Stella & Dot stylist
Create The Perfect Pin In Minutes!
Subscribe to get my FREE ebook on creating a pin that gets noticed and brings you traffic.