I'm a little bit obsessed with picking out invitations and cards for birthdays and special events.
I love to spend hours choosing the perfect photo and playing around with different colors and templates. Sure, you can send a quick e-greeting or make a quick post on social media but paper invites have a certain gravitas that make any event extra special.
My favorite kind of greetings are definitely photo cards. My DIY photo shoots for our family holiday card are pretty legendary around here. I think my husband groans every time I get my photo backdrops out now.
Photo cards are such a fun way to capture a moment in time that I actually keep a scrapbook of all the ones I send each year. I love looking through the album and remembering the fun we all had taking the pictures.
This is a sponsored post written by me on behalf of Basic Invite. All opinions are entirely my own.
Celebrating the special events in life with parties and announcements is what makes those days different from our regular 9-5 lifestyle.
And what better way to make the most out of life's milestones than with custom invites and stationary to let everyone know that it's time to celebrate!
With graduation season right around the corner, a lot of people are looking for the perfect photo graduation party invites. Graduation is such a huge milestone that it's fun to really make it special with a great party and an invitation fit for the occasion.
When I want to wow my friends and family with a classy, custom invitation or announcement, Basic Invite is my new go-to. They make creating the perfect greeting simple and foolproof which is perfect for busy moms like me.
RELATED POST: 10 Creative Christmas Photo Ideas You Can Do At Home
Why Do I love Basic Invite?
Custom Samples
Basic Invite is one of the few websites that allows you to order a sample of your exact invite before making your order. It's great to be able to check that everything is just perfect. I love this idea, especially for big events like weddings.
It's great if you are not 100% what invitation to go for as you can pick a couple and see the samples in real life before making a decision.
Almost Unlimited Colors
This is my favorite thing about Basic Invite! It's so frustrating when you pick a card template online but only certain colors are customizable. I hate having to use a color that doesn't fit exactly with my party theme.
Basic invite allows you to change every single element on their designs and you get to pick from over 180 colors!
Over 40 Different Colors of Envelopes
I'm obsessive about matching my envelopes and having them stand out in a sea of white junk mail! Basic Invite offers over 40 colors so you can make sure your mail isn't missed in the mailbox!
Address Capturing Service
I can't be the only one who has to ask for addresses every.single.time I want to mail out an invitation? People move so often now and I can never keep track. Enter an ingenious solution – address capturing! Simply share a link on Facebook, Twitter, Instagram, or any other form of social media to request your friends and family's addresses which will then be stored in your account for future use.
Plus: Address printing is FREE on all Christmas card orders – whoot! More time for Holiday shopping!
Foil Cards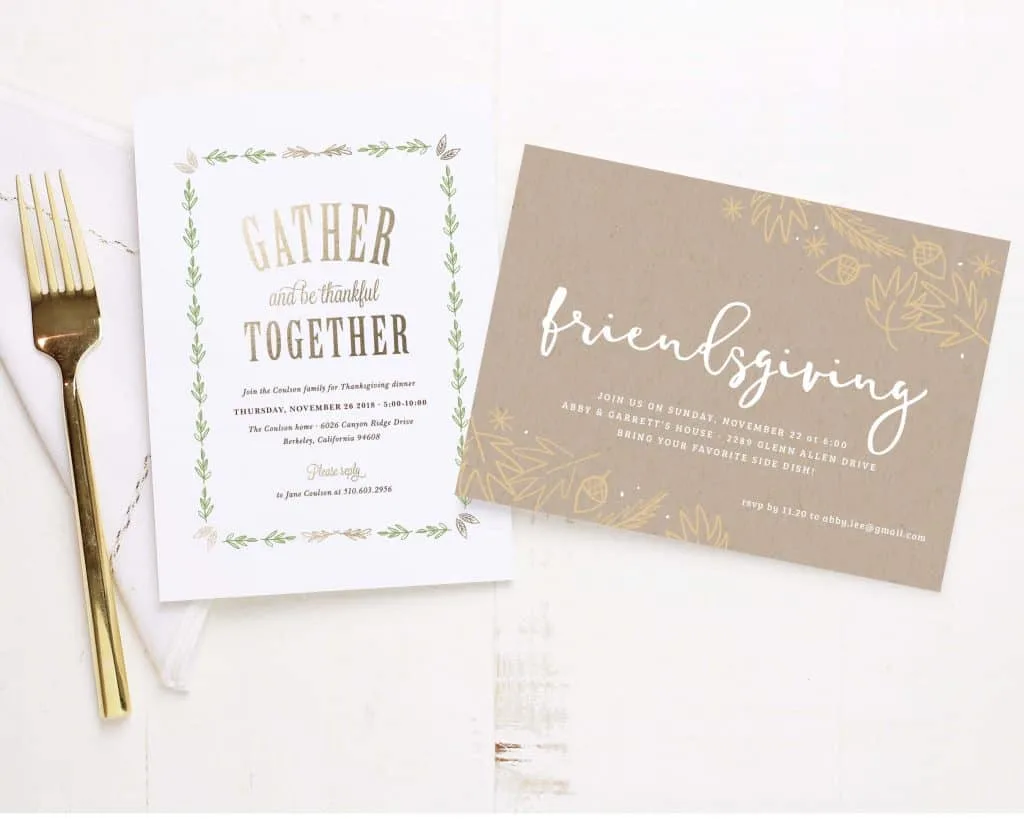 I love the elegant look of foil cards and Basic Invite doesn't disappoint with options for gold, silver, and rose gold foil cards. You can also choose from raised or flat foil for all the card designs.
If you want to check out all the cool designs and options available, the Basic Invite website has lots of stationary and greeting cards to drool over!
You can also follow them on Facebook, Pinterest, Instagram and Twitter.
Right now, you can get 15% off your first order with Basic Invite with promo code: 15FF51 – just in time for those graduation invitation cards