No matter what your kids call their father, whether it be papa, daddy or plain old dad, I think we can all agree that dads are pretty cool. Father's Day is the perfect opportunity for a cute and simple popsicle stick craft for your toddler or preschooler.
This "cool" Father's Day card is not only really easy to make, it makes a fun summer activity for children to do on their own or with a bit of help from mom.
If you want some more fun Father's Day activities, this list of daddy daughter dates is full of summer fun ideas for kids and their dads.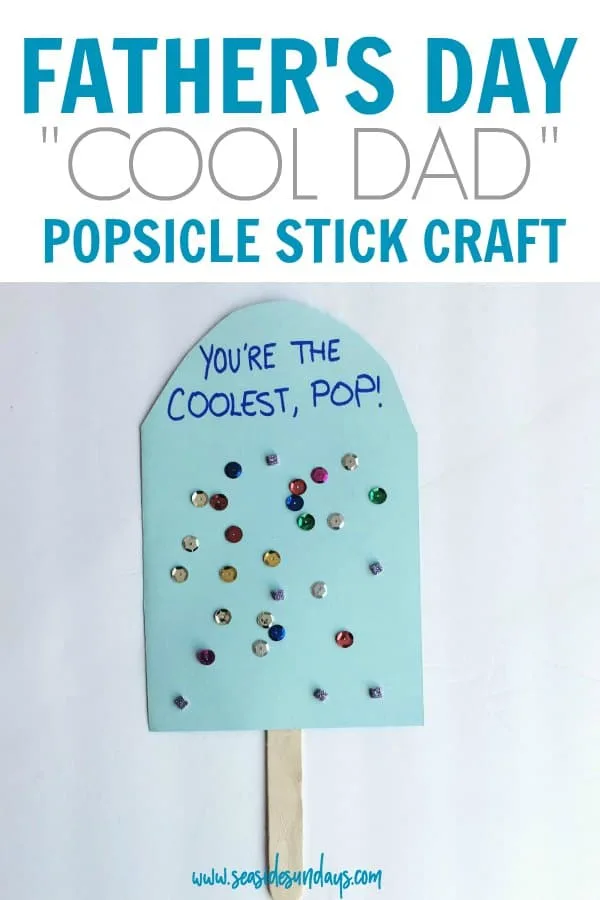 This page contains affiliate links meaning I earn a commission if you use those links. Please read my Disclosure for more information.
Father's Day Popsicle Stick Craft
What you need
Colored cardstock
Sequins, gems or stickers (I used both but it was a bit hard for my 4 year old to glue the sequins)
One jumbo popsicle stick
Glue stick
Markers
For the wording on the card, you can write whatever you like but here are some ideas to get you going:
You Are One "COOL" Dad
You're The COOLEST, Pop!
No One Is COOLER Than My Dad
My Dad's No Fool, He's Cool!
Dad, You Are One COOL Dude!
World's COOLEST Dad!
For some trendy gifts to go right along with the your card, make sure to check out my cool dad gift guide for some inspiration.
Instructions
Fold your cardstock in half and cut along the middle so you have two pieces
Mark about 3 inches of the way down on each side and cut from there to the top to create the curved top of the popsicle.
Write your text with marker
Let your preschooler go wild with sequins, gems and markers
Glue or tape the popsicle stick to the back of the card stock
More Father's Day Ideas
More Crafts For Kids