What do you give a new sibling when baby is born? This is something a lot of parents wonder. That's why we've created this list of gifts for an older sibling when baby is born.
Whether you have a toddler or a teenager, it is important to make your existing children feel special when a new family member comes along.
The birth of a new baby is a huge moment, but it can be an unsettling time for a child, especially if they are very young or have been an only child for a number of years.
Along with the excitement that always surrounds a newborn, feelings of jealousy and rivalry can appear once someone new coms to take mom and dads attention.
Many parenting experts recommend planning a gift from the new baby to create a bond between the two children.
Some fun Gifts For An Older Sibling When Baby Is Born include:
Books from the new baby
Special toys or jewelry
Matching big brother/big sister clothing
A baby doll so they can be "just like mom"
In this article we will look at some fun options that you can order from Amazon or Etsy and have shipped right to your door.
RELATED POSTS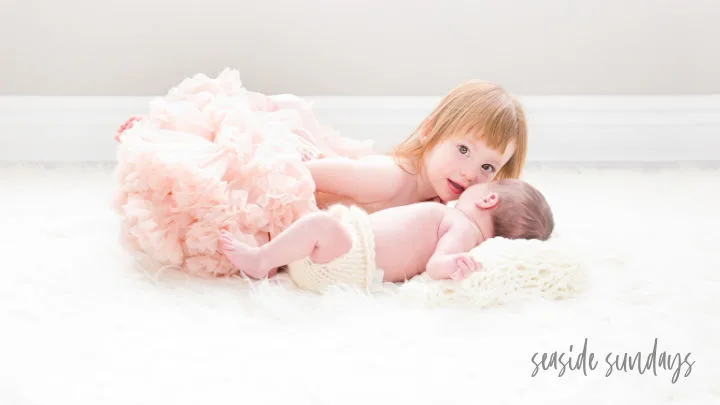 This post contains affiliate links. Please read my Disclosure for more information.
How do you prepare an older sibling for arrival of a baby?
The best way to prepare your child for the new baby is to communicate. Keep them posted on what is happening and what they should expect.
Let them know that you will be busy feeding the newborn and may need some bog girl or big boy help fetching diapers etc.
Getting older siblings involved with the baby is the best way to prepare them.
This can mean letting them help choose the nursery decor or taking them to buy cute newborn clothes.
How do you make an older sibling feel special?
There are a few things you can do to help an older sibling feel that they are important when a new baby arrives.
Make sure to carve out a special time for both parents to play or ready with the older sibling.
Ask relatives and friends if they will take him or her on a special outing or playdate so they don't feel left out.
Make a big deal out of what a great helper they are and how important they are to the new baby
Another thing you can do is give a special gift to the older sibling
The Best Gifts For An Older Sibling When Baby Is Born
The important thing to remember about this change in your firstborn's life is that it can be a lot for a little person to understand.
To go from having all the attention to watching everyone fawn over a newborn can be rough on children, no matter how old they are.
Even though it is normal for your newborn baby to get a lot of visitors and to take up a lot of your time, your firstborn may feel like you don't want them anymore or that they are discarded.
Of course this isn't true which is why it is so important to make your older child or children feel special during this time.
Getting your child a special gift "from the new baby" can help lessen the jealousy and prevent too many behavioural issues.
Bear mind though, that acting out and being silly are normal cries for attention in little children who are working through big emotions.
When my second daughter was born, my firstborn was only 2.
I remember she went through a phase of acting like a baby. Getting into the bouncy chair, trying to use a bottle and even squeezing herself into the jolly jumper.
It was pretty hilarious at the time but also an obvious cry for attention in the wake of her new sister's arrival.
Acknowledging the older siblings feelings and talking to them about all the changes in the family can go a long way to easing any tension and making them feel special.
Read on for some really fun gift ideas you can get for new baby to give their older sibling.
Books For Older Siblings From A New Baby
A really great way to prepare an older sibling for the arrival of the new baby is by reading some books about being a big brother or sister.
I read a lot of books with my older daughter before her baby sister was born and I think they really helped to make her feel important and that she had a new role in the family.
Here are some of my favorite sibling books:
THE NEW BABY BY MERCER MAYER
The New Baby is a classic book for a sibling when a new baby is on their way. Little Critter has a brand-new baby sister and he helps to look after her.
Whether he's rocking her to sleep, helping change diapers, or pushing the stroller, both parents and children alike will relate to this beloved story.
This book is perfect to help a soon-to-be older sibling get ready to help with a new baby!
YOU'RE THE BIGGEST
You're The Biggest is a fantastic book for a child to get ready for their new role as a big sibling.
The story follows two foxes, on a colourful journey, discovering the unique role of an older sibling. This book makes a great older sibling gift from new baby and it includes a spot to leave a personal message from baby too!
WAITING FOR BABY BY RACHEL FULLER
Waiting for Baby is the first book in a 4 part series to help an older sibling get ready for the new arrival. This board book goes through the preparations involved in getting ready for baby and all the emotions the older sibling may feel.
Best Big Sister Books
If you want to give a future big sister a special book just for her, here are some of the best big sister books that my daughter really enjoyed.
I'M A BIG SISTER BY JOANNA COLE
I'm A Big Sister is a really sweet book that is perfect for any little girl who is getting ready for a new role. I love how this book contrasts the older sister against the baby as more independent and being able enjoy all the things that big kids can do.
HOW TO BE A BIG SISTER BY ASHLEY MOULTON
How to be a big sister is the perfect book for older big siblings! This book is packed with fun activities that older siblings can do to get ready for baby such as making lists of all the things the baby needs and making a welcome sign.
LITTLE MISS, BIG SIS BY AMY KROUSE ROSENTHAL
In Little Miss, Big Sis, a little girl learns the wonders of becoming a big sister as she and her family celebrate the momentous arrival of a new baby.
Best Big Brother Books
If you have a little man at home who is getting ready to be a big brother, a cute book is one of the best gifts to give from the new baby.
DANIEL TIGER – BIG BROTHER DANIEL BY ANGELA C. SANTOMERO
Big Brother Daniel, like the other Daniel Tiger stories, introduces kids to an important topic in a way that they can understand and relate to.
You can also look for the TV episode based on the book to reinforce the cute story.
ANDRE THE BEST BIG BROTHER BY MIKAELA WILSON

In André, The Best Big Brother, a little boy is ecstatic about becoming a big brother.
But once the new baby arrives, he quickly learns that being an older sibling is both wonderful and confusing at the same time. Join André as he adjusts to life as a new big brother.
I'M A BIG BROTHER BY CAROLINE JAYNE CHURCH
I'm A Big Brother is classic sibling gift for a big brother! The illustrations are really cute in this book and it focuses on how to be a helper when a new baby comes into the picture.
There is also a Big sister version by the same author and both of the books are really cute.
Best Sibling Gift Ideas
If you want to go beyond the books and give your older child something else, here are some cute gifts for an older sibling when baby is born.
Presents For Toddler From The New Baby
BIG SISTER, LITTLE BROTHER SHIRTS
This cute brother and sister matching combo is really cute and perfect for making an older sibling feel special.
BIG BROTHER ARE SUPERHEROES GIFT SET

This cute Big Brother Superhero Gift Set is a creative, unique, and "super" fun way to make big brothers feel special. The set includes a book about becoming a big brother, a child sized Big Brother superhero cape, and a Big Brother felt superhero mask.
PROMOTED TO BIG SISTER COLORING BOOK
This Big Sister Coloring Book is packed with unicorns and mermaids and perfect for little girls who are about to become a big sibling.
I'M A BIG BROTHER TEDDY BEAR
These I'm a Big Brother teddy bears are really cute and good quality. There are big brother and big sister versions available.
These are a great gift to include as a baby shower gift if mom already has an older child.
I HEREBY CROWN YOU BIG SISTER GIFT SET

The "I hereby crown you big sister" gift set is a really cute set that is perfect for any little girl who is about to be about to be a big sister.
The set includes a story book about being "crowned" a big sister, a child sized crown, and a big sister doll with matching crown.
BIG BROTHER BASEBALL CAP
This baseball cap would make a great gift and a fun thing for a big brother to wear to the hospital to meet the new baby.
Gifts For Teenage Siblings From New Baby
If your child is a teenager and about to become a sibling for the first time, then making them feel special is really important.
It can be hard to think of gifts for an older sibling when baby is born if you are buying for a teenager. Most big brother and big sister books are aimed at young children.
LITTLE SISTER PROTECTION SQUAD T-SHIRT
This Little Sister Protection T-shirt is really cute and perfect for a teenage older brother who is excited about his new baby sister.
I'M THE OLDEST CANDLE
This funny older sibling candle is one of my favorite gifts for an older sibling when baby is born. The candle is vanilla scented and get amazing reviews.
PROMOTED TO BIG SISTER NECKLACE
How cute is this pretty necklace for a big sister? You can choose a light or a dark colored pearl for the pendant.
BIG BROTHER TAGS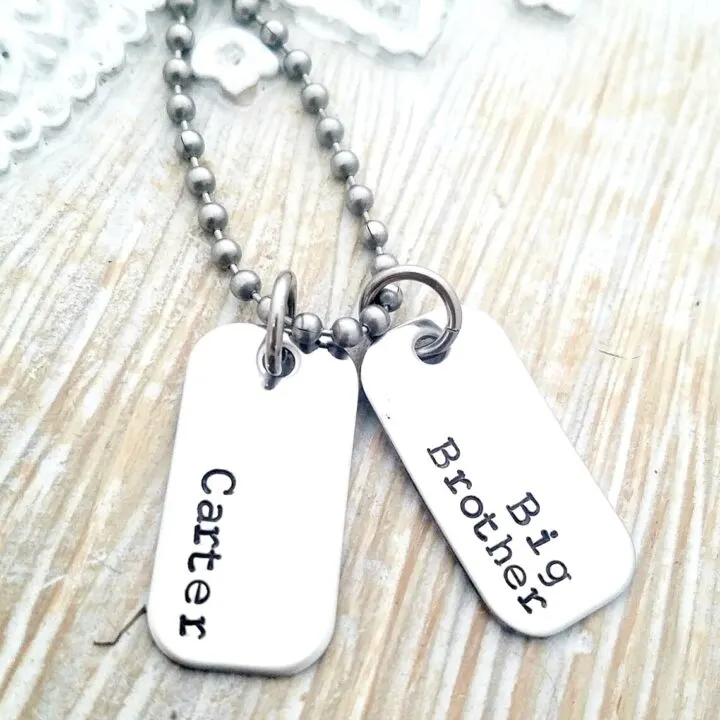 I love this personalized necklace that is made with smaller dog tags so it works for big brothers of any age.
The Best Gifts For Older Sibling When Baby Is Born
A small gift or book can go a long way to your child get ready for the arrival of their new sibling. Feelings of jealousy and anxiety are normal when big changes happen
Making your child feel special and loved with a sweet gesture like the gifts in this list can easy the path to the loving sibling friendship that we all hope for our children.
More Baby Tips
300 + Pregnancy Announcement Ideas
Potty Training Readiness Checklist