As magical as December and all the festivities are, I'm always on the search for something that will help me beat holiday stress and let me enjoy the season.
It can be hard to get into the Holiday spirit while searching for that elusive perfect gift, planning spectacular holiday meals, entertaining out of town guests and baking 13 dozen cookies for the neighborhood cookie exchange.
Don't forget about getting Christmas cards ordered, addressed and actually making it to the post office to mail them.
And this is all before you make the Pinterest-worthy trip to the Christmas tree farm to pick out the perfect spruce to decorate with beautiful coordinating baubles.
It's no wonder that many of us are searching Google for ways to make the holidays less stressful and more festive!
Read on for over 50 tips for making this Christmas the most joyous ever including a free printable checklist to keep you on track.
This page contains affiliate links meaning I earn a commission if you use those links. Please read my Disclosure for more details.
MORE HOLIDAY TIPS
10 Ways to control your holiday spending
20 Holiday traditions to start with your kids this year
Why are the holidays stressful?
A week with relatives you would rather avoid, an endless to-do list and the overwhelming feeling that you are not making Christmas "magical" enough can get to anyone.
Add in Pinterest style peer pressure and a lot of us feel like we come up short around the holidays.
How To Beat Holiday Stress
If all the things on your to-do list are making you feel more Grinchy than festive, it's time to start planning your holiday season now.
Plan out a holiday schedule now
Doing a little task every week will make the holidays seem much more manageable.
Using a Printable Christmas Planner can really help you feel on top of things.
Use an app or spreadsheet to keep track of your budget and gift ideas
I use Santa's Bag which is a free app on ios and it helps me remember what I have already bought and how much I have spent.
Delegate
All too often we take on far too much in an effort to make the perfect Christmas.
Create new traditions by dividing tasks up and get the kids involved in baking and decorating.
Cook ahead and freeze
Cookies and cookie dough, casseroles and sides can all be made ahead of time and frozen.
It's also a good idea to stock the freezer up with some easy meals for busy nights when there is no time to cook.
Pare down the decorating
Only put up the items you really love and keep the tree simple but elegant.
his will save so much time and stress when it comes time to take the decorations down in January.
Trim the gift list and cut down on junk
Consider buying for children only or doing a secret Santa to avoid the stress of buying for many people. I've cut my list from 35 to 15 this year and I feel so relieved.
If you want some ideas for stocking stuffers that won't clutter up your house and cause you even more stress, check out my list of 50 Stocking Stuffers That Will Cut Down on Junk
Shop online
Buy in bulk or give tickets as gifts to save the hassle of the mall.
Shopping online can be a great way to save money on your holiday shopping as you avoid impulse buys at the counter.
If you do a lot of online shopping, make sure to keep track of your orders and expected delivery dates so you know if something does not arrive on time.
My Christmas planner has online shopping trackers that are really helpful as well as Black Friday and Cyber Monday planners.
Focus on the "Reason for the Season"
Prioritize family time and making memories.
No one really cares if things aren't perfect. Here is a list of fun holiday traditions for families.
Consider getting a Holiday Planner to do the legwork for you.
This is my first year of using one and I already love it.
It is packed with over 50 pages of planning goodness including:
Budget trackers
Christmas card lists
Black Friday Planner
Christmas & Thanksgiving Meal Planners
Online Order Tracking
Stocking Stuffer planner
Holiday To-Do list for November & December
Printable Gift Certificates
Family fun section with trivia, word puzzles & a family bucket list
and much more!
Plus there is a bonus printable children's Christmas journal that would make a great stocking stuffer or December activity.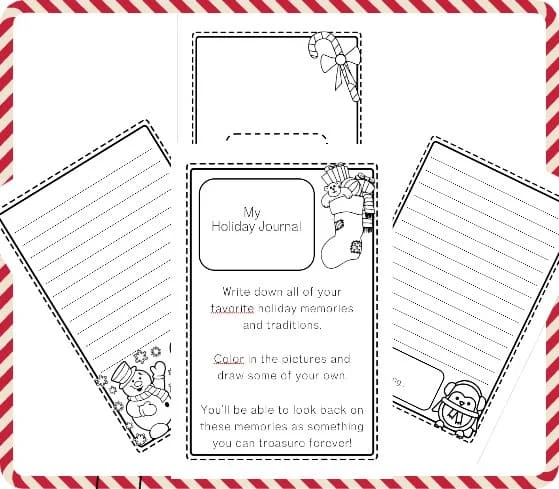 Acknowledge that everything doesn't need to be perfect

Start holiday planning and preparations earlier

Simplify wherever you can when planning and holding festive celebrations

Stick to your budget

Scale down your holiday plans

Ponder what you really want to do to celebrate the holidays

Talk with family members and friends about what they want to do

Plan celebrations that express what the holidays truly mean for you

Identify old family traditions. Which ones do you love?

Opt to keep holiday traditions that bring you joy and happiness

Give yourself permission to let go of old traditions that you aren't fond of

Establish start and stop times for parties

Take shortcuts like buying pre-made pies to save time

Examine options for pre-made meals or catering services

Promptly ask for help when you need it

Inform all prospective attendees of your holiday plans in advance

Discuss challenging issues in advance with a person who tends to create tension

Use place cards to assign seating in efforts to avoid tension-filled holiday gatherings

Short-circuit disagreeable family discussions by interrupting or changing the subject

Make a gift list, considering the amount of money you can comfortably spend

Shop early and make notes about where to get low-cost gifts

Ask for gift suggestions from the people on your gift list

Consider giving gift cards to save time and precious energy

Suggest a family name-drawing to reduce gift expenditures

Reduce the amount of money you spend overall for the holidays and per gift

Avoid making credit card purchases at holiday time

Think about making homemade food gifts to save dollars at holiday time

Shop early and place gifts in a gift drawer so you'll be ready for the holidays

Schedule time to be with your kids for some special holiday moments

Keep the kids busy with holiday crafts. They'll enjoy it and you can get more done.

Take time daily to meditate, even if only for a few minutes
Stress-Free Holiday Traveling
Plan holiday travel itineraries in advance

Travel during off-peak hours

Start out well rested

Build in extra money to your travel budget in case of emergencies

Arrive at the airport or other station early to more easily take care of last minute challenges

Expect to run into snags

Pack light and carry on your bag, rather than checking it

Allow extra time to travel from place to place and expect heavy traffic

Send your gifts in advance or take gift cards

Limit alcohol and caffeine

Pack plenty of healthy snacks that travel well without refrigeration

Bring plenty of things to keep the kids happily occupied

Make waiting times go faster and regain a happy holiday feeling by meditating

Use portable meditation props, like a favorite image on your smart phone or tablet

Plan to arrive at your holiday destination rested and excited to share your holidays with loved ones
FREE Printable "Beat Holiday Stress Check list"
Click the link below to download a free checklist for keeping the holidays stress-free this year.
More Ideas To Beat Holiday Stress
How To Do Christmas On A Budget
10 Creative Christmas Photos you can do at home

Start A Blog That Makes Money
Ready to start a blog and make money from home?
In this FREE 5 day email course, I will show you the exact steps I took to take my mom blog from $0 to a consistent $2000 a month within 4 months.