The holidays can be a huge burden on the average household budget. You may wonder how to do Christmas on a budget when it is the season of excess and spending.
Holiday shopping, fancy food, and parties can all eat into your savings at this time of year.
Planning ahead and really putting some thought into how you want the holidays to be this year is the key to not overspending and facing credit card debt come January.
Is it about the most gifts possible or creating lasting memories?
Think about your top priorities for the season and vow to not get bogged down in the rush to buy everything in sight.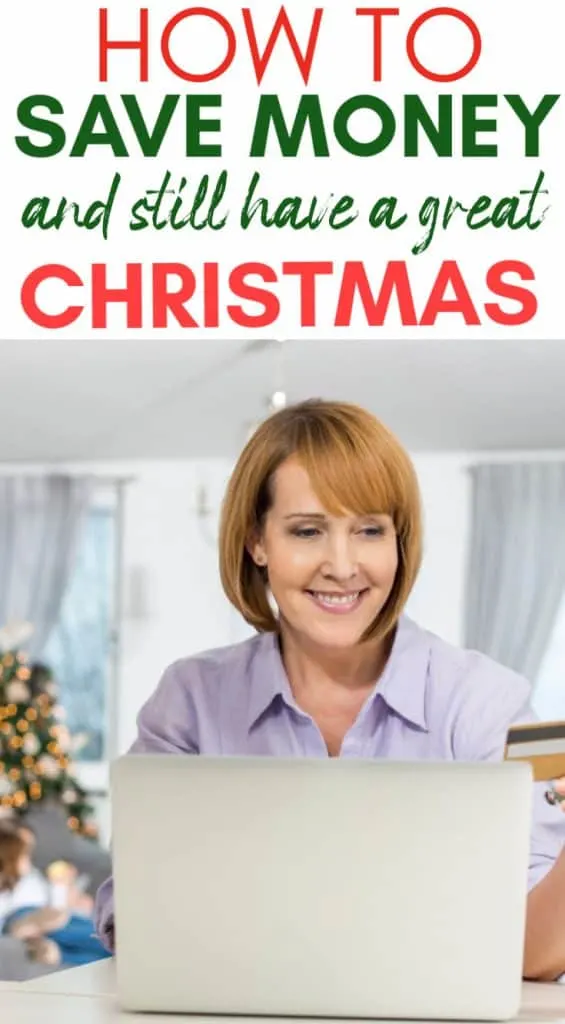 This page contains affiliate links meaning I earn a commission if you use those links. Please read my Disclosure for more information.
MORE TIPS FOR THE BEST CHRISTMAS EVER
12 Days of Christmas Activities For Kids (Free printable)
16 Festive Christmas Party Games For Toddlers
How To Do Christmas On A Budget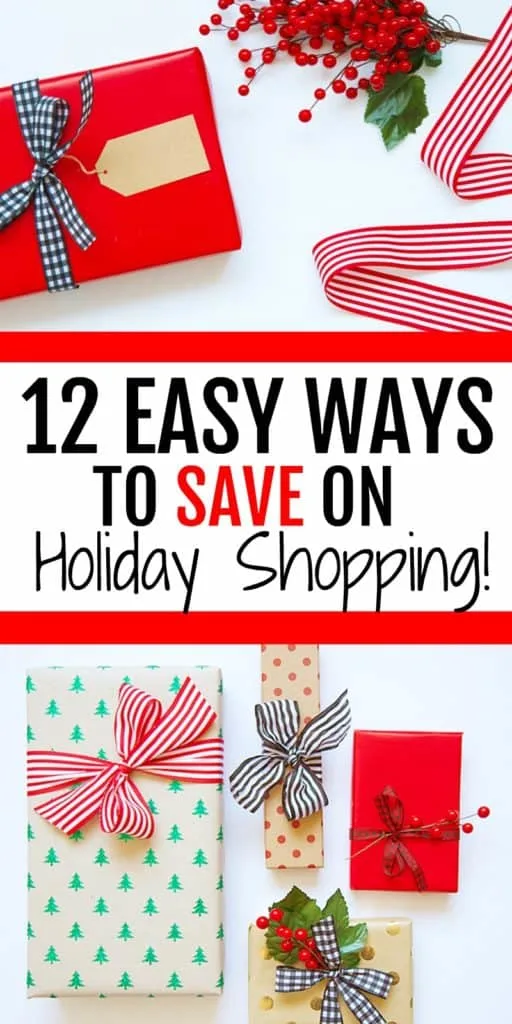 Below you will find 12 tips for doing Christmas on a budget.
Some are trickier than others but even if you only manage half these tricks, you will be able to find some great savings this holiday season.
1.Pare down your gift giving list
The very first thing to do it analyze who you actually need to buy gifts for.
This is essential in saving money during the holidays.
If you have to buy gifts for 100 people, even small $10 gifts are going to break the bank.
At one point, I was buying gifts for over 40 people, not including stockings, teacher gifts and the like.
It was out of control.
You can save significantly by trimming the list.
Most of your recipients won't care either way.
Often we give gifts out of habit of a feeling of obligation which is not really what the season is about.
One idea: agree to buy for the kids only or do stockings only for the adults.
2. Consider doing a Secret Santa
One way to reduce the number of people on your list without actually not buying for everyone is to use a Secret Santa strategy.
This is where each person only buys for one other so everyone gets one gift instead of several.
Normally the dollar amount is higher than if you were buying for everyone but you should still see substantial savings.
You can impose a price limit to avoid awkwardness.
Personally, this is my favorite way of doing gifts nowadays as I like to spend time picking out one thoughtful gift for someone rather than rushing through my list of 40 just to "get it over and done with".
3. Start Holiday Shopping Early
Make a list early and stick to it. Use a basic spreadsheet to track your holiday spending or an app like Santa's Bag (it's free).
Shopping early is important if you want to catch all the bargains.
You should be shopping all year to get the best deals and prices.
Just make sure you don't fall into the trap of overbuying because you have forgotten previous purchases.
Buying early often is a mistake with kid's presents as they seem to change their minds so often!
One minute it's Peppa Pig for life and the next they don't want anything to do with her!
4. Create a Gift Budget
I'm not sure how to do Christmas on a budget without actually creating a budget first!
I make a plan with a dollar amount per person and then try to beat it. Any excess can either be used to cover gifts where I went over or put into savings.
The Santa's Bag app that I mentioned before allows you to set a budget for each person so you can see where you are tracking.
I also like to use a Printable Christmas Planner that guides me through all the spending events of the season from Thanksgiving and Black Friday through to Christmas.
Click here to learn more about my planner which has over 50 pages of lists, budgets and planning sheets.
5. Shop Online
Nothing against brick and mortar stores of course but I often find the best savings for holiday shopping online.
By combining a cash back site like Rakuten.com or Swagbucks with my cash back credit card, I can often save 10% off my purchase.
If you have gift cards to spend or you have been earning with Swagbucks.com, don't forget you can still earn cash back with Rakuten. (Canadians – use Rakuten Canada)
Add an additional layer of savings if you make a purchase that qualifies for cash back with Checkout 51.
Just submit your receipt or packing slip to the app and your account will be credited.
RELATED POST: Shopping Apps that pay Big!
6. Cash in your points
Now is the time to cash in those airline points, credit card rewards and survey site points for gift cards to ease the holiday shopping burden.
If you have a stash of airline miles that you won't be using, check to see what you can get with them.
I've used them for gift cards as well as magazine subscriptions that I have gifted.
If you want to make some extra money on gift cards, check out these posts for tips:
10 Survey Sites that Pay Big (US)
7. Check Deal Sites
Make sure to check sites such as Slickdeals for deals on gift cards and or Groupon for experiential gifts like zoo passes or event tickets.
Take advantage of lightning deals on Amazon
, especially on Black Friday and Cyber Monday.
8. DIY Your Holiday Gifts
Back in the day, almost all gifts were DIYed. It's easy to go to the mall and flash your credit card but it takes time and effort to put together a handmade gift.
You may already have a skill that lends itself to DIY but even if you are not that crafty, there are tons of great ideas online.
Some recent gifts I have made include a T-shirt quilt, hooded towels, and a beanie hat.
Another gift that was really popular was the year I spent time on Ancestry.com and created detailed family trees for my In-laws and Grandmother.
My grandmother still talks about it to this day and it was a really cheap gift!
9. Get the Kids Involved
On the same DIY track, if you have children, Christmas is a wonderful opportunity to spend time making fun crafts to give to others.
You can bake cookies together for a neighbor or do a cute handprint craft for the grandparents.
I also like this list of kids and make and sell (or give as gifts).
RELATED POST: Hand Print Photo Frame
10. Consider offering services instead of gifts
One of the best gifts my daughter got at her last birthday was a little coupon from a friend that read "Good for one playdate with Emily".
She just loved it and it was a great gift that didn't clutter up my house with more junk.
Give the gift of time to someone by offering babysitting hours or plan a "12 Dates of Christmas" with a loved one.
Make sure to actually book it in the calendar as all too often these gifts go unused.
11. Regifting
No article about how to do Christmas on a budget would be complete without a section on regifting.
Let's face it, we all get gifts we don't want or need but can think of someone who would just love it. But when it is acceptable to regift and save a few bucks?
Although I am not really a regifter myself (I prefer to give unwanted presents to charity auctions or events), I don't think there is anything wrong with regifting per se, as long as you adhere to a few common sense rules:
The item must be brand new and in perfect condition. No one wants your chipped china Santa figurine.
It must be something the person would absolutely love. Don't give junk you just want to get rid of.
Check and double check that all tags and notes are removed. Yes, I did once receive a gift with the original tag still addressed.
If in doubt, do not regift. It's not worth the savings if you end up looking cheap and tacky.
What is the difference between regifting and second-hand?
If you choose thoughtfully and make a gift personal, I think both are acceptable. Second-hand shopping can be a great way to stretch the dollar and be green at the same time.
One thing that is great to buy second hand is books.
You can get practically brand new books at a fraction of the cost of retail. I also normally buy my children's toys second-hand from Facebook Buy and sell groups or thrift stores.
Why pay full price for something they may or may not play with past December 26?
More Tips For Doing Christmas on a budget
How to Save $1000 for a Debt-Free Christmas
25 Cute Christmas Snacks For Kids