When preparing for IVF, you want to give yourself the best possible chance for positive outcome. Diet, lifestyle and supplements can help you feel prepared for your fertility treatments.
If you have reached the stage in your fertility journey where you are going through IVF, IUI or FET, it's important to give yourself the best chance possible to get pregnant.
Fertility treatments are hard on your body (and emotions) and are often expensive so why not give it your best shot?
Read on for tips to make sure you are ready for IVF plus a free downloadable checklist.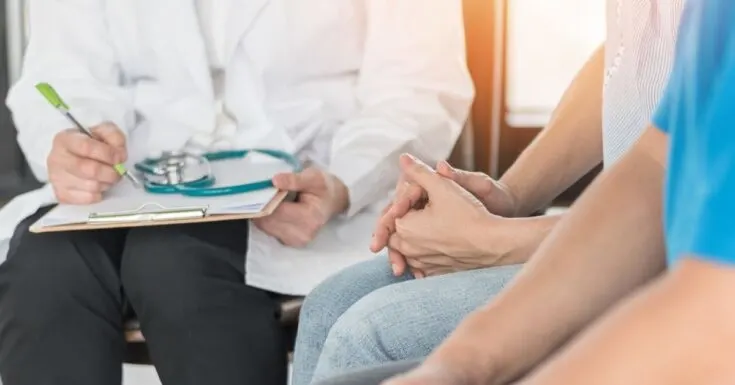 This post may contain affiliate links. Please read my Disclosure for more details.
MORE FERTILITY TIPS
Great Gift Ideas For A Friend Struggling With Infertility
10 Infertility Stories That Will Inspire And Comfort You
When should you start preparing for an IVF Cycle?
As soon as possible!
Ideally you would have at least 3 months to prepare and the longer you have, the better. If you are not quite at the IVF stage yet but want to be prepared just in case, the sooner you start following these tips, the better.
It takes three months or more for a follicle to mature. The quality of your egg is dependant on your health and lifestyle during the past 90 days.
All of the tips below are good for overall fertility and may even help you avoid some fertility treatments.
Preparing For IVF – What Your Partner Can Do
All of the tips below are geared towards preparing for IVF from the viewpoint of a woman but bear in mind that, unless you are using donor sperm, your partner needs to step up their game before your retrieval too.
Things like quitting smoking, improving your diet and stressing less are all relevant to men too but there are few extra things they can do such as taking maca powder and avoiding tight underwear.
In addition support you through the process is essential so make sure to take some time to just enjoy being together away from the stress of the fertility process.
Click here to see The Best Ways To Naturally Boost Male Fertility.
You can also download this completely free ebook on Naturally Boosting Sperm Health.
6 Things To Do When Preparing For IVF
If you are preparing for IVF or just considering your options, make sure to read my post on 10 Questions To Ask Before Your First Fertility Clinic Appointment.
Even if you are already with a clinic, these questions will help you gain some inside knowledge of what to expect.
You can also check out my list of Dos and Don'ts for What To Do After an IVF Transfer for tips on what to do after you have your procedure.
How To Prepare For IVF
Stop Your Bad Habits
Everyone knows that smoking is not good for you but it's especially important to quit while preparing for your IVF cycle.
Nicotine ages the ovaries and can impede implantation. It's also associated with increase miscarriage rates so it's not something you want to be doing while pregnant anyway.
With regards to alcohol, studies have shown correlations between even moderate alcohol consumption and a decreased likelihood of both IVF success and live birth following IVF treatment.
Start Taking Fertility Supplements
Fertility vitamins can improve your chances of implantation and also improve your egg quality, making your follicles more like to make it to retrieval.
Make sure to consult with your doctor before taking any medications prior to your IVF cycle as not all vitamins are recommended for everyone (folic acid being one example).
READ MORE: The Best Fertility Vitamins & Supplements To Boost Your Fertility
Eat a Fertility Diet
Boosting your protein intake is essential during your IVF prep. Egg quality is linked to the protein in your diet and you can drastically improve your chances of getting more follicles to mature by following an IVF diet.
Personally, I followed the The Fertility Diet recommended by Dr Jeffrey Russell, an IVF Doctor out of the USA.
In addition to upping your protein levels, you'll want to incorporate these foods into your IVF diet:
Royal jelly
eggs
walnuts
avocado
flax seeds
and other fertility superfoods.
If possible, try to eat as organically as possible in the run-up to your IVF. The less chemicals in your body, the better for your fertility.
Sign up below for a free list of fertility foods and a shopping list to get you started:
Get Organized
Once you start your IVF or IUI cycle, you will have a lot of things to remember. You will likely have cycle monitoring appointments several times a week, additional testing and also different doses of medicine to take at different times of day.
One thing I used to keep track of everything was a Fertility Planner.
This is a printable journal that helps you track all your appointments, your emotions and your meds while you go through IVF or IUI.
You can buy my printable fertility journal here.l]
Another thing you can do is to spend some time watching Youtube videos to get yourself ready for the different shots that you will need to take.
You might already be used to them from previous IUI cycles but even if this is your first time, I can promise you that they are not as bad as you imagine! You can do this.
Reduce Your Stress Levels
Infertility and IVF is stressful. The worry, the financial burden and the emotional rollercoaster all take a toll.
It's annoying when people tell you to "just relax" but the truth is, research indicates that lower stress levels result in higher IVF success rates.
Take a walk every day to clear your head
Try meditation or focused breathing
Practise some Fertility Yoga
My post on How To Relax While Trying To Get Pregnant is full of tips plus it includes a free "calm your mind" journal.
Tone Your Uterus
It may seem a weird tip but you want your uterus to be in tip top shape before your IVF cycle.
A toned uterus with good blood flow is essential for increasing your chances of implantation, whether you are going through IVF, IUI or even using donor eggs.
One way to increase blood flow to your uterus is by doing the legs up the wall yoga pose.
Another option is to sit down with a soothing cup of tea (bonus – make it a cup of Fertilitea!)
Use code "SEASIDE" for 10% off at Fairhaven health – shipping is free!
Free downloadable checklist to prepare for your IVF cycle
For an in depth look at how to prepare for your IVF or fertility treatment cycle, you can download a FREE 11 point checklist from Fertility Coach.
The IVF Preparation Checklist includes:
Foods to avoid for preventative nutrition
Common vitamin and mineral deficiencies you can check for
Genetic issues you can explore DIY
A tip for egg and sperm quality
A powerful tip to enhance egg and sperm quality
FREE Fertility Resources (Ebooks, Checklists and more)
Click the links to instantly download the following useful resources, at no cost!
More Fertility Tips
The Incredible Benefits Of Wheatgrass For Fertility
Pineapple and Fertility – Can it help you get pregnant?
The Best Ways To Naturally Boost Male Fertility & Increase Sperm Count

Free 14 Day Fertility Meal Plan!
Boost your fertility with this 14 day kick start program
Sign up for instant access to this free plan & more fertility tips