If you are hosting a kids' Christmas party this year, you will love these ideas for Christmas goodie bags!
Although not necessary, all children love a loot bag at the end of a party and a cute little Christmas goodie bag is the perfect take-home gift.
Whether you are hosting a daycare holiday party or a kids' Christmas celebration at home, the Christmas loot bag ideas below are sure to please everyone.
I've included all different kinds of Christmas goodie bag ideas from candy to crafts so that you can include a few little things or DIY your own Christmas gift.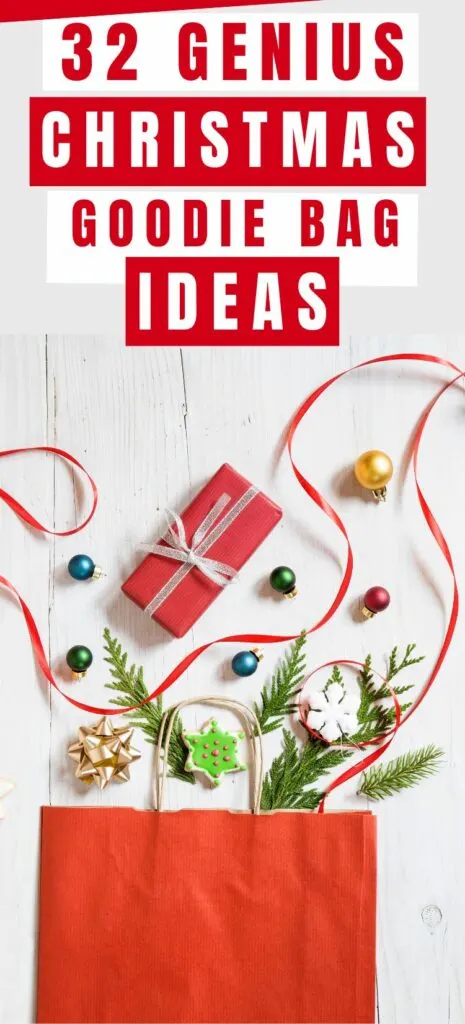 This post contains affiliate links. Please read my Disclosure for more information
MORE FUN CHRISTMAS IDEAS
30 Christmas Goodie Bag Ideas For Kids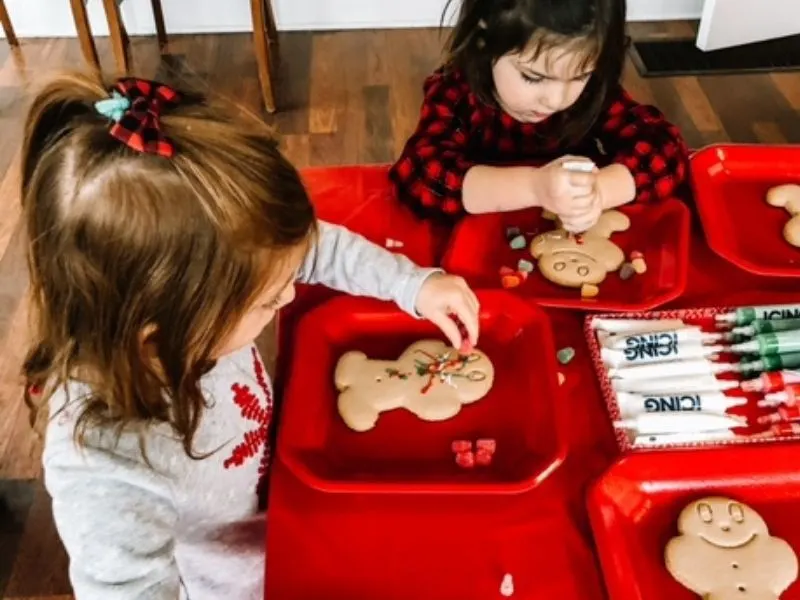 This list is great for Christmas goodie bags for school or daycare as well as parties for scout groups and sports teams.
I've separated this list into a couple of sections, toys and food and also added a bonus section for older kids.
If you are looking for ideas outside of the holidays, make sure to check out my 28 Unique Goodie Bag Ideas For Birthday Parties.
Christmas Goodie Bag Ideas: Small Toys To Put in a Holiday loot Bag
Just click the link for each item to get more information and to check the price.
1.What kid doesn't love a squishy? These Christmas squishies are just perfect for your goody bag.
2. I always like to include a little Christmas sticker sheet in my Christmas goodie bags as they are always a hit.
3. Mini Play-doh containers are a nice addition as it gives the children something to play with after the party is done. This set comes in a party package with 15 mini pots of play-doh.
4. These are a little bit cheesy but my kids absolutely love these light up necklaces are perfect.
5. Talking of cheesy – these glittery novelty Christmas glasses are hilarious and kids will have a blast with them.
6. You really can't go wrong with a mini coloring book and crayons, especially if they are holiday-themed like these cute snowman sets.
7. Kids love fun twisty, twirly straws and these Christmas themed straws will make a great addition for a holiday goody bag at a preschool, daycare or family event.
8. All the kids I know just love bracelets so I love to include these Christmas silicone bands in my goody bags. They are really economical which is great if you are catering to a large crowd and want to give them all Christmas loot bags.
9. This is probably the least useful of all the Christmas goodie bag ideas for kids – wind-up Christmas characters.
10. Reindeer Antler headbands are a really cute gift plus if you can get everyone to wear them for a group photo.
11. What is better than a temporary tattoo in a goody bag? A Glow-in-the-dark Christmas tattoo!
12. A nice addition to a Christmas goodie bag is a letter to Santa that kids can fill in themselves.
Click here to grab a free template Letter to Santa that you can print out as many times as you like. (choose from 10 different designs).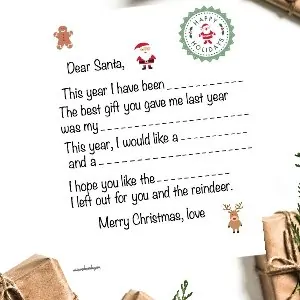 13. A nice pairing with your Letter to Santa template is a cute Christmas pencil and eraser topper.
14. Not Christmas themed but these old-fashioned tin kaleidoscopes are such a nice gift for kids (and adults love them too!).
15. This book of Christmas mazes is great for including in your goody bag. Parents will be grateful for a few minutes of quiet time too!
16. If you are looking for a more educational toy to put in your Christmas goody bags, check out these party-sized rubik's cubes.
17. Plush toys are always a hit with kids and these Reindeer Beanie Boos are really popular plus they are small enough for a goody bag.
18. Bookmarks are always fun but coloring your own one in is even more entertaining. This book contains over 30 Christmas bookmarks to color.
19. Another nice idea for goodie bags at any time of year are bubbles, I love these crayon shaped bubble wands that come in a large pack. They are great for Christmas goodie bags for school.
20. These Christmas rainbow scratch cards are a cost-effective way to give kids a fun holiday craft to take home in their Christmas goodie bag.
Edible Christmas Loot Bag Ideas
21.We recently went to a kids birthday party and received a cookie cutter with a recipe card attached in the goodie bag and I thought it was wonderful.
If you like that idea, you can buy a bunch of Christmas cookie cutters and then add an easy sugar cookie recipe.
22. Individually wrapped candy canes are an easy thing to slip into your Christmas goodie bags. I like the mini candy canes from Brachs.
23. Another really nice Christmas goodie bag idea is to include a hot chocolate packet for each child.
24. Ok, so this is not really edible but how about putting a bag of magic reindeer food in your loot bags?
This is an easy DIY that you can whip up yourself.
25. Another cute DIY food idea – put mini marshmallows in a little bag or pot and a note saying they are snowman's noses – so cute!
26. A Printable Christmas word search is an easy free addition to your Christmas goodie bags and it will keep the kids entertained too.
You can download my Free Christmas Word Search PDF here. (there are 3 different word searches making them great for Christmas goodie bags for school)
5 Christmas Goodie Bag Ideas For Tweens and Teens
Older kids can be harder to buy for but here are some cute ideas that they might like.
27. Candy cane lip balms are a nice gift and are popular with everyone.
28. Another really nice idea for teens and tweens are some cute Christmas fuzzy socks.
29. A hollow chocolate Santa is a classic Christmas tradition that is always well-received.
30. My 13 year old love this Christmas bulb light up necklace.
31. Another nice Christmas goody bag idea for older kids or even adults is a funny elf hat.
32. Looking for a cute DIY gift to put in your Christmas goodie bags? How about making up some small mason jars full of Peppermint Sugar Scrub?
You can make up a large batch in minutes and it is such a cute holiday gift.
Tips For Hosting a Kids Christmas Party
If you are planning a Christmas party for a bunch of kids, make sure to check out my list of 25 Cute Christmas Snacks For Kids that are always a hit at my holiday gatherings.
If you want some fun games to entertain the kids, you can download my Free Printable Christmas Scavenger Hunt for Kids that makes a nice addition to your Christmas goodie bag.
It can also be used as a fun activity during your party.
What to put in Christmas Goodie Bags For Kids
Christmas goodie bags can be filled with goodies such as candy, toys, stickers, coloring books or other things kids enjoy.
They don't have to be full of junk items either, I've tried to pick a nice mix of fun and useful goodie bag gifts in this list.
This list is great if you are looking for Christmas goodie bag ideas for daycare, Kindergarten or school.
There are ideas for kids of all ages and to fit all budgets including some easy DIY gifts and free printables.
Christmas Goodie Bags- Final Thoughts
It's always a good idea to have some Christmas goodies on hand for kids and handing out Christmas goodie bags is always a nice way to end a holiday party.
I hope this list will help you decide what to put in Christmas goodie bags for students for all ages if you are a teacher or room mom.
If there are older children who aren't feeling all that excited about getting gifts this year, try adding in something fun like toys or jewelry.
For the younger ones, keep it simple with some stickers, bubbles and a treat or two.
If you are wondering what to put in Christmas goodie bags for school or daycare, look no further than this list.
More Party Ideas
28 Unique Goodie Bag Ideas For Birthday Parties