Get ready for this list of over 40 Mother Daughter Day Ideas! You don't have to spend a lot of money for to enjoy some amazing mother daughter relationship building activities.
This list has tons of ideas whether you want to stay in, go on a adventure or get crafty.
Every girl, whether little or a bit bigger, loves spending time with her mom.
It's really important to carve out special bonding time with our children and a special mother daughter date is the perfect opportunity for precious one on one time.
A lot of times, we focus on events like Mother's Day or birthdays but there are a lot of fun mommy and me day ideas that can be done year around, and most of them are free or really cheap.
If dad wants to get in on the action, make sure to have him read my father daughter date ideas that are perfect for dads and their little girls.
This page contains affiliate links meaning I earn a commission if you use those links. Please read my Disclosure for more information.
RELATED
Perfect Mother Daughter Day Ideas
Below you will find fantastic ideas for some mother daughter bonding time. Some are better for younger kids and many of them are free or don't even require leaving the house!
Fun Things To Do With Your Mom At Home
If you are looking for some fun mother daughter activities during quarantine or just want some mom and daughter fun at home, look no further:
1. Tea Party
A really fun mother daughter date for any age group is afternoon tea. You can host your own tea party with tiny sandwiches and scones. Make some fruity iced tea to pour into pretty cups and enjoy each other's company.
2. Have A Spa Day
Even little girls can have fun dressing and doing face masks and beauty treatments at home. Pinterest has tons of cute recipes for DIY face masks.
3. Get Crafty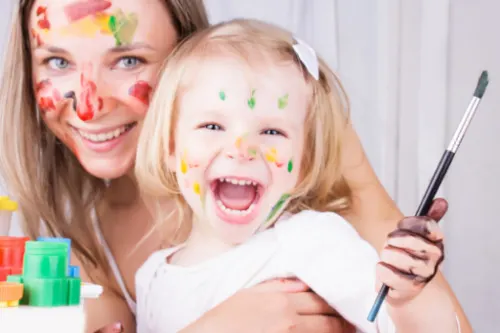 Get the paints or sewing machine out and get creative. Preschoolers will love making this cute elephant handprint craft and getting messy with paint.
Here are some other crafty ideas:
Valentine's Day Activities For Toddlers
180 + Fall Activities For Kids (Crafts, Bucket Lists, Scavenger Hunts & More)
4. Let Her Dress You
And then her dress herself in whatever she wants and head on out for a day on the town. Golden Rule: You have to wear whatever she chooses. For the very brave: let her do your hair and/or make-up.
5. Bake Together
Bake some cookies for the week ahead or make some loaves of banana bread to stock the freezer. This Mommy and Me Cook book will give you some inspiration.
6. Movie Night
Don't forget the popcorn!
7. Picnic in the living room
My daughters love this! We put a blanket down in the living room and have our dinner on the floor. Snacky foods work best for this.
8. Build a Fort
Take the picnic in the living room a step further and build a fort out of blankets and enjoy your picnic dinner in it!
9. Dance Party
10. Make Your Own Beauty Products
My daughters love making their own scrubs and creams. We used this Make Your Own Lip Balm kit the other day and it was so much fun.
11. Play board games together
A game night can be tons of fun. Here are my favorite board games for little kids.
12. Create A Daughter's Favorite List
Spend some time creating a bucket list of things to do in the next few months. We tend to do this together every change of season and then put the list on the fridge. It gives us plenty of ideas for those days when you can't think of what to do.
13. Room Makeover
A bedroom makeover can be really fun. You can switch around the furniture, get new curtains and even paint the room together.
14. Build A Fairy Garden
You can collect gnomes, fairies and other fairy garden items from the dollar store or buy a Fairy Garden Nature Kit that includes everything you need.
15. Make Some Mommy Daughter Videos
If your kids are anything like mine, they love watching unboxing videos on YouTube. You can make creating your own videos your mother daughter thing!
You can pretend to be on a cooking show! We did one showing people how to wrap Christmas presents once!
Fun Things To Do With Your Mom – Days Out
Below are some fun "date with mom" ideas for all ages. Make sure to check your local listings for mother daughter events. My city has Mother Daughter Princess Teas, Fairy picnics and crafts fairs, especially around mother's day.
16. Visit A Spa
For children who are a bit older or who at least will sit still, you can visit a real spa and get manis and pedis or new hair styles.
17. Go Treasure Hunting At Yard Sales
Give her a couple of dollars to spend on whatever treasures she finds and make an adventure of it. Teach her the art of the haggle if you can!
18. Visit The Farmer's Market
The famers market or local farm stand is a great place to go for a mother daughter day out. You can spend a morning picking out the best fruits and vegetables then have a tasty, healthy lunch.
19. Go To The Library or Bookstore
The library is one of the best places to go with your daughter in the colder months where going outside is not an option. Pick some new books out and have a reading binge when you get home.
Forever My Little Girl is one of my favorite mommy daughter books to read. Get the tissues ready though!
20. Go Swimming
If you have warm weather, make the most of it by hitting an outdoor pool together. Indoor pools can be fun in the winter months and are often really cheap through city-run community centres.
21. Catch A Show
Keep an eye on your local theatre listing and you might find some opportunities for a cheap "date night with mom".
Our local amateur theatre company recently put on a version of Sleeping Beauty for children and my 3 year old loved it. Tickets only cost $10!
22. Visit A Local Animal Attraction
Depending on where you live, you might have a lot of fun mother daughter activities if you are willing to drive a little and spend some money for an entrance fee. The Butterfly Conservatory a few towns over from us is a huge hit year round.
23. Visit The Garden Centre
Choose some pretty flowers for the yard and spend a fun afternoon planting them. It's a great opportunity to teach children about what plants need to grow. If you are not much of a gardener, buy a bunch of flowers and make a pretty arrangement in a vase at home.
24. Go on A Park Adventure
Visit a nearby town and check out a "new to you" playground. You never, know, you might discover a new favorite.
25. Mother Daughter Dinner
A special dinner in a restaurant can make for a really fun night with mom.
Mother And Daughter Group Activities
Check Groupon or your local paper for classes you can do together. My local groupon has the tons of great deals almost all the time.
26. Soap making class
27. Pottery
28. Cake decorating
My daughter and I regularly attend a cupcake decorating class and while I do most of the actual decorating, she loves helping with the sprinkles! Michaels sometimes holds these classes.
29. Cooking Classes
30. Language Classes
Learning a new language together is a mother and daughter activity that you can do forever. Plus start planning your own mommy daughter vacation to practice your new skills!
31. Mother Daughter Yoga Class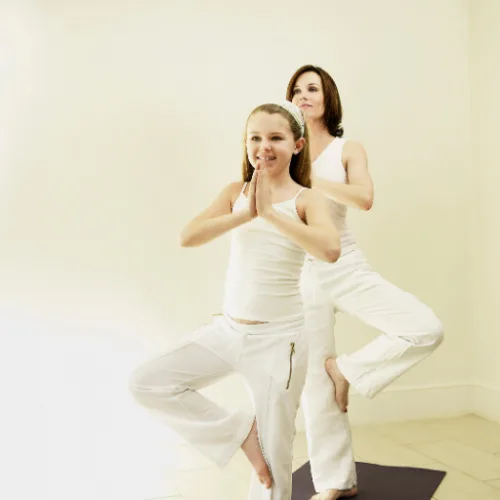 Many yoga studios host Parent & child classes that you can go to with your daughter for a fun activity.
32. Zumba Class
If you are not into yoga, look for mommy and me Zumba or drop-in dance classes for a special way to spend the day.
33. Paint Night
These are great for some mother daughter bonding time. Sign up in advance, many restaurants host them on a monthly basis, and you can also sign up for virtual events too.
Free "Date With Mom" Ideas
Are you looking for fun things to do with your mom or daughter that won't cost a thing? The ideas below are really cute.
34. Teddy Bear's Picnic
If the weather is nice, consider going to the park for a real Teddy Bear's Picnic. Pack a basket of goodies, get a blanket and let your daughter pick her favourite stuffed animal for a really fun mommy and me day.
35. Ride Your Bikes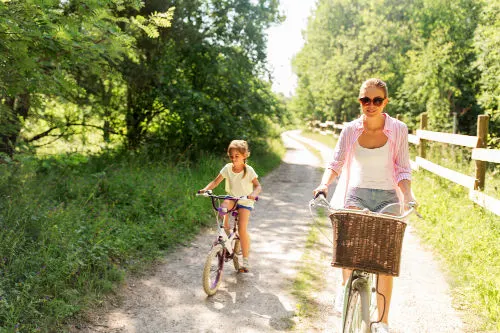 Biking is one of favorite mother daughter day ideas. It is simple, easy and free to do. You can explore some new trails or visit a new neighbourhood. Pack a snack and make a day of it.
36. Sleepover in the backyard
This one is great for a night with mom. You will need to have a tent or backyard gazebo. Camp out under the stars for an evening. Pack flashlights and a midnight feast.
37. Visit The Pet Store
This sounds like a silly mother daughter day out but little kids love it! Visit your local pet store and check out the hamsters, fish and other animals.
38. Home Depot Classes
Check out your local Home Depot or Lowes for some fun woodworking classes that are free.
39. Go Window Shopping
One of my newest mother daughter day ideas with my kids is to go to our favorite stores and imagine we had a million dollars to spend on whatever we like. It's also a fun way to start planning your letter to Santa before the holidays.
Click here for some Free Printable Letter To Santa Templates.
40. Outdoor Concerts
In the summer many cities have free outdoor concerts and music events.
More Mother Daughter Day Ideas
The Best Summer Bucket List For Kids
20 Holiday Traditions to start with your kids this year
25 Winter Budget-Friendly Activities for kids
Heart-shaped Hand print photo frames
10 Old School Party Games For Kids
Family Fun Ideas You Need To Try This Fall