Christmas and Santa can be a little confusing for kids: They know Santa's elves spend all year making toys at the North Pole, but what happens when kids want the hottest electronic toy? Or even the doll they have seen in stores all year?
This actually came up with my oldest daughter a couple of years ago when she was asking for a very specific doll.
Most Christmas movies show the elves building old-fashioned wooden toys in their workshop so she wondered how Santa could make the brand name toys she saw at the toy stores.
That's why I was thrilled to discover a new book this year that explains how Santa is able to deliver famous brand-name products to children on Christmas!
The Elfpreneurs is a Christmas book for children that is sure to become a classic and a family favorite.
This post may contain affiliate links. I was compensated for this post however all opinions are my own. Please read my Disclosure for more information.
The Elfpreneurs by Lori Stacy – Children's Book Review
Storyline
The Elfpreneurs is about one of Santa's hardest working elves, Simzy. One Christmas, he is excited to read letters from kids wanting a new scooter for Christmas.
But when he learns that the scooters are made at a company in the USA and not by Santa's elves at the North Pole, he becomes concerned.
When Simzy and his friend, Fleur, find out that the scooter company has too many orders to handle, they come up with an inventive solution to save Christmas.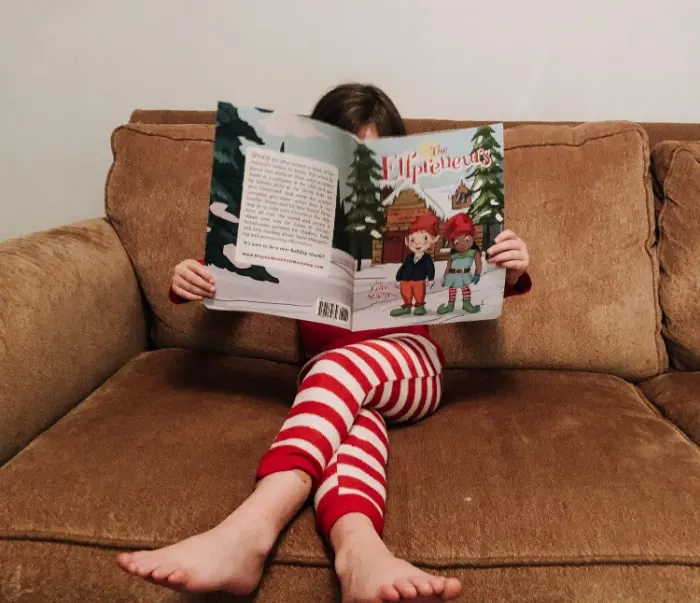 5 Reasons I Love The Elfpreneurs
Adults will appreciate the humour. I laughed out loud at the part about the Lettuce Head Dolls that the elves had made one year to replicate another popular brand name toy (will let you guess what it is).

The language is clear for children. I read it to my 4 year old last night and she loved it.

The magic of Christmas is explained in a way that makes sense for modern kids.

The illustrations are beautiful.
Elfpreneur Cards
In the story, the elves include cards in the branded gifts they make at their workshop, introducing themselves and their partnership with these brands.
You can purchase your own Elfpreneur cards at Original North Pole Workshop.
1. Just write in the brand name on the dotted line under "Made in partnership with."
2. Include it with the Santa gift.
The Elfpreneurs is a really cute story for kids ages 3-10 years old. It's a book that you can read over and over this holiday season.
It will be a great addition to any Christmas library.
Get kids excited for the upcoming Christmas season with this delightful book from Lori Stacy
To purchase a copy of The Elfpreneurs, click the photo below:
More Christmas Ideas
14 Christmas Art Ideas For Teachers
18 Christmas Eve Traditions For Families
DIY Snow Globe Crafts To Make At Home