Looking for a fun and unique way to announce your pregnancy this Easter? Wondering how to announce your pregnancy to your family during Easter lunch?
Maybe you are looking for a more generic spring pregnancy announcement to share on social media.
You'll love these cute Easter pregnancy announcement ideas!
From simple pregnancy reveals to more creative ideas, we've got you covered to make sharing your big news this Easter even more special.
Whether you want to share the news on social media and are looking for a super cute picture idea, we have tons of options.
And if you want to surprise everyone in person at an Easter family gathering, you will love this list.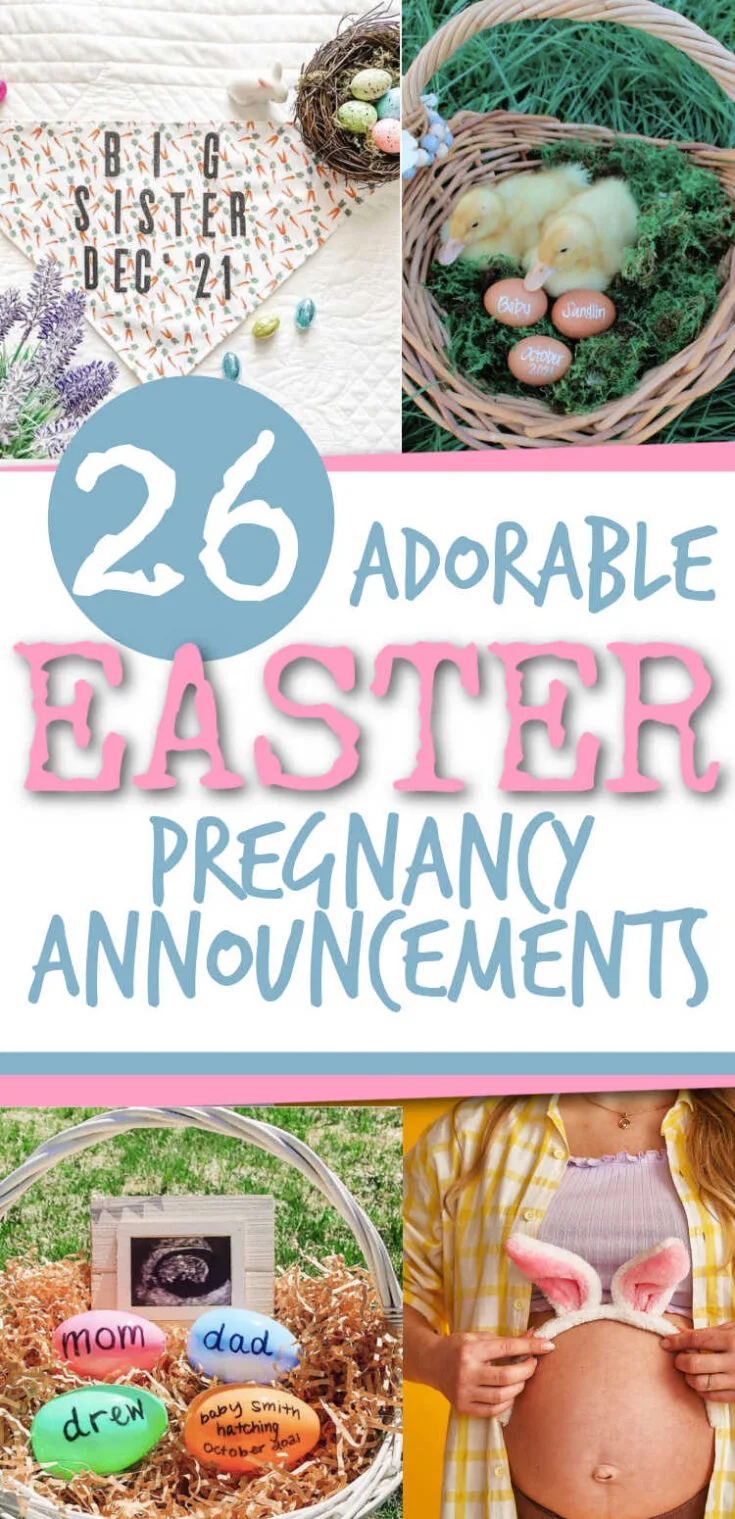 This post contains affiliate links. Please read my Disclosure for more information
More Fun Pregnancy Announcements
20 Lucky St Patrick's Day Pregnancy Announcement Ideas
15 Ways To Celebrate Baby's First Easter
Easter Pregnancy Announcement Ideas
Whether you want a Easter themed announcement or are looking for some more spring like, you will love the list below.
If you ready to reveal your pregnancy in March, why not check out my list of 20 Lucky St Patrick's Day Pregnancy Announcement Ideas too?
Adorable Easter Pregnancy Announcement Ideas
Want to announce your Easter pregnancy announcement in a cute and unique way?
These adorable Easter pregnancy reveals are perfect for any occasion, whether it's your first baby or your fifth!
Fun Ways To Announce Your Easter Pregnancy On Instagram
Little Chicks Reveal
How adorable are these chicks who are sharing some extra special news in their Easter basket? I absolutely love this adorable pregnancy reveal from Sandlinm5 on Instagram.
Puppy Pregnancy Reveal
Get the whole family involved with a cute Easter pregnancy announcement like this one from Ladyinmystique.
You can get similar cute Mama and daddy bunny t-shirts from Etsy.
Hatching….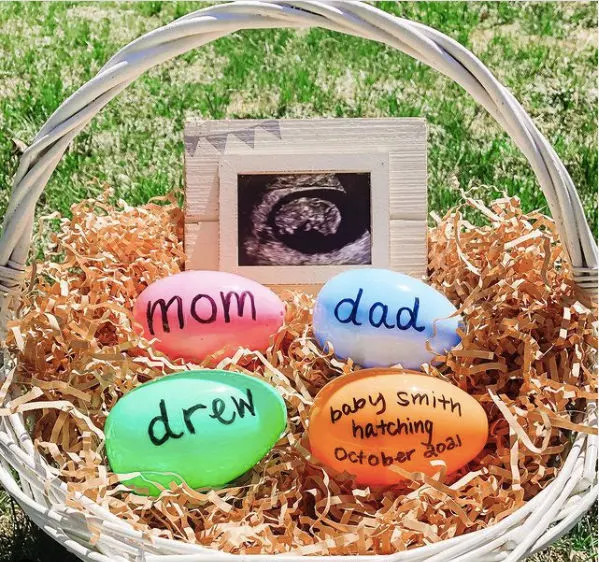 If you are looking for a simple but super adorable Easter pregnancy announcement, you can't get much better than this one from Kassandra.Anne.Smith.
You can easily recreate this fantastic reveal with some Easter eggs, a basket and your ultrasound picture.
Spring Pregnancy Announcement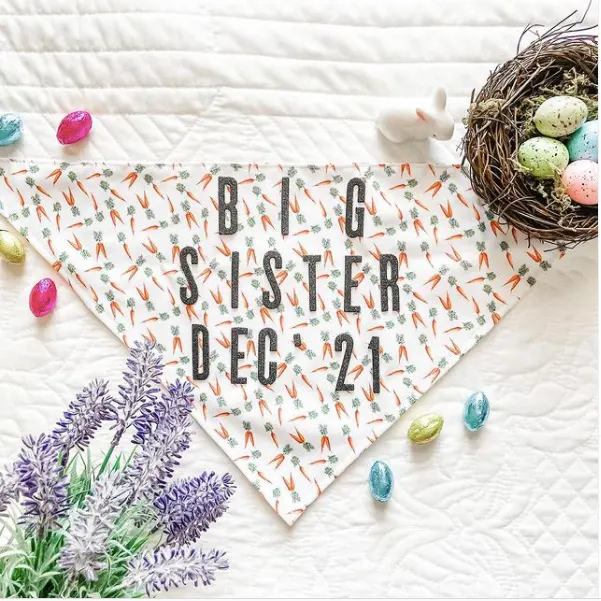 How is this for a beautiful spring pregnancy announcement?
Saints and Scrubs revealed her pregnancy with a simple flat lay of spring flowers, Easter eggs and a cute little bunny that is just perfect.
Easter Bunny Announcement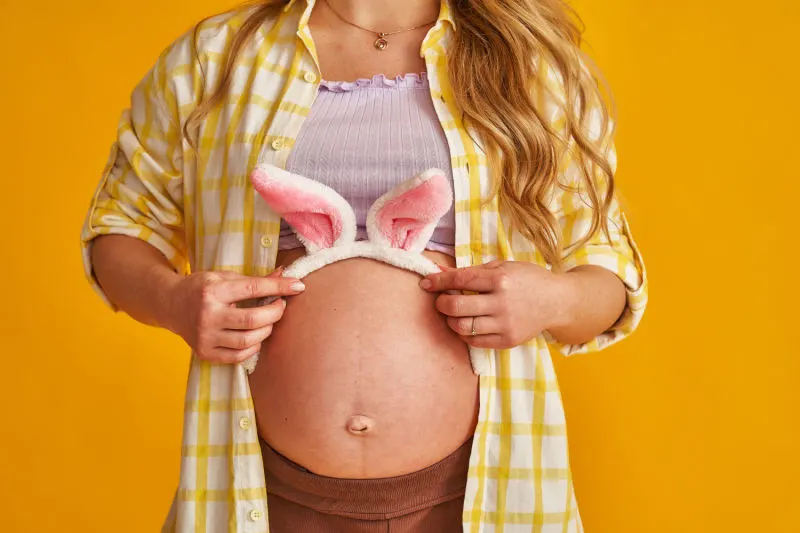 Here is a super simple DIY Easter pregnancy announcement that you can do at home. All you need are some dollar store bunny ears and someone to take your photo.
My Cute Bunny
Another really sweet spring pregnancy announcement idea is to take a photo of yourself with a really stuffed bunny or chick.
Spring and Easter Pregnancy Announcement Ideas
I hope you found this list of unique pregnancy announcements really helpful. If you are still stuck for ideas and inspiration for the perfect pregnancy announcement, you might also like these posts:
300 + Pregnancy Announcement Ideas
47 Genius Twin Pregnancy Announcement Ideas
25 Rainbow Baby Pregnancy Announcement Ideas