Are you newly expecting this 14 February? A Valentine's Day pregnancy announcement is the perfect way to share your exciting news with those you love.
Whether you want to create a cute Instagram post or are looking for fun photo ideas and props, we've got you covered with tons of sweet ideas.
There is no better time of year to announce that love is in the air with the arrival of a new baby than Valentine's Day.
Below you will find 32 cute ideas for how to make the most of this special occasion.
This post contain affiliate links. Please read my Disclosure for more information.
RELATED POSTS
How do you announce your pregnancy on Valentines Day?
It can be hard to find the perfect pregnancy announcement for valentine's day but have no fear!
We have compiled a list of 32 ideas that will surely get your valentine's heart racing!
I've separated this post into different sections so you find the pregnancy announcement you want:
Fun Valentine's Day Photo Ideas
Valentine's Day Pregnancy Announcement Picture Signs
Valentine's Day T-Shirt Ideas
Simple Ideas For A Valentine's Day photo announcement
Valentine Pregnancy Announcement Onesies for baby
Sibling Pregnancy Announcement Ideas
Grandparent pregnancy announcements for Valentine's Day
Valentine's Day Instagram Caption Ideas
Fun Valentine's Day Photo Announcements
Wow friends and family with your creativity by taking some inspiration from these cute Valentines photo ideas.
1. A Picture of Love
I just love pregnancy announcements that say it all with pictures – especially sonogram pictures!
It is so cute and easy to recreate then upload to social media for your own big news.
2. Say It With Balloons
How adorable is this sweet pregnancy announcement? I love how simple the backdrop is and the little pops of red on mom and dad's outfits.
You can grab your own personalized heart balloons here.
3. Shoes In Hand Pregnancy Announcement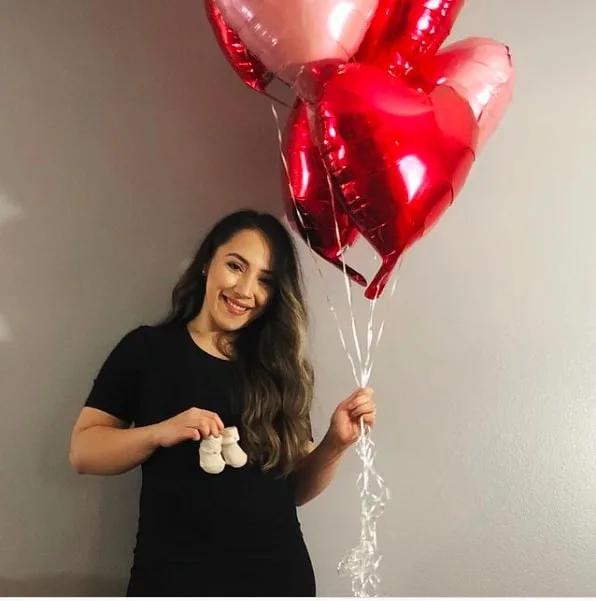 There is nothing more adorable than a pair of teeny baby shoes! This cute pregnancy announcement is perfect for Instagram and Facebook.
4. Made With Love

I love this sweet way to announce to the world that you have a bun in the oven!
Valentine's Day Pregnancy Announcement Picture Signs
5. Chalkboard Sign
Are you looking for an adorable way to announce your pregnancy this Valentine's Day?
This printable photo sign will allow you to let everyone know that baby is on the way in style!
6. Letterboard Valentine's Day Pregnancy Announcement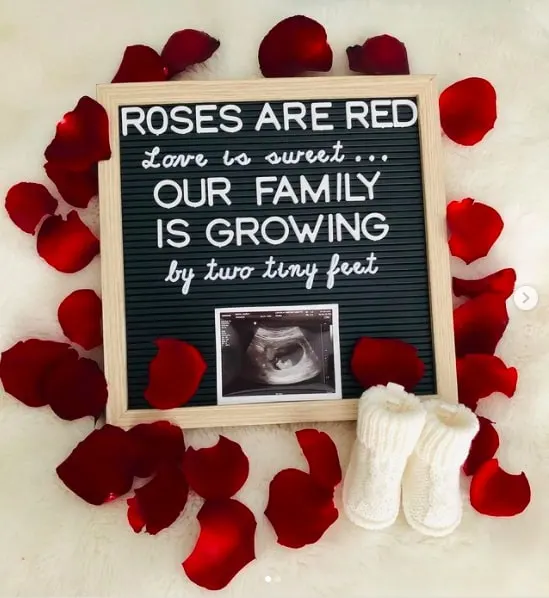 Here's a Valentine's Day baby announcement that you can DIY at home. The baby shoes are simply adorable and I love that the ultrasound picture is included too! So sweet.
7. Roses Are Red…Valentine's Day Baby Announcement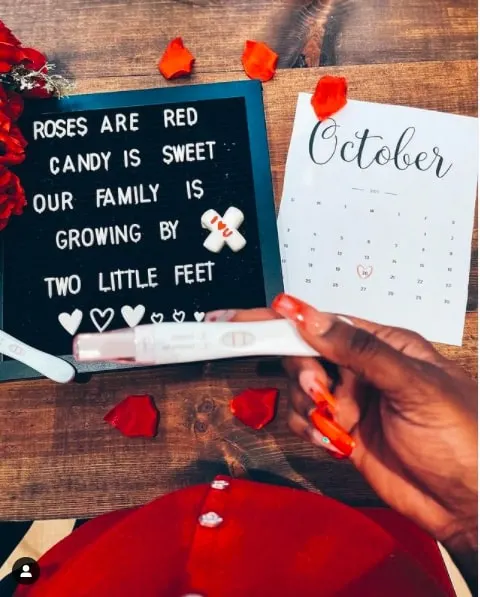 I love this cute and classy announcement that combines the positive pregnancy test and an adorable poem.
It's an easy one to recreate and will be sure to get everyone excited in your news!
8. Our Little Valentine
This customizable Valentine's sign would work great for a social media pregnancy announcement or even in a frame at home.
9. Cupid's Been Busy
This printable chalkboard sign gets amazing reviews and makes a fantastic photo prop for your big news.
10. DIY Valentine's Pregnancy Sign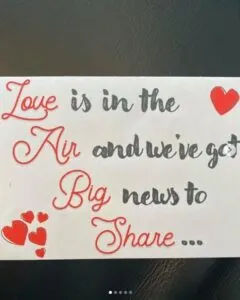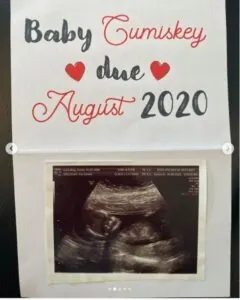 If you are looking for a cute but quick pregnancy announcement idea, how about this poem and ultrasound idea?
Valentine's Day Pregnancy Announcement T-Shirt Ideas
A fun t-shirt makes a great way to surprise family and friends with your exciting news. It also makes a great photo prop for a social media post.
Here are a few of our favorite picks:
11. And By The Way..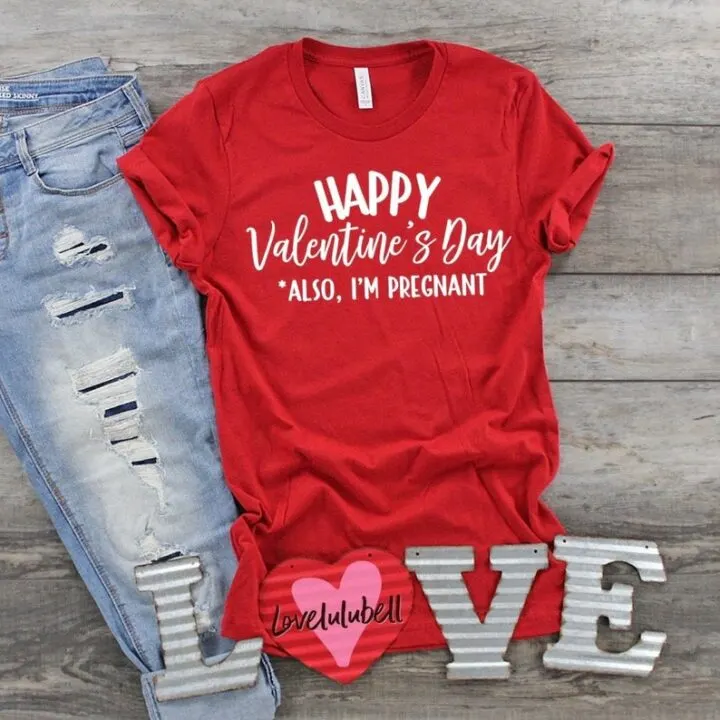 This is a funny Valentine's t-shirt that would make a great Instagram post announcement.
12. In Love With The Bump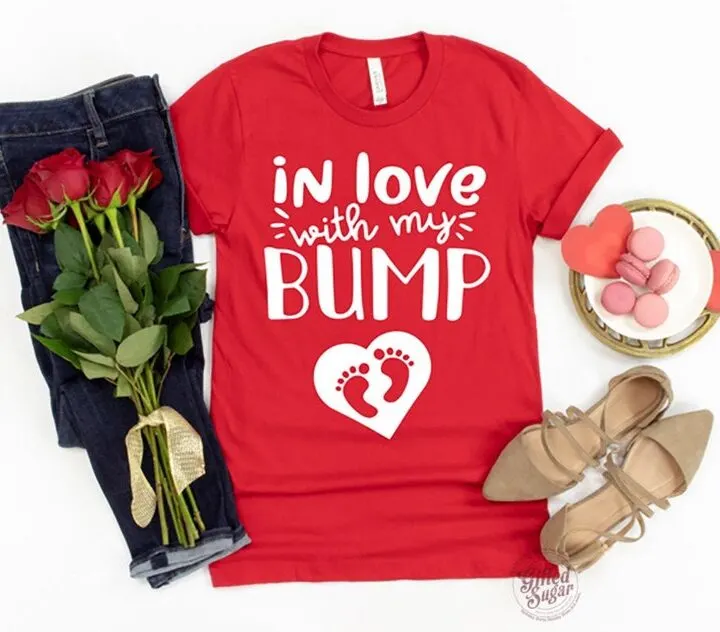 This funny t-shirt gets great reviews and is sure to surprise everyone at your Valentine's day event
13. Growing My Valentine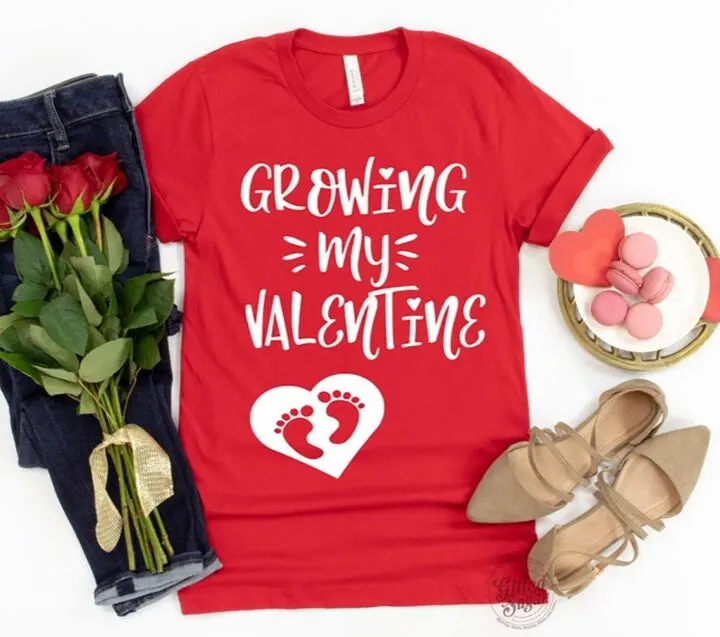 This sweet tee is a fantastic option if you are planning a Valentine's announcement to coworkers or family and friends in person.
Simple Valentine's Day Pregnancy Announcement Ideas
If you are looking for a simple pregnancy announcement, here are some easy photo ideas that you can recreate.
A DIY pregnancy announcement is super easy to do with your phone camera and some simple props.
14. Hands and Hearts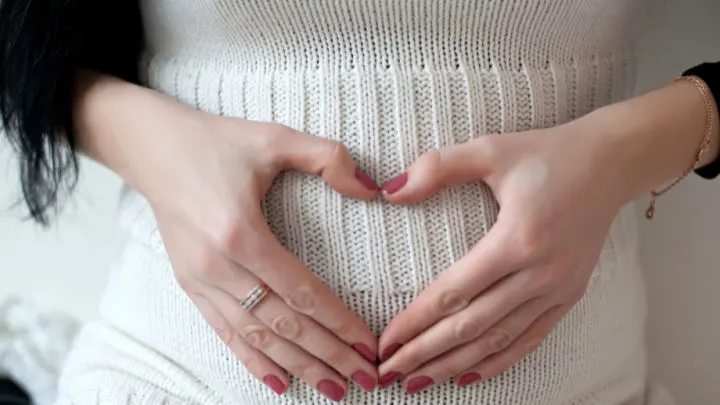 This is a super simple photo you can do to announce your big news. Red nail polish makes it perfect for Valentine's day.
15. Heart Wreath Announcement

My local dollar store sells wreaths exactly like this one, just spray paint it red and you are ready for this unique announcement idea.
16. Lollipop Love
You can always find these kinds of retro lollipops around Valentine's day. They make an easy prep for a simple Valentine's day pregnancy announcement
17. A Cup Of Valentine Cheer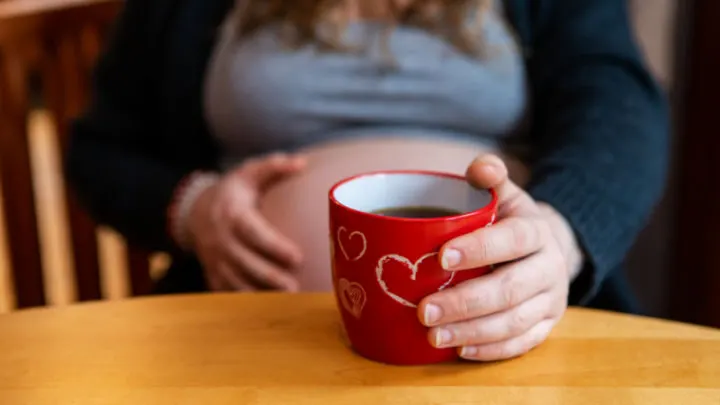 You can't get much simpler than this cute pregnancy announcement photo!
All you need is a Valentine's day themed mug with hearts and a steaming cup of coffee in front of your belly!
18. 2 Become 3
This is an easy DIY Valentine's day announcement that you can make yourself. Just get some red card stock and cut out hearts.
Stick them on sticks (skewers are a good option, get them from your local grocery store) and you are good to go.
19. Sticker Hearts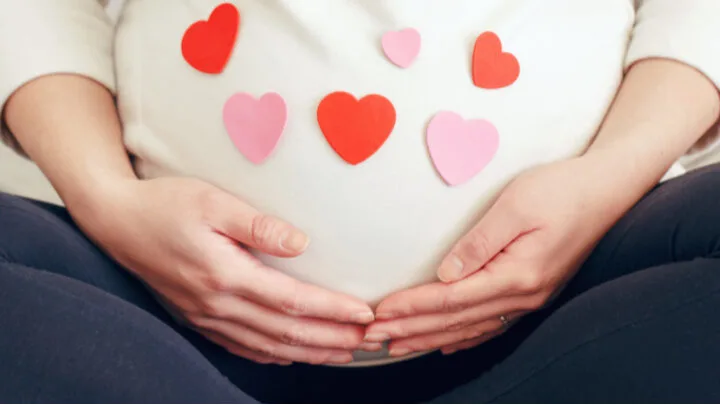 If you already have kids, there is a good chance that you have some heart stickers left over from last Valentine's day.
You can easily grab a bunch of these stickers at craft stores and just go to town, sticking them on your belly.
Valentine Pregnancy Announcement Onesies
Baby clothes are such as cute way to announce your pregnancy. You can either use them as a photo prop or give them to grandparents as a gift.
These also make a great way to tell your husband that you are pregnant!
20. Growing By Two Feet Baby Onesie®
This adorable love poem pregnancy announcement is perfect for sharing the new that you are expecting.
21. Tiny Valentine
A customized onesie like this cute one makes a great Valentine's day present for grandparents.
22. Littlest Valentine
This Valentine's day announcement bodysuit is a really cute way to tell everyone that there is a bundle of joy on the way.
23. Baby On Layaway
This funny pregnancy announcement bodysuit is super cute as a gift or for your Valentine's day announcement photo.
Valentine's Day Pregnancy Announcements for Siblings
Make it a family affair by getting your older kids involved in your Valentine's day announcement. Here are some fun ideas
24. Big Brother Announcement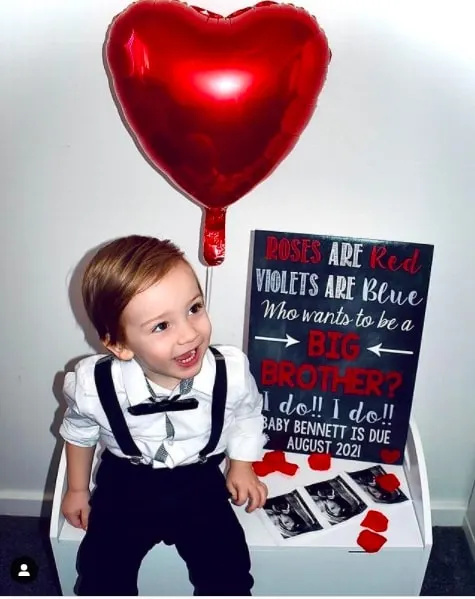 I love a sweet sibling pregnancy announcement! This cute poem is a great way to let your older child share the exciting news with family and friends this Valentine's day.
25. Little Heartbreaker
If you have a son who wants to get in on the action, this is a really cute printable pregnancy announcement card.
26. Promoted To Big Sister
This adorable digital sign can be printed off and used for a cute sibling photo announcement or displayed at home.
27. Love is in the air!
How cute is this Valentine's day pregnancy announcement? I just love it when siblings get involved like in this sweet pic from LC_Laura_.
28. Recipe For A Big Sister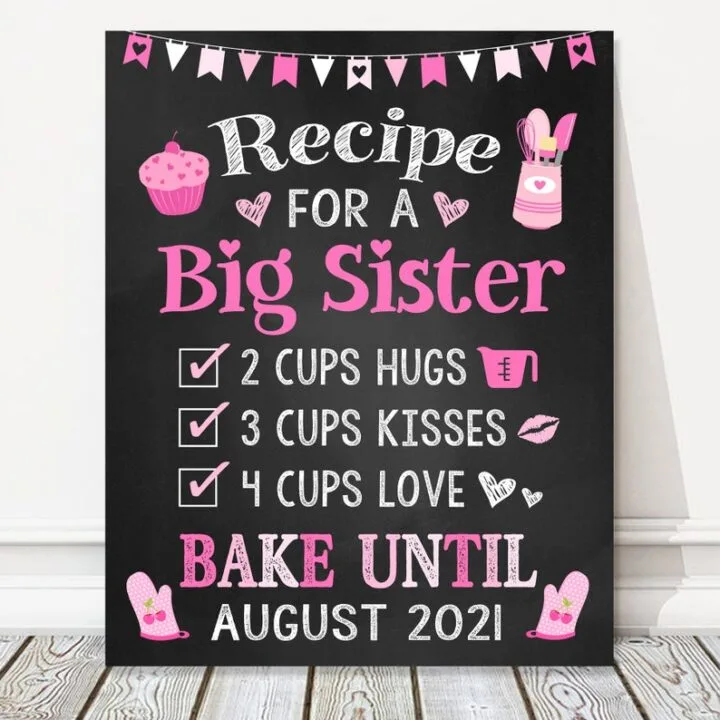 This cute announcement board is the perfect way to let everyone know that there is a new baby on its way!
29. Balloons Surprise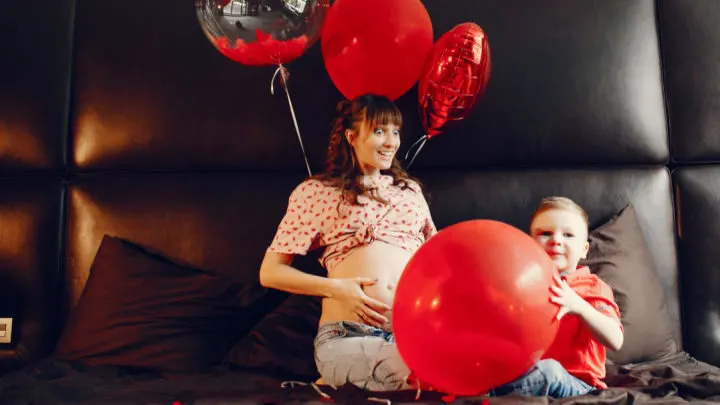 Grab some red balloons and put on some festive clothing and snap away! This is a fun and easy way to get your kids to help you share the big news.
Valentine's Day Pregnancy Announcement to Grandparents
A lot of parents to be like to get pregnancy announcement gifts for grandparents and Valentine's Day is the perfect occasion for this. Below are some of the cutest ideas to inspire you.
30. Pairs Well With Wine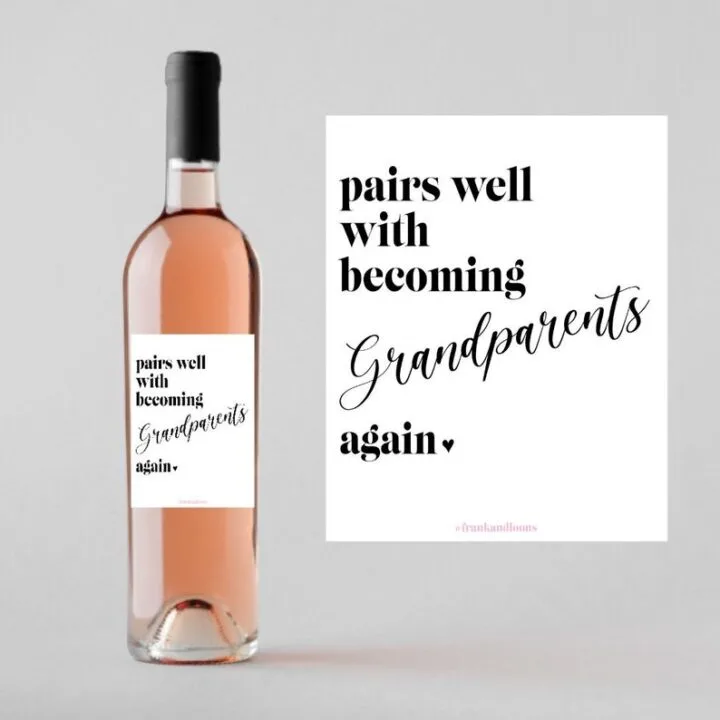 A bottle of wine always makes a great gift and what better way to announce your pregnancy to the grandparents to be than with a custom bottle of wine!
You can buy these printable wine labels and then print them on sticker paper and use them on any wine you like.
31. Scratch Off Valentine's Card
Everyone loves a scratch-off card and this unique one is hiding a very special message for family and friends.
32. Say It With Candy
If you are looking for a sweet pregnancy announcement gift for grandparents, how about a cute candy dish with a note saying something like "something sweet arriving in December 2022"
What Should I Caption My Pregnancy Announcement?
If you need some ideas for your Instagram announcement or you just want to send a cute text message telling everyone your news, here are some fun things you can use:
This Valentine's Day is extra sweet, our family is growing by one heartbeat and two feet!
The sweetest Valentine of them all, arriving 3 October 2022
We're adding a little more love to our family
We're excited to say, our little Valentine is on the way
Love is in the air, and we have exciting news to share
Roses are red, violets are blue, someone is joining us in August 2022
We're adding s'more love to our family, baby is due October 2023
Roses are red, violets are blue, cupids been busy because our baby is due
We're excited to announce a sweet addition to our family
Want More Pregnancy Announcement Ideas?
101 Ideas For The Perfect Birth Announcement Text Message
60 Christmas Pregnancy Announcement Ideas
23 Cute New Year's Pregnancy Announcement Ideas