Online birthing classes are a great way to prepare for your baby's birth without having to attend an in-person class.
If you have a busy schedule or you don't live near any in person childbirth courses, it can be hard to find time to add something else to your to-do list.
In this post, we have gathered the best online birthing classes that are just as good, or even better than traditional classes. Read on to find the best class for you!
This post contains affiliate links. Please read my Disclosure for more information.
MORE TIPS FOR NEW MOMS
Free Baby Stuff for New & Expecting Moms
8 Best Pregnancy Exercise Apps
When I was pregnant with my first I registered for an in-person prenatal class but I was too late to secure a slot and was worried that just reading What to Expect When You're Expecting wouldn't be enough.
Luckily I found out that there are options for online birthing classes that will allow you to learn what you need from home and at your own pace.
Most of the online classes are just as good as in person classes, with the ability to ask questions and get personalized support when needed.
To be honest, the fact that my husband and I could watch together in the evenings while we relaxed meant it was a great bonding time for us. It also helped my husband feel involved in the whole birth process.
If you want to help dad feel even more involved in your pregnancy, consider getting him to download one of these pregnancy apps for dads so he can track everything himself.
Why Choose An Online Prenatal Class?
Flexibility
Online birthing courses are normally video based so you can still get the visuals without being at an in person class. You can watch the modules on demand and at your own pace.
Better yet, you can rewatch the videos if you need a recap, something you can't do with a live class.
Affordability
Depending on what course you choose, an online prenatal class will likely end up being cheaper than a traditional class. Options below range from $35 to $100.
Range of options
If you live somewhere with not a lot of options for prenatal classes, online courses give you lots of options for different teaching styles and even delivery methods such as ebooks, videos and private consultations.
What Can You Expect To Learn In An Online Birth Class?
Although different classes will put more emphasis on some aspects of pregnancy and birth that others, in general, you should expect to see the following topics covered:
Relaxation techniques
Tips for your birth partner
Breathing techniques for labor
Labor positions
Information about natural childbirth
What to expect if you need a medical intervention
Expert advice on the best practices for pain relief
The basics of newborn care
Breastfeeding tips
What To Look For In Virtual Class For Expectant Moms
When you are looking at online childbirth classes, make sure to read through the course materials and curriculum. Make sure to find out how many hours of instruction are offered.
A comprehensive course will cover all the information listed above and also feature the following:
Taught by a certified nurse midwife or registered nurse
Have the ultimate goal be your positive birth experience without pushing a specific agenda on you
Offer lifetime access to the course (or at least a full year). This is important so you can refer back to things.
Many courses will also offer support groups where you can ask questions and hear other birth stories
The Best Online Birthing Classes
Hilary is a labor and delivery nurse who has one of the most comprehensive online birth classes. Her course costs $99 and is packed with useful information.
The deluxe version also includes a private Facebook group and many printables to get you prepared for birth.
When you click to check out the course here, you will see there is also an option for a $35 ebook for the more budget conscious new moms.
What's In The Online Course?
With almost 3 hours of engaging video, you will be surprised by how much you learn and how time flies.
Video & photos of items, so you won't be caught off guard with supplies
Anecdotes from Hilary's long career to help you understand confusing topics.
Subtitles, headings so you can access areas you want to re-watch
Special key-point videos (think how much you loved Cliff Notes in school)
The course is split into 3 sections to help you have the birth of your dreams:
Section 1: #1 Before Labor
This section deals with childbirth preparation and gets you ready to welcome your new baby into the world. It covers topics such as:
Third trimester testing — so you can know what your doctor is looking for.
When to go to the hospital — be it labor or something else, when should you go in?
Signs of Labor – Learn how to take the clues from your body that labor is coming (because it's not just your uterus).
#2 Labor
Whether you are hoping for an unmedicated birth or you are planning a Casearean birth, this section will get you ready for the hospital setting.
You'll be walked through:
Admissions Process – so you're not caught off guard in the very beginning.
Induction (the how's and why's) – So you can make good choices for your family.
How to say no without feeling awkward (how to drive your own delivery)
What exactly will happen at delivery – Enjoy that baby instead of being worried what everyone is doing!
Pain Management Options – We'll go over IV medicine, Nitrous and Epidurals at great length so you're prepared to get what you need.
Common Complications – Small complications are very normal in L&D. You'll know exactly what the nurse is doing and why.
Cesarean Section Info – Instead of nagging worry, you'll know what to expect if you end-up going this route (we go through the whole procedure start to finish)
#3 After-Delivery
One things many new mothers do not get taught is baby care. This class shares exactly what to expect in the hospital & when you go home.
What to expect during the "golden hour" (and yes, it's as good as it sounds)
The difference between labor and delivery and postpartum care – so you know what to expect from your medical team.
What you'll expect from your care providers during your hospital stay so you aren't left with a million questions.
How your body will feel both in the few days and weeks following delivery, so you can be as comfortable as possible.
Warning signs for both mom and baby, so you're filled with confidence that things are OK
Breastfeeding tips, so you can make sure baby is being fed.
Feelings, so you're not caught off guard by what emotions you might be feeling .
Bonus Printables
The course comes with some useful bonus printables that will help you get ready for the big day: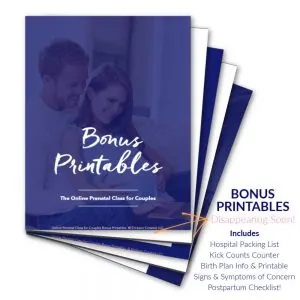 Kick Counts Tracker – Keep baby safe on the inside, peace of mind is invaluable.
Hospital packing list – Don't be burdened by over-packing
Concern Checklist – No more worrying about every.little.thing — keep track of what to really be concerned about.
Birth Plan Printable – so you can get your wishes down for both you and your providers (plus advice on each of your options)
Postpartum Checklist – Everything you need to be ready to come home, so you can enjoy those sweet newborn hours.
This online childbirth course draws directly the author, Erica's experience and bestselling book Nurture: A Modern Guide to Pregnancy, Birth, Early Motherhood—and Trusting Yourself and Your Body.
The format and price of this course is a bit different from some others as it involves a monthly subscription fee of $12 and can be started at any point during your pregnancy or postpartum journey.
If you are into natural childbirth, this class is a great option for you. The course consists of 22 in-depth videos, 31 audio conversations, and 39 written guides and features weekly support groups too.
In the course, you will learn:
What you'll learn
How to prepare for an unmedicated, medicated, or cesarean birth
The real signs and stages of labor
How to talk to your your doctor, midwife, or doula
Sex and pleasure tips—for pregnancy and beyond
What to buy, borrow, or gather before and after birth
Sleep strategies for the whole family
How to manage anxiety and overwhelm
Sensory practices to help you and your baby relax
Feeding basics, for breastfeeding, bottle feeding, and pumping
Read more about Loom here.
This 9-part series, led by clinical childbirth experts, provides in-depth information for new parents on all stages of the childbirth journey— from contractions and stages of labor to breastfeeding and check-ups. Best of all, it is free!
Each video lasts between 8-15 minutes and covers one complete topic about prenatal care and childbirth. While it definitely isn't the most comprehensive course on this list, it can be a nice refresher to watch as you approach your due date.
There is even a bonus video on changing your first diaper!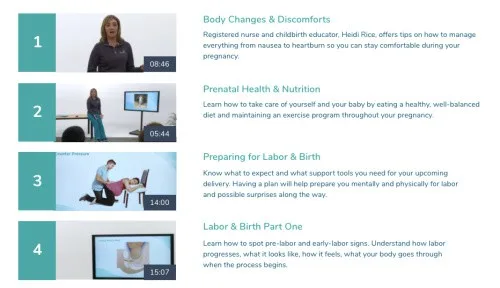 Lamaze International offers many different online birthing classes covering all facets of childbirth education and all taught by a Lamaze certified childbirth educator. They also have a free course on labor confidence with Lamaze.
The paid Lamaze classes are as follows:
Breastfeeding Basics
Labor Pain Management
6 Steps to a safe and healthy birth
Parenting together: Starting off strong
Preparing for pregnancy
Sex during pregnancy and beyond
VBAC tips
There are also bundles of courses you can buy such as the bestsellers bundle, which includes Safe and Healthy Birth: Six Simple Steps, Labor Pain Management and Breastfeeding Basics.
Katie Griffin, Registered Nurse and Lamaze Certified Childbirth Educatoris the brains behind the online birth class at Kopa Birth. The focus on these course are a vaginal birth at a hospital or birth centre so there isn't as much content on pain medication as some of the other courses.
There are two different classes to choose from, the essentials course which costs $195 and the prepared plus course for $245.
The essentials course consists of 8 video classes and over 12 hours of instruction. It includes the following:
Mock Labor experience
Audio downloads of meditiations and labor imagery
100+ page downloadable course manual
ProvateKOPA® members Facebook group
BONUS: Natural hospital birth footage
BONUS: KOPA® Postpartum care class
If you are interested in a natural hospital birth, this is definitely the course for you.
The Mama Natural Birth Course is a 100% online and on-demand course with a focus on unmedicated birth. The course is hosted by Genevieve Howland, bestselling author of The Mama Natural Week-by-Week Guide to Pregnancy & Childbirth, and Maura Winkler, a Certified Nurse Midwife (CNM) and Board Certified Lactation Consultant (IBCLC).

The course takes expectant mothers through everything they need for a natural home birth or hospital birth:
With this course, you will:
Discover the #1 key to achieving a natural childbirth
Learn how to avoid the "cascade of interventions" that sabotages so many natural birthing attempts.
Get the 411 on optimal pregnancy nutrition
Discover natural remedies for swelling, back pain, heartburn, insomnia, placenta positioning, breech babies, and more
Do exercises to optimally position your baby for birth (this can shave HOURS off your labor time)
Equip your mind and spirit with practical tools, techniques, and visualizations to help you achieve a peaceful birth (think of this as your natural epidural 🙂
Find the right support team to assist you in your birth
Pick the best birthing location for you, whether that be a hospital or birth center.
Other Online Prenatal Classes
If you are looking for online breastfeeding classes, I have a huge list for you here. The list includes free options and classes for pumping moms too.
One of the best classes is Milkology:
If you are more concerned about the breastfeeding part of having a baby than the giving birth part or would like to feel ready, consider taking the highly rated Milkology Breastfeeding class.
Stacey, the course leader is a certified lactation consultant and will get you feeling confident about breastfeeding as she guides you through the following in 13 video segments:
The biggest mistake women make that can sabotage breastfeeding
The most effective breastfeeding position to get a deep latch
2 simple ways to ensure your baby is getting enough milk
A powerful strategy to make more milk whenever you need to
7 places to seek out and find your super support tribe
…and much more!
More Pregnancy Tips
The Best Pregnancy Journal Picks
43 Pregnancy Quotes And Parenting Advice For Expecting Moms
25 Ways To Announce A Pregnancy To Family In Person