Online birthing classes are a great way to prepare for your baby's birth without having to attend an in-person class.
Whether your schedule is too tight or you don't live near an urban centre, taking an online prenatal course is a great way to learn everything you need to know from the comfort of home.
When I was pregnant with my first I registered for an in-person prenatal class but I was too late to secure a slot and was worried that just reading What to Expect When You're Expecting wouldn't be enough.
Luckily I found out that there are options for online birthing classes that will allow you to learn what you need from home and at your own pace.
Most of the courses are just as good as in person classes, with the ability to ask questions and get personalized support when needed.
To be honest, the fact that my husband and I could watch together in the evenings while we relaxed meant it was a great bonding time for us. It also helped my husband feel involved in the whole birth process.
If you want to help dad feel even more involved in your pregnancy, consider getting him to download one of these pregnancy apps for dads so he can track everything himself.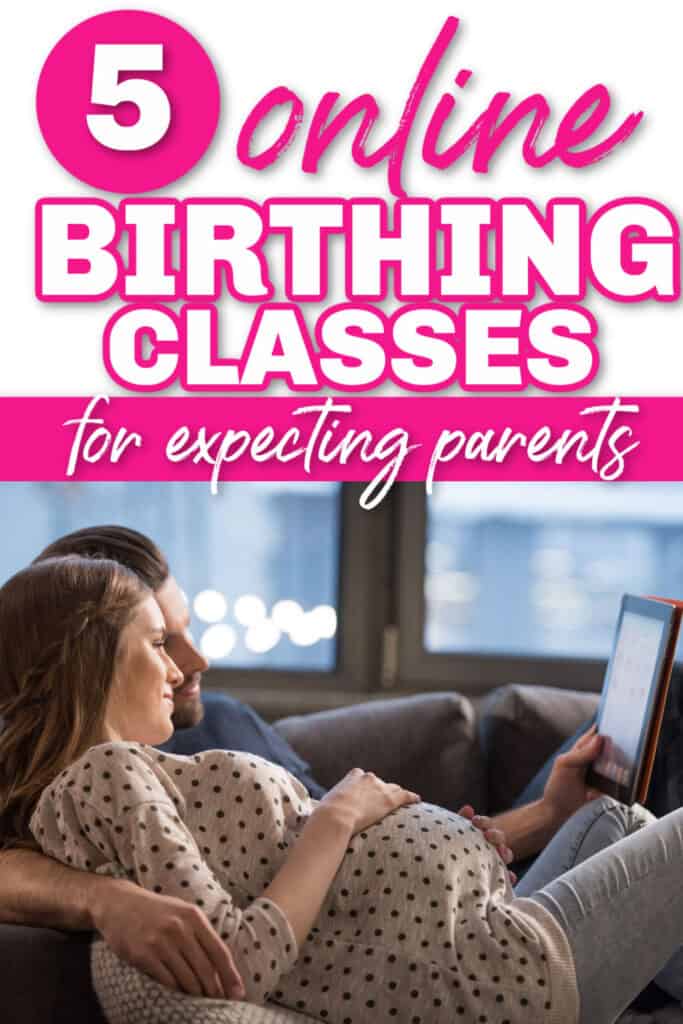 This post contains affiliate links. Please read my Disclosure
RELATED POSTS
Free Baby Stuff for New & Expecting Moms
8 Best Pregnancy Exercise Apps
Why Choose An Online Prenatal Class?
Flexibility
Online birthing courses are normally video based so you can still get the visuals without being at an in person class. You can watch the modules on demand and at your own pace.
Better yet, you can rewatch the videos if you need a recap, something you can't do with a live class.
Affordability
Depending on what course you choose, an online prenatal class will likely end up being cheaper than a traditional class. Options below range from $35 to $100.
Range of options
If you live somewhere with not a lot of options for prenatal classes, online courses give you lots of options for different teaching styles and even delivery methods such as ebooks, videos and private consultations.
Online Birthing Classes
Pulling Curls Online Prenatal Classes
Hilary is a labor and delivery nurse who has one of the most comprehensive online birth classes. Choose from two options, a downloadable ebook ($35) or the full course ($99)
The deluxe version also includes a private Facebook group and many printables to get your prepared for birth.
What's in the ebook?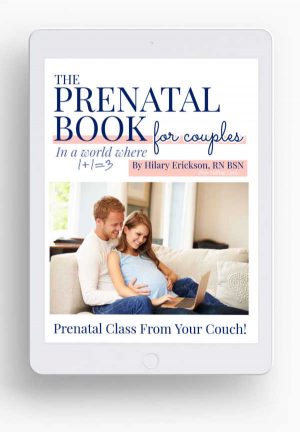 Includes 100 pages of clear, concise, engaging content will will cover labor, delivery and your after-baby time with success!
What's In The Online Course?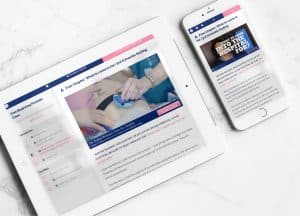 With almost 3 hours of engaging video, you will be surprised by how much you learn and how time flies.
Video & photos of items, so you won't be caught off guard with supplies
Anecdotes from Hilary's long career to help you understand confusing topics.
Subtitles, headings so you can access areas you want to re-watch
Special key-point videos (think how much you loved Cliff Notes in school)
Bonus Printables

Kick Counts Tracker – Keep baby safe on the inside, peace of mind is invaluable.
Hospital packing list – Don't be burdened by over-packing
Concern Checklist – No more worrying about every.little.thing — keep track of what to really be concerned about.
Birth Plan Printable – so you can get your wishes down for both you and your providers (plus advice on each of your options)
Postpartum Checklist – Everything you need to be ready to come home, so you can enjoy those sweet newborn hours.
If you are more concerned about the breastfeeding part of having a baby than the giving birth part or would like to feel ready, consider taking the highly rated Milkology Breastfeeding class.
Stacey, the course leader is a certified lactation consultant and will get you feeling confident about breastfeeding as she guides you through the following in 13 video segments:
The biggest mistake women make that can sabotage breastfeeding
The most effective breastfeeding position to get a deep latch
2 simple ways to ensure your baby is getting enough milk
A powerful strategy to make more milk whenever you need to
7 places to seek out and find your super support tribe
…and much more!
This online childbirth course draws directly the author, Erica's experience and bestselling book Nurture: A Modern Guide to Pregnancy, Birth, Early Motherhood—and Trusting Yourself and Your Body.
This course has 5 comprehensive modules:
Self-knowledge
Welcoming Change
Nourishment
Birth Basics
Your Newborn + The Postpartum Shift
Nurture retails at $95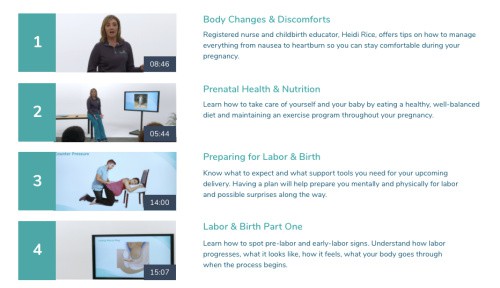 This 9-part series, led by clinical childbirth experts, provides in-depth information for new parents on all stages of the childbirth journey— from contractions and stages of labor to breastfeeding and check-ups. Best of all, it is free!
Lamaze offers a ton of different online birthing classes from labor pain management to VBAC tips. The prices range from $30 to $90. They also have a free course on labor confidence with Lamaze.
More Pregnancy Tips
The Best Pregnancy Journal Picks
43 Pregnancy Quotes And Parenting Advice For Expecting Moms