Are you ready for an epic autumn quest that will take you on a wild journey through nature's wonders? Of course, you are! That's why you will love this Fall Scavenger Hunt Free Printable!
We all love fall.
The leaves are turning all shades of red, orange, and yellow. The crisp air smells like cinnamon and hot apple cider.
It's the perfect time to grab your magnifying glasses, put on your detective hats (or a leaf crown, if that's your style), and embark on a nature scavenger hunt like no other!
This fun and festive fall nature scavenger hunt is perfect for your next fall festival for school or for keep the kids busy when you go for a hike amongst the colorful leaves.
All you have to do is print out the free PDF and get hunting!
This page contains affiliate links meaning I earn a commission if you use those links. Please read my Disclosure for more information.
MORE FALL FUN
6 Simple Fall Crafts For Preschoolers
180 + Fall Activities For Kids (Crafts, Bucket Lists, Scavenger Hunts & More)
Make the fall scavenger hunt free printable even more fun:
Get older kids to take photos of each find and compare the best ones afterwards
For older kids, make it a timed event in teams with prizes for the first team back
Younger children can tally up how many of each item (acorns, squirrels etc) they find.
Collect items as you walk along and turn them into a fall sensory bin when you get home.
What do you need for the hunt?
Apart from the printable hunt list, (you can download it below) you don't need much to do the scavenger hunt but a few extra accessories could make it extra special.
This is especially true at a fall festival or special event (this could form part of a Thanksgiving party loot bag, for example).
The great thing about this fall scavenger hunt is that you can adapt it to the ages and number of children.
It would be equally fun with a group of 8-year-olds as a fun activity for one 3-year-old.
How To Use This Fall Scavenger Hunt Free Printable
The great thing about this autumn scavenger hunt is all you need is to print out the PDF and grab a pen then head to the great outdoors.
It is the perfect fall activity for kids of all ages – my kids have been into doing these kinds of hunts since they were about 3 and now they are almost tweens and still love them!
Tips For A Successful Hunt
If you would like to use this nature scavenger hunt again and again, you can put it into a plastic file protector or you could laminate it.
I bought a cheap laminator from Amazon a few years ago and love it for creating timeless activities that we can do year after year.
Just make sure to grab some dry erase markers if you go this route.
If your children love this scavenger hunt as much as mine, make sure to check out my other seasonal free printable hunts:
Halloween Scavenger Hunt for kids (Free Printable)
Free Printable Christmas Scavenger Hunt for Kids
Click the link below or the picture to download your printable.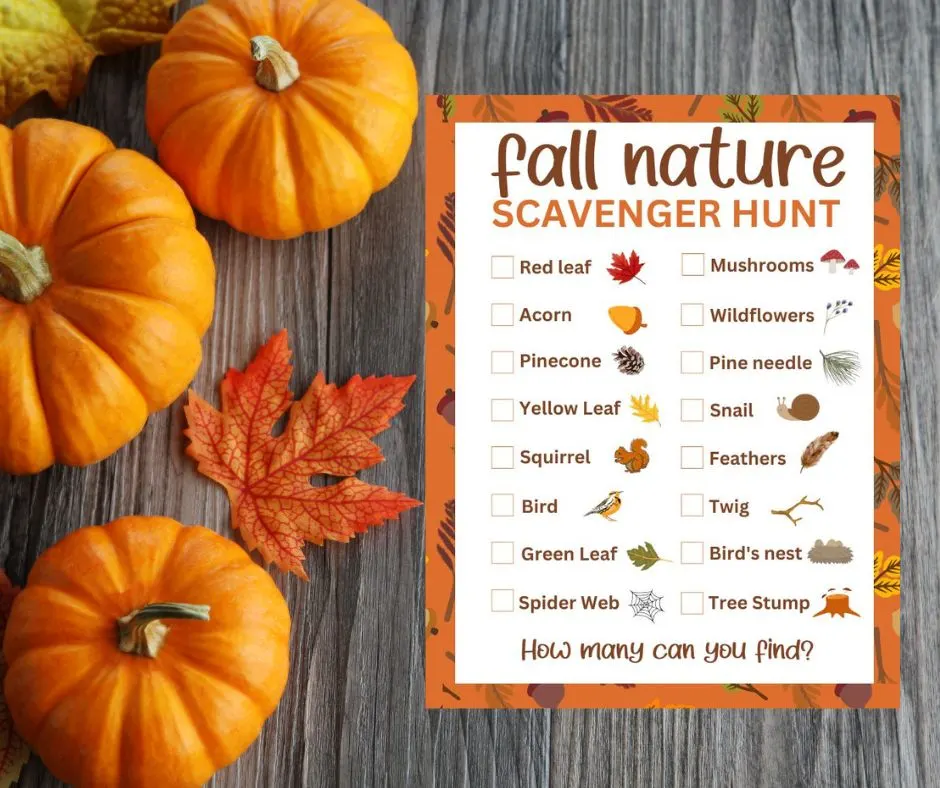 The Fine Print
While you can make as many copies of this scavenger hunt as you like, please remember that they are for personal use only. You may not sell or distribute the files or use them in any commercial venture.
If you want to share them, please link to this post and not directly to the PDF files.